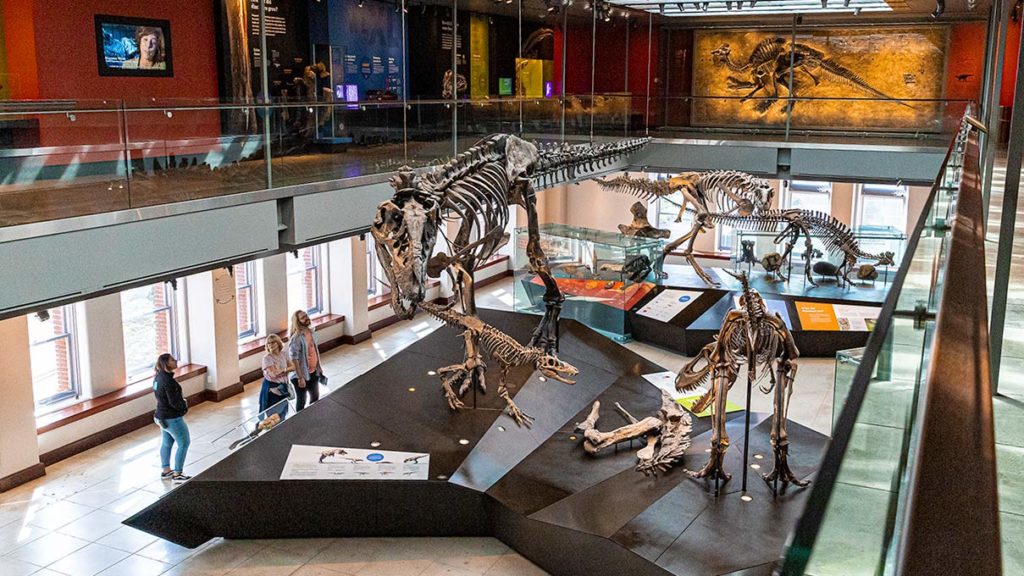 There's always lots to do in Los Angeles, and per usual we're here with a bi-weekly (Monday and Thursday) rundown of the best of what's happening in the city and county.
This week, from August 23 to 27, features a new deep sea creature on display at NHM, DTLA Proud Festival, 626 Night Market, Summer Fridays at ROW DTLA, a new horror experience at Zombie Joe's Underground Theatre, and more!
[Remember, if you want to stay connected with our weekly updates, be sure to sign up for the We Like L.A. Newsletter]
Monday/ Throughout the Week
1. Hollywood Fringe -> The annual extravaganza of indie theater presents a huge lineup of community performances at over a dozen small and medium-sized spaces across Los Angeles, all taking place from Aug. 12-29. Get ticketing info and check the full schedule here.
2. Ultra -> The Torrance Art Museum has collaborated with over 20 artists to create a series of public art installations freely accessible in locations around the City of Torrance, now through Aug. 28. More info here.
3. Cardboard City -> Third Street Promenade is temporarily home to a 10,000 square foot pop-up art center featuring large-scale cardboard sculptures created by local artists and sponsoring architecture and design firms. Cardboard City is free to attend, open Thursday through Sunday from noon to 6 p.m. through Aug. 29. More info here.
4. Proof-of-Vax Bars -> The list of L.A.-area bars now requiring proof of vaccination for entry has no grown to 49 establishments, according to an ongoing list put together by L.A. Taco. If you're still looking to grab a drink, but would feel safer in a vaccine required environment, you could head out to one of these spots this week.
5. Sing for Hope Pianos -> As part of the Sing for Hope Pianos recurring public art project, 16 special artist-designed pianos will pop up around Beverly Hills from Aug 5. to Sep. 6, offering public guests the opportunity to play and enjoy for free. More info here.
Tuesday
6. Center for Yoga Reopening -> To celebrate its post-pandemic grande reopening, The Larchmont Village-based Center for Yoga will offer a day of free classes this Tuesday. The full list of available classes for opening day is here.
7. DiscOasis -> Lights, disco, live performances, and food trucks, all presented in a lush, late-afternoon garden setting. That's the premise behind DiscoOasis, a new timed experience at the South Coast Botanic Garden that runs Tuesday through Sunday through Sep. 6. Tickets start at $39 per person. Get more info and buy tickets here.
Wednesday
8. Discovey from the Deep -> A new temporary exhibition at the Natural History Museum contains an extremely rare (and kind of horrifying) female Pacific footballfish (Himantolophus sagamius, a type of anglerfish), which was discovered in May 2021 at Crystal Cove State Park in Newport Beach, CA. The exhibit, which opens this Wednesday, will allow guests to touch a model replicating the fish's spiky exterior and learn how the creature uses bioluminescent bacteria to hunt in the darkness of the deep sea. On display through Nov. 29. Adult admission at NHM is $15, remember that L.A. County residents receive free museum admission daily from 3 to 5 p.m. More info here.
9. Lunchtime Art Talks -> Every Wednesday at 12:30 p.m., curatorial staff from The Hammer Museum lead a short discussion on the work of a different artist. This Wednesday curatorial assistant Nicholas Barlow will present a short talk on Brian Jungen. Hammer Museum admission is free. More info here.
10. Shakespeare in the Park -> The Independent Shakespeare Co. is bringing back free, live theater to Griffith Park starting Aug. 7 with performances of The Tempest. Shows will run Wednesdays to Sundays through Sep. 5. For health and safety reasons, online reservations are required to ensure capacity limits are held. This week's performances are stand-by only as of now, but tickets for futures shows are released 7 days in advance of each performance, so be sure to check the ISC's website if you want to reserve a slot for a future show. Get more info and make a reservation here.
Thursday
11. Remix The Art of Music -> The 4th annual Remix The Art of Music is a music-themed exhibition featuring 60+ artists, on display at Gabba Gallery now through September 18. Gabba Gallery is open Thursday through Saturday from noon to 3 p.m., or by appointment.
12. Dirty Laundry -> This Thursday night comedy takes over upstairs at The Airliner, in Lincoln Heights. The lineup features Zach Noe Towers, Daniel Webb, RB Butcher, Bri Giger, and Nori Reed. Show at 8 p.m., with a dance party to follow. Tickets are $12, and proceeds from the show will beneift the non-profit Black and Pink National. More info here.
Friday
13. DTLA Proud Festival -> The annual LGBTQ+ festival returns to Pershing Square Aug. 27-29, kicking off this Friday with all-ages, alcohol-free festivities, plus a screening of the full-length documentary, PROUD in a Pandemic. Saturday and Sunday's entertainment will include stage performances, DJs, local bars, community booths, art installations, LGBTQ+ vendors, food trucks, and a dance party. Admission to Friday is free, while tickets for Saturday or Sunday cost $10. More info here.
14. 626 Night Market -> The SGV's signature outdoor market returns to Santa Anita Park this Friday through Saturday with bites and goods for purchase from hundreds of food, merch, and craft vendors, plus arts, games, music, and entertainment attractions for the whole family. Admission is $5 pre-sale, or $7 for day-of. Parking is free. More info here.
15. Summer Fridays at ROW DTLA -> This Friday, as part of its on-going pop-up series, shopping destination ROW DTLA will offer after-hours retail hours, food trucks on-site, live music, and a rose and oyster bar from Chesapeake Bay's Rappahannock Oyster Bar. Get more info on ROW's summer programming here.
16. Zombie Joe's Toxic Vampyre -> ZJU's newest horror walk-through experience opens this Friday, and performances will be limited to the next three weekends. Per a release, guests will be "…entranced by a terrifyingly-mischievous motley gang of hungry Vampyres as they guide you through their wretched, soul-sucking phantasmagoria with a blood-promise of a blissful eternal life devoid of fear, pain and worry." Sounds chill. Runs Friday and Saturday nights through Sep. 11. Tickets are $17.50. More info here.
17. UCLAxFilmFest -> UCLAxFilmFest (August 27-29) is a virtual film festival featuring short films from filmmakers around the globe, industry panels, networking opportunities, and an awards ceremony. The festival is free and open to the public, registration is required.
18. Dance DTLA -> The Music Center's Dance DTLA is back starting on Aug 13, for five Friday night dance parties on its Jerry Moss Plaza. On-site dance instructors will guide guests on easy-to-learn steps while DJs spin the soundtrack. This Friday's theme is Motown, and the event is free and open to the public. More info here.
Dining
19. Danny Boy's Famous Original -> Danny Boy's Famous Original, a New York style, counter service pizzeria by Chef Daniel Holzman is now open at Halo a new and developing dining destination located in Downtown's Bunker Hill. Best known for co-founding The Meatball Shop in New York, Holzman will provide a taste of the Big Apple through his pizza pies, hot hero sandwiches, classic appetizers, and Italian ices.
20. Caravan Swim Club Supper Series -> Steve Livigni's Baja-inspired restaurant Caravan Swim Club at Hotel June will host a collaboration dinner with Nomadica wines this Wednesday with an outdoor sunset dinner featuring a four-course tasting menu with wine pairings. Tickets coast $100 a person and include an all-day pool pass.
21. Winston House -> Winston House located in the former St. Mark's Jazz Club, in the heart of Venice is now a modern-day supper club. What started as a grassroots movement to support independent artist and bring more live music to Venice, owners Corey McGuire and Jake Mathews (who also own The Waterfront) have since expanded the project into a full service restaurant and bar featuring live music performances by a mix of well-known artists and promising new acts. Reservations are required for dinner service and can be made at winstonhouse.com/reservations. Walk-ins are welcome starting at 9:30 p.m. For the time being, proof of vaccination is required to attend.
22. Melanie Wine Bar -> Melanie Wine Bar is now pouring in the Beverly Grove neighborhood. The entire wine list is available by the glass, and will be updated regularly with new varietals. Small-plates to compliment the wine are also available. The opening menu is focused on French and Italian wines and small plates.
---
Any notes or corrections? Want to suggest an event we should add to an upcoming list? Hit us up at [email protected].