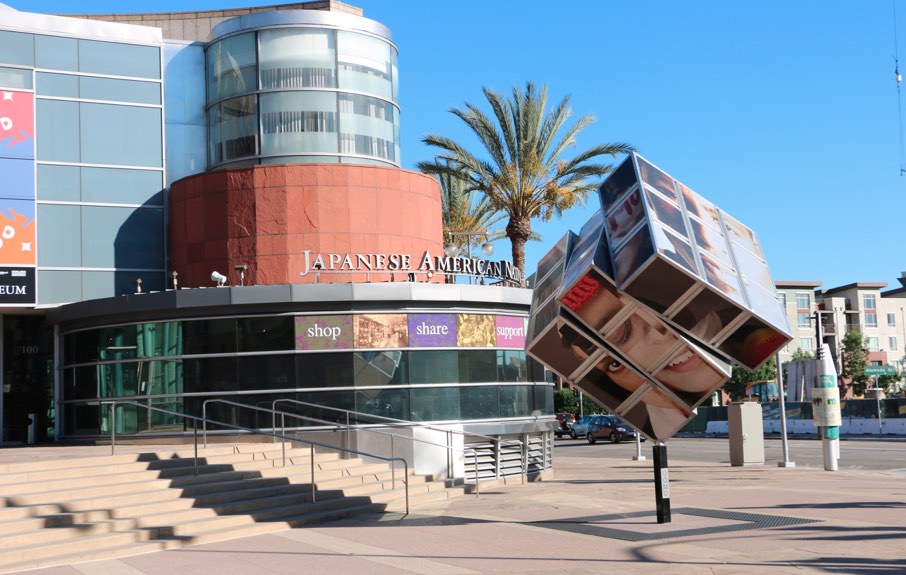 As Los Angeles finds its way out of the pandemic and restrictions gradually ease, we're continuing our bi-weekly round-ups of fun to-dos, mixing in the occasional online/virtual event with an ever-growing listen of in-person experiences and food ideas.
This weekend, from August 27 to 29, features 626 Night Market, a new horror experience, a block party in the Arts District, a new exhibit on JANM, Sunday Sessions in Grand Park, a Cuban American Music Festival, and more.
Friday / All Weekend
1. DTLA Proud Festival -> The annual LGBTQ+ festival returns to Pershing Square Aug. 27-29, kicking off this Friday with all-ages, alcohol-free festivities, plus a screening of the full-length documentary, PROUD in a Pandemic. Saturday and Sunday's entertainment will include stage performances, DJs, local bars, community booths, art installations, LGBTQ+ vendors, food trucks, and a dance party. Admission to Friday is free, while tickets for Saturday or Sunday cost $10. More info here.
2. 626 Night Market -> The SGV's signature outdoor market returns to Santa Anita Park this Friday through Saturday with bites and goods for purchase from hundreds of food, merch, and craft vendors, plus arts, games, music, and entertainment attractions for the whole family. Admission is $5 pre-sale, or $7 for day-of. Parking is free. More info here.
3. Discovery from the Deep -> A new temporary exhibition at the Natural History Museum contains an extremely rare (and kind of horrifying) female Pacific footballfish (Himantolophus sagamius, a type of anglerfish), which was discovered in May 2021 at Crystal Cove State Park in Newport Beach, CA. The exhibit, which is now open, allows guests to touch a model replicating the fish's spiky exterior and learn how the creature uses bioluminescent bacteria to hunt in the darkness of the deep sea. On display through Nov. 29. Adult admission at NHM is $15, remember that L.A. County residents receive free museum admission daily from 3 to 5 p.m. More info here.
4. Summer Fridays at ROW DTLA -> This Friday, as part of its on-going pop-up series, shopping destination ROW DTLA will offer after-hours retail hours, food trucks on-site, live music, and a rose and oyster bar from Chesapeake Bay's Rappahannock Oyster Bar. Get more info on ROW's summer programming here.
5. Dance DTLA -> The Music Center's Dance DTLA is back starting on Aug 13, for five Friday night dance parties on its Jerry Moss Plaza. On-site dance instructors will guide guests on easy-to-learn steps while DJs spin the soundtrack. This Friday's theme is Motown, and the event is free and open to the public. More info here.
6. Zombie Joe's Toxic Vampyre -> ZJU's newest horror walk-through experience opens this Friday, and performances will be limited to the next three weekends. Per a release, guests will be "…entranced by a terrifyingly-mischievous motley gang of hungry Vampyres as they guide you through their wretched, soul-sucking phantasmagoria with a blood-promise of a blissful eternal life devoid of fear, pain and worry." Runs Friday and Saturday nights through Sep. 11. Tickets are $17.50. More info here.
7. UCLAxFilmFest -> UCLAxFilmFest (August 27-29) is a virtual film festival featuring short films from filmmakers around the globe, industry panels, networking opportunities, and an awards ceremony. The festival is free and open to the public, registration is required.
8. Hollywood Fringe -> The annual extravaganza of indie theater returns with a huge lineup of community performances at over a dozen small and medium-sized spaces across Los Angeles, all taking place from Aug. 12-29. Get ticketing info and check the full schedule here.
Saturday
10. Welcome Back to Hogwarts Bash -> Idle Hour is hosting their annual magical "Welcome Back to Hogwarts Bash." Happening this Saturday starting at 5 p.m. hopeful wizards can stop by the North Hollywood bar to enjoy spell binding cocktails and potions, alongside enchanting food made by the free house elves that reside at Idle Hour. A raffle for fun prizes will be held during the bash as well and 100% of the proceeds will be donated to The Trevor Project.
11. Flying Embers Block Party -> Hard seltzer and kombucha brewer Flying Embers is hosting a summer block party adjacent to their Arts District-based taproom this Saturday, which will include live art, games, food trucks, and music, along with limited release brews for purchase. The block party is free and open to the public, from noon to 8 p.m. More info here.
12. Live Music Outside Union Station -> This Saturday, Union Station in collaboration with Los Angeles-based Leaving Records will produce a late-afertnoon concert featuring four artists who have created original music soundscapes which "draw inspiration from the natural landscape." Event runs from 4:30 p.m. to sunset. Free to attend. RSVP's currently fully booked, but walk-ins will be welcomed on a first-come, first-served basis. More info here.
13. Plática: Frida Under the Stars with Gregorio Luke -> As part of their Live Live at LA Plaza! series, this Saturday La Plaza de Culutra y Artes presents a special lecture by presenter Gregorio Luke discussing the life and work of Frida Kahlo. The presentation will include hundreds of slides of paintings and photographs, plus rare film footage. Tickets are $25. More info here.
14. The Art of Citizen 13660 -> The Japanese American National Museum's newest exhibition honors the legacy of Miné Okubo's Citizen 13600. Published in 1946, Okubo's memoir was the first book-length account of the incarceration and internment of Japanese Americans during World War II. JANM's exhibit will include original sketches and drawings by Okubo, plus a draft copy of her final manuscript. Miné Okubo's Masterpiece: The Art of Citizen 13660 opens this Saturday, Aug. 28, and will run through Feb. 20 of 2022. JANM's hours are 11 a.m. to 5 p.m., Tuesday through Sunday. Adult museum admission starts at $16. Get more info here.
15. End of Summer Bash -> This Saturday afternoon, Eagle Rock Plaza is hosting an End of Summer Bash featuring workshops, arts & crafts, food trucks, live music, and raffles. Entry is free. Runs from 3 to 6 p.m. More info here.
16. Buchanan's La Reunión -> Scotch whisky brand Buchanan's is hosting a pop-up market experience at City Libre in Boyle Heights this Saturday. The event is free to attend, and will include complimentary Buchanan's cocktails plus a live DJ set by Al Tun Tun and live entertainment from Reggaeton artist, Fuego. More info and RSVP here.
17. Valley Cultural Foundation Movies -> The Valley Cultural Foundations free summer programming continues this Saturday at Warner Center Park with a screening of Toy Story 4. Movie starts at 7:30 p.m. No RSVP required. More info here.
18. What Is a Western? -> The Autry's film series continues this Saturday with a screening of Broken Arrow (1950), starring Jimmy Stewart, Jeff Chandler and Debra Paget. The film is considered to be a landmark as the first major post-war Western to portray Native Americans sympathetically. Screening starts at 1:30 p.m., and is included with the cost of museum admission. More info here.
Sunday
19. Grand Park Summer Sessions -> Grand Park's summer dance party series continues this Sunday with a focus on Northern Soul, Funk and Disco, and a lineup that features Deejay Clifton, Liz O., Riley More and LoopdropKid. Party runs from 3 to 7 p.m. Outdoors, free, all-ages. More info here.
20. Cuban American Music Festival -> This Sunday at La Plaza de Cultura y Artes, the annual Cuban American Music Festival brings together some of the finest regional Cuban artists, including Arsenio Rodriguez Project and Charanga Cubana All Stars. Guests can expect Cuban cuisine from local vendors, Cuban and Latin-inspired drinks, dance troupes, and cigar-rolling sessions. General admission tickets are $40. More info here.
21. Club Quarantine Live -> Bronx-born DJ D-Nice brings his pandemic-inspired virtual series Club Quarantine live to the Hollywood Bowl for an evening dance party hosted by Chris Spencer and Donnie Wahlberg. More info here.
Dining
22. Free Primo's Donuts -> Family-owned Primo's celebrates their 65th anniversary this Saturday by treating customers to complimentary Buttermilk Bites, a mini version of Primo's famous Buttermilk Bars. The freebie can be redeemed from 9 a.m. to noon at the Sawtelle location in West Los Angeles.
23. Smorgasburg BBQ Day -> The 5th Annual BBQ Day at Smorgasburg LA returns this Sunday and they're bringing the best BBQ in town including Ugly Drum, Black Sugar Rib Co, The Bad Jew and much more. After a full day of BBQ, cool down at Ice Cream Alley, a special area dedicated to awesome scoop vendors and one-of-a-kind collaborations.
24. Wise Sons now open -> Bay Area fave Wise Sons has expanded to Southern California bringing their line up of Jewish deli classics to Culver City. Menu highlights include house-made bagels and bialys, hardwood-smoked pastrami, matzo ball soup, naturally fermented sour pickles, smoked salmon, and babka filled with Guittard chocolate. Unique to Los Angeles is a classic Diner Tuna Melt and The No. 19 which pays tribute to Langer's Deli. And because you can't have a bagel without coffee, it's conveniently bottomless at the deli. Wise Sons is open for breakfast and lunch with dinner and a beer and wine menu coming soon.
25. Imari -> Imari is now officially open in Brentwood, serving a traditional Japanese washoku-style menu of skillfully made small and shared plates crafted by master sushi chef Derek Wilcox. Formerly of Shoji in New York, Wilcox also trained at 3-Michelin Starred Kikunoi in Kyoto, Japan. For Imari, the menu aims for authenticity, only using fresh ingredients and seasonal seafood from Japan. Highlights include Shima-aji, a striped jack sashimi with ponzu jelly and shaved red onion; a plate of local cucumber varieties with brown rice miso; and Japanese Wagyu steak served with fresh wasabi and sea salt. Reservations are available now via Tock.
26. The Grant -> The Grant is opening this weekend in Glassell Park inside a historic and repurposed building along Eagle Rock Blvd. which will eventually house Bub and Grandma's bakery and Solarc Brewing. Expect a classic cocktail menu, local craft beer and a rotating selection of boutique and natural wines. The Grant opens this Saturday, August 28, at 3515 Eagle Rock Boulevard with daily hours starting at 4 p.m.
---
Any notes or corrections? Want to suggest an event we should add to an upcoming list? Hit us up at [email protected]