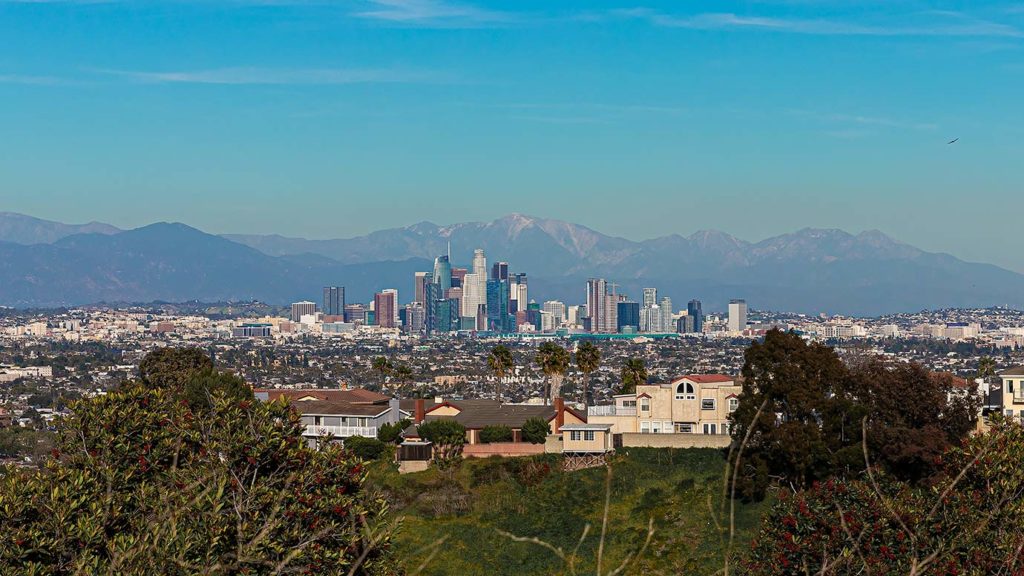 There's always lots to do in Los Angeles, and per usual we're here with a bi-weekly (Monday and Thursday) rundown of the best of what's happening in the city and county.
This week, from August 30 to September 3, features John Williams at The Bowl, First Fridays in Bixby Knolls, a free outdoor movie series in Old Pasadena, comedy in Culver City, and more!
[Remember, if you want to stay connected with our weekly updates, be sure to sign up for the We Like L.A. Newsletter]
Monday/ Throughout the Week
1. Discovery from the Deep -> A new temporary exhibition at the Natural History Museum contains an extremely rare (and kind of horrifying) female Pacific footballfish (Himantolophus sagamius, a type of anglerfish), which was discovered in May 2021 at Crystal Cove State Park in Newport Beach, CA. The exhibit, which opens this Wednesday, will allow guests to touch a model replicating the fish's spiky exterior and learn how the creature uses bioluminescent bacteria to hunt in the darkness of the deep sea. On display through Nov. 29. Adult admission at NHM is $15, remember that L.A. County residents receive free museum admission daily from 3 to 5 p.m. More info here.
2. Proof-of-Vax Bars -> The list of L.A.-area bars now requiring proof of vaccination for entry has no grown to 49 establishments, according to an ongoing list put together by L.A. Taco. If you're still looking to grab a drink, but would feel safer in a vaccine required environment, you could head out to one of these spots this week.
3. Sing for Hope Pianos -> As part of the Sing for Hope Pianos recurring public art project, 16 special artist-designed pianos will pop up around Beverly Hills from Aug 5. to Sep. 6, offering public guests the opportunity to play and enjoy for free. More info here.
Tuesday
4. The Art of Citizen 13660 -> The Japanese American National Museum's newest exhibition honors the legacy of Miné Okubo's Citizen 13600. Published in 1946, Okubo's memoir was the first book-length account of the incarceration and internment of Japanese Americans during World War II. JANM's exhibit will include original sketches and drawings by Okubo, plus a draft copy of her final manuscript. Miné Okubo's Masterpiece: The Art of Citizen 13660 runs through Feb. 20, 2022. JANM's hours are 11 a.m. to 5 p.m., Tuesday through Sunday. Adult museum admission starts at $16. Get more info here.
5. Jazz Eclectic -> This Tuesday, Ryan Cross and his band bring live jazz to Bar Lis, the rooftop lounge at the Thompson Hotel in Hollywood. Music starts at 8 p.m. More info here.
6. DiscOasis -> Lights, disco, live performances, and food trucks, all presented in a lush, late-afternoon garden setting. That's the premise behind DiscoOasis, a new timed experience at the South Coast Botanic Garden that runs Tuesday through Sunday through Sep. 6. Tickets start at $39 per person. Get more info and buy tickets here.
Wednesday
7. "First Wednesdays" Lectures at the Aquarium -> Every first Wednesday of the month, the Aquarium of the Pacific offers a the public a free lecture series featuring guests from the scientific and academic community. This Wednesday, environmental writer Emma Marris will present a lecture based on her book, Wild Souls: Freedom and Flourishing in the Non-Human World. Book signing and cocktail to follow the lecture, which begins at 7 p.m. More info and RSVP for tickets here.
8. Citizen Public Market Comedy Night -> The Setup is hosting an outdoor pop-up stand-up comedy series at the patio of Citizen Public Market in Culver City this Wednesday. Tickets are $15. Show starts at 8 p.m. More info here.
9. Lisa Frank x ORLY Pop Up Nail Bar Experience -> ORLY Color Labs is hosting a Lisa Frank pop-up to celebrate the new Lisa Frank x ORLY nail collection. From September 1-3, ORLY Color Labs ticketed ($55) pop-up will include a personalized Lisa Frank manicure, a photo booth to capture the magic and Lisa Frank x ORLY nail merchandise to take home.
10. Lunchtime Art Talks -> Every Wednesday at 12:30 p.m., curatorial staff from The Hammer Museum lead a short discussion on the work of a different artist. This Wednesday curatorial assistant Matthieu Vahanian leads a discussion on the work of Jean Dubuffet. More info here.
11. Shakespeare in the Park -> The Independent Shakespeare Co. is bringing back free, live theater to Griffith Park starting Aug. 7 with performances of The Tempest. Shows will run Wednesdays to Sundays through Sep. 5. Currently all of the shows have booked up through the end of the series, but a standby list is available. Get more info here.
Thursday
11. Remix The Art of Music -> The 4th annual Remix The Art of Music is a music-themed exhibition featuring 60+ artists, on display at Gabba Gallery now through September 18. Gabba Gallery is open Thursday through Saturday from noon to 3 p.m., or by appointment.
12. Looking with the Heart: The Little Prince -> The Corey Helford Gallery's latest exhibition is a group art show celebrating the legacy of Antoine de Saint-Exupéry's classic children's' tale, The Little Prince, and includes new works from 65 artists from around the globe. The show runs through Sep. 18. Gallery hours are noon to 6 p.m., Thursday to Saturday. More info here.
13. First Thursday in San Pedro -> The First Thursday Artwalk returns to Downtown San Pedro this week as a prelude to Labor Day weekend. Event highlights include live music, free photo booths, food trucks, galley access, and guided tours. Runs from 6 to 9 p.m. on Thursday. More info here.
14. Atsuko Okatsuka Says 'hi' -> Comedian, writer, and actor Atsuko Okatsuka (Let's Go, Atsuko!, The Show Nextdoor) will be performing live this Thursday evening at Dynasty Typewriter starting at 8 p.m. Tickets are $20 with advanced purchase, or $25 for day of show (if still available). More info here.
Friday
15. One Colorado's Summer Flicks -> One Colorado in Old Pasadena is hosting an outdoor movie series in September featuring free admission, complimentary popcorn, and plenty of drinks and meal to-go options for purchase. This Friday the series kicks off with Ferris Bueller's Day Off. Screening begins at 8:30 p.m. Seating is based on capacity, and is first-come, first-serve. Early arrival is strongly encouraged. More info here.
16. John Williams: Maestro of the Movies -> Iconic film composer John Williams returns to the Bowl for his annual celebration of music from the movies. The Los Angeles Philharmonic, conducted both by David Newman and Williams himself, will perform a program of cinematic classics backed by clips from the selected films. More info here.
17. 626 Night Market -> The SGV's signature outdoor market returns to Santa Anita Park this Friday through Saturday with bites and goods for purchase from hundreds of food, merch, and craft vendors, plus arts, games, music, and entertainment attractions for the whole family. Admission is $5 pre-sale, or $7 for day-of. Parking is free. More info here.
18. First Fridays in Bixby Knolls -> First Fridays along Atlantic Ave in Long Beach have returned, featuring an evening of pop-up activities, live music, and special discounts. Runs from 6:30 to 9:30 p.m. this Friday, Sep. 3. Check the full list of activities, participants, and sales here.
19. Zombie Joe's Toxic Vampyre -> ZJU's newest horror walk-through experience opens this Friday, and performances will be limited to the next three weekends. Per a release, guests will be "…entranced by a terrifyingly-mischievous motley gang of hungry Vampyres as they guide you through their wretched, soul-sucking phantasmagoria with a blood-promise of a blissful eternal life devoid of fear, pain and worry." Sounds chill. Runs Friday and Saturday nights through Sep. 11. Tickets are $17.50. More info here.
20. Dance DTLA -> The Music Center's Dance DTLA is back starting on Aug 13, for five Friday night dance parties on its Jerry Moss Plaza. On-site dance instructors will guide guests on easy-to-learn steps while DJs spin the soundtrack. This Friday's theme is Salsa, and the event is free and open to the public. More info here.
Dining
21. Sweetfin Launches New Box-> Sweetfin will launch Sweetbox a bento box compartmentalized with yuzu salmon poke over citrus kale salad, spicy tuna poke over bamboo rice, chile ginger forbidden rice noodle salad and taro chips dusted in wasabi furikake. The public can order the Sweetbox starting on August 30 at all 13 Sweetfin locations and through Postmates, or through Sweetfin's website.
22. Justin Queso's x Christian Petroni -> On Monday, August 30 from 5 to 9 p.m., Chef Christian Petroni will bring his famed Queso Parm Sandwich on Texas Toast to Justin Queso's in West Hollywood.
23. Redbird Happy Hour-> Redbird is offering a happy hour menu at the bar where everything is $10 Wednesday through Friday from 5 to 6 p.m. Mix and match craft cocktails (named after icons both real and fictional like Charlie Chaplin and Carrie Bradshaw,) wines by the glass and elevated bar bites like grass fed beef tartare and prawns with green papaya, weiser melon and nuoc cham.
24. San Pedro Fish Market Happy Hour -> San Pedro Fish Market Long Beach launches a happy hour featuring a number of seafood specials and cocktails. Food that includes Chowda Fries, Shrimp Toast and Campechana Baja Tostada all under $10, draft beer for $5, wine by the glass for $6 and specialty cocktails for $7. Happy hour runs Monday through Thursday from 3 to 7 p.m., exclusively at San Pedro Fish Market Long Beach.
---
Any notes or corrections? Want to suggest an event we should add to an upcoming list? Hit us up at [email protected].