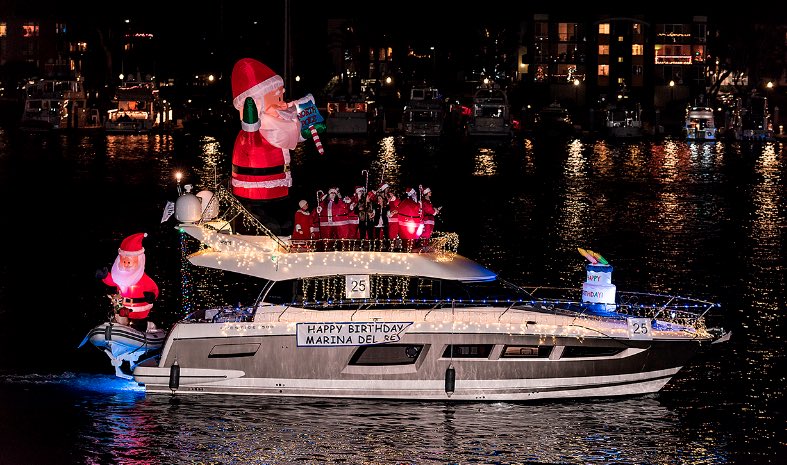 We got holiday boats. We got holiday markets. We got fresh museum exhibitions and free admissions.
This weekend in Los Angeles, from Dec. 10-12, features the Marina del Rey Holiday Boat Parade, an NBA 2K22 experience, the ByBlack Bazaar, a rooftop holiday market, free second Sundays at USC PAM, a Parm Boyz pop-up at Ronan, and more.
[Remember, if you want to stay connected with our weekly updates, be sure to sign up for the We Like L.A. Newsletter]
Friday / All Weekend
1. Home Alone in Concert-> As part of the LA Phil's Deck the Hall holiday series, the Disney Concert Hall will host three screenings (Dec. 10-12) of the Christmas Classic Home Alone, with John Williams delightful score performed live to picture by the Los Angeles Philharmonic, as conducted by David Newman. Tickets range from $61 to $193 per seat. More info here.
2. Poetry O'Clock –> This Friday, Metro Art is hosting a poetry exchange pop-up inside the Union Station Information Booth where guests can stop by, share their story with a poet, and receive a short original poem written on-the-spot. Live works will be written by poets Taz Ahmed, traci kato-kiriyama, and féi hernandez. Runs from 1 to 7 p.m. More info here.
3. The Shell in the Clouds -> Self Help Graphics & Art latest exhibition, The Shell in the Clouds (El caparazón en las nubes), kicks off this Friday with a special opening event from 6 to 9 p.m. In the exhibition, artist Pavel Acevedo explores issues of migration and cultural adaption through a portrayal of Zapotec stories on a series linocut prints. The exhibition runs through Feb. 19, 2022. RSVP for opening night here.
4. Luminaria Nights -> Starting this Friday, The California Botanic Garden in Claremont will light up for the holidays over two special weekends (Dec. 10-11, and Dec. 17-18). Live musicians will provide a serene soundtrack as guests walk the garden trails and enjoy unique sculptures from the (Re)place exhibition created by Brandon Lomax. The evenings of art and nature run from 6 to 9 p.m. each night. Tickets are $15 for adults More info here.
5. Art of Tea Holiday Pop-up at Platform -> Eunbi Ceramics will pop-up at Art of Tea with an assortment of hand-crafted ceramics from local artisan Eunbi Cho for sale Friday through Sunday.
6. Seaside Cinema -> This weekend, the Seaside Cinema & Santa's Workshop series continues at Loews Santa Monica Beach Hotel with screenings of The Grinch on Friday and A Muppets Christmas Carol on Saturday. Activities also include special culinary treats plus letter writing to Santa for the little ones. Events run from 6 to 8 p.m. The series continues through Dec. 25. More info here.
7. Dodgers Holiday Festival -> Think blue this Christmas season by checking out a new holiday-themed fan fest taking over Dodger Stadium. Guests can explore the newly-renovated Centerfield Plaza and enjoy nightly entertainment options including ice skating rink, light displays, Santa photo-ops, plus holiday-themed treats and drinks. Tickets start at $16. Runs nightly through Dec. 31. More info here.
8. Enchanted Forest of Light -> Descanso Gardens' annual illuminated, night-time experience is now open for the holiday season, offering an array of vibrant light displays and installations over the course of a one-mile walk at the garden grounds. Special for 2021, an entire town of stained glass creations has been erected in the Rose Garden by contemporary sculptor Tom Fruin. Standard tickets run $32-$35, depending on weekday or weekend reservations. Get more info here.
9. LA Zoo Lights -> The L.A. Zoo's signature holiday experience is now open, featuring a plus special attractions including a pop-up storybook, the magical disco ball forest, giant glittering snowflakes, and a twinkling tunnel filled with dynamic swirls of color. Run nightly through Jan. 9, except for closures on Thanksgiving, Christmas Eve, and Christmas Day. Adult tickets start at $22. More info here.
10. Winterlit -> Winterlit transforms the Third Street Promenade into a festive experience featuring tens of thousands of colorful lights, decor and garland, all extending on to 2nd and 4th Streets. illuminating convenient shopping and cozy outdoor dining experiences. More info here.
11. Santa's Speedway -> Now through Jan. 2, the Irwindale Speedway is hosting a nighttime drive-thu experience offering visitors a host of holiday treats for the eyes, including stables filled with illuminated race cars, Christmas Trees and Snowmen made from tires, a 200-foot long illuminated red Christmas bow, plus a massive tree over 100-feet tall, adorned with 100,000 programmable LED lights. Tickets start at $59 per car. More info here.
12. Lightscape at the LA Arboretum -> On Friday, Nov. 12, the LA Arboretum opens an illuminated nighttime attraction for the winter season called Lightscape. The mile-long, self-guided walk features thousands of twinkling lights in various themed attractions including a Winter Cathedral, Star Tunnel and Fire Garden. Adults tickets start at $32. Runs on select nights through Jan 16, 2022. More info here.
13. L.A. Kings Holiday Ice -> The city's largest outdoor ice rink has returned to L.A. LIVE for the holiday season, with daily hours now through Jan. 22. General admission, which includes skate rental, starts at $25 per adult. More info here.
14 The Nutcracker Suite -> The American Contemporary Ballet is performing an immersive, one-of-a-kind version of the Tchaikovsky classic on Thursdays to Sundays through Dec. 24. Tickets cost between $25 to $140. More info here.
15. Snowglobe Groundlings -> The Groundlings' annual holiday show runs on Fridays and Saturdays through Dec. 18. Tickets are $25. More info here.
16. Hypercars at The Petersen -> The latest exhibit at the Petersen Automotive Museum brings guests into the world of hypercars, the fastest and most exclusive cars money can buy. Over the coming months Hypercars: The Allure of the Extreme will rotate up to 30 vehicles within the exhibit space, with the roster including the Aria FXE concept, Bugatti Veyron 16.4, Caparo T1, Devel Sixteen, Ferrari LaFerrari Aperta, and more. The new exhibit opens this Saturday, Dec. 4. GA tickets to the museum run $17. Get more info here.
17. OH Snap: A Holiday Experience -> Create Something Amazing presents "OH Snap: A Holiday Experience," featuring a pop-up holiday gallery with live music, photo moments, holiday inspired cocktails, and more. All toy donations and a percentage of proceeds from the event will go to Children's Hospital Los Angeles (CHLA). Happening Thursday through Sunday this week and Wednesday through Sunday for the rest of the month. More info here.
Saturday
18. Marina del Rey Holiday Boat Parade -> This Saturday luminous vessels take over the main channel of Marina del Rey for the 59th annual Holiday Boat Parade. A short fireworks show precedes the main event right before 6 p.m., and the parade should last around two hours in total. Free to attend/watch. More info here.
19. NBA 2K22 Experience -> This Saturday and Sunday, American Express is teaming up with the NBA to host the first-ever The American Express x NBA 2K22 pop-up outside Staples Center. The event will feature free NBA 2K22 merch, a face scan studio where players can perform by taking high-quality MyPlayer face scans, plus a Twitch Live-Streamed NBA 2K22 Match-Up between NBA star Paul George and WNBA star Breanna Stewart. Free to attend. Runs Saturaday from 11 a.m. to 4 p.m., then Sunday from 3:30 to 7:30 p.m. More info here.
20. ByBlack Bazaar -> On Saturday and Sunday, a pop-up market curated by actress Issa Rae comes to DTLA with an assist from American Express (Amex is really getting around this weekend!). The ByBlack Bazaar will features over a dozen black-owned brands and businesses, plus live DJ'd music and complimentary gift wrapping by Black Paper Party. Runs Saturday from noon to 6 p.m. and Sunday from 10 a.m. to 6 p.m. More info here.
21. Seaside Cinema -> This weekend, the Seaside Cinema & Santa's Workshop series continues at Loews Santa Monica Beach Hotel with screenings of The Polar Express on Saturday and The Santa Clause on Sunday. Activities also include special culinary treats plus letter writing to Santa for the little ones. Events run from 6 to 8 p.m. The series continues through Dec. 25. More info here.
22. Pawliday Market -> If you're shopping for the pet (or pet-lover) in your life, consider stopping by Annenberg PetSpace's Pawliday Market where you'll find 10+ vendors offering pet accessories and specialty items, plus kid-friendly activities and crafting. Free to attend. Runs Saturday from 11 a.m. to 4 p.m. More info here.
23. Yuletide Cinemaland -> Street Food Cinema's holiday-themed movie series combines a slate of classic Christmas films with special activities at Heritage Square Museum. Tour Victorian homes, visit with Santa, check out a light tunnel, or sample from on-site food trucks before enjoying the feature presentation. This Saturday the series opens with a screening of Elf. GA tickets start at $40 per person. More info here.
24. Jackalope Burbank -> Indie-arts market Jackalope brings their tribe of over 150 vendors to downtown Burbank this weekend (Dec. 11-12) for a shopping event featuring trendsetting indie goods, original fashion and jewelry design, paper goods, innovative home decor and housewares, art, photography, and food. Free to attend. Runs 10 a.m. to 4 p.m. both days. More info here.
25. Breakfast with Santa and Tea with a Twist at Loews Santa Monica -> Loews Santa Monica is bringing the Christmas vibes hard this Saturday (Dec 11) with a Breakfast from 8 to 11 a.m. featuring Santa Claus, photos, reindeer antler making, cookie decorating with elves, holiday hip hop dance instructors, and more. Then from 2 to 4 p.m. the hotel will offer Tea with a Twist for adults featuring tea-infused cocktails and a variety of sweet and savory bites along with a special performance from the young musicians of Elemental Music.
26. Kumihimo Exhibition at Japan House LA –> Beginning this Saturday, Japan Houes LA hosts the first exhibition in the United States to explore the history and art of Japanese silk braiding, which over the past centuries has been an important stylistic and practical element for usage in religion, music, military, and politics. Kumihimo: The Art of Japanese Silk Braiding by Domyo runs from Dec. 11 to March 6, 2022. Free to visit at the Japan House gallery. More info here.
27. Ron Herman Holiday Flea -> Ron Herman on Melrose is hosting a Holiday Flea Market from 11 a.m. to 6 p.m. this Saturday featuring a variety of vendors in the apparel, accessories, and home spaces. The market will take place outdoors. In addition, Ron Herman will be collecting new, unused toys in support of Baby2Baby and providing 10% off an in-store purchase to each customer who donated.
Sunday
28. Rooftop Holiday Market -> This Sunday afternoon, Ace Hotel DTLA + Good Hands Market L.A. team up a rooftop holiday marketplace featuring local artisans, DJ'd music, specialty cocktails, latkes, and a holiday photo booth. The event starts at 1 p.m., and live performances by Bad Hombres, Austin Graham, The Cauterizers and Problemas will begin at 5 p.m. following the market. More info here.
29. Free Second Sunday at USC PAM -> The USC Pacific Asia Museum in Pasadena offers free admission every second Sunday of the month. If you go, check out the museum's latest exhibition, INTERVENTION: Fresh Perspectives after 50 Years, and keep in mind that creative collective Narrated Objects will be spearheading a Future Museum Art Workshop on Sunday from noon to 4 p.m. Museum hours are 11 a.m. to 5 p.m. More info here.
30. New Exhibition at LACMA -> The Los Angeles County Museum of Art's latest exhibition Mixpantli: Space, Time, and the Indigenous Origins of Mexico, opens this Sunday Dec. 12. The new exhibition look backs on the conquest of the Aztec empire and establishment of Mexico through the works of indigenous artists, mapmakers, and storytellers, and in so doing flips established historical narratives on their head. Mixpantil will run through May 1, 2022. Museum admission for L.A. County residents start at $20.
Dining
31. Parm Boyz Back For One Night -> After a short break, red sauce pop-up Parm Boyz returns to Ronan on Melrose for a one final night (Dec 12) that will double as a toy drive benefiting Children's Hospital of Los Angeles. On the menu is an Italian four-course meal for $40 a person that includes antipasti, Caesar salad, chicken and eggplant parm, and a tiramisu for dessert. In addition, veal chop parm and veal Tomahawk chop are available as add-ons for an extra cost. A modified vegetarian menu will also be available that night. Guests who pay it forward with a gift for the toy drive will receive a welcome nip of limoncello, on the house. Reservations can be made via Resy and are highly encouraged.
32. Blossom Market Hall -> New 13-vendor food hall Blossom Market Hall officially opens to the public today (Dec. 9) in the historic Mission District of San Gabriel. Vendors include a number of minority or women owned food business and some familiar names like Rori's Artisanal Creamery and Spotless Burgers.
33. Angry Egret Dinette Anniversary Food Drop -> This Saturday marks the one year anniversary of Chef Wes Avila's Angry Egret Dinette in Chinatown. To celebrate they've partnered with limited edition food drop company Biite, Tecate beer, and online food platform Caviar for a special local Spiny Lobster torta for dine-in, and a limited quantity for to-go.
34. Dear Bella Creamery's Winter Chef Series -> Dear Bella Creamery's new winter ice cream flavor release includes two exciting collaborations, including a team-up with vegan street taco makers Cena Vegan called Gansito. Gansito is a Mexican snack cake interpreted in ice cream form with vanilla cake, chocolate sprinkles and a natural strawberry jam swirl. Yum… Oh, and 10% of sales for this flavor will go to help support Farm Sanctuary.
35. Holiday Market at Eataly LA -> Eataly Los Angeles is bringing the Italian Holiday Market experience to Los Angeles. Stop Eataly LA to find culinary gifts from Italy, pre-made themed gift baskets, over 50 varieties of panettone, pandoro Italian cakes and other holiday desserts. More info here.
---
Any notes or corrections? Want to suggest an event we should add to an upcoming list? Hit us up at [email protected].