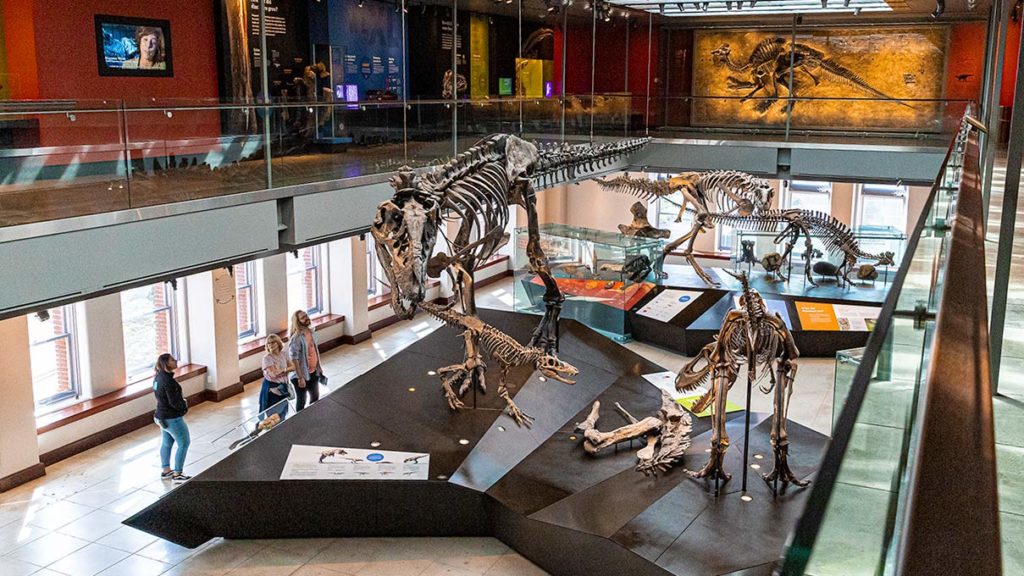 As Los Angeles finds its way out of the pandemic and restrictions gradually ease, we're continuing our bi-weekly round-ups of fun to-dos, mixing in the occasional online/virtual event with an ever-growing listen of in-person experiences and food ideas.
This weekend, from September 24-26, features LA Haunted Hayride, Fourth Fridays at The Broad, The Other Art Fair, a Totally Valley Block Party, DinoFest at Natural History Museum, LA Tequila Fest, and more.
[Remember, if you want to stay connected with our weekly updates, be sure to sign up for the We Like L.A. Newsletter]
Friday / All Weekend
1. Los Angeles Haunted Hayride -> After adapting to a drive-thru version last year, the Haunted Hayride is back in Griffith Park for 2021 with in-person activities based around a fictional town named Midnight Falls, circa 1985. In addition to the signature hayride, highlights for this year's event include a Trick or Treat Maze, the Midnight Mortuary Tour, and the Dead End Diner. Kicks off this Friday, Sep. 24 and runs on select nights through Oct. 31. General Admission tickets are $39.99 (access to all attractions) and if you want to do the hayride only it'll run you $29.99. Get more info here.
2. The Other Art Fair -> The Other Art Fair Los Angeles returns to the Santa Monica Barker Hangar from Sep 23-26 with a showcase of 140 independent artists. General admission tickets for Friday-Sunday are $15. More info here.
3. A Star is Born at Pershing Square -> Pershing Square's Friday film screening series continues on Sep. 24 with a showing of A Star is Born (2018). Entry is free, and the event is all-ages. Food will be available for purchase onsite. More info here.
4. Grand Performances -> This Friday's edition of Grand Performances doubles as a KCRW Summer Nights event. The evening kicks off with DJ sets by Anne Litt and Valida, followed by a performance from electronic music artist Madame Gandhi. Free. Outdoors. Runs from 6 to 10 p.m. More info here.
5. One Colorado's Summer Flicks -> One Colorado in Old Pasadena is hosting an outdoor movie series in September featuring free admission, complimentary popcorn, and plenty of drinks and meal to-go options for purchase. This Friday the series continues with a screening Yesterday. Show begins at 8:30 p.m. Seating is based on capacity, and is first-come, first-serve. Early arrival is strongly encouraged. More info here.
6. Dine Alhambra -> Dine Alhambra Restaurant Week returns starting this Friday with special deals at 15 select restaurants in Downtown Alhambra. Prix-fixe lunch and dinner menus range from $15 to $50. Runs from Sep. 24 toOct 1. More info here.
7. Fourth Fridays at The Broad -> The Broad's monthly Fourth Friday series concludes on Sep. 24 with extended museum hours from 5 to 8 p.m., special dance activation alongside select gallery exhibits, and DJ spun music at the East Bank Plaza. No standby line available for this installment. Free tickets for museum admission must be booked in advance. More info here.
8. ReSound -> Leela Dance Collective's ReSound is a 5-day celebration of Kathak dance highlighted by educational workshops and free street performances at locations throughout Los Angeles County. Workshops are only $10 to attend, and the first public performance takes place at Grand Park on Friday at 12:30 p.m. Performances continue over the weekend at venues in Woodland Hills, Santa Monica and Pasadena. Check the full schedule of events here.
9. Hola México Film Festival -> The 2021 Hola México festival continues this week with screenings at REGAL DTLA through Sep 24., then caps off with a final screening and party at LA Plaza de Cultura y Artes on Sep. 25. Catch the full lineup of films to screen here.
10. Knott's Scary Farm -> The Orange County theme's park massive Halloween metamorphosis includes a thorough assortment of spooky ride transformations, scare zones, mazes, themed food options, art, and even an uncensored puppet comedy show. Open Select dates now through Oct. 31. GA tickets start at $50, and the Fright & Fast Line ticket (offering priority access to mazes and Fast Lane rides) is $109. More info here.
11. Halloween Horror Nights at Universal -> Universal Studios Hollywood brings their annual terror attraction back starting on Sep 9. This year's attraction will include the return of the "Terror Tram," featuring "The Ultimate Purge," along with a maze based on "Halloween 4: The Return of Michael Myers." GA tickets range between $69-$99, depending on the date of attendance. More info here.
Saturday
12. Easy Mornings at Grand Park -> Every Saturday in September Grand Park will play host to special morning events featuring family-friendly activities, including arts-based workshops, wellness and dance workshops, public art and live DJ entertainment. Free to attend. No RSVP required. Runs from 10 a.m. to 1 p.m. this Saturday. More info here.
13. Free FIDM Fashion Club Day -> This Saturday, FIDM is hosting a special event for high school and college students at their downtown campus. Participants can attend a fashion styling workshop, engage with DIY stations, and model their creations on the runway. Free to attend. More info here.
14. The Do-Over at Grand Performances -> The final event of GP's summer schedule features a 15th anniversary celebration of party purveyor The Do-Over. Featured artists include The Beat Junkies, Four Color Zack, DJ Rhettmatic, Gas Lamp Killer, Natasha Diggs, DJ Nu-Mark, and Quantic. Runs 2 to 10 p.m. on Saturday. Free. Outdoors. More info here.
15. New Exhibitions at CHG -> Corey Helford Gallery opens two new exhibitions this Saturday: Monochrome, Apples and Animals, from Japanese oil painter Mayuka Yamamoto in the Main Gallery, along with Adrian Cox's Dream Country in Gallery 2. CHG visiting hours are noon to 6 p.m. from Thursday through Sunday. More info here.
16. 2021 LA Tequila Fest -> Over 50 premium tequila and mezcal brands showcase their flavors at their tastes at LA State Historic Park this Saturday. In addition to the samples, expect food trucks, DJ sets and lawn games. GA tickets are $65, which allows you to try 15 samples. More info here.
17. Totally Valley Block Party -> On Saturday, Westfield Fashion Square plays host to a Totally Valley Block Party featuring over ten food trucks, five valley breweries, outdoor games and giveaways, all soundtracked by DJ-spun tunes. Runs 6 to 10 p.m. Free admission. More info here.
18. Imagining the West in Music -> This Saturday, The Autry in Griffith Park will host a free one-hour performance by singer-songwriter Raye Zaragoza. More info here.
19. Asphalt Comedy -> Asphalt Comedy highlights up-and-coming comics at a pop-up outdoor stage along Melrose Ave. This Saturday's lineup features Daphnique Springs, James Davis, Justin Martindale, Mary Lynn Rajskub, Audrey Stewart, Justine Marino, and Jodi Miller. General admission tickets are $30, and can be purchased here.
Sunday
20. DinoFest LA -> The 10th anniversary edition of Natural History Museum's DinoFest offers meet-and-greets with world-renowned paleontologists from the museum's Dinosaur Institute, screenings of Dinosaurs of Antarctica 3D, fossil demos, hands-on activities, and discussion sessions. If you want to learn more about dinosaurs, this is the event for you! Tickets are $15 for museum admission. More info here.
21. Americana in the Park -> Every Sunday from Sep. 19 to Oct. 10, the City of Santa Monica will team up with McCabe's Guitar Shop to present a special concert series at Gandara Park that explores the roots Americana music. This Sunday the series opens with a performance by The California Feetwarmers, who specialize in New Orleans-style jazz takes on tunes from the 1920s and 1930s. Event goes from 3 to 6 p.m. Free and open to the public. More info here.
22. Autumn in the Garden -> Arlington Garden, the only dedicated free public garden space in Pasadena, is celebrating its 16th anniversary with a fundraiser party this Sunday. Musical performances will be provided by Mia Doi Todd and the jazz band Katalyst. A $75 ticket includes light bites from Sqirl and wine provided by Wenzlau Vineyard. All profits from the sale of tickets are used to support the garden. More info here.
23. The Leo From Rio Sound Machine -> This Sunday in WeHo, Brazilian-American multidisciplinary artist Leopold Nunan will present a two-hour dance music show extravaganza in West Hollywood Park, thanks to the WeHo Artist Performance Grant. The interactive pop-up will feature Carnaval parade costumes, dancers, live drums, capoeira acrobats, drag queens and a DJ'd soundtrack. Free admission. Starts at 6:30 p.m. More info here
Dining
24. Hisaya Kyoto Chestnuts -> Hisaya Kyoto Chestnuts is the first U.S. branch of the Japanese chain, which specializes in chestnut-centric desserts. Popular items include the Fuji Mountain, a soft serve topped with matcha and candied chestnuts, boba drinks flavored with chestnuts and Japanese baked donuts with chunks of chestnuts in it. The menu is pretty expansive, including a Mont Blanc cheesecake, cookies, donuts and Tiramisu all with–you guessed it–chestnuts.
25. New Menu item at Sushi Note -> Sherman Oak's popular wine and sushi bar Sushi Note will offer a special Biscotti Flight ($11) only available this weekend (Friday through Sunday.) Created by Chef Saito and Chef Aguilar the flight includes four crispy rice bites will be topped with Ora King Salmon with lemon, avocado and crispy leeks; and House Cured Gravlax with crème fraiche and pickled wasabi stem.
26. Sightglass Reopens Cafe -> Sightglass in Hollywood will reopen their cafe this Friday with a new menu from chef Jillian Bartolome. The sprawling space includes a market place featuring local purveyors, a coffee shop and a cafe offering fresh pastries, housemade sourdough bagels, sandwiches, salads and bowls. 
---
Any notes or corrections? Want to suggest an event we should add to an upcoming list? Hit us up at [email protected]