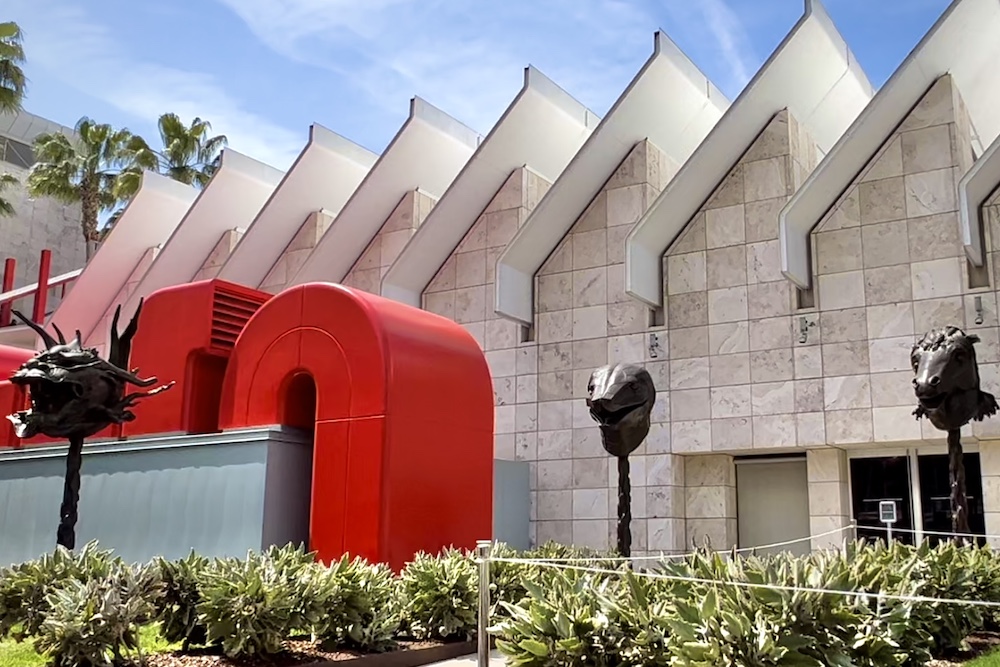 Spring is in swing, and we've got lots of things for you to ring the bell of your imagination, assuming that our delineation is of your persuasion.
For April 24-28 in Los Angeles, catch a new comedy show in East Hollywood, a Songwriters exhibit at The GRAMMY Museum, a Chargers draft party, an Obama musical parody, a new improv show at The Groundlings, live jazz at LACMA, a spring party at Big Bar, an Arts Party at The Hammer, and more.
Things To Do This Week
Petit Fours Comedy -> A new comedy night pops up at East Hollywood's The Cats Crawl starting this Monday. For the premier performance, Irene Tu and Daniel Van Kirk host a lineup that includes Matt Braunger, Von Roburts, Chloe Radcliffe, and Jenny Zigrino. Tickets are $12 in advance or $15 at the door. Starts at 8 p.m. More info here.
Movie Night at Angel City Brewery -> Angel City Brewery's Monday movie screening features the 80's classic, The Goonies. Popcorn provided and free to attend. Starts at 8 p.m. More info here.
Symbiosis: Living Island -> Symbiosis: Living Island is now open at Japan House Los Angeles. The latest exhibition focuses on the Inujima "Art House Project," which was imagined to revitalize the depopulated island of Inujima by incorporating contemporary art into existing architectural and ecological spaces of the area. Symbiosis remains on view through July 5. Open daily and free to visit. More info here.
Venice Family Clinic Art Walk + Auction -> The Venice Family Clinic Art Walk + Auction continues this week with hundreds of donated art works will be on display at a 7,000-square-foot gallery space at RUNWAY Playa Vista through May 19. The accompanying online auction raises funds to support the Clinic's health care services and initiatives. The exhibition is free and open to the public. Get more info here.
How is Art a Weapon in War? -> Zócalo Public Square's latest discussion goes deep on issues of art and war, including its use as a tool for protest, as well as the co-opting of art for propaganda. This Tuesday, Pulitzer Prize-winning novelist Viet Thanh Nguyen moderates a panel that includes include Gelare Khoshgozaran, artist, filmmaker and writer; Khalil Kinsey, COO, chief curator and creative director for the Kinsey African American Art & History Collection; Michael Novak, artistic director, Paul Taylor Dance Company; and Nadya Tolokonnikova, creator, Pussy Riot. Free to attend, with post-talk reception to follow. More info here.
The Power Of Song: A Songwriters Hall Of Fame Exhibit -> Starting Wednesday, The GRAMMY Museum's newest exhibit puts the songwriting process in focus with a special film featuring songwriters Jimmy Jam, Toby Keith, Carole King, Smokey Robinson, Carole Bayer Sager, and Diane Warren; plus you can check out interactive displays, a Gershwin-owned piano, and handwritten lyrics from creative legends. The Power Of Song: A Songwriters Hall Of Fame Exhibit opens April 26 and remains on view through September 4. Admission to The GRAMMY Museum starts at $18 for adults. More info here.
44 – The Unofficial, Unsanctioned, Obama Musical -> A new musical pops up at The Bourbon Room in Hollywood starting this Wednesday promising a raucous evening of political parody and song-infused satire, all giving you the skinny on the "real" history of the Obama presidency. T.J. Wilkins (NBC's "The Voice) stars as Barack Obama with Shanice ("I Love Your Smile," "Saving Forever for You,") as Michelle. Tickets are $28-$55. Performances continue Wednesday to Saturday through May 20. And keep in mind there is a two item minimum. More info here.
World of Barbie -> World of Barbie has debuted at Santa Monica Place with an immersive experience that puts fans neck deep into Barbie's fantastic world of plastic. The 20,000 square-foot attraction features a number of life-size spaces like a Barbie Dreamhouse and Camper Van, plus a salon filled with products and other various interactive rooms. Runs Wednesday to Sunday through June 30. Hours vary. Tickets start at $34.50. More info here.
Alcove & Big Bar's Epic 2023 Spring Party -> On Thursday, Alcove and Big Bar celebrate the return to Spring with a GOOD VIBES ONLY event centered around astrology and the four elements. Guests are invited to sip on themed cocktails, munch on crystal cookies, partake in an ice luge volcano, silent disco and a number of wellness activities. An aura photographer will be on hand to capture your inner self and there's even a mermaid added into the mix. The annual spring party goes way back to the bar opening in 2010. No cover to attend. Starts at 7 p.m. More info here. 
Chargers Draft Party -> The 2023 NFL Draft kicks off this Thursday, and the Los Angeles Chargers are celebrating by hosting a draft party at the Westfield Century City. Event attendees will have the opportunity to win giveaways, meet Chargers legends like Dan Fouts, Kellen Winslow, and Charlie Joiner, take part in interactive photo moments, enjoy a live performance by Chargers gameday DJ – Esther Anaya, and more. The party kicks off at 3:30 p.m. and is free to attend with RSVP. More info here.
Jazz at LACMA -> This Friday, Catch a live jazz performance at LACMA's Smidt Welcome Plaza by the Los Angeles Jazz Orchestra. Concerts runs 6 to 8 p.m. Free to attend, but seating is first-come, first-serve. More info here.
Arts Party: Saturated -> This Friday, college students from all over SoCal will meet up at The Hammer Museum a joyous evening of live performance and after-hours access to the galleries. Guests can check out music by BJ the Chicago Kid and Cruza, attend workshops by L.A. Zine Fest, snag temp temporary tattoos by Roberto Euán, and and get free cookies from Insomnia. The party runs 7 to 10 p.m. Free to attend, no ticket required. More info here.
Under the Tuscan Groundlings -> This Friday, a new sketch comedy show called Under the Tuscan Groundlings opens at The Groundling's Theater featuring members of the Main Company, and directed by Lisa Schurga. Friday's opening night also includes a post-show party with the cast featuring Italian food, snacks, wine and beer. Tickets are $50. Show begins at 7:30 p.m. More info here.
Dining & Drinking
(picks by Christina Champlin)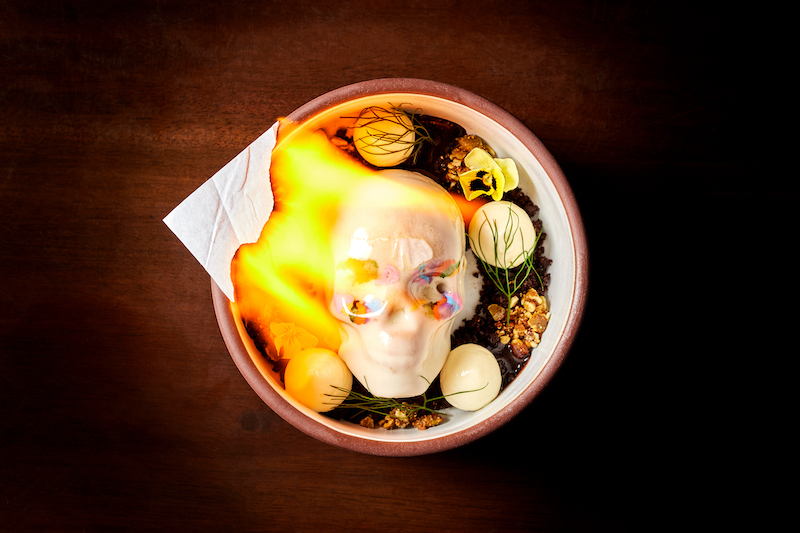 Sendero
If you're feeling the need to get fancy on your next food adventure, head to the 24th floor of the Ritz-Carlton in DTLA where you'll find Sendero, a new multi-concept collection by chef Kevin Luzande (formerly of Cabo's Acre.) The ambitious endeavor represents Luzande's journey through the cuisine and culture of the Pan-American Highway and (so far at least) the results are pretty impressive.
The Sendero journey begins with Corteza, a Latin American restaurant inspired by the markets found along the Sea of Cortez. On the menu are fresh ceviches ($25), Hokkaido scallops bathed in a vibrant aji amarillo sauce ($25), and savory sharable bites such as duck-filled arepas ($20) and black truffle mole negro stuffed tamals ($28).
Leña takes residence at another end of the expansive space. This Argentine-inspired steakhouse offers the predictably incredible views of Downtown paired with an upscale dining experience that features towering seafood platters, dry-aged beef and wagyu tomahawks sliced table-side. For starters you'll want to get the wagyu carpaccio. It's accompanied by black truffle arancini; a genius flavor combo I never knew I needed. Steaks and the platters all range in the $100-$300 vicinity, so the price is in line with an ultra high end chop house, but the Latin influencer offers something a bit difference that what you'd normally expect (plus that view!).
While the four restaurants each have their own distinct menus, the dessert, and beverage programs are all unified under the Sendero umbrella. You can find cocktails smoked with palo santo and Peruvian chicha morada shaken into a drink. All cocktails feature ingredients inspired by and sourced from Mexico, Central and South America. Spirits are also sourced from family-owned distilleries. 
On the dessert menu, executive pastry chef Francois Behuet (formerly of Bottega Louie) applies French techniques to a number of traditional desserts across Mexico and Central and South America. The Día de los Muertos is a visual stunner and yes, you'll want to grab your phone out for this one. A white chocolate skull filled with milk chocolate mousse and passionfruit is presented at the table. In dramatic fashion the whole thing is lit on fire and the skull melts delightfully into the mousse.
For now, Corteza and Leña are the only concepts open. A forthcoming eight-seat chef's table space, as well as an agave library are both set to open later this year.
---
Want to get the best things to do in L.A. sent straight to your inbox? Join over 60,000 Angelenos who subscribe to our twice weekly email newsletter!
By subscribing, you agree to our terms of use and privacy policy and consent to receive emails from We Like L.A. about news, events, offers, and partner promotions.