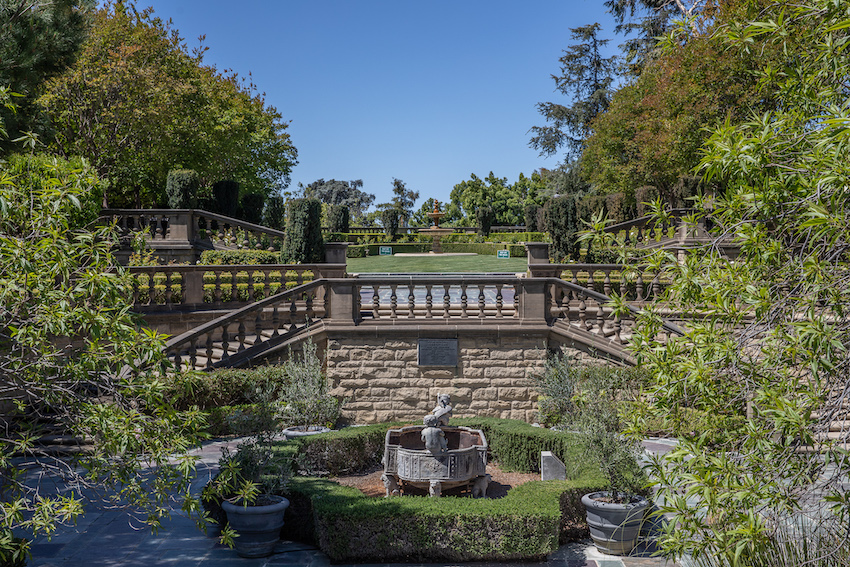 Anyone find it scary just how fast this summer went by? Just us? Cool.
This September 5-8 in Los Angeles, you'll find a live play reading at Greystyone Mansion, first Wednesdays at the Aquarium of the Pacific, The Gospel at Colonus at The Getty Villa, Halloween Horror Nights at Universal Studios, Summer of Salsa at LA Plaza, and more. Let's check out all the options below.
Things To Do This Week
M = Less than .5 miles from an L.A. Metro Station, FA = Free Admission, TP = Top Pick
---
L.A. Times Food Bowl -> The Los Angeles Times Food Bowl is back with a month-long celebration of the city's culinary scene featuring special events, including launch party event at Lemon Grove on Tuesday. The Food Bowl's signature three-day night market at Paramount Studios will take place September 22-24. Prices vary by event. Get more info here. 
Pete Holmes at Dynasty Typewriter – M > Comedian Pete Holmes (HBO's Crashing, The Pete Holmes Show) pops up at Dynasty Typewriter this Tuesday for an evening of stand-up featuring special guests, including Rory Scovel. Tickets are $25. Show starts at 7:30 p.m. More info here.
Play Readings at Greystone Mansion – TP > On Wednesdays in September, Theatre 40 and the City of Beverly Hills team up to present a series of new play readings inside the the renovated Greystone Theatre (located inside the historic Greystone Mansion), beginning with a performance of Frank Salisbury's Balancing Act on September 6. Tickets are $10 for Beverly Hills residents, or $15 for non-residents. All shows begin at 6:30 p.m. More info here.
First Wednesdays at AoP -> The Aquarium of the Pacific's monthly evening lecture series continues this Wednesday with guest speaker Dr. Ben Strong (author of The Earth Genome), leading a presentation on applications of Artificial Intelligence to identity and solve critical environmental issues. Per usual, the one-hour talk is to be followed by a meet-and-greet, cocktails, and music and crafts in in the Pacific Visions Art Gallery. Tickets are $5 if you buy in advance. Parking is $6 for the for 2.5 hours in the Aquarium structure. Starts at 7 p.m. More info here.
Culture Break LA – M FA TP > Culture Break LA continues its weekly series of lunchtime musical and artistic performances at locations adjacent to the three new Metro stations in DTLA, all presented by the Central City Association (CCA) with a production assist from NXT Art + DTWX, and dublab. Next up in the series, MDSN and LOW LEAF bring an hour of synth-heavy tunes to the plaza at the Japanese American National Museum on Wednesday, accompanied by art works from Calder Greenwood. Runs noon to 1 p.m. Free to attend. Ride the A or E lines to Little Tokyo station to check it out. More info here.
The Gospel at Colonus at The Getty Villa – TP > Beginning this week, the Getty Villa's Outdoor Classical Theater hosts performances of The Gospel at Colonus, a soulful reimagining of Sophocles's timeless work, "Oedipus at Colonus," dating back to the 5th century BCE. Through a blending of Greek mythology and the rich traditions of Black spirituality, the show uses the narrative of Oedipus as the focal point of a redemptive and soul-stirring musical celebration. Shows open this Thursday-Saturday, and continue on select dates through September 30, all starting at 8 p.m Tickets cost $40-$55. More info here.
Halloween Horror Nights – M > This Thursday, Universal Studios' fall horror takeover returns, featuring the signature Terror Tram, plus a litany of scare zones, lives shows, and a bevy of different haunted houses, including The Exorcist: Believer and Universal Monsters: Unmasked. GA tickets start at $74, but VIP and express packages can push the price point well over $300 depending on the offer. Get more info here.
Electric Beats: A Glow-in-the-Dark Roller Disco – M TP > This Thursday, the LA Skate Hunnies come to Ivy Station in Culver City for an outdoor skate pop-up featuring music, adult skate rentals, prizes, vendors, and skate lessons. Attending/watching the event is free, but skate lessons ($25 per person) must be registered for and paid in advance. If you don't have your own skates, adult rentals are $15 per person. Event runs 5:30 to 9:30 p.m. More info here.
Beat Bop: Basquiat & Hip Hop – M > This Thursday, celebrate Jean-Michel Basquiat and Hip Hop's 50th Anniversary with a King Pleasure© exhibition viewing (at The Grand LA) followed by panel discussion (over at Colburn School's Zipper Concert Hall) hosted by Lisane Basquiat and Jeanine Heriveaux, and moderated by MSNBC's Ari Melber. Panelists include Rapsody, Yo-Yo, and Doug E. Fresh. Admission is $90 for the whole event. The viewing opens at 5:30 p.m., and the panel begins at 7:30 p.m. More info here.
Movie Night at the Petersen Automotive Museum – FA TP > Join the Petersen Automotive Museum for a 40th Anniversary screening of Christine, Stephen King's tale about a demonic car hell bent on murdering anyone who gets in between her and her new owner. The screening is free to attend, with snacks and drinks available for purchase. The evening will also include an appearance by the evil car herself. Doors open at 7 p.m. More info here.
Summer of Salsa – M FA > LA Plaza de Cultura y Artes's monthly summer concert series concludes this Friday with a performance by salsa orchestra TROMBOR, plus a supporting DJ set from DJ ROBBY. Runs 6 to 10 p.m. and free to attend. More info here.
Under The Oaks at The Will Geer Theatricum Botanicum (September 8,15,22,29) -> The Will Geer Theatricum Botanicum celebrate their 50th anniversary season with a series of concerts every Friday this September, beginning this week with a celebration of the music of Leonard Cohen. GA tickets cost $25. Starts at 7:30 p.m. More info here.
Fireworks Finale + Maxwell at The Bowl -> The Hollywood Bowl signs off a summer of eclectic programming with back-to-back-to-back evenings of fireworks and R&B, headlined by three-time Grammy-winner Maxwell. Tickets start at low as $15. Shows run this Friday to Sunday. Get more info here.
Dining & Drinking
(picks by Christina Champlin)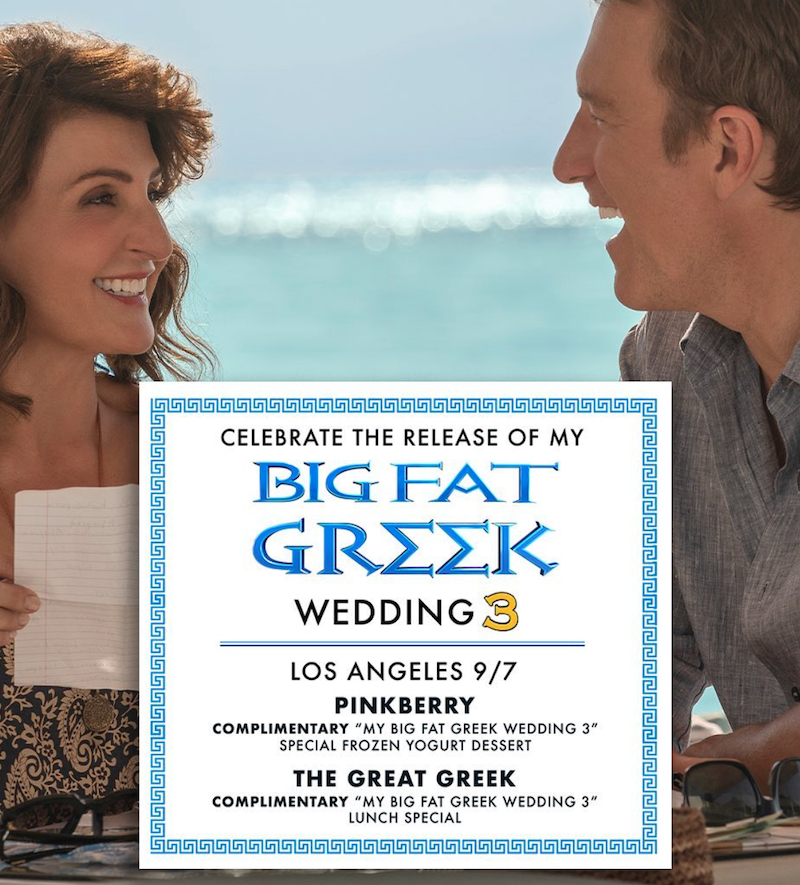 My Big Fat Greek Wedding 3 Food Freebies -> "My Big Fat Greek Wedding 3" is set to premiere this Friday in theaters. To celebrate the movie's launch, MBFGW is partnering with two establishments on Thursday, September 7, to treat fans to some tasty freebies. Swing by The Great Greek in Sherman Oaks for an exclusive, complimentary MBFGW-themed lunch special. And as the cherry on top, enjoy free frozen yogurt at six participating Pinkberry locations. These offers are available while supplies last, so plan accordingly. More info here. 
Catalonian Crepes at Teleferic Barcelona -> Telefèric Barcelona in Brentwood celebrates the National Day of Catalonia from September 7-11 with an offering of savory Cataloni Crêpes filled with 'fricando,' a traditional Catalan beef stew, and sautéed mushrooms. It's a hearty meal just in time for the fall season!
SPAM® Ultimate Vendor Cookoff at 626 Night Market -> SPAM® is hosting a cookoff at the 626 Night Market in Santa Anita Park from September 8-9. Chefs will compete for a $10,000 prize, judged by Chef Jet Tila, Colt Cheyne, and a SPAM® representative. Attendees can get a taste of the dishes with a purchase of a $20 SPAM® Brand Passport in advance online or at the SPAM® booth at the night market. More info here.
---
Want to get the best things to do in L.A. sent straight to your inbox? Join over 60,000 Angelenos who subscribe to our twice weekly email newsletter!
By subscribing, you agree to our terms of use and privacy policy and consent to receive emails from We Like L.A. about news, events, offers, and partner promotions.