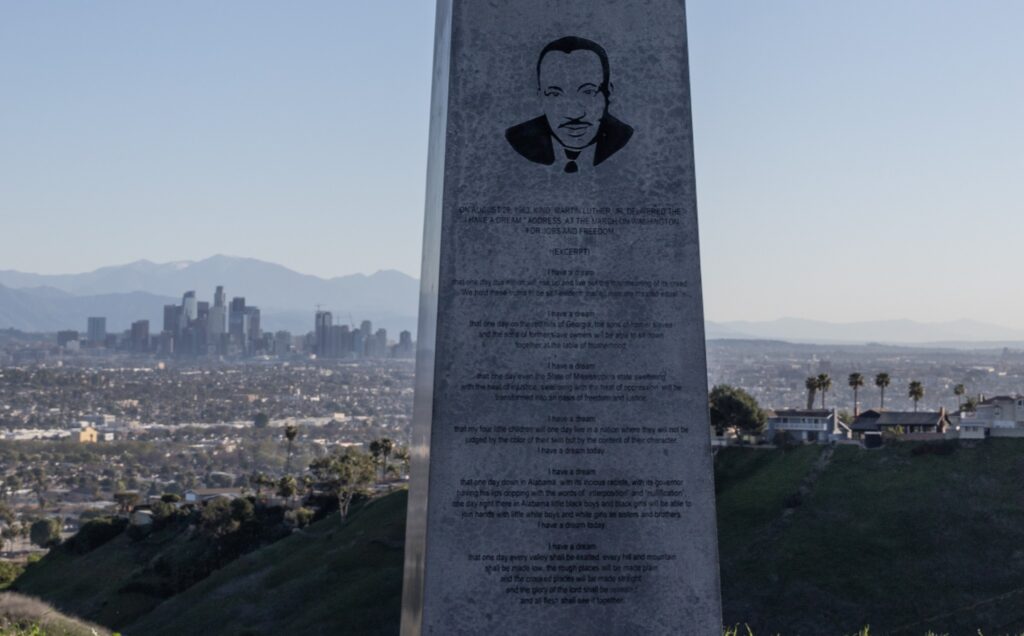 As we head into a holiday weekend, it looks like what's in front of us is exactly what's behind us: More rain. If that keeps you inside, we totally get it. If need you options, we've got those too.
This January 13-16 in Los Angeles, check out Future Without Fear, an Asian American Expo, The Circus at Bob Baker Marionette Theater, a new Simone Forti exhibition at MOCA, the SoCal Slack Key Festival, King Day at CAAM, and more. Stay safe out there, and enjoy your weekend!
Things To Do This Weekend
Future Without Fear -> FUTURE WITHOUT FEAR opens this Thursday at Praz-Delavallade gallery on Wilshire Blvd (6 to 9 p.m.). The new new art and culture exhibit features photography from myriad contributors, and centers on issues of mental health, young Black motherhood, alienation, individuality, intersectionality, poverty, and community. Free and open to the public during normally gallery hours following the opening, Tuesday to Saturday from 11 a.m. to 5 p.m. More info here.
Dead Serious Comedy -> The monthly stand-up show at San Gabriel's Blossom Food Hall returns this Friday evening featuring an appearance by headliner Mike Falzone (Netflix is a Joke Festival, Final Space on Adult Swim). Tickets are $10 pre-sale, or $15 at the door. Doors open at 7 p.m. Get more info here.
POP Presents Vivaldi Opera -> To kick off 2023, Pacific Opera Project presents the U.S. premiere production of the rare Vivaldi opera, Ercole su'l Termodonte. The show takes place over three weekends in January, transforming The Highland Park Ebell Club into an 18th-century style Baroque opera house, complete with box seating. Performances continue this Thursday and Saturday. Tickets start as low as $20 for some seats. More info here.
The Slam at Yard Theater -> Three comedians vie for the attention of one real-deal poet at this sarcastically-minded evening of comedy, coming to The Yard Theater in East Hollywood this Friday. The lineup includes Camirin Farmer (Late Night Toke Show), Magi Calcagne (Forget About Spaghetti Festival), Dylan Adler (Late Late Show w/ James Corden), and host Annie Paradis. Tickets are $12. Starts at 7 p.m. More info here.
* Goldstar Discounts -> If you're perpetually in search of savings, Goldstar.com has great deals on tickets for exciting events happening this week in Los Angeles. Get savings of $5 on tickets to The Groundlings Completely Different Late Show, $8 off tickets to L.A. Zoo Lights: Animals Aglow, or savings of up to $10 on tickets to the Catalina Jazz Club.
Asian American Expo -> This weekend's Asian American Expo returns to the Fairplex in Pomona for two days (Saturday + Sunday) of celebrating Asian culture through five uniquely themed pavilions: Asian American Food Expo, China Food Showcase, ANIME Impulse, K-PLAY! FEST and Sneaker Expo. Tickets cost $20 per day. More info here.
Guess Who's Coming to Dinner -> Theatre Forty's stage production of Guess Who's Coming to Dinner? heads to the living room of the famed Greystone Mansion for intimate performances over two weekends in January. Catch the first shows this Saturday and Sunday. Tickets cost $35 per person. More info here.
Long Beach MLK Parade -> The 35th Martin Luther King, Jr. Parade and Celebration is back in Long Beach this Saturday after a two-year hiatus. The parade begins at 10 a.m. at the intersection of Martin Luther King, Jr. Avenue and Anaheim Street, then a celebration is slated to go from noon to 5 p.m. at Martin Luther King Jr. Park. There guests can catch performances, a health and wellness area, a youth area, food and merchandise vendors, and information booths. Keep an eye on the weather though, as significant rain is forecasted for the day and may impact the schedule. Get more info here.
Westside Coalition's MLK Events -> On Saturday, January 14 the Rev. Dr. Martin Luther King Westside Coalition hosts the Santa Monica Symphony's Annual MLK Concert at John Adams Middle School. Then on Monday, the national holiday celebration at the same venue includes special speakers, music, and dance. Both events are free, but the concert is ticketed, as space is limited. More info here.
The Circus at BBMT -> Bob Baker Marionette Theater's latest show is a bigtop bonanza featuring more than 100 handcrafted marionettes, including clowns, trapeze artists, and delightful animals. The Circus premieres this Saturday and Sunday, and continues on weekend dates through March 26. Tickets are $25. More info here.
Wuthering Heights at The Wallis-> This week, Director Emma Rice brings her vibrant adaptation of Bronte's Wuthering Heights to The Wallis in Beverly Hills for a 12-day production. Seats start as low as $39 for some dates. Performances continue this Thursday to Sunday. Get more info here.
Elliott Hundley at Regen Projects -> This Saturday, Regen Projects hosts an opening reception for Echo, a survey of works by Elliott Hundley. This will be Hundley's sixth solo exhibition at the gallery, and features an array of collages, freestanding and hanging sculptures, assemblages, paintings, photographs, ceramics, and works on paper, spanning the breadth of Hundley's 20-year career. Opening night runs from 6 to 8 p.m. Regular gallery hours are Tuesday to Saturday from 10 a.m. to 6 p.m. More info here.
Art Lab at The Hammer -> This Saturday, The Hammer hosts a free all-ages drop-in workshop for kids to experience and create using works from the museum as inspiration. No materials (or skill!) required to participate. Runs 1 to 4 p.m. More info here.
Simone Forti at MOCA -> Beginning this Sunday, the Museum of Contemporary Art on Grand Ave welcomes the first west coast exhibition documenting the career of artist, dancer, and choreographer Simone Forti. As part of the exhibition, visitors can experience "Dance Constructions" on select times on Thursdays, Saturdays and Sundays following the opening. More info here.
SoCal Slack Key Festival -> This Sunday, the 16th annual Southern California Slack Key Festival takes fans on a Hawaiian musical journey showcasing GRAMMY-winning slack key guitarists, the acclaimed hula dancers, guest performers and a free Island Marketplace. The concert takes place at 2 p.m. at the Redondo Beach Performing Arts Center, and the marketplace runs from 11 a.m. to 5 p.m. Get tickets and more info here.
Lunar New Year at Runway -> Runway Playa Vista celebrates Lunar New Year this Sunday with a community event featuring traditional Chinese arts and crafts, games, live performances, food trucks, and over a dozen local vendors. Free to attend. Runs 10:30 a.m. to 3 p.m. More info here.
King Day 2023 at CAAM -> This Monday, celebrate the return of CAAM's in-person King Day festivities! This year's theme is "MLK: A Legacy of Service" and the program includes a performance by the Inner City Youth Orchestra of Los Angeles, the King Study Group, family activities provided by the Los Angeles Public Library, and more. Free to attend. More info here.
Dining & Drinking
(picks by Christina Champlin)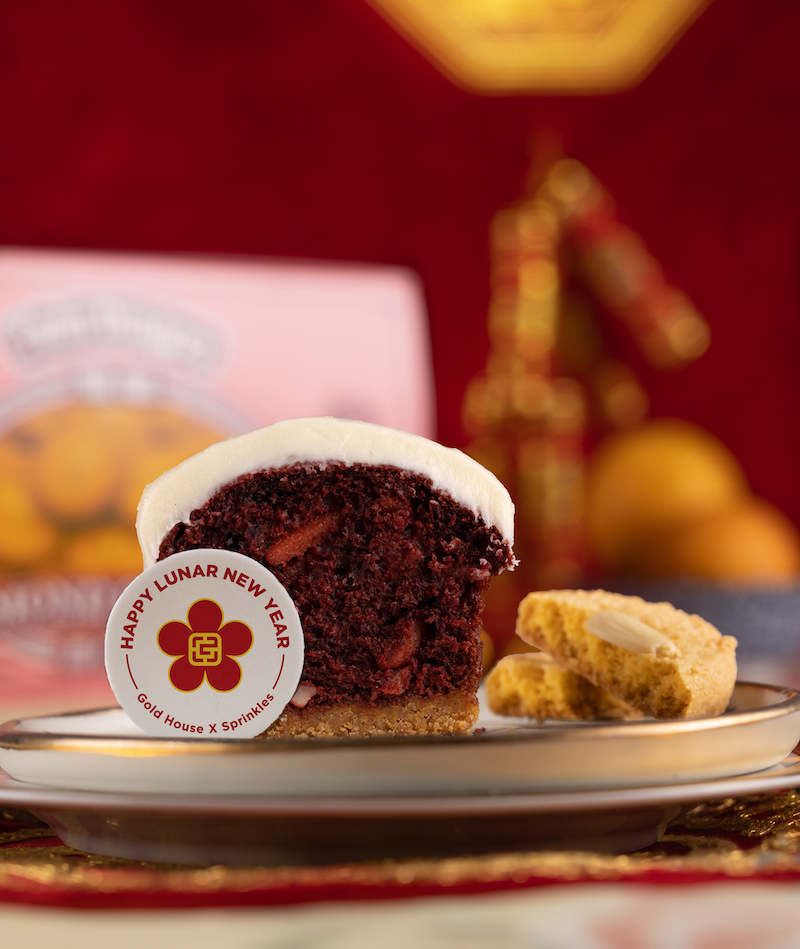 Moveable Feast -> Angelenos can now host an at home dinner party with the assistance of some of the nation's most exciting chefs. Founded by restaurant owners and chefs, Moveable Feast is a food delivery platform that collaborates with top restaurants to create the perfect dinner party for four to twelve guests. Restaurants for the soft launch include Michelin star winner Dirt Candy from New York and San Francisco's Earnest. Designed like a meal kit, the shipment comes with everything you'll need to fix up a meal from snacks to starters, sides, family style entrees and desserts. a multitude of courses. It only takes a few minutes to prepare the items because everything has been pre cooked and the instructions are straightforward. Expect a monthly rotating schedule of exclusive feast-at-home experiences.
Lunar New Year Cupcakes at Sprinkles -> Sprinkles teams up with API collective Gold House to release a Gold Bunny Almond Red Velvet Cupcake for Lunar New Year. The festive cupcake features an almond cookie crust, red velvet cake with almond slices topped with almond cream cheese frosting. The cupcake cost $6 a piece and come in a Lunar New Year Red Box. Available at Sprinkles bakeries nationwide from January 16 to January 29.
Little Dom's Celebrates 15th Anniversary -> Next week, Los Feliz's neighborhood Italian restaurant Little Dom's celebrates 15 years in business with a week-long culinary program that kicks off with a $15 Monday Night Supper (typically $25) and the return of some of the most popular cocktail and dish specials from the past from Tuesday through Sunday.
---
Want to get the best things to do in L.A. sent straight to your inbox? Join over 60,000 Angelenos who subscriber to our twice weekly email newsletter!
By subscribing, you agree to our terms of use and privacy policy and consent to receive emails from We Like L.A. about news, events, offers, and partner promotions.