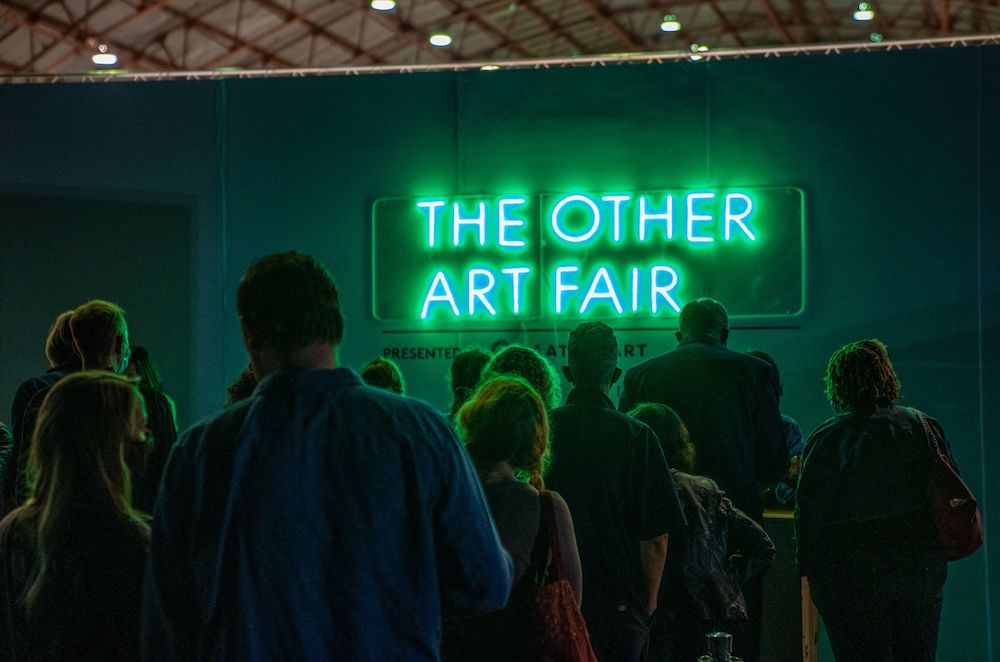 Do you hear that slapping? It's the sound of fatty rain drops hitting windshields all throughout the Southland. A million free car washes all happening at once. Praise be! The only questions now is, where will you drive in your sparkling fresh auto as the week goes on, and the sunshine returns? Well, we've got ideas.
From March 28 to April 1, you can participate in LA Food Waste Week, see Pipilotti Rist's immersive art at MOCA, go to The Other Art Fair, head to First Fridays at NHM, watch a Miyazaki screening at The Academy Museum, experience a sound bath in Santa Monica, and more. Check out our full rundown of this week's events below, and if you haven't already, make sure you're signed up for our newsletter so you never miss out on upcoming things to do!
Things to Do
LA Food Waste Week -> Sustainable online grocer Imperfect Foods will host the first-ever LA Food Waste Week (March 28 through April 3) to raise awareness about waste prevention and the broken food system through activations, panels, and partnerships with local restaurants on specialty menu items. All events will be held at The Rose Room and are either free to attend or cost $5 and go directly to The Hollywood Food Coalition. RSVP or purchase tickets to events through the Imperfect Foods LA Food Waste Week Eventbrite page. Restaurants highlighting a special dish utilizing recovered food items by Imperfect Foods include Cafe Gratitude, Plant Food + Wine, The Rose Venice, Venice Ale House, The Butcher's Daughter Venice and Only The Wild Ones. For every meal sold at participating restaurants, Imperfect Foods will make a donation of $5 to The Hollywood Food Coalition.
Knott's Berry Farm's Boysenberry Festival -> Knott's annual Boysenberry Festival is back with numerous boysenberry-inspired savory and sweet bites and themed beverages. The festival takes place at the theme park daily through April 24. Tickets to the Boysenberry Festival cost $50 a person.
Barbara Kruger: Thinking of You. I Mean Me. I Mean You -> A major exhibition devoted to the art of Barbara Kruger is now open at LACMA. And though it covers over forty years of the artist's work, don't call it a retrospective. Rather, the Thinking of You. I Mean Me. I Mean You arranges and reinterprets Kruger's work to provide timely critiques of capitalism, consumerism, and social identity. Mediums range from massive rooms covered in vinyl texts, to video installations, soundscapes, and digital projections. The exhibition runs through July 17. LACMA is open every day except Wednesday. We highly recommend checking it out. More info here.
The Art of the Ramen Bowl -> Ceramics meets noodle at The Art of the Ramen Bowl, a new exhibition coming to Japan House LA lets visitors learn how ramen evolved from a humble street food to a cultural icon. On display will be a massive "Instagram-worthy" bowl created by food manufacturer Iwasaki Moke, plus a host of designer bowls curated specifically for the exhibition. Entry is free, and admission is available for walks-ins from 11 a.m. to 6 p.m. daily. More info here.
Disney California Adventure Food & Wine Festival -> Disney California Adventure is currently hosting a Food & Wine Festival, daily through April 26. The special event includes chef demos, a marketplace offering tastings, family programming, cocktails at Sonoma Terrace, live music and the return of Soarin' Over California for a limited time.
Art of Costume Design at FIDM Museum -> FIDM Museum's annual "Art of Costume Design in Film" has returned, showcasing costumes created by all five Academy Award nominees for Costume Design, plus other top costumes from films of the past year. The exhibition runs through June 4, and the museum is open Tuesday to Saturday. Admission is free. More info here.
Lucy McRae: FUTUREKIN -> What does child bearing look like in a world where gene editing and lab-grown babies are the norm? How does technology transform both bodies and ethics? Artist Lucy McRae tackles these issues in a provocative new show at SCI-Arc called FUTUREKIN, which is on view now through April 13. The SCI-Arc Gallery is open daily from 10 a.m. to 6 p.m., and admission is free. More info here.
Color Fields LA -> A new experience at Blush Studios in DTLA challenges viewers understanding of color through compositions of light, shape, form, movement, and technology. Brian Zamora's Color Fields LA will be on display Tuesday to Sunday through Aug. 31. Tickets start at $35 per adult. More info here.
Pipilotti Rist: Big Heartedness, Be My Neighbor at MOCA -> Now through June 5, head to the Geffen Contemporary at MOCA for "Pipilotti Rist: Big Heartedness, Be My Neighbor." The immersive, sensory-heavy works of Zürich-based artist Pipilotti Rist feature large-scale installations with hypnotic musical scores; video art; and sculptures. Special exhibitions at MOCA cost $18 for adults; $10 for students with I.D. and seniors (+65); and free for children under 12 and jurors with I.D. In addition, tickets allow for a free second visit to the exhibition within 72 hours of initial visit. Open Wednesday to Sunday.
Line Dancing at Desert 5 Spot -> Put a little western into your Wednesday evening with couple's line dancing class led by 'Line Dancing Mike' at Desert 5 Bar in Hollywood. Tickets are $30 per person and include the line dancing class plus one cocktail. Groups classes will be held at 8 and 9 p.m. More info here.
The Other Art Fair -> From March 31 to April 3, The Other Art Fair returns to Los Angeles with a four-day event featuring dozens of original art works, immersive installations, DJ'd music, and specialty cocktails. Tickets for Thursday's opening night are $45, and general admission for timed entry on Friday to Sunday are $15. More info here.
First Fridays at NHM -> This Friday, the Natural History Museum's signature after-hours event returns with a theme of Wild Harvesting. The evening includes musical performances by Girlpool and Grace Ives, plus digital art displays, pop-up educator sessions, and food trucks. Tickets are $20 for non-members. More info here.
Hayao Miyazaki Encores -> Attention Studio Ghibli fans: As the Academy Museum's Hayao Miyazaki exhibition comes to a close (ending June 5), the museum will screen seven key films by the director from April 1 to May 27, each in 35mm with English subtitles. The series kicks off this Friday with a showing of Nausicaä of the Valley of the Wind. Tickets are $10. More info here.
Breathwork & Sound Bath at IntoMeSea -> Every Friday, IntoMeSea in Santa Monica hosts Shamanic Sound + Soul Calibration With Antwan Thomas. The first part of the class will focus on healing breathwork and the last half is dedicated to a chakra balancing south bath using crystal bowls. This is a ticketed ($22) one hour class that starts at 7:30 p.m.
Dining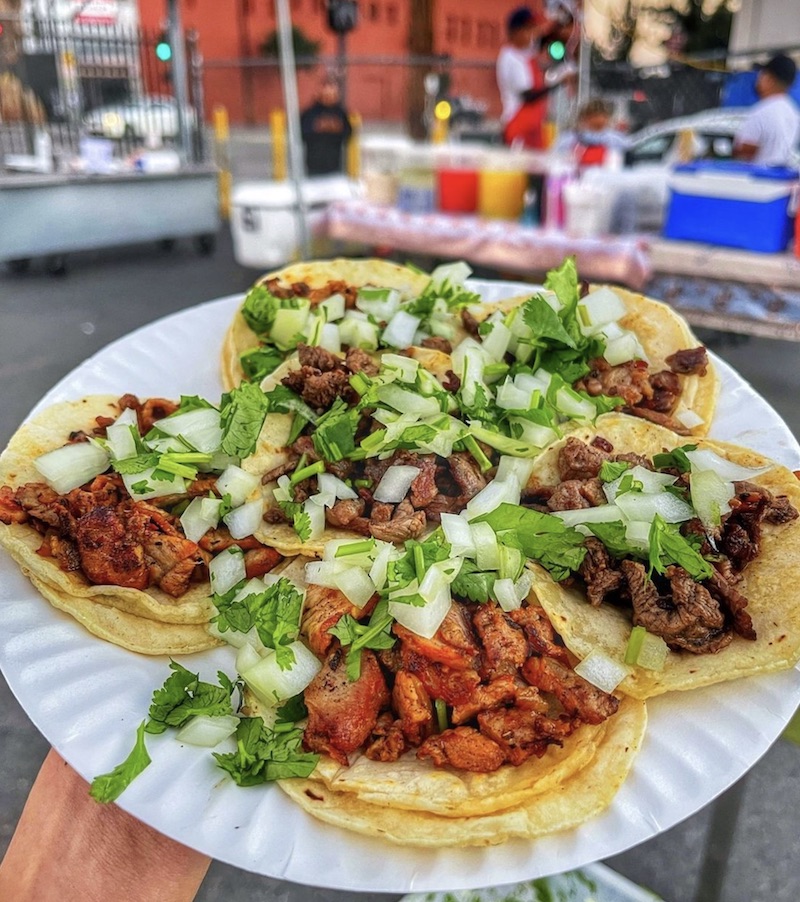 $1 Tacos Everyday at Ave. 26 Tacos Little Tokyo -> Starting today, Ave. 26 Tacos will offer daily $1 tacos from 10 a.m. to 4 p.m. at 353 S. Alameda St. in Little Tokyo. There is no announcement when the deal will go away, so take advantage while you still can.
Gran Blanco x Yola Mezcal x Chainsaw Pop-up -> Stop by Gran Blanco in Venice on Tuesday, March 29 for a night hosted in collaboration with Yola Mezcal and desserts pop-up Chainsaw. The special one-night event will feature menu items by Gran Blanco chef Juan Ferreiro and friend Gregg Drusinsky with desserts by Chainsaw's Karla Subero Pittol infused with Yola Mezcal and drinks by Yola Mezcal. Reservations are available via Resy from 5-10 p.m.
dineL.A. -> The Los Angeles restaurant week returns for its spring edition from April 1-15. The two-week promotion features special prix-fixe menus from restaurants across the city, with lunch deals starting at $15 and dinners from $25. Expect more menus to be announced in the coming days on the official dineL.A. page.
Crowns & Hops x Caravan Swim Club Supper Series -> On Wednesday, March 30 Hotel June's poolside oasis Caravan Swim Club will continue its popular sunset dinner series with a four-course meal prepared by chef Angie Lee and beer pairing from Inglewood-based craft brewery Crowns & Hops. Tickets cost $70 per person.
---
Any notes or corrections? Want to suggest an event we should add to an upcoming list? Hit us up at [email protected].