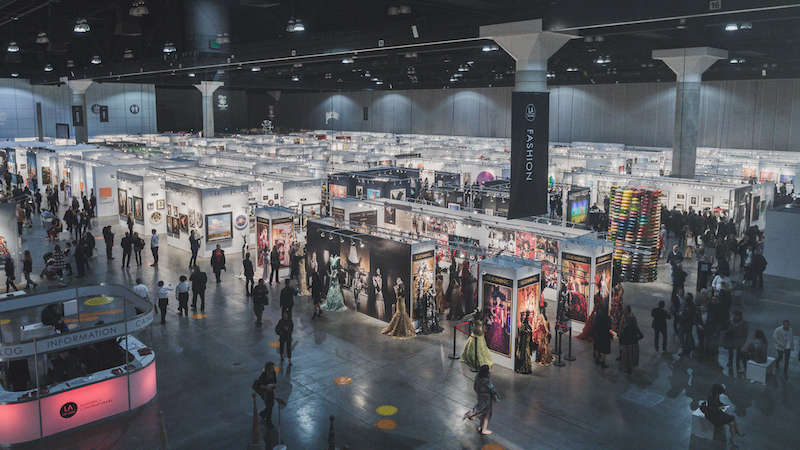 The show will go on… that's our loose theme for this weekend's list. While the local spread of Omicron appears to be plateauing (thanks goodness), hospitalizations are hovering close to statewide pandemic highs, and it's still looking like a tough few weeks ahead, both in terms of spread and strain on our medical infrastructure.
That said, while some events have pushed dates into February or March, other continue as scheduled. The upcoming Super Bowl at SoFi Stadium is the most notable, obviously, but for this weekend it's the L.A. Art Show that's on our minds. That event kicked off with opening night on Wednesday, and will continue through Sunday.
Beyond the Art Show, we've curated a small but well-selected jumble of stuff to do for this weekend, including a few art exhibits, a new Tupac-inspired experience, a free experience from Freeform, a volunteer day at the Sepulveda Basin and and a little Sanrio flavor too. As we've been saying for basically the last two years… enjoy your weekend, but stay safe too!
Weekend Activities
L.A. Art Show -> Hosted at the Los Angeles Convention Center, the L.A. Art Show offers 180,000 feet of exhibition space featuring works from over 80 exhibiting galleries, museums, and non-profit arts organizations alongside special talks, performances and installations. GA Tickets run $30. Regular (non-VIP) hours are noon to 8 p.m. from Thursday to Sunday. A guide to programming for each day can be found here.
Tupac Shakur. Wake Me When I'm Free -> A new in-person experience based on the life and work of rapper Tupac Shakur debuts in DTLA this Friday. Organizers, who are working with the say-so of the Shakur estate, have stated that the experience "leverages technology, contemporary art, and never before seen artifacts from Tupac's personal archives." We haven't seen photos of the experience yet, so if that sounds a bit vague, then take heed. But if you're a huge Tupac fan, the it could be interesting. The pop-up experience at L.A. LIVE near the JW Marriott at the intersection of Georgia Street and Olympic Blvd. Tickets run upwards of $40 depending on if you go on "peak" or "off-peak" times. More info here.
Mapping Fiction -> The latest exhibition at The Huntington debuted this past Saturday, and continues and. While the narrative that drives the exhibition centers on James Joyce's Ulysses, there are several pop-fiction elements that may most people will recognize: A blow-up of the Robert Louis Stevenson's maps from Treasure Island, J. R. R. Tolkien's map from the The Lord of the Rings trilogy, and (our favorite) a map of Raymond Chandler's Los Angeles. Adult admission to the Huntington is $25 on weekdays, or $29 on weekends for non-members.
Fresh Start Mart Experience -> This Friday through Sunday, Freeform is hosting an experiential activation to celebrate the new series Single Drunk Female (starring Sofia Black-D'Elia and Ally Sheedy). Located on West 3rd street near The Grove, "The Fresh Start Mart" allows attendees to "shop" for Single Drunk Female related merchandise at no cost, and it's free to attend too, provided you reserve a timed slot in advance online. Attendees will need to show proof of vaccination and wear a mask. Hours are noon to 6 p.m. on Friday, then 10 a.m. to 6 p.m. on Saturday and Sunday. Reserve a spot here.
Habitat Restoration Day -> Feeling the volunteer spirit this weekend? This Satuday morning hang with the Friends of the LA River, California Native Plant Society, and San Fernando Valley Audubon as the groups combine forces to tackle invasive plants while also leading a guided bird walk in the Sepulveda Basin. Free to attend. More info here.
Unseen Picasso -> Have you had a chance to revisit the Norton Simon Museum in Pasadena since they reopened following a pandemic hiatus? This is the last weekend to catch the museum's Unseen Picasso exhibition, which features 16 prints made between the 1930s and 1960s that showcase the artist's experimentation in the graphic arts. Adult tickets for Norton Simon start at $15 per person.
Hello Kitty Food Truck -> Torrance: Attention Sanrio fans:  This Saturday the Hello Kitty Food Truck will pop up at the Del Amo Fashion Center from 10 a.m. to 7 p.m Grab super-cute treats and shop Sanrio merch, while supplies last. The truck will be in the courtyard near the AMC Theaters. More info here.
Yoga at Angel City Brewery -> On Sunday, Green Tree Yoga Meditation comes to Angel City Brewery to lead a ninety minute yoga session adaptable for both experienced and beginning yoga practitioners. The event starts at 10:30 a.m. A donation of $15-$20 is kindly suggested, and each donation comes with a free beverage from the brewery. More info here.
Pasadena Comic Con -> On Sunday, the Pasadena Convention Center will host the Pasadena Comic Con, a day-long event filled with panels, guests, cosplay contest, and more. Runs 10 a.m. to 5 p.m. Tickets are $12 if you buy in advance ($15 at the door), and children 12 and under are free. More info here.
New Works for a Post-Worker's World -> A new exhibition by Chilean artist Rodrigo Valenzuela explores the implications and philosophical consequences of what happens to laborers as technology and automation displace reorganize, and potentially destroy existing work environments. New Works for a Post-Worker's World is the artist's first solo exhibition, and it will be on display at Luis De Jesus Los Angeles (DTLA) now through Feb. 19. Gallery hours are Tuesday-Friday from 11 a.m. to 6 p.m., and Saturdays from 10 a.m. to 6 p.m. More info here.
Dining and Takeout
Byrdie's Rotisserie -> Rotisserie concept Byrdie's recently reopened in West Hollywood serving California raised poultry and produce in a casual cafe setting. The main attraction is the rotisserie chicken, which goes through a multi-day marinating and seasoning process before making its way onto the roasting spit. The result is tender flavorful chicken offered whole, portioned off on plates, salads, wild rice bowls and shredded onto a sandwich. As an added bonus, Byrdie's has a one for one model in support of the Los Angeles Regional Food Bank providing meals to the charity for every meal purchased by the public. Byrdie's is available for dine-in, delivery and takeout.
U Street Pizza Now Open For Lunch -> The sister restaurant to Union in Pasadena recently launched a lunch menu that includes their signature New York style pies, salads, starters like meatballs and the introduction of square slices. Available Tuesday through Sunday from noon to 3 p.m. for dine-in, delivery and takeout. More info here.
Takeout Only at Needle LA -> Needle LA in Silver Lake is currently operating on a takeout only basis. Open Wednesday through Saturday (5 to 9 p.m.) Chef Ryan Wong's Hong Kong inspired menu gets pared down to comfort dishes like Baked Pork Chop Rice, stir fried Chow Udon in black bean sauce and Almond Jello topped with fresh fruit. 
​​Smashburgers Sundays at Maple Block Meat Co. -> In celebration of the upcoming Super Bowl, Culver City's premier barbecue spot Maple Block will host tailgating parties in their large back lot every Sunday from noon to 4 p.m. Pit Master Rudy Suazo will fire up the grill for double patty smashburgers ($11) along with his solid line up of wood smoked meats plus wings and beer specials. The Sunday specials will also be available for take out, call to inquiry.
Hanks Bagels -> Is a bagel part of your weekend ritual? If you haven't been, you need to check out Hank Bagel's, with two locations in Sherman Oaks and Burbank. Hank's does it right: hand rolled, firm and crisp on the outside yet fluffy and chewy on the inside. The Rosemary Salt is a winner and classics like Everything and Cinnamon Raisin are solid. Look out for daily specials including a Pizza Bialy you can only get on Saturdays and Sundays. Fans of bagel sandwiches will be delighted to hear that there are eight signature sandwiches that go beyond the common bacon, egg or lox.
Sunset Sushi -> Born during the pandemic Sunset Sushi has mastered the art of takeout sushi in both the high quality they provide and the presentation of the food. A number of boxes are offered in chirashi, sashimi, and sushi format, each are carefully crafted to create a fine dining experience right in the comfort of your home. 
---