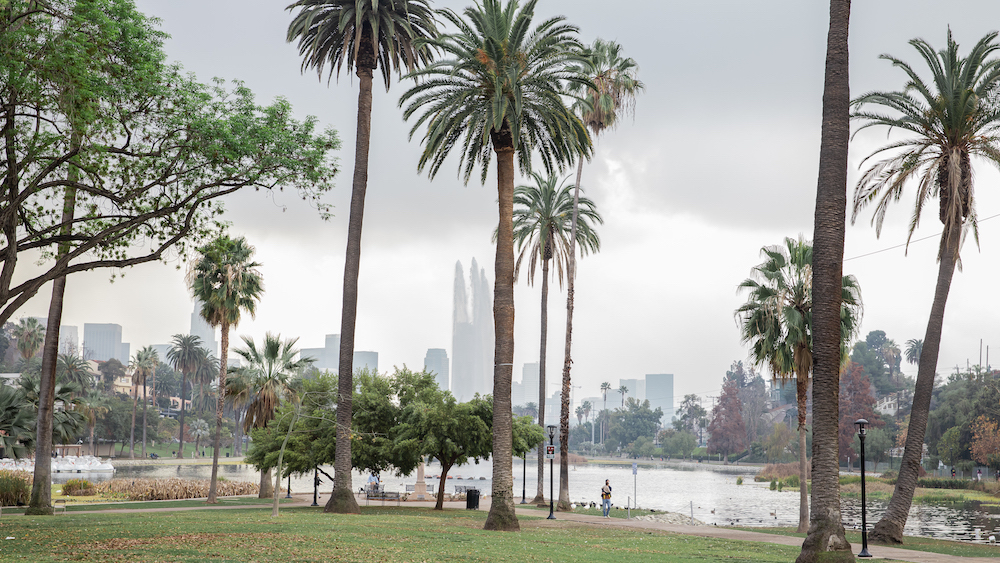 It's 10 a.m. on a gloomy Tuesday and I've parked on Glendale Blvd just south of Angelus Temple. Over the long MLK weekend I had this absurd notion to walk a thousand miles in Los Angeles. I don't know where it came from, it just sort of blew up in my mind, like when Doc Brown bumped his head falling off a toilet and drew a picture of the flux capacitor. But instead of inventing time travel my "big idea" is to walk and take photographs and think, and maybe come to some new revelations about the continuing series of contradictions that make up this city, and myself. At the very least, I will burn calories.
That's why I'm here. I couldn't think of a simpler route than a one-mile loop around Echo Park Lake. Yeah yeah… it's not the most dynamic route. But let's face it, I am a generally lazy person who has issues starting and/or completing major projects, so if there was any chance in hell this was happening, I'd have to pick off the low hanging fruit first. So here we go.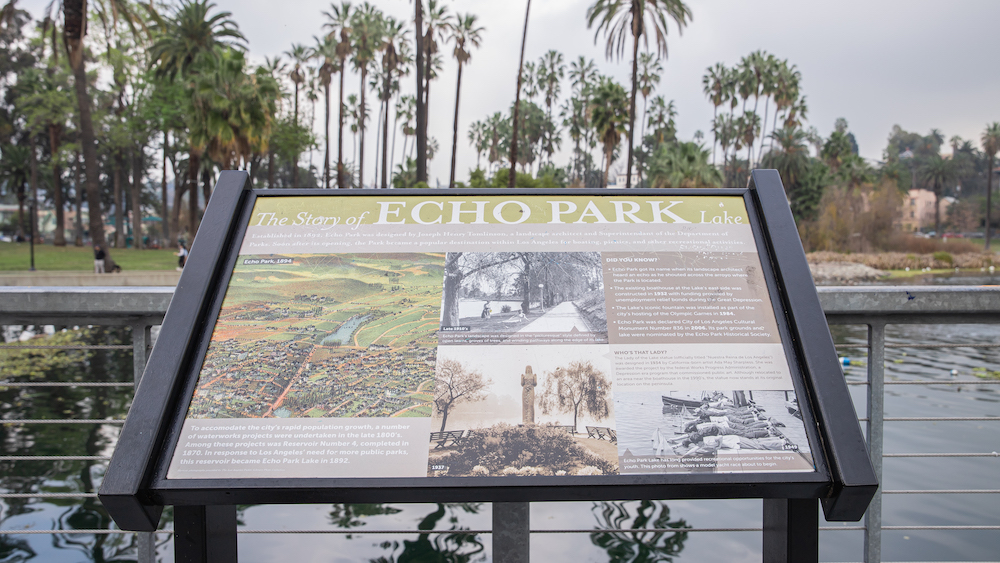 Echo Park's man-made lake was first built as a reservoir (Reservoir Number 4) in 1870, then later got landscaped and redeveloped as a park in 1892 after the Silver Lake Reservoir made EPL's drinking water supply redundant. It caught fire (allegedly) in 1907 and burned for three days. It's been drained and refilled multiple times, and most recently underwent an extended closure and renovation in the aftermath of a controversial homeless sweep in March of 2021. Also, Christina and I took some of our engagement photos here in 2017. So yeah, a lot of history.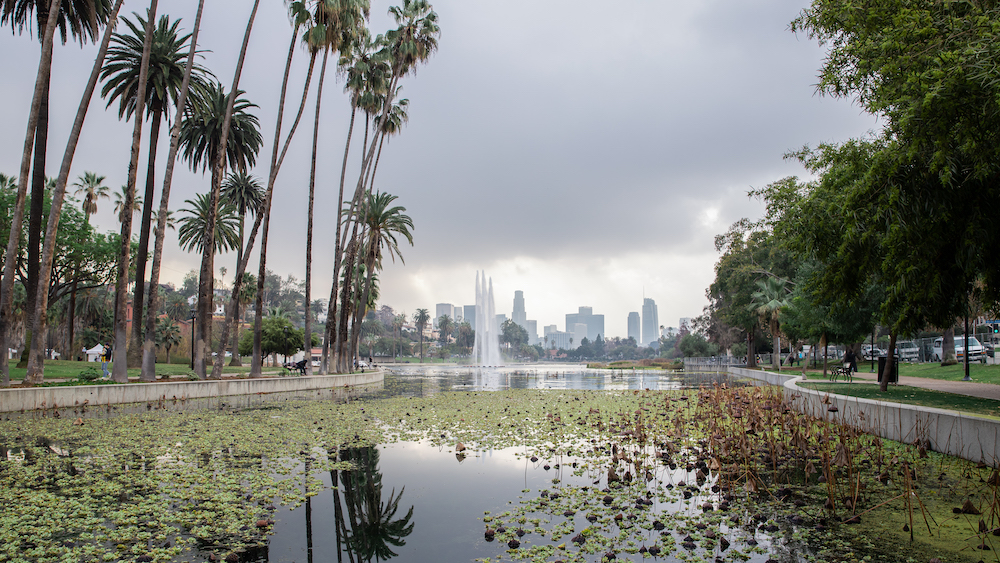 I start at the northwest end of the lake and work around the loop counterclockwise, edging by what's probably the most photographed viewpoint, looking across the water south toward the Downtown skyline with a bed of lotus flowers in the foreground.
The lotuses are dormant because it's January, but I suppose we're lucky they're here at all. Back in 2008 the lake's famous flowers had died out and disappeared, with suspected causes ranging from dirty water to natural predators. They might have been lost forever, if not for a flower burglar named Randy McDonald.
In 2005 McDonald illegally hacked off a fistful of tubers during the annual lotus festival. He took the cuttings back to his Reseda home and grew runners for years before local officials came calling during a 2011 renovation project. In the end, McDonald sold 376 lotus plants to the city for a cool $30,000. From vandal to savior. Such an L.A. story.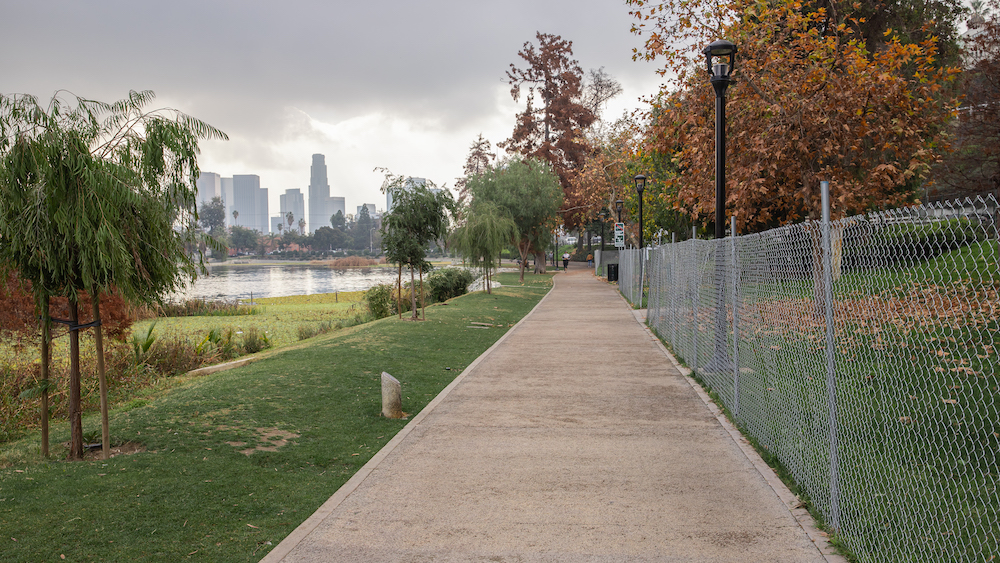 I continue south and pass a jogger who nods and says something I interpret as a greeting. After I yell back, "Good morning!" I realize he is on a phone call and isn't talking to me at all. This makes me feel like an idiot. Later, I pass a man pushing another in a wheelchair and he calls out to me. "Hey Paparazzi!" as he points at my DSLR. I tell him I only take pictures of famous people and he nods to his friend and says he's famous. We laugh, and this makes me feel like less of an idiot.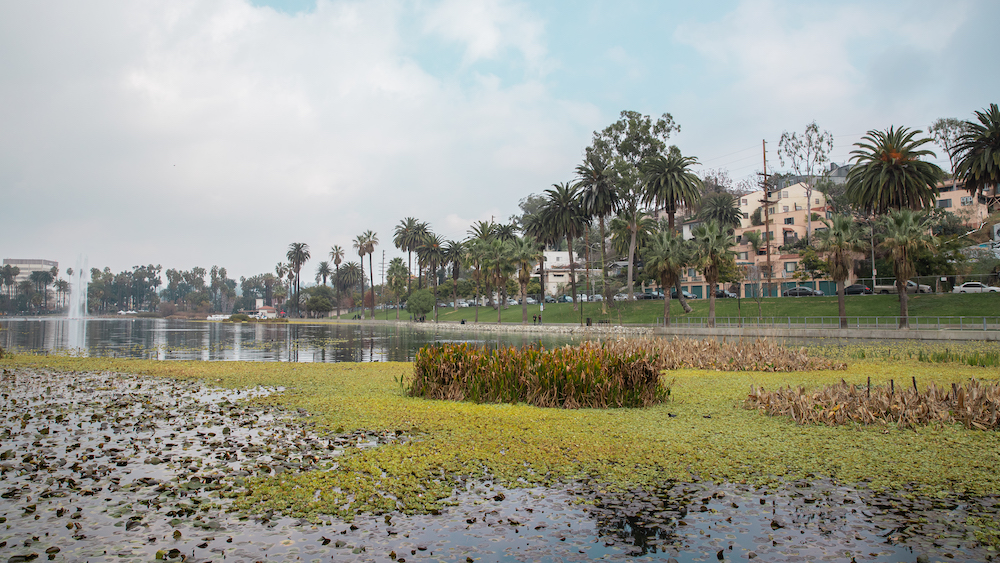 I've been in L.A. since 2005, and for as long as I can remember, Echo Park has been a battleground in the fight for and against gentrification. Last year's homeless sweep that preceded the latest recent renovation represented a flashpoint, as some 200 unhoused people were forcibly removed from their park encampments. The most visible lasting evidence of that conflict is the chain link fence that now encloses the parkland surrounding the lake.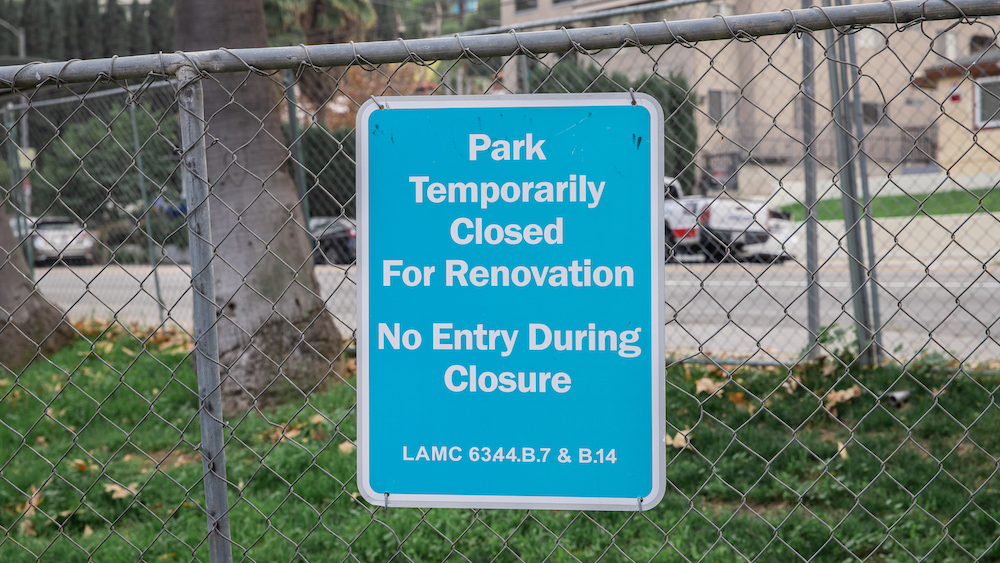 Living in Frogtown for the past six years, I can tell you that the din of freeway traffic is never far from my mind or my eardrums, and so it is here. As I swing around the southeast section of the loop, I stop and let the constant hum wash over me. The 101 Freeway looms less than a football field away from the lake's south edge, and signs and sounds never let you forget that intrusion.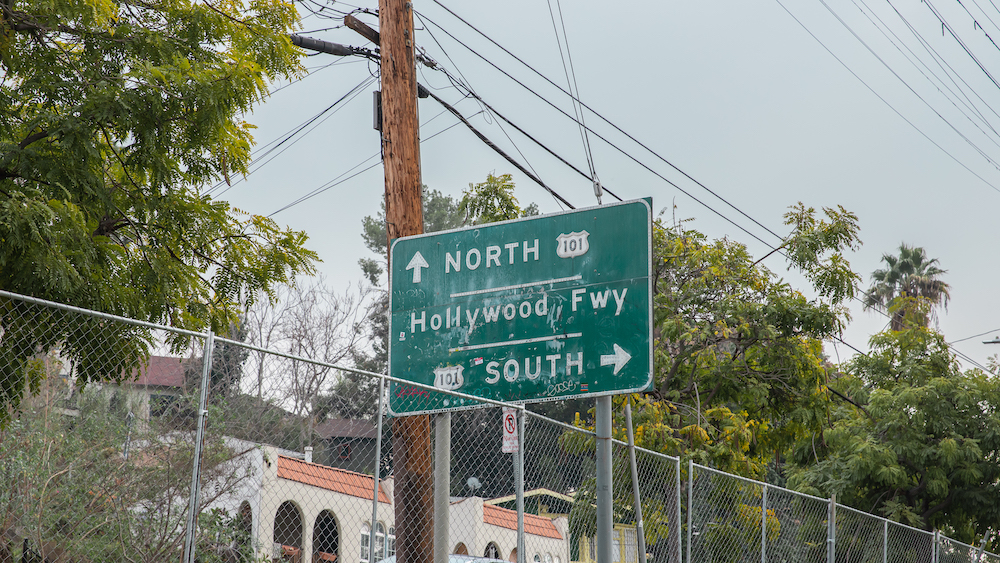 Further north along the loop is the boathouse where a fleet of swan-headed pedal boats are docked. The fake birds are kind enough to pose while I snap pics. This is important because as a photographer, I'm very much a work in progress. Having a subject that will stay in one place is a huge advantage for a novice.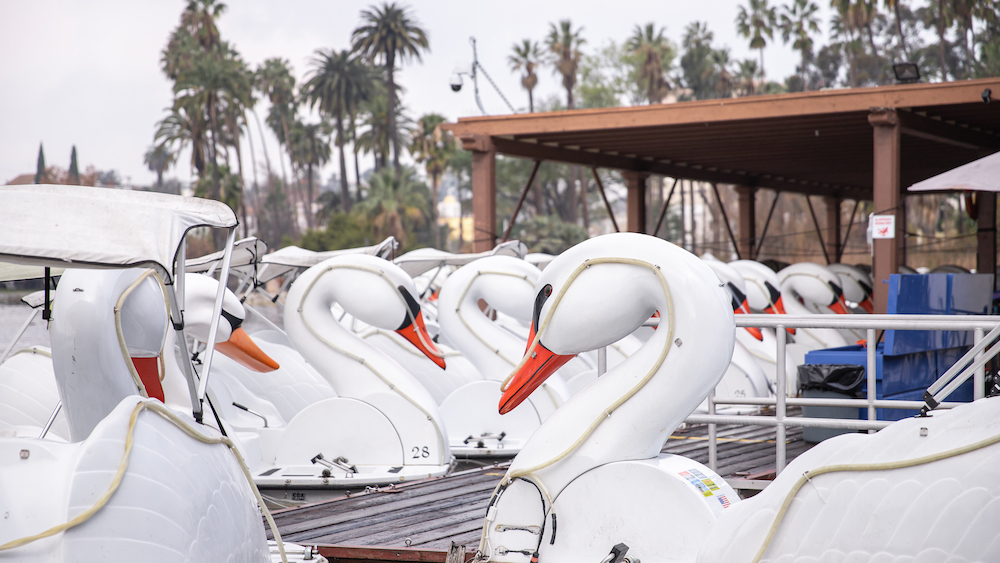 My favorite place to photograph the lake is in front of the statue of Nuestra Reina de Los Angeles (Queen of the Angels). I will never get sick of this view. Just to the east, a covid testing center has opened this morning, and news crews are on hand getting b-roll and conducting interviews. Almost two years later and the pandemic is still inseparable from our day to day existence. I wonder what normal will look like when we finally move past this, and if that new normal will be anything like the old normal.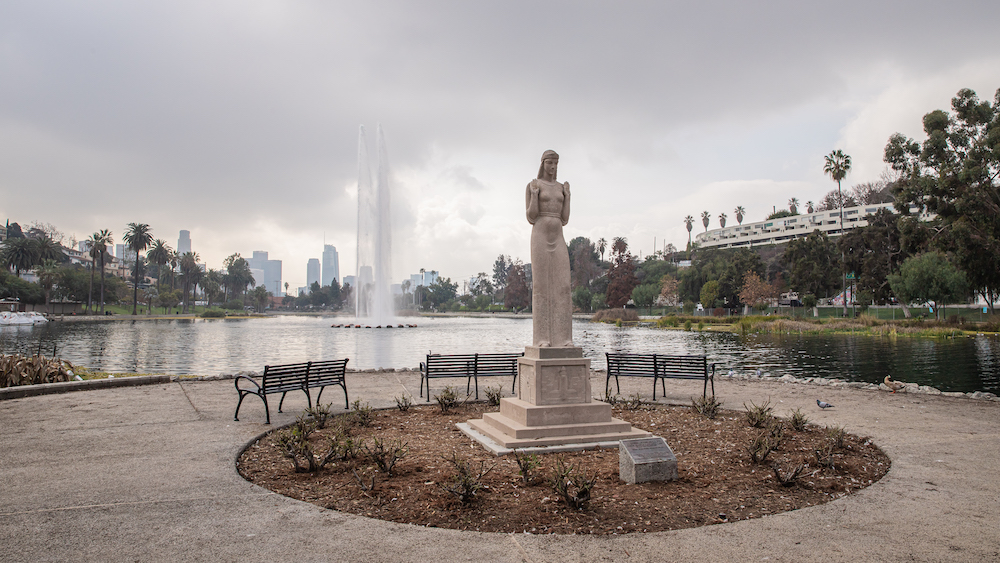 As I wrap up my walk I go past a man who, despite all warnings and signage, has brought a loaf of bread to feed the local waterfowl. He is not stingy with his portions, and the birds love him for it. The Duck Lord and his loyal vassals.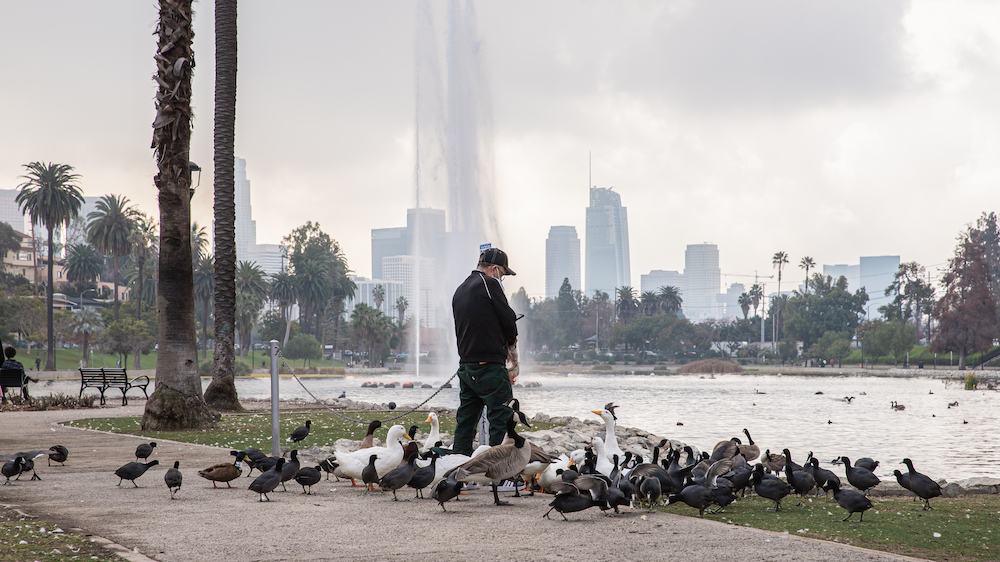 In the back of my mind I hear the Audubon Society clamoring about the welfare of the geese or the mallards. I get it. But the image reminds me about the times my dad took me to the jetty as a kid and we'd feed stale bits of wonderbread to the gulls. I'm glad that this memory breezes through my mind as I conclude the loop. It's a good note to end on.
It was an easy walk, of course. A layup. But I guess that was the point. Every journey of a thousand miles has to start somewhere. Now if I can only figure out how to keep moving.
---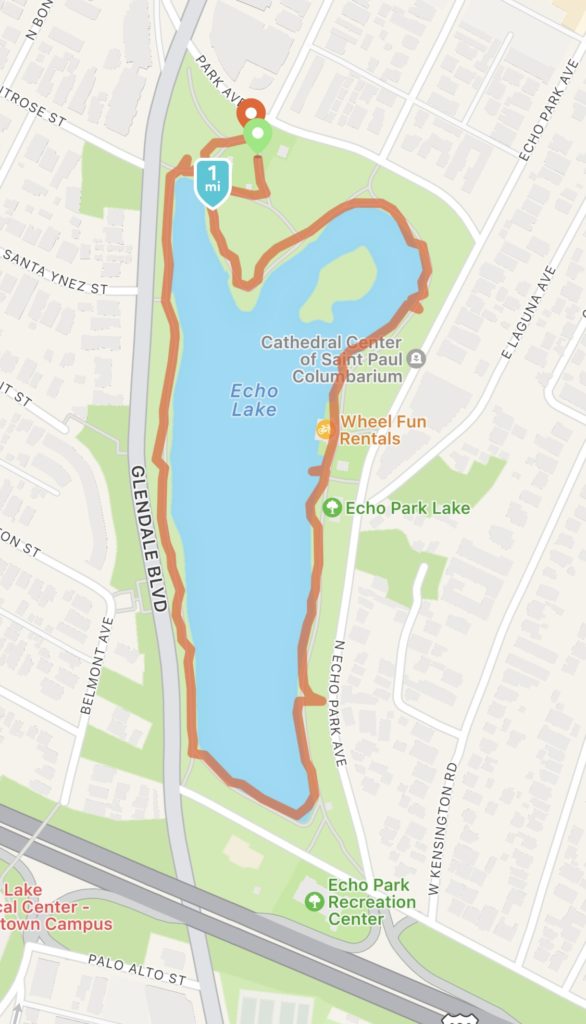 Starting Location: Echo Park Lake, 751 Echo Park Ave, Los Angeles, CA 90026
End Location: Same
Distance. 1.07 miles
Miles Until Goal: 998.93
---
Next: Walking the L.A. River Path in Frogtown // L.A. on Foot #2