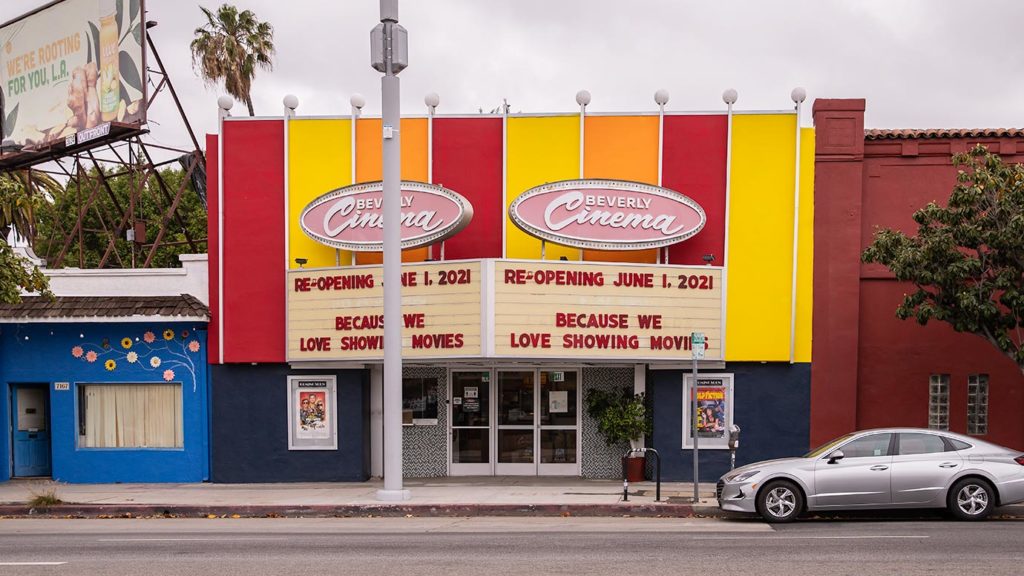 Okay, let's assume that this past weekend you weren't glued to your T.V. enjoying four thrilling, walk-off NFL playoff games. Let's further assume you were not pulling your hair out as the Rams almost choked away a sure win, only to redeem themselves with a miraculous throw to Cooper Kupp on the second to last play of the game. Finally, we can say with confidence you will not be spending this weekend hyped in anticipation of the NFC Championship, and watching Sunday as the Rams play the 49ers for a shot at the Super Bowl. Not you? Good. Then we've got some ideas for you.
This weekend's to-dos include a wine festival at Union Station, a lunar new year celebration in Arcadia, a new exhibition at LACMA, a rare concert film at the New Beverly, Cars and Coffee in Griffith Park, and more. And oh-by-the-way, the weather is looking incredible. Gotta love January in Los Angeles!
Things to do for for this Weekend
Uncorked Wine Festival -> Uncorked Wine Festivals returns to L.A. for the 6th annual event at Union Station this Satuday, Jan. 29. Guests can peruse over 150 wines from across the globe while snacking on bites from gourmet food trucks and soaking in tunes from live bands and DJs. General admission starts at $65 per person. Event runs 5 to 9 p.m. More info here.
Lunar New Year Fest at Santa Anita Mall -> This Saturday, Westfield Santa Anita's presents their 10th Annual Lunar New Year Community Event on The Promenade. Food journalist and friend of We Like L.A. Kristie Hang will host as guests take in dance performances, participate in activities including live calligraphy and zodiac coloring sheets, and check out special offers from over a dozen onsite retailers. Event runs 1 to 4 p.m. Free to attend. More info here.
Interscope Reimagined at LACMA -> Artists Inspired by Music: Interscope Reimagined opens this Sunday, Jan. 30 at the Los Angeles Museum of Contemporary Art. The exhibition celebrates Interscope Records' 30th anniversary with a presentation of 50 artworks that reinterpret iconic songs from the Interscope catalogue. 46 visual artists were commissioned to create the works, most of which will be on display to the public for the first time. More info here.
Tupac Shakur. Wake Me When I'm Free -> A new in-person experience based on the life and work of rapper Tupac Shakur is now open in DTLA. Organizers, who are working with the say-so of the Shakur estate, have stated that the experience "leverages technology, contemporary art, and never before seen artifacts from Tupac's personal archives." We haven't seen photos of the experience yet, so if that sounds a bit vague, then take heed. But if you're a huge Tupac fan, the it could be interesting. The pop-up experience at L.A. LIVE near the JW Marriott at the intersection of Georgia Street and Olympic Blvd. Tickets run upwards of $40 depending on if you go on "peak" or "off-peak" times. More info here.
Quadrant at TAM -> This past Sunday, the Torrance Museum of Art debuted a new collective of four emerging artist/curators who have each been giving free rein over a quarter of TAM's Main Gallery space. Collections include: Pilosus nuces orbis curated by Carolyn Mason, Nocturnal I curated by Joey Lehman Morris, Repetition of Difference curated by Khang Bao Nguyen, and Out of Bounds curated by Lisa Rockford. TAM is open from 11 a.m. to 5 p.m., Tuesday through Saturday. Admission is always free. More info here.
Urgh! A Music War -> This Saturday, the New Beverly Cinema is hosting a midnight screening of Urgh! A Music War (1981), a concert-film documentary that presents performances from over 30 new wave and punk bands, all without narration or context. Just a straight stream of pure recorded live music. Think bands like The Police, Wall of Voodoo, Oingo Boingo, Echo & the Bunnymen, The Go-Go's, Dead Kennedys, Gary Numan, Joan Jett, and Devo. If you're all about this era of music, it could be a rare treat. Tickets are $10. More info here.
New Works for a Post-Worker's World -> A new exhibition by Chilean artist Rodrigo Valenzuela explores the implications and philosophical consequences of what happens to laborers as technology and automation displace reorganize, and potentially destroy existing work environments. New Works for a Post-Worker's World is the artist's first solo exhibition, and it will be on display at Luis De Jesus Los Angeles (DTLA) now through Feb. 19. Gallery hours are Tuesday-Friday from 11 a.m. to 6 p.m., and Saturdays from 10 a.m. to 6 p.m. More info here.
Cars and Coffee -> The last Sunday of each month, automotive and photography enthusiasts with gather at the Merry Go Round in Griffith Park for a special meet-and-greet organized by Cars and Coffee LA. Free to attend. Runs 7 to 10 a.m. Family friendly. More info here.
Pulling the Sun Back -> This weekend will be the last to check Mercedes Dorame's Pulling the Sun Back – Xa'aa Peshii Nehiino Taame, on display at Los Angeles Historic State Park. The installation allows viewers to explore three elements of Tongvan community structures: Kiiy (home), Shyee'evo (healing space), and Yovaar (ceremonial space). The weekend weather looks great, so maybe this is the excuse you need to take a jaunt just north of Chinatown! A map of where the art work is located can be found here.
Oscar Sundays at The Academy Museum -> The Academy Museum's Oscar Sundays series will screen 2020's winner Minari inside the David Geffen Theater. The evening screening begins at 7:30 p.m. Tickets cost $10 for adults, $7 for seniors, $5 for students and children. More info here.
Succulent Building Workshop at Sugar Palm -> The Viceroy Santa Monica's latest restaurant Sugar Palm will host a succulent building workshop with Highland Park plant shop The Juicy Leaf this Sunday. Tickets cost $65 per guest and include a cocktail or mocktail and a Black Elegance succulent arrangement. Tickets can be purchased through OpenTable.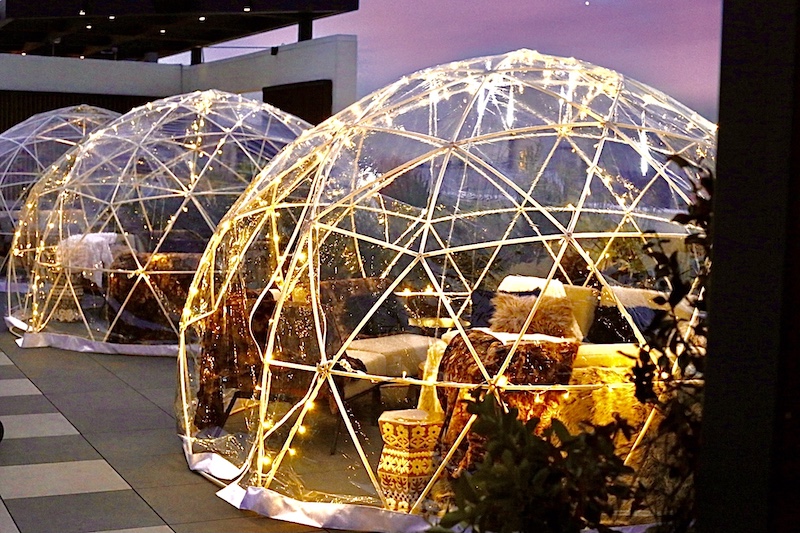 Dining Ideas
Celestina Under the Stars -> Culver City's rooftop pool bar Celestina is bringing magical winter realness to Los Angeles with a nighttime pop-up igloo experience. Happening now through February 6, "Celestina Under the Stars" promises each party a private igloo experience complete with individual fire pits, games and a south of the border inspired menu. Reservations are required with a seating minimum of four people (maximum of eight guests) for either 5 p.m. or 7:30 p.m. and a $50 minimum spend per person.
Astrology Cupcakes at Sprinkles -> Sprinkles has teamed up with astrology app Sanctuary for a year-long cosmic cupcake collaboration. At the start of each zodiac sign, Sprinkles will unveil one corresponding celestial-inspired cupcake. To kick off the special release is an Aquarius themed cupcake made with miso and caramel finished with cream cheese frosting. The next cupcake in the series will be Pisces, a pink vanilla cake filled and frosted with pink marshmallow meringue. Sprinkles will announce all upcoming flavors and their release date on Instagram. 
Full Proof Pizza by Lodge Bread Co. -> Full Proof Pizza is still going strong at Lodge Bread Co. in Culver City and the cafe recently extended their hours Wednesday through Sunday from 8 a.m. to 10 p.m. and lunch on Mondays and Tuesdays from 8 a.m. to 4 p.m. On the menu expect naturally leavened New York style pies by Full Proof Pizza in a personal 12" size or shareable 18." Pizza highlights include the Potato Leek and a Spicy Sausage pie topped with Italian sausage, kale, Calabrian chilies, garlic, and parmesan cheese.
Dear Bella Creamery Lunar New Year Ice Cream Kit -> In celebration of the upcoming Chinese New Year, the plant-based creamy Dear Bella will release a Chinese New Year ice cream kit for in-store purchase from Jan. 29 through Feb. 13, with pre-orders for national shipping starting Jan. 22. The kit includes three pints of Asian inspired ice cream flavors including Dear Bella's classic Black Sesame and Taiwanese Pineapple Cake. The third new flavor making its debut through the kit is Dan Dan (a peanut based cold noodle dish) co-created by Jing Gao, founder of cult favorite chili crisp brand Fly By Jing. The ice cream rendition of the Sichuan noodle dish has a subtly sweet peanut butter base, mixed in with savory Dan Dan sauces and a generous swirl of chili crisp. But that's not all, the kit also includes a jar of Red Bean Sauce, a variety of Chinese sweets such as candied lotus root, sesame balls, and mung bean cookies and a pair of Chinese New Year envelopes with $1 scoop certificates. The kit cost $58.88. More info here. 
Tamales Return to Maple Block -> Maple Block's Pit Master Rudy Suazo is doing another drop of his famous Brisket and Chicken Tamales. The tamales come in either smoked brisket served with red sauce or smoked chicken with green sauce and come by the dozen with an option to split the package to include six of each version. Orders for the limited time tamales must be placed by Friday, Jan. 28 online or by calling the restaurant directly. Tamale pick-up date is Monday, Jan. 31.  
La Boucherie Reopens -> Sky-high steak house La Boucherie recently reopened to the public. Located on the 71st floor of the InterContinental Los Angeles Downtown, La Boucherie offers premium, sustainably-sourced meat and seafood, vegetarian and vegan options, an award-winning wine list and incredible views of the city. A new menu along with new Chef de Cuisine David Wolfskill will welcome diners back. Highlights include a 32 oz. Australian Wagyu Tomahawk, Loupe De Mar and a Prime Seafood Tower that's filled with poached prawns, a lobster tail, merus cut king crab, grilled and chilled sea scallops, oysters, salt spring island mussels, olive oil spiced Spanish octopus and purple salmon sashimi.
---
Any notes or corrections? Want to suggest an event we should add to an upcoming list? Hit us up at [email protected]