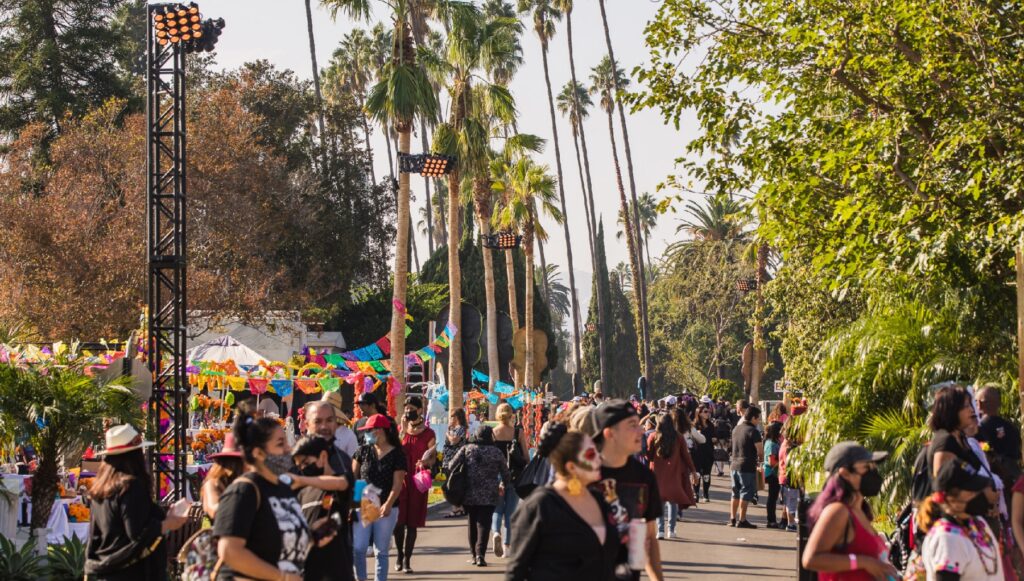 With the intersection of Día de los Muertos, Halloween, and some of the county's biggest public events, the next three days promise about as much to do as any fall weekend you'll find in Los Angeles. So let's talk details.
From October 27-29 in L.A., check out Metro's "Celebrating Connections" at Historic Broadway Station, a Haunted Little Tokyo Block Party, the L.A. Archives Bazaar, Revenge Of's Comic Creators Block Party, Boonion Station at Union Station, Día y Noche de los Muertos at Hollywood Forever, ArroyoFest, and much more
Make Metro Part of Your Weekend
Celebrating Connections – M FA > On Saturday, Metro celebrates the new Historic Broadway Station with a packed day of live performances, workshops, and tours of the neighborhood, all free and open to the public. The musical lineup, curated by Metro Arts Presents, includes sets from DJ QUILO of La Papaya Club, Plaza de la Raza's Folklor Pasión Mexicana, Rhythms of the Village Band, Spaghetti Cumbia, and the New Orleans Traditional Jazz Band. Event runs from 11 a.m. to 3 p.m. More info here.
Go Metro: Take the A or E Lines to Historic Broadway Station
More Things To Do This Weekend
M = Less than .5 miles from an L.A. Metro Station, FA = Free Admission, TP = Top Pick
---
The Nightmare Before Christmas at The Bowl -> Danny Elfman returns to the Hollywood Bowl for a three-night musical performance of Tim Burton's The Nightmare Before Christmas in concert, backed by conductor John Mauceri with a full orchestra and a few special surprise guests. There will also be a costume contest and a pre-concert trick-or-treat activation for kids. Tickets for Friday through Sunday shows start as low as $39.50. Get more info here.
Paramount+ Peak Screaming Lodge Pop-Up -> Get ready for the fright of your life at the Paramount+ Peak Screaming Lodge Pop-Up from Friday October 27 through Sunday October 29 at Westfield Century City. Explore a haunted house-style immersive Halloween pop-up experience filled with spine-tingling moments from some of Paramount+ scariest films and series, including Pet Semetary: Bloodlines, Scream VI, Monster High 2, and more. Free to attend. More info here.
Downtown Día de los Muertos – M FA > Gloria Molina Grand Park's Downtown Día de los Muertos welcomes parkgoers to contribute to a community altar and to stroll through the park to view 19 altars. Free to visit any time of day from now until November 2. Get more info here.
Bride of Frankenstein -> Watch the 1935 horror classic Bride of Frankenstein on screen of The Theatre at Ace Hotel accompanied by LA Opera's live orchestra conducted by Jenny Wong, performing Franz Waxman's original soundtrack. The show runs Friday and Saturday. Tickets start at $29. More info here.
AFI Fest -> Now through Sunday, the American Film Institute's annual celebration of film brings a multi-day block of screenings to the TCL Chinese Theatre and the TCL Chinese 6 Theatres in Hollywood. This year's lineup includes over 140 films from 49 countries, including 18 Best International Feature Oscar submissions. Tickets start at $18 per feature film screening, $10 for shorts programs, or $100 for a 6-ticket bundle. Get more info here.
Lucha VaVOOM Halloween Show -> Lucha VaVOOM, the iconic Mexican masked wrestling, burlesque, and comedy extravaganza, is back for its annual two-night Halloween event, "Area 51," on Thursday and Friday. Tickets start at $53. More info here.
How Does Confronting our History Build a Better Future? – M FA > How Does Confronting our History Build a Better Future? is the newest live panel talk hosted at Zócalo Public Square. Guests for this Friday's event include environmental activist and hip-hop artist Xiuhtezcatl Martinez (Xochimilco), L.A. LGBT Center communications officer and former editor-in-chief of Out magazine Phillip Picardi, and founder, executive producer, and host of "On Being" Krista Tippett. Stick around for a reception with complimentary food, drinks, and a performance by the Pan Afrikan Peoples Arktet. It all starts at 7 p.m. Admission is free. More info here.
Fall Fun Festival in San Gabriel – FA > The City of San Gabriel's annual Fall Fun Festival pops up in the Mission District on Friday offering a range of family-friendly Halloween activities for all ages. Runs 5 to 9 p.m. More info here.
Carved at Descanso Gardens – TP > Descanso Gardens' family-friendly Carved turns the beautiful garden into a glowing pumpkin wonderland featuring a new route, hundreds of carved pumpkins and kid-friendly activities. The experience runs Monday through Sunday nightly now until October 29. Tickets run $30-$40 for non-members. Get more info here.
Haunting of Hawthorne at Common Space Brewery – FA > Head to Common Space Brewery's "Haunting of Hawthorne" this Friday for a Halloween costume party featuring creepy beer cocktails, a costume contest, caricature drawings by Scott Gross from That Drawing Show, and hip-hop beats spun by DJ V from Stones Throw. More info here.
Day of the Dead at El Pueblo – M FA > In celebration of Día de Muertos, the Olvera Street Plaza will be decorated with altars for the public to view October 25 – November 2, along with nightly processions. Starting October 28, there will be an outdoor altar display accompanied by daytime and evening entertainment on select days. Get more info here.
San Fernando Brewing Company Halloween Party – FA > Stop by the brewery between 6 to 10 p.m. this Friday for an early Halloween party. There will be a DJ, photo booth and a tarot card reader. Come in costume (optional) and receive a free giveaway. More info here.
Movie Night at Ovation Hollywood – M FA > Ovation Hollywood's monthly movie night continues with a screening of Ghostbusters in the Center Courtyard this Friday. Get free popcorn and discounted treats from the TCL Chinese Theatre Concessions Stand. Starts at 7 p.m. More info here.
Gabba Gallery's Wishlist 11 -> Gabba Gallery's 11th edition of their affordable art show is on view and available to purchase on the spot now until Nov. 11. Curated by Jason Ostro and Elena Jacobson the show highlights the talents of over 75 artists from around the world and allows art enthusiasts to build their art collection in a more approachable way. The gallery is open open Thursday through Saturday More info here.
Nights of the Jack -> The annual 1-mile trail of Halloween lights and jack o'lanterns at King Gillette Ranch continues this week on Monday through Sunday, and continues on select dates through Halloween night. In addition to the signature walk, expect live pumpkin carving demos, face painting, a souvenir shop, and a "spookeasy" offering adult beverages for sale. Admission runs $29.99-$44.99 depending on which day of the week you attend. Get more info here.
The Sorting Room -> The Sorting Room nightclub housed within the Wallis Center's Lovelace Theatre presents a new season of unpredictable performances from a variety of musicians, comedians and more in a variety of genres alongside craft cocktails, beer and wine from The Briskin Bar. Shows this weekend run Wednesday through Saturday. Tickets range from $10 to $35. More info here.
Mr. Bones Pumpkin Patch – > Culver City's favorite pumpkin village is open daily through October 29. Mr. Bones offers plenty of family fun, including photo ops in front of giant pumpkin installations, a straw maze, a super slide, petting zoo, giant rocking horses, and pumpkin decorating sessions. Tickets cost $10 to $30 depending on date and tickets for activities begin at $1 each. More info here.
Boney Island – M TP > Boney Island has moved its annual Halloween haunt from the confines of Griffith Park to a new home at the Nature Gardens of Natural History Museum Los Angeles. Attendees can expect an array of glowing installations, spooky skeletons, and shadow puppetry interlaced with artistic performances, real fossils from the museum's collection, live animal presentations, and plenty of trick-or-treating opportunities for the little ones. Boney Island runs Thursday to Sunday through the end of the month, plus October 30-31. Tickets are $25. More info here.
Reign of Terror Haunted House -> This award-winning haunted house and walkthrough experience located in Thousand Oaks is now in its 25th season. The 2023 edition features 138 rooms in 10 different, inter-connected sections within 28,000 square feet of floor space. Standards tickets are $35. Available on select Thursdays through Sundays through Nov. 4. More info here.
Halloween Horror Nights – M > Thursday through Sunday, Universal Studios' fall horror takeover continues, featuring the signature Terror Tram, plus a litany of scare zones, lives shows, and a bevy of different haunted houses, including The Exorcist: Believer and Universal Monsters: Unmasked. GA tickets start at $74, but VIP and express packages can push the price point well over $300 depending on the offer. Get more info here.
Shaqtoberfest – M > If NBA legend Shaquille O'Neal is going to stamp his name on a Halloween haunt, it better be big, right? Well, this year's edition of Shaqtoberfest is back at the historic Queen Mary in Long Beach, offering evenings of live entertainment, themed bars and lounges, carnival rides, plus a brand new "Gray Ghost" haunted trail that takes guests deep into the depths of the historic luxury liner. Shaqtoberfest runs Thursdays to Sundays, and continues on select dates through October 31. There will also be family-friendly hours with trick-or-treating during the last three Sundays in October. GA tickets start at $29.99. More info here.
La Cage -> Experience the electric La Cage live show at Hollywood's Roosevelt's secret theatre this Friday. Inspired by the golden age of supper clubs and the iconic La Cage Aux Folles nightclub, the evening includes live vocals, dazzling dance, and a live band, all paying tribute to drag culture pioneers with emcee Tommi Rose and surprise celebrity guests like Cheyenne Jackson and Ada Vox. Audiences can also sip on classic cocktails and dine on Cinegrill Theatre's supper club inspired menu. La Cage shows run on select Friday nights at 7 p.m. and 10 p.m. Tickets for the show start at $55. More info here.
Urban Death Tour of Terror – > Zombie Joe's annual tradition of Urban Death is back with a brand new series of terrifying vignettes, bookended by walks through a creepy maze. Performances run on Fridays and Saturdays through October 28, with three bonus shows on Sunday, October 29, Monday October 30 and Halloween Tuesday. Advance tickets are $22 per person. More info here.
Cowboy Carnival Halloween -> Desert 5 Spot annual Cowboy Carnival returns for Halloween weekend from Friday to Saturday with a live band and DJ plus captivating acts like the "Rhinestone Cowgirl," a contortionist, lasso artist, and magician. Don't forget to visit the fortune teller for a mystical reading and explore various games and surprises. More info here.
Tsubamesanjo Artisan Fair at MISE 店 -> This weekend presents an exciting opportunity to immerse yourself in the world of Japanese culinary arts and craftsmanship during the grand opening weekend of MISE 店 at the JACCC in Little Tokyo, Los Angeles. The new cultural shop will host a variety of events this Saturday and Sunday, featuring skilled Japanese artisans from Tsubamesanjo who have traveled to Los Angeles exclusively for this event. Highlights include a workshop led by Tsukasa Hinoura, one of Japan's most recognized knife makers, a Japanese gardening session with Rieko Asano, an Onigiri Rice Ball Making Class, and a Niigata sake tasting. Some activities are free, while others require tickets, which range from $10 to $40. More info here.
Revenge Of Presents Comic Creators Block Party – FA TP > On Saturday Revenge Of will host a Comic Creators Block Party event where the public can meet their favorite local writers, artists, and showrunners through a day of panels, signings, live artists' drawings, and more. Free to attend, the party is hosted by comedian and comics writer Patton Oswalt and showrunner/comics writer Jordan Blum, who have assembled 30+ comics writers and artists for the event. Food trucks, cosplay contests, photo-ops, raffles, and exclusive merch are also part of the day. More info here.
Haunted Little Tokyo Block Party – M FA TP > One of Los Angeles' most historic neighborhoods is throwing a 21+ block party for spooky season. Free to attend, the Saturday night party will feature live music, a full bar, costume contest, and food. Runs 6 p.m. to midnight. More info here.
Creatures of Halloween at Eaton Canyon – FA > This Saturday wildlife education org Teranga Ranch comes to Eaton Canyon for a special 45 minute educational session on bats, including facts on which bats live in our area, what they eat, and how they communicate. The session is free and open to the public, no reservation required. Runs 5:30 to 7 p.m. More info here.
Día y Noche de los Muertos at Hollywood Forever – TP > The 24th Annual Día de los Muertos festival at Hollywood Forever returns this Saturday featuring unique daytime and evening events. Programming varies for the day/night events, but for both expect altars, traditional dance, art exhibits, culinary vendors, and a ceremonial procession. GA tix start at $35 for day, $60 for night. Get more info here.
Bob Baker's Hallowe'en Costume Ball -> Don't miss the Bob Baker Marionette Theater's First Annual Hallowe'en Costume Ball this Saturday, a fundraiser for the nearly 60-year-old nonprofit theater. Enjoy a special Hallowe'en Spooktacular performance, a costume contest hosted by Pickle, the Drag Queen Laureate of West Hollywood, a dance party with DJ SuperBee, and tarot readings with Ingrid M. Calderón-Collins. Tickets start at $125 and include two complimentary drinks and bar service courtesy of Cobblestone Wine. More info here.
LA Succulents Cactus & Succulent Show – FA > LA Succulents' Cactus & Succulent Show is back this Saturday and Sunday with a cactus extravaganza featuring hundreds of incredible specimen plants as well as many weird and wonderful mutant plants grown by LA Succulents at their San Fernando Valley location. Free to attend. More info here.
Boomfest – FA > Boomtown Brewery in Downtown Los Angeles hosts a free live music festival featuring six local bands and two food trucks. The fun starts at 4 p.m. on Saturday, and it's free to attend. More info here.
Knott's Scary Farm -> Knott's Scary Farm returns Wednesday through Sunday with their signature lineup of haunted attractions, mazes and thousands of monsters ready to scare the living daylight out of you and your crew. Tickets cost $85 a per person. More info here.
Howl-O-Ween at Wallis Annenberg PetSpace -> Join Wallis Annenberg PetSpace this Saturday for Howl-O-Ween a fun day for both pets and humans. There's a "Pick Your Own Pup-kin Patch," a decorating station, a maze of "dog terrors," and tasty fall treats. Tickets are $10 and include event entry, activities, a fall treat ticket, complimentary water and soda, and a pumpkin per guest.
5th annual Boonion Station – M FA TP > Don't miss the 5th annual Boonion Station at Los Angeles Union Station, a family-friendly Halloween extravaganza happening this Saturday at the station's South Patio. Fun for the whole family the area will magically transform into a spooktacular village filled with activities such as face painting, dancing, costume contests, crafts, and a unique trick-or-treating experience. Come dressed to impress, as Boonion Station will reward the Most Original, Funniest, Spookiest, and Best Group/Family costumes. More info here.
L.A. Archives Bazaar – M FA TP > Attention SoCal history hounds! Presented by L.A. as Subject's the Los Angeles Archives Bazaar invites the public this Saturday to peruse a trove of historical treasures and interact with experts from dozens of institutions and archives. The event takes place at Doheny Memorial Library on the campus of USC and is free and open to the public. More info here.
Spooky Halloween Artisan Market – M FA > On Saturday Ovation Hollywood and Dreamers Market team up for a spooky and kid-friendly afternoon of Halloween fun inside Ovation's central courtyard. Expect live music, special vendors, and trick-or-treat surprises. Pet friendly too. Free to attend. Runs noon to 5 p.m. More info here.
Boo At The Zoo -> On back-to-back weekends heading into Halloween, swing over to the Los Angeles Zoo for Boo at the Zoo, a family-friendly assortment of seasonal activities, including animal pumpkin feedings, themed photo ops, trick-or-treating stations, story readings, and an extinct animal graveyard. Entry is included with zoo admission, which starts at $22 for adults. Runs both this Saturday and Sunday. More info here.
Bob Baker Spooktacular at One Colorado – M FA > The acclaimed marionette theater group comes to Old Pasadena's One Colorado this Saturday for a pair of free performances of their Halloween Spooktacular show, a family-friendly program featuring plenty of spooky (but not that spooky!) sprites and Halloween characters. Shows start at 11 a.m. and 12:30 p.m. Seating is first-come, first-served. Free to attend. More info here.
Third Street Promenade Día de los Muertos – M FA -> Come together to commemorate loved ones this Saturday during Día de los Muertos on Third Street Promenade. This vibrant celebration features live entertainment, colorful community altars, a Latinx popup market, and a variety of family and pet-friendly activities. While there, check out the La Catrina sculpture by artist Ricardo Soltero, courtesy of Downtown Santa Monica, Inc. More info here.
Día de Los Muertos at 2ND & PCH -> Gather the family and embrace the spirit of Día de Los Muertos at a festival hosted by Unidos Community Events this Saturday at 2ND & PCH in Long Beach. The day will be filled with mariachi and folklórico dance performances, kids crafts, artisanal goods with a seasonal theme, a ofrenda installation celebrating the cycle of life, and other cultural experiences. More info here.
626 Golden Streets ArroyoFest – M FA TP > On the last Sunday in October, the Arroyo Seco Parkway closes down to vehicular traffic to allow visitors to experience L.A.'s first freeway up close and personal. Walk, bike, skate, or jog while dipping off the route to explore local neighborhoods, enjoy live entertainment and engage with activity hubs at three separate locations. The main event runs 7 to 11 a.m. Free and open to the public. More info here.
MOLAA Día de los Muertos Family Festival –M FA TP > The Museum of Latina American Art in Long Beach hosts a Día de los Muertos festival this Sunday that includes live performances, a face-painting station, a children's sugar skull workshop, printmaking station and a live tattoo artist.
Huluween: Now Screaming -> In the spirit of Huluween, the public is invited to celebrate the spooky season with an immersive experience at the Pacific Design Center from Sunday, October 29 through Tuesday October 31. Walk through a maze filled with a collection of scream-worthy encounters from shows and movies streaming on Hulu including "American Horror Story," "Annabelle," "The Boogeyman," and more. Tickets are free. More info here.
Día de los Muertos at Forest Lawn – FA > This Sunday, Forest Lawn Cemetery is hosting Día de los Muertos events at three locations through L.A. County. Each includes special altars plus traditional folklórico and mariachi music. All are free to attend. Get more info here.
SUGAR SKULL! A Día de Muertos Musical Adventure! at The Wallis -> "SUGAR SKULL! A Día de Muertos Musical Adventure!" is a bilingual and bicultural musical for young audiences. It follows twelve-year-old Vita Flores, who questions her family's elaborate Día de Muertos celebration until a lively candy skeleton brings the traditions to life, taking Vita on a magical journey. Best for Pre-K to 3. Tickets start at $10. More info here.
Hocus Pocus Halloween at Topanga Social -> Join Topanga Social this Sunday for a spellbinding event perfect for your little goblins. The food hall located at Westfield Topanga is a great option for a safe trick-or-treating experience and will also include face painting, a photo booth experience, live music and a costume contest. More info here.
Día de Los Muertos Art Festival at the Downey Theater -> The Día de Los Muertos Art Festival at the Downey Theater is happening this Sunday and will include a vibrant showcase of local artists and unique, Day of the Dead-inspired creations, complemented by live music, dance performances, and treats from local food vendors. Free to attend.
Dining & Drinking
(picks by Christina Champlin)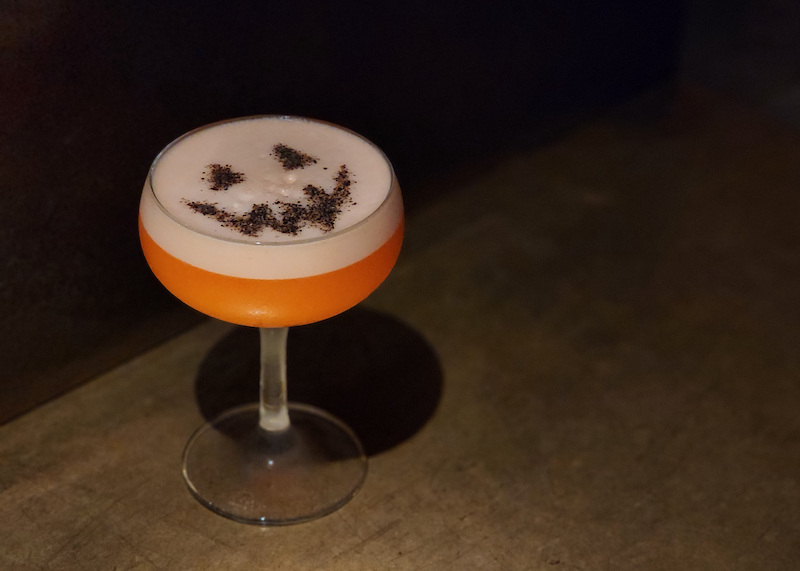 Birdie G's transforms into "Boo G's" – > Birdie G's becomes "Boo G's" from October 28 to October 31. Located adjacent to Bergamot Station, the Santa Monica restaurant will feature spooky decor, staff and guests in costumes, and a themed menu with dishes like "Freddy Kugel" and "Matzo Eye-Ball Soup." Try the "Spooky Sour Blanc-O-Lantern" cocktail or the "Vampire Burger" made with a blood sausage patty. Walk-ins are welcome, and reservations can be made on Resy.
The Strand House Halloween Horror Ball -> On Saturday, The Strand House in Manhattan Beach hosts a "Halloween Horror Ball," welcoming guests to don their spookiest costumes and enjoy a night of dancing, complete with Halloween-themed cocktails. Entrance is free. More info here.
Esters is throwing a "Hallo-Wine Party" – > Esters in Santa Monica is hosting a "Hallo-Wine Party" on Saturday at 6 p.m. The evening promises a spirited time with a DJ, dance floor, spooky movies on the wall, themed cocktails, snacks and a costume-friendly atmosphere. Secure your $25 tickets via Resy. Entrance includes complimentary snacks and one drink ticket. More info here.
---
Want to get the best things to do in L.A. sent straight to your inbox? Join over 60,000 Angelenos who subscribe to our twice weekly email newsletter!
By subscribing, you agree to our terms of use and privacy policy and consent to receive emails from We Like L.A. about news, events, offers, and partner promotions.