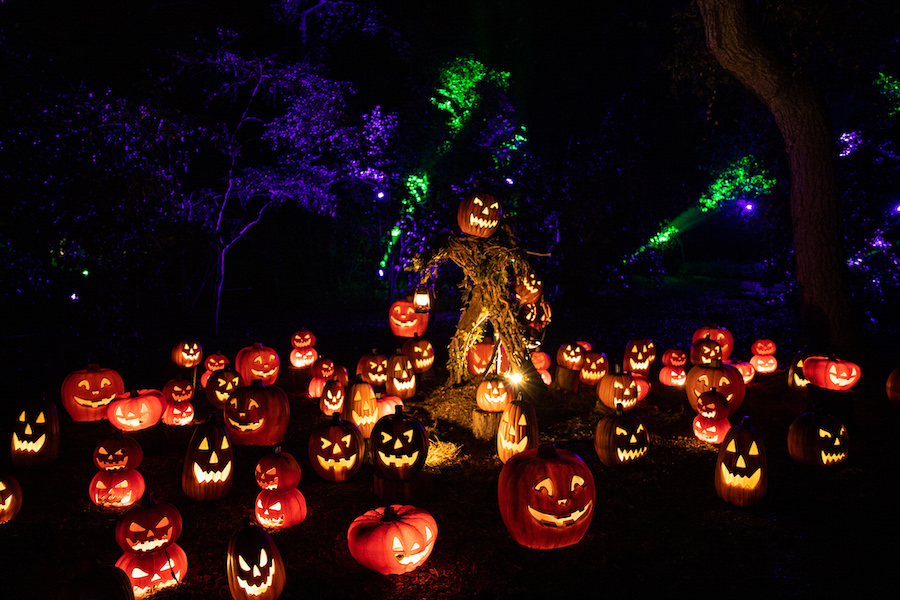 95 degrees… ugh. Not ideal weather for the Halloween season in SoCal, but the good news is the temps will dip (just a bit) as we get through the weekend, and of course there are plenty of things to check out around town, both daytime and nighttime.
For October 6-8 in Los Angeles, you'll find Carved at Descanso Gardens, Drunk Theatre in Santa Monica, Rare Books LA at Union Station, a new art exhibition to celebrate the K Line, Indigenous Peoples' Day at The Getty, Muertos Artwalk on Olvera Street, Gustavo's Great Tortilla Tournament, and MUCH more. Let's get into the full list below.
Make Metro Part of Your Weekend
HERE: Arts & Culture Along the K -> October 8 marks the one-year anniversary of Metro's K Line, and to celebrate the transit agency is teaming up with the Museum of African American Art to host a multimedia art exhibition at Baldwin Hills Crenshaw Plaza showcasing the Metro Art K Line art program, and works from over a dozen contributing artists. HERE: Arts & Culture Along the K kicks off with an opening reception this Saturday from 4 to 6 p.m., and then will remain open through December 30. Open hours are Wednesday-Sunday from 11 a.m. to 5 p.m. More info here.
Go Metro: Take the K Line to Martin Luther King Jr. station.
More Things To Do This Weekend
M = Less than .5 miles from an L.A. Metro Station, FA = Free Admission, TP = Top Pick
---
Mr. Bones Pumpkin Patch -> Culver City's favorite pumpkin village returns this Thursday offering plenty of family fun, including photo ops in front of giant pumpkin installations, a straw maze, a super slide, petting zoo, giant rocking horses, and pumpkin decorating sessions. Tickets cost $8 to $30 depending on date and tickets for activities begin at $1 each. Mr. Bones Pumpkin Patch runs October 5-29. More info here.
Urban Death Tour of Terror – M > Starting this week, Zombie Joe's annual tradition of Urban Death is back with a brand new series of terrifying vignettes, bookended by walks through a creepy maze. Performances run on Fridays and Saturdays through October 28, with three bonus shows on Sunday, October 29, Monday October 30 and Halloween Tuesday. Advance tickets are $22 per person. More info here.
Drunk Theatre – > Bay Area import Drunk Theatre is exactly what it sounds like: A comedian downs five quick shots of whiskey and then sees if he/she/they can make through an improvised set with five sober counterparts. A special Halloween edition of the series pops up at the Santa Monica Playhouse this Friday. Pre-sale tickets are $20 per person online, or it's $25 at the door. Show begins at 9 p.m. More info here.
Carved at Descanso Gardens – TP > Descanso Gardens' family-friendly Carved returns this Friday with a pumpkin wonderland featuring a new route, hundreds of carved pumpkins and kid-friendly activities. Tickets run $30-$40 for non-members. Get more info here.
Dumpling and Beer Fest – FA > On Friday, The Dumpling and Beer Fest returns to the Mission District of San Gabriel this year with more vendors then ever. Admission is free, and if you're 21 or older, you can purchase tickets for the beer garden ($40), for unlimited beer samples from 14 regional breweries, including Pico Rivera's Brewjeria Company, San Gabriel's Ogopogo Brewing and Hawthorne's Common Space Brewery. More info here.
Oktoberfest at Fairplex -> Starting this week, the Fairplex transforms into a fantastical Bavarian Oktoberfest every Friday and Saturday through October 21 with live oompah bands, DJs and plenty of German food and beers to go around. Tickets cost $12 – $22. 21+ only. More info here.
37th Annual California Avocado Festival – FA > This Friday to Sunday, take a drive up the coast to visit the 37th Annual California Avocado Festival in Carpinteria. The three-day event includes an Avocado Expo, a food court with loads of creative 'cado inspired dishes, an arts and crafts venue, plus three stages of live music with over 60 performers scheduled. Entry is free. More info here.
Taste of Pasadena -> Pasadena Magazine presents the Inaugural Taste of Pasadena on Friday, October 6, at the Pasadena Convention Center. This event offers guests unlimited tastings from chefs and restaurants spanning the San Gabriel Valley and beyond. Attendees can look forward to a wide array of culinary offerings, handcrafted cocktails, live music, and more. Tickets start at $85.
First Fridays in Bixby Knolls – FA TP > The October edition of First Fridays along Atlantic Ave in Long Beach is back for October with live music, extended hours at participating businesses, and special discounts. Runs 6:30 to 9:30 p.m. More info here.
Boney Island – M TP > Boney Island has moved its immersive Halloween event to a new home at the Nature Gardens of Natural History Museum Los Angeles. Attendees can expect an array of glowing installations, spooky skeletons, and shadow puppetry interlaced with artistic performances, real fossils from the museum's collection, live animal presentations, and plenty of trick-or-treating opportunities for the little ones. The attraction runs Thursday to Sunday through the end of the month, plus October 30-31. Tickets are $25. More info here.
Black Lagoon Pop-Up Bar – M > The touring, immersive Halloween pop-up bar Black Lagoon returns to Lost Property Bar in Hollywood for a month-long residency of themed cocktails in a spooky atmosphere filled with dark and eerie things. Los Angeles residents can look forward to an array of entertainment on Sundays and Tuesdays, including diabolical drag performances to macabre magic and boo-lesque (ticketed events cost $25). Additionally, every Wednesday, the pop-up venue will host emo nights, featuring a variety of DJs (entry fee $15). For all other nights, admission to the pop-up is free.
Shaqtoberfest – M > If NBA legend Shaquille O'Neal is going to stamp his name on a Halloween haunt, it better be big, right? Well, this year's edition of Shaqtoberfest is back at the historic Queen Mary in Long Beach, offering evenings of live entertainment, themed bars and lounges, carnival rides, plus a brand new "Gray Ghost" haunted trail that takes guests deep into the depths of the historic luxury liner. Shaqtoberfest opens this Thursday to Sunday, and continues on select dates through October 31. There will also be family-friendly hours with trick-or-treating during the last three Sundays in October. GA tickets start at $29.99. More info here.
Angel of Light – M > Step into DTLA's Los Angeles Theatre in for Angel of Light, a haunting journey that combines live performances and immersive storytelling to transport visitors to Old Hollywood in 1935. Guests will move about the theatre from dressing rooms, to the ballroom, and the stage to relive the cursed tale of a 1930s star while meeting eerie characters along the way. The 60-minute experience runs Wednesdays through Sundays and select Mondays and Tuesdays in October. Tickets run $59.50 – $70 per person. More info here.
Reign of Terror Haunted House -> This award-winning haunted house and walkthrough experience located in Thousand Oaks is now in its 25th season. The 2023 edition features 138 rooms in 10 different, inter-connected sections within 28,000 square feet of floor space. Standards tickets are $35. Available on select Fridays and Saturdays through Nov. 4. More info here.
Nights of the Jack -> The annual 1-mile trail of Halloween lights and jack o'lanterns at King Gillette Ranch returns starting this Friday to Sunday, and continues on select dates through Halloween night. In addition to the signature walk, expect live pumpkin carving demos, face painting, a souvenir shop, and a "spookeasy" offering adult beverages for sale. Admission runs $29.99-$44.99 depending on which day of the week you attend. Get more info here.
Halloween Horror Nights – M > This Thursday to Sunday, Universal Studios' fall horror takeover continues, featuring the signature Terror Tram, plus a litany of scare zones, lives shows, and a bevy of different haunted houses, including The Exorcist: Believer and Universal Monsters: Unmasked. GA tickets start at $74, but VIP and express packages can push the price point well over $300 depending on the offer. Get more info here.
Hispanic Heritage Month Concerts at Ovation Hollywood – M FA > Every Friday from September 15 to October 13, Ovation Hollywood celebrates Hispanic Heritage Month with live music in the central courtyard featuring a lineup of artists from a variety of genres, including Latin Jazz, Mariachi, and pop. All events run from 4 to 7 p.m. and are free to attend. More info here.
Beyond Fest -> The 11th anniversary of Beyond Fest offers a bold lineup of films screened across 3 Los Angeles locations: Aero Theatre, NEON Theatre at Los Feliz 3 and The Regency Westwood. And the best part? Many of the screenings are free. Beyond fest runs through October 10. See the full film schedule here.
Los Angeles Haunted Hayride -> The signature Halloween experience held in Griffith Park is back for 2023, beginning this Friday to Sunday. Fictional horror-town Midnight Falls is once again your setting, filled with roaming monsters, a haunted mortuary and of course the iconic Hayride. Tickets start at $29.99. The scares continue on select dates through October 31. More info here.
Tom of Finland Art & Culture Festival -> The annual Tom of Finland Art & Culture Festival returns this Saturday and Sunday. This event pays homage to the iconic homoerotic artist whose groundbreaking work emerged in 1957, opening doors for artists to explore the realms of erotic and on the fringe art. This year's festival boasts a diverse lineup of artists and attendees can also partake in a wide array of activities, including a life drawing session led by Miguel Angel Reye and an kiki with House of Avalon. Tickets for the festival start at $20, and the festival takes place at Soho Warehouse in Downtown Los Angeles.
Fall Openings at TAM – FA TP > This Saturday The Torrance Art Museum hosts an opening reception for its two fall art exhibitions, which include an exploration of Latin identity and culture in SUR biennial: MALA MUERTE / bad death, plus large-scale ceramic work by artist Tony Baker for In Case of Emergency. Both exhibitions will run through December 2. TAM is always free to visit. More info here.
The Oddities Flea Market – M > The Oddities Flea Market takes over the Globe Theatre this Saturday and Sunday for off-beat shopping on three floors full of one-of-a-kind curiosities from over 70 vendors. Tickets range $20-$50. More info here.
Indigenous Peoples' Day at The Getty – FA > On Saturday, The Getty celebrates Indigenous Peoples' Day with a special activations, hands-on workshops, and musical performances. Runs noon to 4 p.m. An advance reservation (free) is required. More info here.
Rare Books LA – M > Explore antiquarian books, maps, and photography at Rare Books LA this Saturday and Sunday. Taking place at LA's historic Union Station in the Ticket Concourse the public can view rare literary gems and collectibles, sit in on a slate of conversations, be entertained by marionette performances from Bob Baker Marionette Theater and view a collection of California's cest cocktail napkins by Patrick Quinn. Plus, it's easy to get there using Metrolink, Metro Rail, or Amtrak. Tickets range from $15 to $25. More info here.
Love Isn't Blind (Lesbian/Queer Edition) -> Love may or may not be blind, but is it deaf? This Saturday, Love Isn't Blind brings its unique, live dating show/experiment to The Pico. So how does it work? Well, a group of people compete to go on a date with an eligible person the only catch is they can't speak during this game but the eligible person can! Show starts at 7:30 p.m. Tickets are $20 pre-sale of $25 at the door. Get more info here.
Muertos Artwalk – M FA > Discover local artists and Olvera Street merchants this Saturday during Muertos Artwalk. The hand-curated event features a number of vendors offering unique artwork, jewelry, accessories, clothing, face painting, and more. Free to attend. More info here.
Mahjong at Steep LA – M-> This Sunday join the Los Angeles Mahjong League and Steep LA as they present 吃碰會館, the Eat & Touch Social Club, for an educational and playful Taiwanese Mahjong session. It's a first-come, first-play event with two tables dedicated to teaching newcomers the game and one table for those ready to jump right in. Happening from 4 p.m. to 6 p.m. guests will also have the opportunity to purchase a variety of beverages including beer, sake, and makgeolli, along with some delicious food options. More info here.
Family Style Food Festival -> The one-day festival known for pairing streetwear with some of the best food returns this Sunday with a curated lineup of beloved Los Angeles restaurants while shedding light on the city's diverse culinary landscape and introducing Angelenos to culinary talents in New York, Chicago, and beyond. Tickets start at $60. More info here.
5th Annual Disability Pride Parade & Festival – FA > The 5th Annual Disability Pride Parade & Festival returns on Sunday to the East L.A. Civic Center. This event is open to the general public welcoming allies and supporters for a day of solidarity. There will be free food, a pumpkin patch, petting zoo, resources and more. More info here.
Gustavo's Great Tortilla Tournament – FA TP > L.A. Times columnist Gustavo Arellano has teamed up with KCRW to host the Great Tortilla Tournament, coming to Smorgasburg LA on Sunday for a day of friendly competition, a I Love Micheladas beer garden, food pairings, live music and tortilla centered entertainment. More info here.
Dining & Drinking
(picks by Christina Champlin)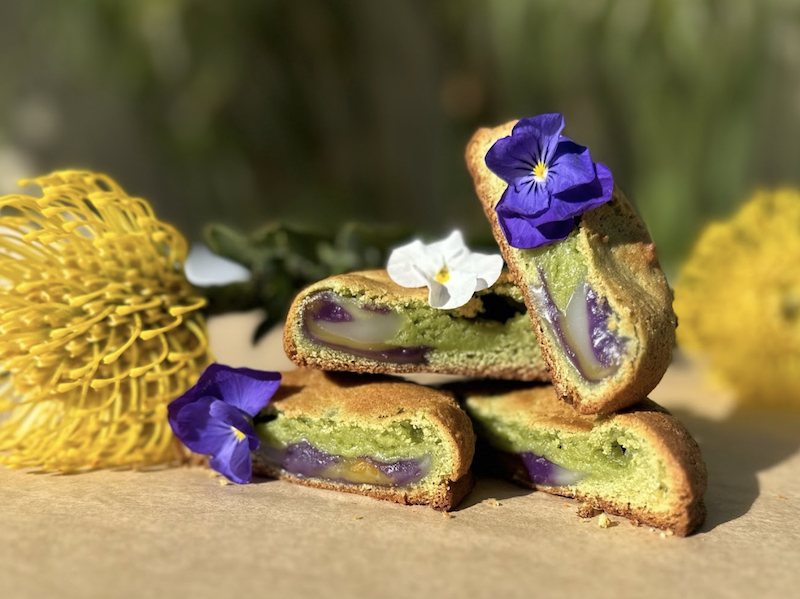 Lei'd Cookies to Open its First Brick and Mortar Bakery -> Gourmet cookie bakery Lei'd Cookies is set to open their very first storefront in Culver City this Saturday. The POC-owned bakery sprouted during the pandemic by Leilani Terris and James Lewis is a culinary exploration reimagining all the possibilities of cookie making. Find an array of cookies, inspired by global sweets and childhood favorites on the menu. Crafted meticulously in small batches, the cookies fold in uncommon ingredients like jackfruit, Sapin Sapin, pandan and mochi. Flavors include Mango Sticky Rice, Guava Goat Cheese, Cannoli, Halo Halo, and Mayan all in cookie form. Visit Lei'd Cookies at 8588 Washington Blvd, Culver City, CA 90232. The first 50 guests to stop in on opening day will receive a special gift. The bakery will also feature limited Smorgasburg collaboration treats on Saturday's menu.
A Northern Korean Cuisine Pop-Up -> Experience a rare culinary journey this October as Joseon, a new Korean pop-up, debuts in Silver Lake at the former Causita space. Chef Debbie Lee, drawing inspiration from her Northern Korean roots, presents a modern interpretation of cuisine originally crafted for the Royal Family of Korea's Joseon Dynasty (founded c. 1392). Highlights on the menu include Kongguksu (chilled soybean milk noodles) to royal dumplings and a Bossam platter. The meal comes in a five-course option for $79 and a seven-course choice for $99. Wine, soju, and cocktail pairings are also available during the pop-up. The dinner residency runs Thursday through Saturday throughout October with a kick off weekend this Friday and Saturday. Joseon is located at 3709 Sunset Boulevard, Los Angeles, CA 90026. More info here.
A Casual Friday Aperitivo Happy Hour -> Every Friday throughout October, stop by Michael's Market, the neighboring specialty market to Italian restaurant Michael's on Naples, for happy hour. Happening from 4 to 6 p.m. patrons can enjoy select Italian aperitifs and peruse the store for Italian grab-and-go items to take home. A curated selection of wines by the glass and beers is available for $5, and guests can pair their drinks with a $10 charcuterie board featuring three meats and two cheeses sourced from local California producers.
---
Want to get the best things to do in L.A. sent straight to your inbox? Join over 60,000 Angelenos who subscribe to our twice weekly email newsletter!
By subscribing, you agree to our terms of use and privacy policy and consent to receive emails from We Like L.A. about news, events, offers, and partner promotions.