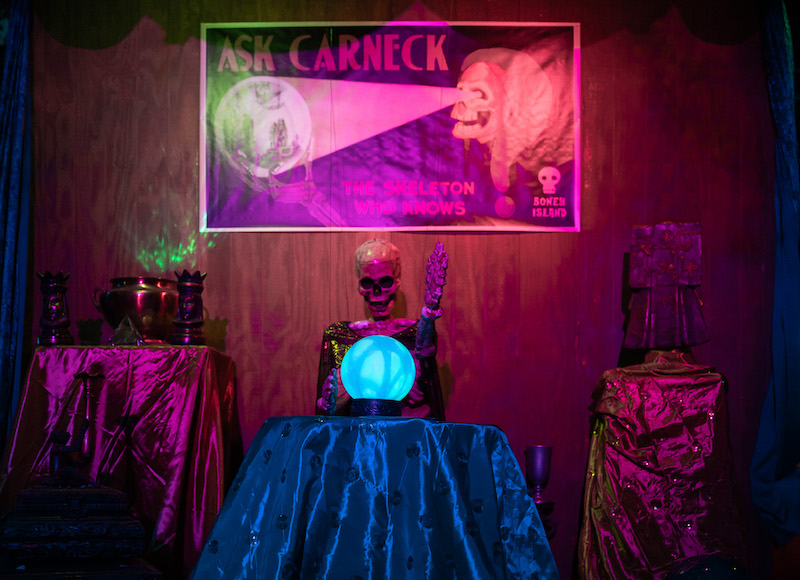 Have you had to fill up a gas tank recently? Now that is scary. Fortunately, if you're into the good kind of scary, our latest round-up will set you on track to find some amazing local Halloween to-dos (now and leading up to the big day) that you can easily access by using Metro rail and bus service.
We've put together 13 spooktacular ideas, ranging from immersive haunts offering jump-scares to free, family-friendly events and festivals. So grab your TAP card, don a costume, and we'll get you to the best of Halloween season in Los Angeles.
Metro-Accessible Halloween To-Dos
Boney Island at NHM (select dates through October 31) – Boney Island has moved its annual Halloween haunt from the confines of Griffith Park to a new home at the Nature Gardens of Natural History Museum Los Angeles. Attendees can expect an array of glowing installations, spooky skeletons, and shadow puppetry interlaced with artistic performances, real fossils from the museum's collection, live animal presentations, and plenty of trick-or-treating opportunities for the little ones. Boney Island runs Thursday to Sunday through the end of the month, plus October 30-31. Tickets are $25. More info here.
Go Metro: Take the E Line to USC / Expo Park station
Black Lagoon Pop-Up Bar (select dates through November 7) -> The touring, immersive Halloween pop-up bar Black Lagoon returns to Lost Property Bar in Hollywood for a month-long residency of themed cocktails in a spooky atmosphere filled with dark and eerie things. Los Angeles residents can look forward to an array of entertainment on Sundays and Tuesdays, including diabolical drag performances to macabre magic and boo-lesque (ticketed events cost $25). Additionally, every Wednesday, the pop-up venue will host emo nights, featuring a variety of DJs (entry fee $15). For all other nights, admission to the pop-up is free.
Go Metro: Take the B Line to Hollywood / Vine station.
Halloween Horror Nights at Universal Studios (select dates through October 31) Universal Studios' fall horror takeover features the signature Terror Tram, plus a litany of scare zones, lives shows, and a bevy of different haunted houses, including The Exorcist: Believer and Universal Monsters: Unmasked. GA tickets start at $74, but VIP and express packages can push the price point well over $300 depending on the offer. Get more info here.
Go Metro: Take the B Line to Universal / Studio City Station
Shaqtoberfest (through October 31) -> Prepare for a spine-tingling experience at Shaqtoberfest aboard the historic Queen Mary in Long Beach. This haunting event offers new eerie experiences and multiple attractions that include a Shipwreck Graveyard, where undead sailors emerge from watery graves, to a dark carnival and a dangerous Pirate's Cove. Tickets start at $29.99 on select nights. More info here.
Go Metro: Take the A Line to Downtown Long Beach Station
Zombie Joe's Urban Death: Tour of Terror (select dates through October 31) -> Zombie Joe's annual tradition of Urban Death is back with a brand new series of terrifying vignettes, bookended by walks through a creepy maze. Performances run on Fridays and Saturdays through October 28, with three bonus shows on Sunday, October 29, Monday October 30 and Halloween Tuesday. Advance tickets are $22 per person. More info here.
Go Metro: Take the 224/501 to Lankershim / La Maida
Halloween Events at One Colorado (various dates) -> Old Pasadena's One Colorado is hosting a trio of family-friendly Halloween events over the last third of October. It starts with a pumpkin decorating (ticketed, $10 per pumpkin) on October 22, followed by a free performance by the Bob Baker Marionettes on October 28, and a trick-or-treat session for kids on October 31. More info here.
Go Metro: Take the A Line to Memorial Park station
Shoreline Village Zombie Walk & Halloween Party (October 14) -> The Shoreline Village Zombie Walk brings a slew of family-friendly activities to Downtown Long Beach, including kids face painting, special vendors, aerial artists, roaming scarers, and DJ sets, all leading up to the signature walk starting at 8 p.m. The festival runs from 4 to 10 p.m. and it's free to attend, no tickets required. More info here.
Go Metro: Take the A Line to Downtown Long Beach Station
Boo-ze Bites & Frights (October 20-21) -> On two dates this October, Street Food Cinema transforms Heritage Square Museum into a spooky playground featuring tours of the historic homes, adult trick-or-treating, food trucks, a pop-up bar, and back-to-back evenings of horror double features. Night one features a screening of Scream and Scary Movie, then night two follows with I Know what You Did Last Summer and Cabin in the Woods. GA tickets start at $40 per person, and if you decide to drive it's $25 for GA parking. More info here.
Go Metro: Take the A Line to Heritage Square Station
Fall Festival at the Original Farmers Market (October 21-22) -> The two-day Fall Festival at the Original Farmers Market features a pumpkin patch, pig races, games, live music, and crafting for kids. Runs 11 a.m. to 7 p.m. both days. More info here.
Go Metro: Take Line 16/217/218 to Fairfax / 3rd
Nightmare Before Christmas at The Bowl (October 27-29) -> Danny Elfman returns to the Hollywood Bowl for a three-night musical performance of Tim Burton's The Nightmare Before Christmas in concert, backed by conductor John Mauceri with a full orchestra and a few special surprise guests. There will also be a costume contest and a pre-concert trick-or-treat activation for kids. Tickets start as low as $39.50. Get more info here.
Go Metro: Take the B Line to Hollywood / Highland then ride the Hollywood Bowl Shuttle (free if you show your TAP card) to the venue.
Bob Baker's Halloween Spooktacular! (select dates through November 5) -> In Bob Baker's Halloween Spooktacular!, over a hundred spirited puppets come to life, delivering an hour-long, family-friendly captivating Halloween revue. Highlights include Frankenstein's toe-tapping debut and a cabaret of glow-in-the-dark skeletons. Tickets start at $25. More info here.
Go Metro: Take Line 182 to York / Ave 49
West Hollywood Halloween Carnaval (October 31) -> For the first time since 2019, the city of West Hollywood is bringing a massive block-party style Halloween spectacle to a one-mile stretch of Santa Monica Blvd between Doheny Dr and La Cienega Blvd. Expect DJ sets, food trucks and thousands of attendees dressed in their costumed best. Free to attend. Runs 6 to 11 p.m. More info here.
Go Metro: Take the 4 Line along Santa Monica Blvd.
DTLA Halloween Festival for Kids (October 31) – The Downtown Center Business Improvement District is hosting their 16th annual Halloween fest at Grand Hope Park. Guests can expect a trick-or-treat trail, crafting station, photo ops, and a kid-friendly magic show The event runs 5 to 8 p.m. Tickets are $10 pre-sale, or $13 at the door. More info here.
Go Metro: Take A, B, D, E or J Lines to 7th Street Metro Center OR take lines 66/81/707 to 9th/Grand.
---
Want to get the best things to do in L.A. sent straight to your inbox? Join over 60,000 Angelenos who subscribe to our twice weekly email newsletter!
By subscribing, you agree to our terms of use and privacy policy and consent to receive emails from We Like L.A. about news, events, offers, and partner promotions.