Okay, so it looks like a little rain is sneaking into your weekend forecast, but let's not go overboard. A few Saturday sprinkles won't keep us from a good time!
For November 17-19 in Los Angeles, you'll find the return of the LA Auto Show, Jackalope in Pasadena, the Burbank Winter Wine Walk, Complexcon, Renegade Craft, the Pasadena Doo Dah Parade Enchanted: Forest of Light at Descanso Garden, and much more. Let's get into the full weekend list below.
Make Metro Part of Your Weekend
Jackalope Pasadena – M FA > Bi-annual, indie craft market Jackalope returns Saturday and Sunday to Central Park in Old Pasadena for a two-day pop-up marketplace featuring over 200 vendors offering an array of original, handmade goods and vintage wares. Free to attend as always. Runs 10 a.m. to 4 p.m. both days, and it's happening rain or shine.
Go Metro: Take the A Line to Del Mar Station
More Things To Do This Weekend
M = Less than .5 miles from an L.A. Metro Station, FA = Free Admission, TP = Top Pick
---
L.A. Zoo Lights –M> The Los Angeles Zoo's brightest annual tradition will transform the zoo grounds into a world of light and holiday magic. The after-hours event offers brightly lit displays and festive family-friendly experience every night throughout the entire holiday season. L.A. Zoo Lights kicks off this Friday, November 17 and will run through January 7, 2023. Adult tickets range from $29-$35, depending on the desired date to attend. More info here.
LA Auto Show – M TP> This Friday, the nation's top auto show returns to the Los Angeles Convention Center for a ten-day affair featuring a who's who of automotive exhibitors, plus vehicle test drives, activations, and family-friendly entertainment. The LA Auto Show runs November 17-26, with single day tickets starting at $24 for adults. Get more info here.
Astra Lumina: An Enchanted Night Walk Amongst The Stars – > ​​Every Thursday through Sunday evening, the South Coast Botanic Garden morphs into a multi-sensory celestial pathway where guests will walk amongst the stars thanks to brilliant lights, cosmic visions, and astral song. The seasonal attraction runs on select evenings through December 31. Adult tickets start at $35 and there's an additional fee for parking. More info here.
Lightscape at The L.A. Arboretum -> The L.A. Arboretum lights up the holiday season with a one-mile trail of installations and twinkling displays, taking place at the garden after-hours on select dates. Lightscape returns this Friday, November 17, 2023 and will run through January 2, 2024. GA adult tickets range $29-$35, depending on the date selected for purchase. Get more info here.
LRG BREW Art Show -> This Friday to Sunday, check out some indie art while sipping on beers during the LRG BREW Art Show at Long Beach Beer Lab. Hosted by Los Ruano Gallery the show will feature 20 artist and over 100 paintings. Admission is free, but you can get a VIP upgrade available for $35. Runs 4 to 10 p.m. on all days. More info here.
Pershing Square Holiday Ice – M > This week, the 7,200 square foot skating rink in the heart of DTLA returns for the holiday season. GA tickets, including skate rental, cost $20 for adults. The rink runs daily from November 16 through January 7, 2024. More info here.
Burbank Winter Wine Walk -> Celebrate the season with a wine stroll this Saturday in Downtown Burbank. Guests will enjoy wine tasting stations, live entertainment and a street lined with vendors to help you shop for the holidays. Entertainment and the marketplace is free to attend, the wine tasting portion start at $55 a person. More info here.
Great Los Angeles Walk – FA TP > This longstanding bi-pedal tradition returns on Saturday with a journey that, for the first time, will include a touchpoint in Griffith Park. The route begins starts at at the Bear Statue just south of Fern Dell, then moves along Franklin Avenue to Fairfax and Western and then back to Griffith Park. Free to participate. Walk starts at 9 a.m. The walk will happen rain or shine! More info here.
Desire, Knowledge, and Hope (with Smog) at The Broad – M FA > Debuting this Saturday, Desire, Knowledge, and Hope (with Smog), is the latest exhibition from The Broad's private collection of 21 Los Angeles-based artists. Named after John Baldessari's masterpiece 'Desire, Knowledge, and Hope (with Smog)' delves into themes that contemplate Los Angeles as a city in constant flux and unrest, as well as addressing societal concerns transcending geographical boundaries. Works on display include Ed Ruscha, Barbara Kruger, Doug Aitken, Lari Pittman, Catherine Opie and Mike Kelley. The exhibit runs November 18 – April 7, 2024. More info here.
It's Alive! A Plat Based Horror Marketplace – M FA > It's Alive! A Plant Based Horror Marketplace returns on Saturday to Common Space Brewery. This event happens twice a year and includes vegan food vendors some horror themed shopping and more.
Fall Festival in Burbank – FA > On Saturday, The Burbank Cultural Arts Commission hosts a Fall Festival at Johnny Carson Park (rescheduled from September 30) featuring food trucks, live performances, art vendors, and an outdoor screening of Tim Burton's The Nightmare Before Christmas. The day-long event runs from 2:15 to 9:15 p.m. Free to attend. More info here.
Renegade Craft – M FA > Renegade Craft market pops up Saturday and Sunday at Los Angeles State Historic Park with over 200 craft designers, artists, and creative vendors. Runs 10 a.m. to 4 p.m. both days. Free to attend. More info here.
Complexcon – M > Complexcon returns this Saturday and Sunday to the Long Beach Convention Center for two-day event featuring a food experience curated by First We Feast, a streetwear and sneaker marketplace, plus a live musical performances headlined by Kid Cudi. GA passes for single day attendance start at $115. More info here.
Enchanted: Forest of Light – TP > Descanso Gardens' annual light is back this Sunday with a range of wondrous, illuminated installations, including a magical "stained glass" creations built in the Rose Garden by contemporary sculptor Tom Fruin. The one-mile walk also features geometric installations from HYBYCOZO on the Main Lawn; Flower Power lights, and sparkling adornments added to Descanso's Ancient Forest. Enchanted Forest runs November 19 – January 7, 2023. Adult tickets cost $35-$45 for non-members. More info here.
The Storrier Stearns Japanese Garden's 5th annual Art Fair in the Garden -> The Storrier Stearns Japanese Garden presents its 5th annual Art Fair in the Garden in collaboration with the Pasadena Society of Artists (PSA). Happening on Sunday from 10 a.m. to 4 p.m., guests will see the garden transform into an open-air gallery, showcasing a diverse array of paintings, ceramics, sculptures, collages, and prints by ten local artists. Online registration cost $9.50, free for children 12 and under and $12 at the gate.
Pasadena Doo Dah Parade – M FA TP > The Pasadena Doo Dah Parade returns this Sunday for its 44th installment, featuring an irreverent and oddball cast of characters marching down Colorado Blvd in Old Pasadena. The action starts at 11 a.m. near the intersection of Holly and Raymond (the original route of the parade). More info here.
Black Love Brown Pride Nativo Marketplace Takeover -> Black Love Brown Pride honors both Hispanic and Afro-Latinx heritage and culture. Join them this Sunday for a candid conversation delving into the triumphs and tribulations of being Hispanic/Afro-Latina, exploring ways to overcome obstacles together. Guests can also enjoy DJ tunes and a vendor marketplace showcasing black and brown small businesses. More info here.
Ice Santa Monica – M > Ice Santa Monica is back with an 8,000 square-foot ice rink pop-up at the intersection of Arizona Ave and 5th St in Downtown Santa Monica. Skate rental and admission is $22. The rink is open daily through January 15. More info here.
Ultra Cinematheque 70: Hollywood – M > The American Cinematheque's Ultra Cinematheque 70: Hollywood is back at the Egyptian Theatre now through November 21, showcasing 70mm films including West Side Story, Spartacus, The Wild Bunch, 2001: A Space Odyssey, and Lawrence of Arabia. Attendees can catch these cinematic gems for $17 per screening. See the full schedule here.
Dining & Drinking
(picks by Christina Champlin)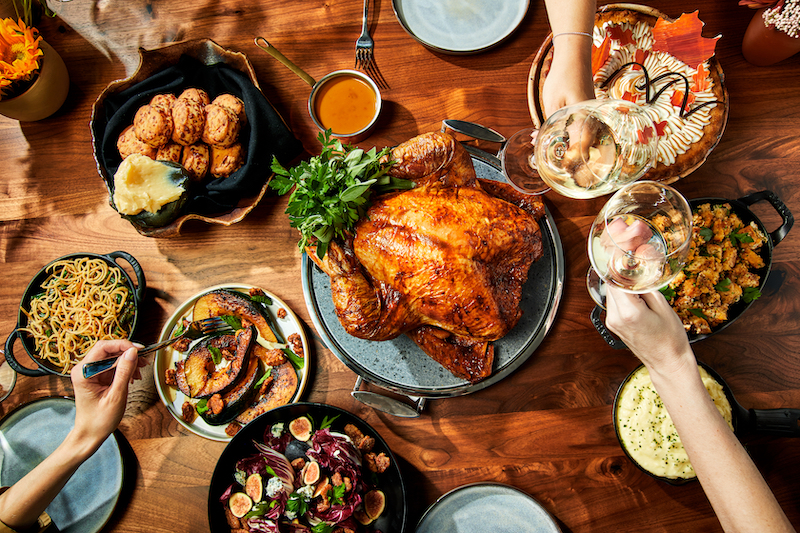 For this weekend's guide, we're looking ahead to highlight a couple unique Thanksgiving meals coming up, all under $95 per person.
Sendero -> This Thanksgiving, Sendero inside The Ritz Carlton Los Angeles presents three exclusive dining experiences at Corteza, Agave Library, and Leña. At the pinnacle, indulge in a private Thanksgiving dinner for 10 to 12 guests within The Agave Library. Priced at $95 per person, this private family-style feast features turkey prepared three ways—chicharron, confit, and roasted—accompanied by an array of sides and spiced pumpkin pie for dessert. Leña, Sendero's Argentina-inspired steakhouse with panoramic views of downtown Los Angeles, offers a four-course pre-fixe menu at $90 per person. Highlights include Tahitian Squash + Dungeness Crab Bisque, Olive Oil Poached Halibut, and a Smoked Chocolate Mousse with chocolate graham cracker and marshmallow fluff. Corteza's Thanksgiving menu presents turkey three ways—chicharron, confit, and roasted—alongside honey-glazed ham. The main courses are complemented by sides such as Chesapeake cheddar biscuits, roasted garlic whipped potatoes, green bean casserole, cornbread chorizo stuffing, giblet gravy, and an assortment of fresh salads. The meal concludes with spiced pumpkin pie and Thanksgiving cupcakes. The menu is priced at $85 per person. All three concepts are available for reservations through OpenTable under "Experiences".
Maple Block Meat Co. Frendsgiving Package -> This year Maple Block Meat Co. will offer a Frendsgiving package, available now through November 23 with a 72-hour notice. Priced at $31 per person, this special offering includes hand-carved turkey breast, accompanied by cornbread and honey butter, house-made cranberry sauce, and turkey gravy. Each plate chooses two additional sides that includes Brussels sprouts, mashed potatoes, Mac n cheese, and braised greens.
Sea Level Restaurant & Lounge -> Sea Level Restaurant & Lounge in Redondo Beach is the perfect destination for an all-day Thanksgiving feast. Make a reservation between 1 to 8 p.m. and experience a culinary journey starting with an ice bar featuring seafood and sushi. Choose from a curated menu offering starters and main courses like Herb Roasted Turkey Breast, Pumpkin Gnocchi, or Pear Salad, concluding with a decadent dessert station. Tickets are priced at $95 for adults and $35 for children 10 and under.
Playa Provisions -> On turkey day Playa Provisions in Playa Del Rey will offer a blend of regular-menu favorites and Thanksgiving specials. The Thanksgiving pre-fixed menu priced at $75 per adult and $40 for kids include a seasonal salad, Parker Rolls, and a hearty entree plate featuring slices of Beer Brined Turkey. This delectable main course is complemented by inventive sides like Maple Roasted Yams with Earl Grey Marshmallow Fluff, Green Beans with Shiitake Mushroom Vinaigrette, and Roasted Garlic Smashed Potatoes. Playa Provisions will be open from 1 to 6 p.m. and reservations are strongly encouraged.
---
Want to get the best things to do in L.A. sent straight to your inbox? Join over 60,000 Angelenos who subscribe to our twice weekly email newsletter!
By subscribing, you agree to our terms of use and privacy policy and consent to receive emails from We Like L.A. about news, events, offers, and partner promotions.