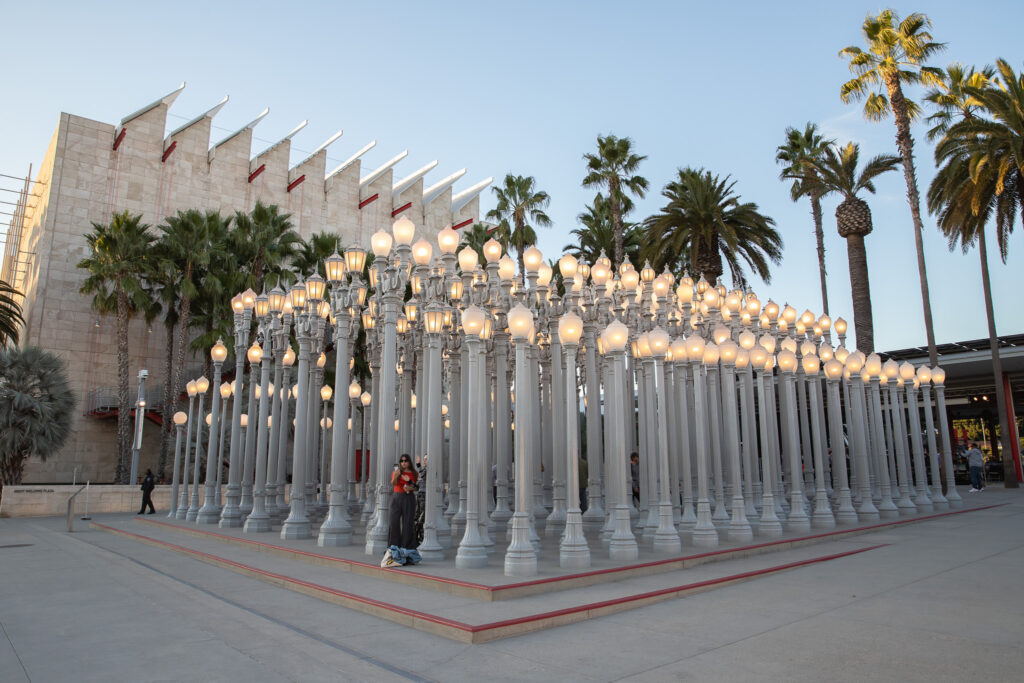 Savvy Angelenos (like the ones that read our free museum guide) already know that there are multiple local museums that offer free admission for Los Angeles County residents after 3 p.m. on weekdays. Among those, two that standout (because they are literally next door to one another) are the La Brea Tar Pits Museum and the Los Angeles County Museum of Art.
What you might not know is LACMA stays open late on Fridays (till 8 p.m.), which makes that the perfect day for a little freebie two-step. Of course, we know what you're thinking. Do I really want to be driving on the Miracle Mile at 3 o'clock on a Friday? Probably not. Good thing you have options.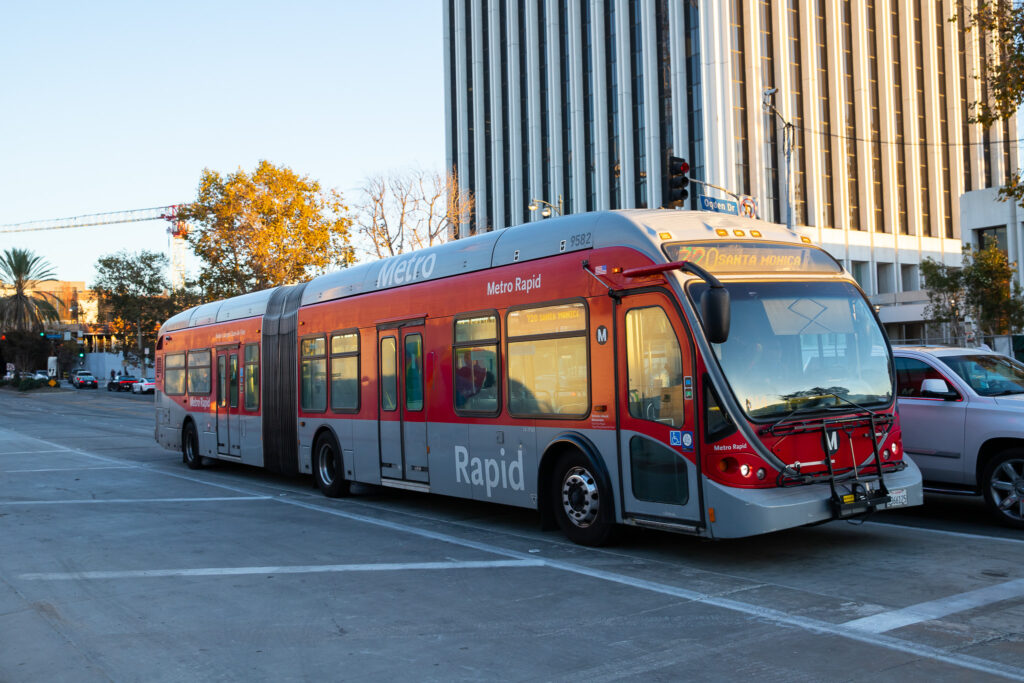 One way to get there is to ride Metro's local 20 Line or take the 720, a rapid bus line that spans Downtown to Santa Monica, mostly along Wilshire Blvd. Both lines have stops near Museum Row, and it's roughly a 40-minute ride from DTLA, or a tick over an hour if coming from Downtown Santa Monica. And keep in mind these bus lines are sped up by a priority (e.g. peak hour) bus lane that runs the length of Wilshire between Westlake and Mid-Wilshire. Compare that to slogging through mid-afternoon traffic on a Friday, and it's not bad at all.
Because the La Brea Tar Pits Museum closes at 5 p.m., you'll want to go there first. Here you'll encounter specimens and exhibits detailing the evolutionary history of animals that called Los Angeles home at the end of the last ice age, including more a few that got stuck in the area's pools of natural asphalt, preserved for archeologists to discover thousands of years later (and for homo sapiens like us to look at in museums!). If you're into saber-toothed cats, wooly mammoths, or dire wolves, this will be your jam.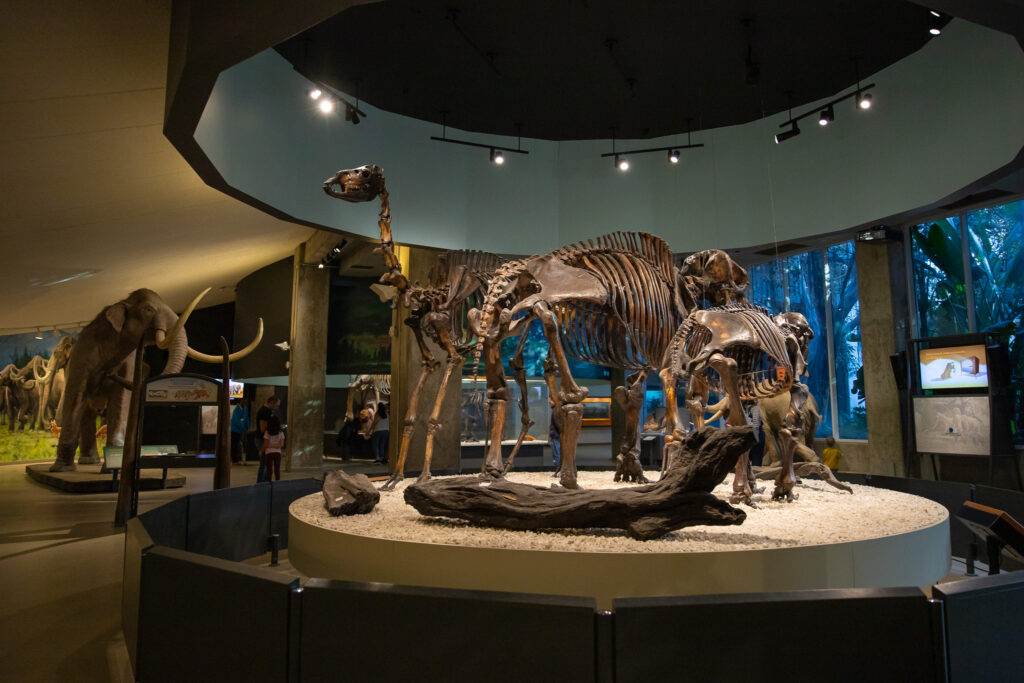 After a perusal of the interior, you can move on to investigate the sticky situation around the Tar Pits themselves before scooting over to the LACMA campus, either by cutting through the adjacent park or walking down Wilshire.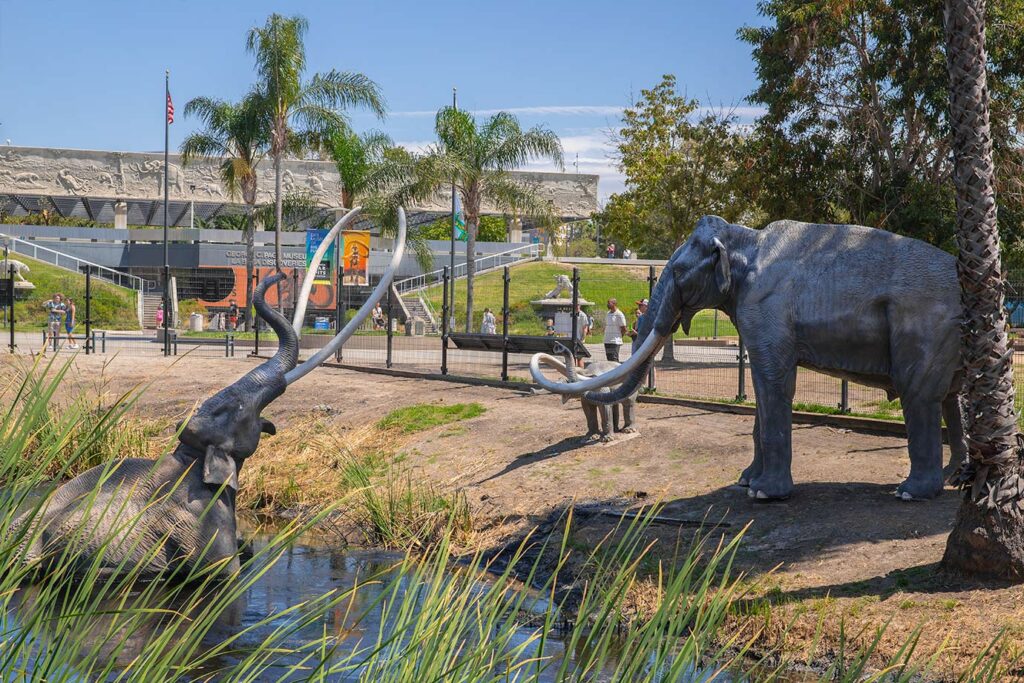 Inevitably, you'll probably snag a photo at Chris Burden's Urban Lights (okay, it's a cliche, but it's lovely cliche) and then jump in line to check-in at the ticketing kiosk.
Whether you opt for the photo or not, one thing you're bound to notice is that the LACMA construction is ongoing, which means a big portion of the campus is still closed. Current estimates put the completion at sometime in late 2024, and until then, you're getting to experience about half of what the museum eventually will be. Still, for the price of free, you can't beat it.
Start at the Broad Contemporary Art Museum (the three story building with the escalator), where you'll find plenty of master works and modern art pieces on display. Then, head over to the Resnick Pavilion, where a new exhibition featuring one of L.A.'s most revered muralists just opened last month.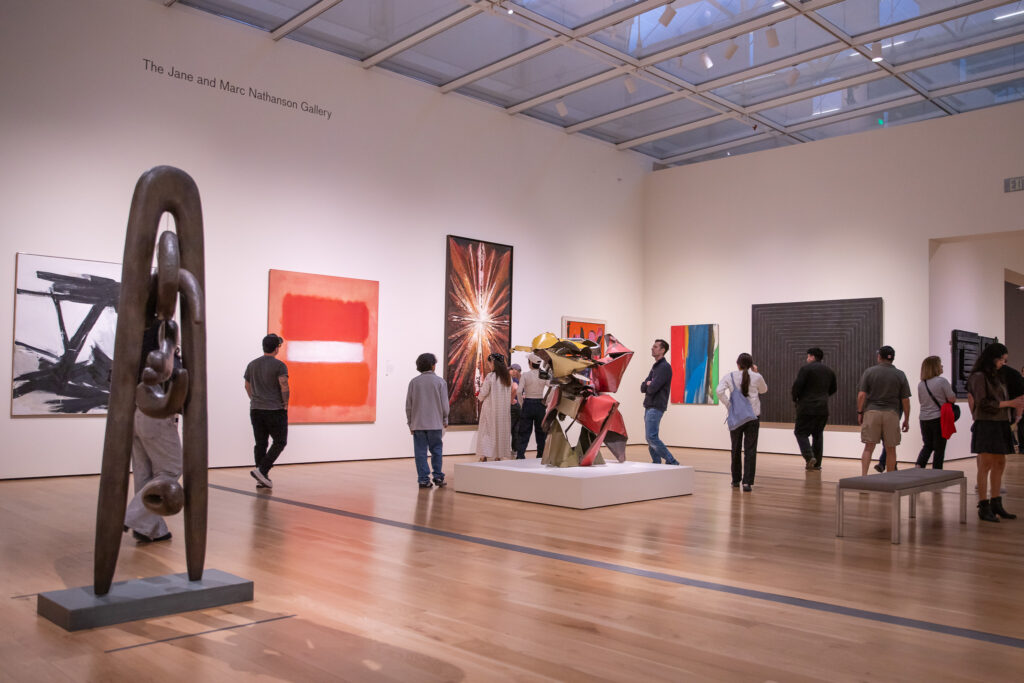 Painting in the River of Angels: Judy Baca, includes two murals in-progress that depict scenes from The Chicano Movement and The Watts Rebellion. The murals are being painted inside the gallery, giving it an almost art studio like feel. Once completed, the set of panels will be added to The Great Wall of Los Angeles, a nearly mile-long set of murals designed by Baca in the late 1970s, and installed on the concrete sides of a section of Tujunga Wash near Valley Glen, with the help of 400 youth, artists, and community members.
Once you've had your fill of art, you might wander outside to find one of LACMA's free Friday night Jazz concerts underway at Smidt Welcome Plaza. The music is excellent, and the atmosphere draws a crowd, with onlookers packing picnics, filling up folding chairs, and grabbing any bit of real estate they can find to relax and enjoy the tunes.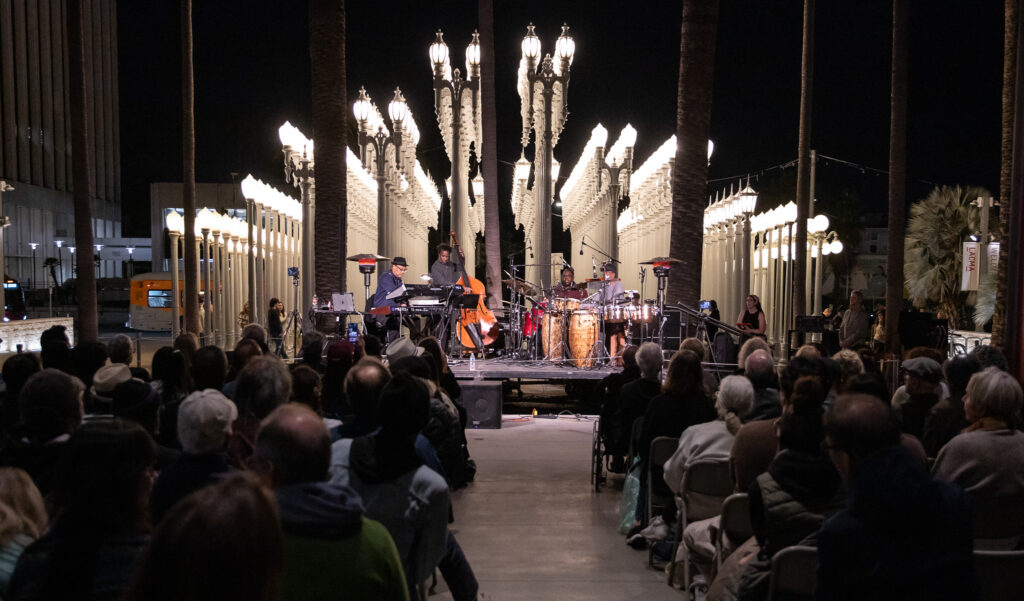 It's a beautiful way to blend the late afternoon to early evening, but also a reminder that the crowds in L.A. don't quit, which is probably why parking is this area is so expensive.
Good thing you rode Metro, right?
Some Notes Before You Go
Make sure you check the hours/visitor pages of both LACMA and the La Brea Tar Pits Museum before you go. Things change!
LACMA is closed on Wednesday, so if you're thinking about a weekday visit to the museums on Wilshire, you might want to skip that day of the week.
La Brea Tar Pits Museum is open every day (except select holidays) and it always closes at 5 p.m.
Just for sake of comparison, LACMA adult admission for L.A. County Residents is $20, and La Brea Tar Pits Museum is $15.
LACMA also offers free admission to all every second Tuesday of the month. At this time, La Brea Tar Pits Museum has no monthly free days.
For La Brea Tar Pits Museum, you can walk up any of their ticketing desks or kiosks to get the free L.A. County resident tickets (3 p.m. and after). For LACMA, we recommend reserving a slot in advance through the LACMA website.
Jazz at LACMA has two more dates on the 2023 schedule: November 17 with John Proulx Quartet and November 24 with Luther Hughes and the Cannonball-Coltrane Project. After that, you'll have to wait until next spring for the series to restart.
Have a kid or teen and want to visit LACMA, but can't make it on a weekday? Through a program called NexGenLA, LACMA offers free membership for kids under 17 years who live in L.A. County. And if they sign up, they automatically get to include.
Speaking of kids, if you do visit using Metro, remember that the Metro GoPass program. GoPass lets eligible students of L.A. County K-12 schools or community colleges ride all Metro buses and trains for free. And that's not just to-and-from school. That's anywhere Metro takes you, no restrictions. You can click here to see if you/your child's school is enrolled.
Finally, the Academy Museum of Motion Pictures (just west of LACMA) offers free admission to all children ages 17 and younger. If you're solo guardian/caretaker/parent with a couple of kiddos in tow, if you time it right on a weekday it's possible you could see three of L.A.'s top institutions for the price of one round-trip fare on Metro and one adult admission at The Academy Museum ($25). That's a pretty sweet deal!
---
Want to get the best things to do in L.A. sent straight to your inbox? Join over 60,000 Angelenos who subscribe to our twice weekly email newsletter!
By subscribing, you agree to our terms of use and privacy policy and consent to receive emails from We Like L.A. about news, events, offers, and partner promotions.