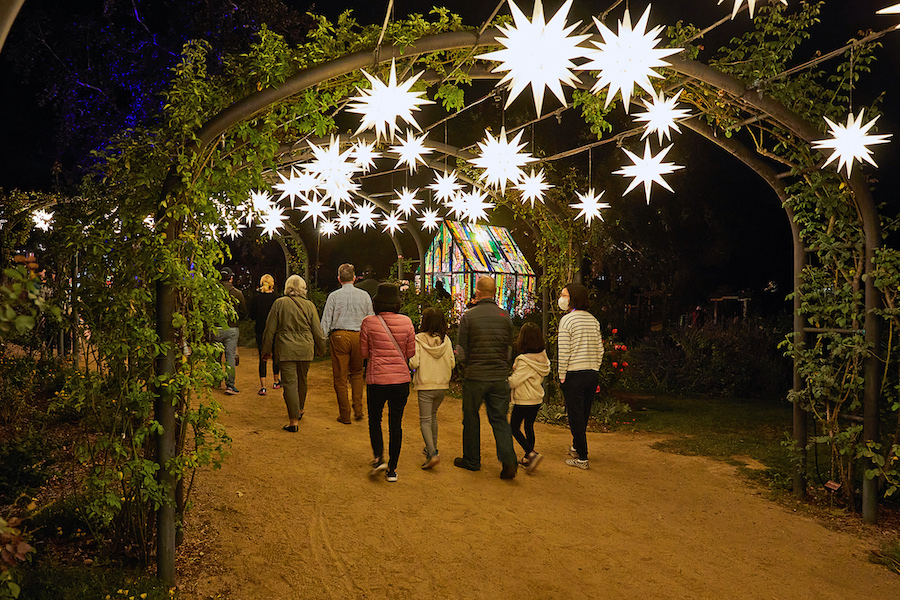 The variety of to-dos in this city never fails to astonish.
For November 18-20 in Los Angeles, you'l find the the L.A. Auto Show, Venice Winterfest, the Great Los Angeles Walk, Enchanted Forest of Light at Descanso Gardens, L.A. Zoo Lights, the 9th Annual International Mariachi Women's Festival, Kneaded Bread Fest at NHM, the Orchestra Santa Monica season opener, Complexcon, and more. Has be something in that mix to your liking, right? Hope you find it, and hope you enjoy!
Things To Do This Weekend
L.A. Auto Show -> Starting this Friday, the nation's top auto show returns to the Los Angeles Convention Center for a ten-day affair featuring a a who's who of automotive exhibitors, plus vehicle test drives, activations, and family-friendly entertainment. Single day tickets start at $22 for adults. Get more info here.
L.A. Zoo Lights -> The Los Angeles Zoo's brightest annual tradition returns this Friday, transforming the zoo grounds into a world of light and holiday magic. The after-hours event offers brightly lit displays and festive family-friendly experience every night throughout the entire holiday season. Adult tickets range from $34-$39, depending on the desired date to attend. More info here.
Ice Santa Monica -> Downtown Santa Monic'a Ice brings 8,000-square-foot pop-up rink to the corner of Fifth Street and Arizona Avenue, running daily through January 16, 2022. Skate rental and all-day admission runs $20 per person. Get more info here.
Through the Lens of Wayne Thom -> The latest exhibition at the USC Pacific Admission takes on the prolific, 50-year career of Shanghai-born photographer Wayne Thom. Thom's work illustrates, in particular, the shift to mirrored glass in urban architecture in the latter half of the 20th century that is now ubiquitous in city skylines across the world (the Los Angeles Superior Court Building is a great early example). If skyscrapers and mid-rises are your jam, you're going to love browsing Thom's captures. UPAM is open Wednesday to Sunday. Admission is $10 for adults, and entry is pay-what-you-will every Thursday. Get more info here.
Lightscape at The L.A. Arboretum -> The L.A. Arboretum's Lightscape continues this Thursday–Sunday, brightening up the holiday season with a one-mile trail of installations and twinkling displays. GA adult tickets range $37-$39, depending on the date selected for purchase. Get more info here.
Great Los Angeles Walk -> This Saturday, the 17th ever Great Los Angeles Walk returns with a journey that originating in the rose garden of Exposition Park, then moving through West Adams, Culver City and then on to the final destination in Venice. Free to participate. Walk starts at 9 a.m. Find basic event info here, and a great FAQ about attending written by the organizers here.
Venice Winterfest -> On Saturday, the Venice Winterfest brings a one-day community festival to a three-block stretch of the Mar Vista Arts District with a selection of local vendors, art, music, food trucks, and more. Free to attend. More info here.
The Computer Accent -> What would an artificial intelligence know about making a rock record? Filmmakers Riel Roch-Decter and Sebastian Pardo endeavored to find out, as they documented the making of Yacht's 2019 album Chain Tripping, which was produced with AI tools and in consultation with leading scientists, hackers, and computer music experts. The result of the project is at the heart of the new film The Computer Accent, which will screen this Saturday at the 2220 Arts + Archives cultural center on Beverly Blvd. A performance by Yacht follows the film screening, with the event kicking off at 8 p.m. Tickets are $21.99 to attend. Get more info here.
Rock My Soul: Symphonies for Youth -> The LA Phil's Rock My Soul festival continues this Saturday morning with a special edition the Symphonies for Youth, to preceded by an hour of art and sound activations. The program is recommended by kids 5-11. Tickets are $27 per person. Get more info here.
Kneaded Bread Fest at NHM -> The one-day Kneaded Bread Festival comes to Natural History Museum this Saturday for a slate of performances, presentations, bread-themed exhibits, hands-on activities, and educational sessions, all centered around the doughy delight that's been a staple of human consumption for thousands of years. 9 local bakeries will be in attendance for the event, and all activities are included with regular admission, which starts at $15 for adults. Get more info here.
Orchestra Santa Monica Season Opener -> This Saturday, Orchestra Santa Monica opens its 10th Anniversary Season with a two-part performance that includes music by John Williams from the Lincoln soundtrack, followed by selections from Russian composer Modest Mussorgsky's Pictures at an Exhibition. The concert is free to attend and takes place at Barnum Hall starting at 7:30 p.m. Get more info here.
Don't Tell My Mother -> This Saturday, Dynasty Typewriter hosts an afternoon of comedy where performers spill the beans on real-life drama they would never tell their their mama (so hopefully she's not attending). The lineup includes Nikki Levy (Coming Out Party w/Shangela), Matt Marr (Reality Gays) Ashley Ray (TV, I Say) and Aiko Tanaka (America's Got Talent). Tickets start at $20. Show begins at 3 p.m. More info here.
because i am that Zine Workshop -> This Saturday at the California African America Museum, guests are invited create a zine inspired by the latest CAAM exhibition because i am that, an evolving multimedia exhibition and performance site by artists Adee Roberson and Azikiwe Mohammed. Teaching artists from Able ARTS Work guide participants in piecing together connections to the shapes, colors, and stories highlighted in the exhibition. All ages welcome. Free to attend. Starts at 2 p.m.. More info here.
Salt Marsh Open House -> This Saturday, educators from the Cabrillo Marine Aquarium will be on hand at the Salinas de San Pedro wetlands habitat to guide public visitors as they view the birds of the marsh, learn about native plants and observe the changes in the tides. Starts at 2:15 p.m. Free to attend. Get more info here.
Jackalope Pasadena -> This Saturday and Sunday, indie craft market Jackalope returns to Central Park in Old Pasadena for a two-day, pop-up marketplace with over 200 vendors. Free to attend. Runs 10 a.m. to 4 p.m. both days. More info here.
Anime Pasadena -> The 4th annual Anime Pasadena returns to the Pasadena Convention Center this Saturday and Sunday with a two-day gathering full of vendors, cosplay, fashion, performances, live music, and anime karaoke. Tickets are $30 for one-day passes, or $50 for the full weekend. Get more info here.
Complexcon -> Complexcon returns to the Long Beach Convention Center this Saturday and Sunday for two-day event featuring a food experience curated by First We Feast and Tasty, a streetwear and sneaker marketplace, plus a live musical performance headlined by Japanese designer and record producer Nigo. GA passes for single day attendance start at $117 (including fees). More info here.
9th Annual International Mariachi Women's Festival -> This Sunday, head to LA Plaza de Cultura y Artes to celebrate traditional mariachi women of Guadalajara through a one-day event that includes performances by Mariachi Divas, Mariachi Innovación Mexicana and Mariachi Femenil Nuevo Tecálitlan. Free to attend. More info here.
Enchanted: Forest of Light -> Starting this Sunday, Descanso Gardens' annual light is back this November with a range of wondrous, illuminated installations, including a magical "stained glass" creations built in the Rose Garden by contemporary sculptor Tom Fruin. The one-mile walk also features geometric installations from HYBYCOZO on the Main Lawn; Flower Power lights, and sparkling adornments added to Descanso's Ancient Forest. Tickets cost $34-$40 for non-member adults. More info here.
Dining & Drinking
(picks by Christina Champlin)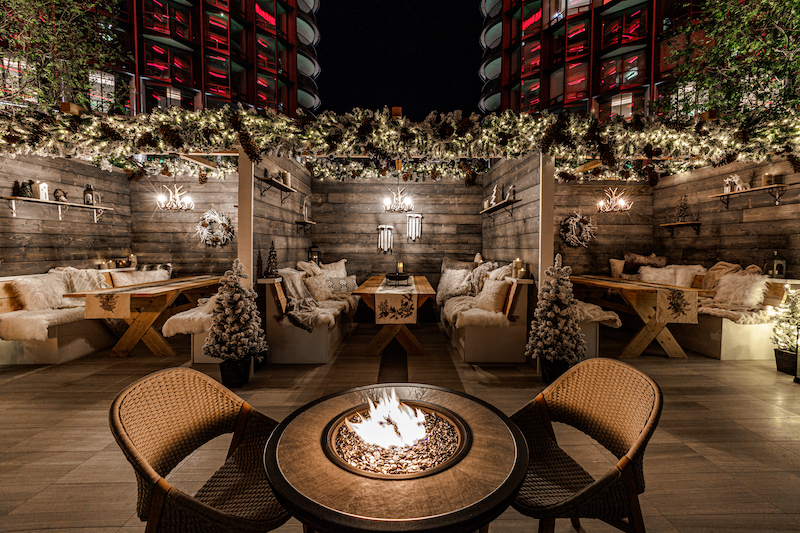 Swiss Chalet "Après-Ski" Dining Experience at Fairmont Century Plaza -> Starting today, Fairmont Century Plaza transports guests to the Swiss Alps with a Swiss Chalet "après-ski" dining experience on the outdoor patio at The Bar. The communal eating session begins with a charcuterie board to graze on while guests warm up with the help of festive drinks such as hot spiked cider or an "Espresski Martini." Shared bites follow and include a wedge salad, short rib croquettes and smoked salmon on crispy shaved potatoes. Next comes oxtail soup presented in a kettle served table side right before the fondue course. A plethora of vegetables, crusty bread, chicken and tofu skewers, sausage and cornichons come with the fondue portion of the meal. Seating is limited, as only three chalets have been built for this experience,and advance reservations are highly recommended. The cost $125 per person with a six guest minimum. Each chalet can host up to eight people. More info here.
$10 Holiday Wine Tasting & Buying Event at San Marino Cafe & Marketplace -> This Saturday San Marino Cafe & Marketplace hosts a "Try Before You Buy Wine Tasting Event" to help folks select the perfect wines for the upcoming holidays. For $10 per person, sample from a selection of wines and take advantage of the 15% discount when you buy three bottles or more. The tasting event takes place from 1 to 5 p.m.
Looking Ahead
Black Panther Dinner & a Movie with Bridgetown Roti -> Fanny's and the Academy Museum host a dinner and movie night on November 29 featuring a screening of the original Black Panther film preceded with a four-course tasting menu created by chef Rashida Holmes of Bridgetown Roti. Dinner will be followed by the movie screening at the museum's theater. Tickets run $88 a person and reservations can be made on OpenTable. Movie tickets cost $10 and can be purchased through the Academy Museum website.
---
Want to get the best things to do in L.A. sent straight to your inbox? Join over 60,000 Angelenos who subscriber to our twice weekly email newsletter!
By subscribing, you agree to our terms of use and privacy policy and consent to receive emails from We Like L.A. about news, events, offers, and partner promotions.