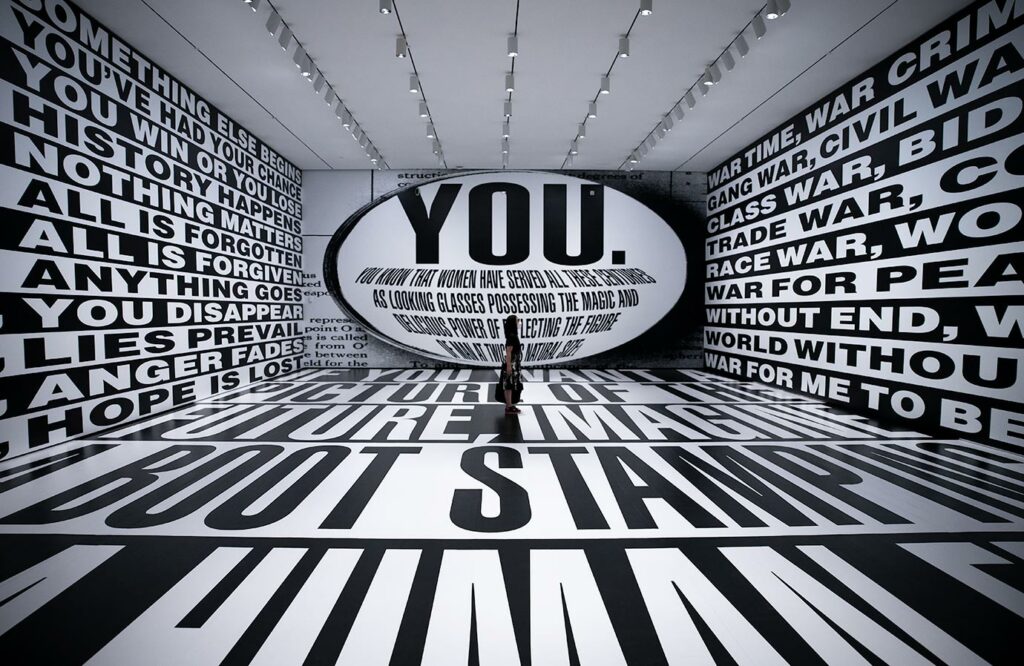 St. Patrick's day is here. March Madness is in full swing. The beginning of spring has almost arrived. Let's talk about your weekend plans.
Over the next few days in L.A. you'll find new art at LACMA, La Plaza de Cultura y Artes, and Japan House LA. You can catch a neo-soul music festival at LA State Historic Park, check out the Butterfly Pavilion at NHM, do a sunset hike in NELA, or see a rooftop movie in WeHo. And of course, if you're really intrepid, you'll be running in the LA Marathon this Sunday! Get the skinny on the best things to do this weekend below, and if you haven't already, make sure you're signed up for our newsletter so you never miss out on upcoming events.
Things to Do
L.A. Memo: Chicana/o Art from 1972-1989 -> LA Plaza de Cultura y Artes opens a new exhibition this Friday highlighting contribution of Los Angeles-based Chicana/o artists to American art. L.A. Memo: Chicana/o Art from 1972-1989 showcases the artwork of more than 30 artists including Carlos Almaraz, Patssi Valdez, Teddy Sandoval, and Judy Baca. LA Plaza is open Monday to Friday, noon to 5 p.m., and Saturday-Sunday from 10 a.m. to 5 p.m. Admission is free. More info here.
The Art of the Ramen Bowl -> Ceramics meets noodle at The Art of the Ramen Bowl, a new exhibition coming to Japan House LA starting this Friday, March 18 where visitors will learn how ramen evolved from a humble street food to a cultural icon. On display will be a massive "Instagram-worthy" bowl created by food manufacturer Iwasaki Moke, plus a host of designer bowls curated specifically for the exhibition. Entry is free, and admission is available for walks-ins from 11 a.m. to 6 p.m. daily. More info here.
Art of Costume Design at FIDM Museum -> FIDM Museum's annual "Art of Costume Design in Film" has returned, showcasing costumes created by all five Academy Award nominees for Costume Design, plus other top costumes from films of the past year. The exhibition runs through June 4. Admission is free. More info here.
Zen Running Club Pop-Up -> European brand Zen Running Club has landed in DTLA this week to showcase their plant-based sneakers as part of a week-long event as part of the lead-up to the LA Marathon. Try on a pair of the vegan-approved kicks, then test them out on a treadmill with guidance from trainers of John Reed Fitness. The pop-up shop will be at 958 S Broadway, from 11 a.m. to 7 p.m., March 16-23. More info here.
Secret Los Angeles at the Valley Relics Museum -> Secret Los Angeles author (and friend of We Like L.A.) Danny Jensen will be at the Valley Relics Museum this Saturday to talk about his guide book, which details some of the weirdest, coolest, and funnest things you can do while exploring Los Angeles. $15 gets you admission to the museum. More info here.
Smokin' Grooves Festival -> A neo-soul extravaganza takes over LA Historic State Park this Saturday with the Smokin Grooves Festival. The massive lineup of performers includes Erykah Badu, Nas, The Roots, Miguel, Jhené Aiko, The internet, Flying Lotus, Kamasi Washington, Thundercat, and many more. More info here.
Stories, Poems & Songs: Listening in Place -> This Saturday at the Rissho Kosei-kai Buddhist Church in Boyle Heights, the LA River Public Art Project will host an afternoon salon featuring appearances by Tongva culture bearer Tina Orduno Calderon, the Regenerative Collective, and readings by poets Kelly Caballero, Teresa Mei Chuc, A.K. Toney, Rocío Carlos and Rachel Kaminer. Runs 4 to 6:30 p.m. Free with RVSP. More info here.
Walk With Me Art Show -> The Arts District's Flying Embers Taproom transforms into an art gallery for a special one-night exhibition celebrating local artists Moyra Pickup and Samantha Jones. U Start Here, a nonprofit for sexual assault survivors, will be sponsoring the evening. Free, 21+ event, from 8 to 11 p.m. More info here.
Barbara Kruger: Thinking of You. I Mean Me. I Mean You -> A major exhibition devoted to the art of Barbara Kruger opens at LACMA this Sunday. And though it covers over forty years of the artist's work, don't call it a retrospective. Rather, the Thinking of You. I Mean Me. I Mean You arranges and reinterprets Kruger's work to provide timely critiques of capitalism, consumerism, and social identity. Mediums range from massive rooms covered in vinyl texts, to video installations, soundscapes, and digital projections. The exhibition runs through July 17. We highly recommend checking it out. More info here.
Butterfly Pavilion at NHM -> The official start-date for spring also means that Natural History Museum of Los Angeles relaunches its Butterfly Pavilion, where guests can admire hundreds of butterflies, native plants, and caterpillars. The exhibition starts this Sunday, March 20 and will run through Sep. 5. Tickets to the Pavilion are $8, which is on top of regular museum admission (starting at $15 per adult). More info here.
Melrose Rooftop Theatre -> West Hollywood's Melrose Rooftop Theatre returns for its sixth season at  E.P. & L.P. with an exciting mix of new releases and classic movie screening, seven days a week starting this Sunday, March 20 with a screening of Thelma & Louise. General admission seating cost $30 per person, and a dinner and a movie VIP package that includes a three-course menu from E.P. Restaurant will cost $65 per person. All movie-goers will all gain access to individual bean-bag seating, personal wireless headsets and a full bar with candy, popcorn, food and drinks for purchase..
Sunset Hike & Guyanese Bite with Oxy Arts -> This Sunday, put on your hiking shoes and pack along an appetite for a unique outdoor experience courtesy of Occidental College. Free to attend, guests will hike/walk up Fiji Hill during golden hour and savor some Guyanese bites and sips by Chef Jasani Jacobs. Registration and proof of vaccination is required for this event.
Annenberg PetSpace Dog Workshop -> Join Annenberg PetSpace Animal Behavior Specialist and Trainer Katie McGuire for a free online pet wellness workshop on Sunday, March 20. The one hour educational workshop will focus on helping humans better differentiate between playful and aggressive dog behaviors.
LA Marathon -> If you're running in and/or watching the this Sunday's marathon, then we'd need not remind you. However, for those not participating, you ought to still be mindful of what streets will and won't be accessible if you plan on driving anywhere in the morning. This post by KTLA maps out the course and lists accompanying road closures. Be advised!
Dining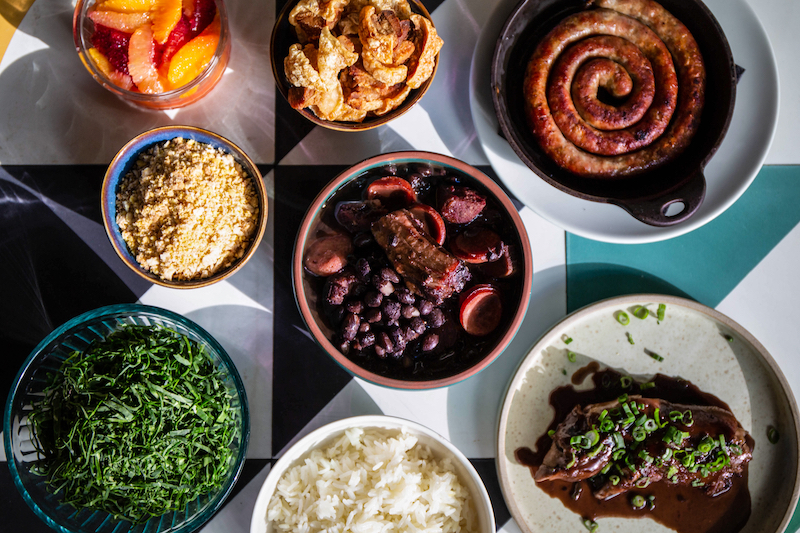 All-You-Can-Eat Feijoada Sundays at Caboco -> Chefs Rodrigo Oliveira and Victor Vasconcellos will dedicate every Sunday at Caboco to Brazil's national dish, the Feijoada. Traditionally served on Sundays in Brazil, Feijoada is a hearty stew composed of beans, beef and pork. Caboco serves their Feijoada family style from noon to 4 p.m. on Sundays in an all-you-can-eat format. For $42 per person the meal comes with unlimited Feijoada, housemade spiral sausage, pe de porco (pork feet), collard greens, rice, farofa (toasted tapioca crumbles), torresmo (crispy pork belly), yucca fries, and citrus slices. Guests are also greeted with a complimentary shot of batidinha made with cachaça, lime, and sugar.
Cook For Ukraine Fundraiser at Dear Bell Creamery -> Plant based scoop shop Dear Bella Creamery in Hollywood is donating 100% of profits from their #CookForUkraine Sundae Kit to Unicef's #CookForUkraine fundraiser. The kit can be purchased in-store and includes two ice cream pints, two waffle cones, two cookies, and two toppings for $30. Guests will also have the opportunity to make a $1, $5, or $10 during checkout.
Midnight Diner Inspired Menu at Pearl River Deli -> Before the Chinatown restaurant officially reopens in their new space, Pearl River Deli's Chef De Cuisine Laura Hoang has put together a pop-up menu inspired by Netflix's popular Japanese show Midnight Diner. The menu is available Thursday through Saturday, 6 to 9 p.m. Walk-ins and in-person take out orders only for now, according to the restaurant's IG account.
---
Any notes or corrections? Want to suggest an event we should add to an upcoming list? Hit us up at [email protected].