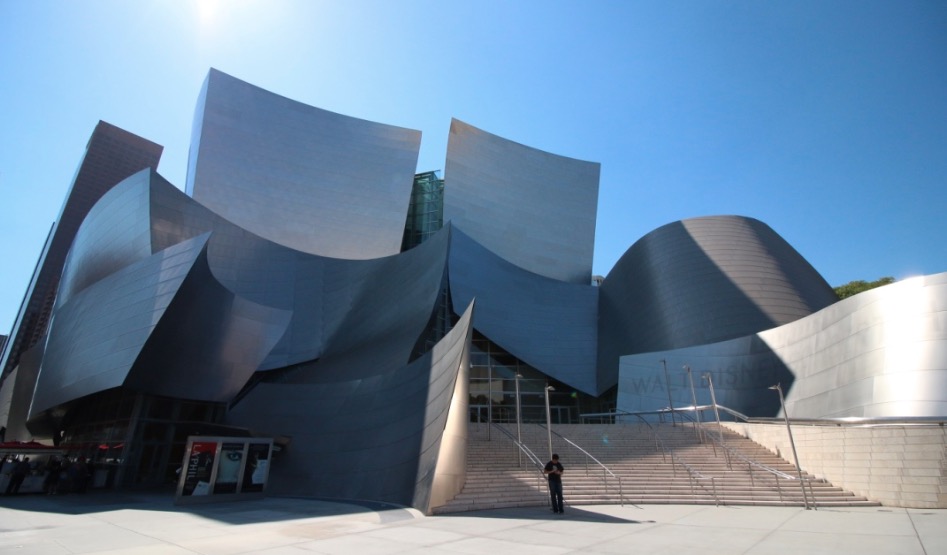 Weekly to-dos are back! Over the past few months we've trimmed our big-list roundups to weekends only, but with restrictions easing and life normalizing (knock on wood), we're returning to our normal bi-weekly to-do list schedule. And just in time for St. Patrick's Day.
This week in L.A. features the Art of Costume Design at FIDM, a free botanical garden day, The Arts Hour on Tour, the Art Battle LA Championship, The Art of the Ramen Bowl at Japan House, a new exhibition at LA Plaza de Cultura y Artes, and more. Make sure to swing down to the dining section for all our of St. Patrick's Day food/drink parties, and if you haven't yet, be sure to subscribe to our email newsletter so you don't miss any of the fun things happening in Los Angeles.
Things to Do
Pinball Tournament at Lawless Brewing -> Every Monday at 7:30 p.m. Lawless Brewing Co. in North Hollywood hosts a weekly pinball tournament. Buy-in is $5. More info here.
Art of Costume Design at FIDM Museum -> FIDM Museum annual "Art of Costume Design in Film" exhibition returns starting this Tuesday, with a showcase that features costumes created by all five Academy Award nominees for Costume Design, plus other top costumes from films of the past year. The exhibition runs through June 4. Admission is free. More info here.
Free Day at South Coast Botanic Garden -> Every third Tuesday of the month, three of L.A. County's largest botanical gardens offer free admission (Descanso Gardens, L.A. Arboretum, South Coast Botanic Garden). Descanso and the Arboretum are both booked up for the free day, but you can still snag a ticket to South Coast Botanic Garden on Tuesday. More info here.
The Arts Hour on Tour in L.A -> This Tuesday, BBC World Service Radio brings The Arts Hour on Tour to the REDCAT Theatre, located inside the Walt Disney Concert Hall complex. The evening of entertainment includes a panel discussion with Hollywood insiders hosted by Nikki Bedi, a live musical performances from LA rapper and Grammy nominee, D Smoke, and ska artist Ceci Bastida, plus stand-up comedy by Megan Gailey. Entry is free with an RVSP here.
How Do Homelands Cross Borders? -> In the latest installment of Zocalo Public Square's live event series, L.A. Times columnist Gustavo Arrelano moderates a panel discussion on the immigrant experience, the tension between assimilation and tradition, and the nature of cultural identity as it changes across generations. Panelists include Ragamala Dance artistic directors, choreographers, and principal dancers Ranee Ramaswamy and Aparna Ramaswamy, writer and Science Fiction Poetry Association president Bryan Thao Worra, and USC Institute of Armenian Studies director Shushan Karapetian. Free to attend. Wednesday, March 16 starting at 7 p.m. More info here.
Zen Running Club Pop-Up -> European brand Zen Running Club brings their plant-based sneakers to DTLA as for a week-long event as part of the lead-up to the LA Marathon. Try on a pair of the vegan-approved kicks, then test them out on a treadmill with guidance from trainers of John Reed Fitness. The pop-up shop will be at 958 S Broadway, from 11 a.m. to 7 p.m., March 16-23. More info here.
Popular Kids Club -> Popular Kids Club Comedy returns with a free outdoor show at Permanent Records (1906 Cypress Ave). This Thursday's lineup includes Maria Bamford (… It's Maria Bamford…), Jackie Kashian (HBO, NPR, The Dork Forest), Brodie Reed (Vulture), Sydnee Washington (Comedy Central), Karl Hess (Just For Laughs, Rolling Stone), Andrew Michaan (Comedy Central, Netflix). Tickets are $8, and the show starts at 8 p.m. RSVP and get more info
Art Battle LA City Championship -> The Art Battle LA City Championship will be held this Thursday at Wisdome.LA, with competitors testing their skills to create 20-minute masterpieces, which are then voted on by the attendees to see who moves on. A DJ'd after-party follows the event. Tickets start at $30. More info here.
L.A. Memo: Chicana/o Art from 1972-1989 -> LA Plaza de Cultura y Artes opens a new exhibition this Friday highlighting contribution of Los Angeles-based Chicana/o artists to American art. L.A. Memo: Chicana/o Art from 1972-1989 showcases the artwork of more than 30 artists including Carlos Almaraz, Patssi Valdez, Teddy Sandoval, and Judy Baca. LA Plaza is open Monday to Friday, noon to 5 p.m., and Saturday-Sunday from 10 a.m. to 5 p.m. Admission is free. More info here.
The Art of the Ramen Bowl -> Ceramics meets noodle at The Art of the Ramen Bowl, a new exhibition coming to Japan House LA starting this Friday, March 18. The showcase tells the story of how ramen evolved from a humble street food to a cultural icon. On display will be a massive "Instagram-worthy" bowl created by food manufacturer Iwasaki Moke, plus a host of designer bowls curated specifically for the exhibition. Entry is free, and admission is available for walks 11 a.m. to 6 p.m. daily. More info here.
Vegan Playground -> This weekly night market pops up at Boomtown Brewery every Wednesday and at Party Beer Co. in West Adams on Fridays. The event features over a dozen rotating vegan vendors each week. Starts at 5 p.m. Admission is free. More info and RSVP here.
Dining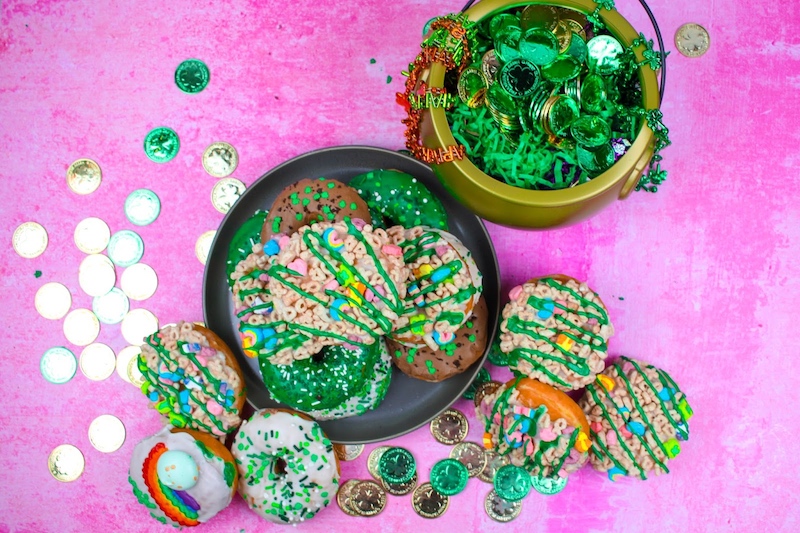 St. Patrick Swayze Day at Greyhound Bar & Grille Highland Park -> After a three year hiatus, the Greyhound in Highland Park is bringing back St. Patrick Swayze Day on March 17 with house-made corned beef, drink specials, and an all-day Swayze movie marathon.
St. Patrick Stewart Day at Greyhound Glendale -> Not so much into Swayze? The Glendale location of Greyhound will launch its first ever St. Patrick Stewart Day on March 17 offering corned beef and drink specials and a Patrick Stewart movie takeover, including Star Trek: The Next Generation marathon and an X-Men power-hour.
Trejo's Coffee & Donuts -> There are five St. Patty's Day themed donuts available at Trejo's Coffee & Donuts now through March 17. Flavors include a mint buttercream frosting with crumbled oreos; cream cheese clouds and rainbow royal icing; glaze with lucky charms and green buttermilk drizzle; mint pastry cream filled donut topped with buttercream frosting, dark chocolate chips and dark chocolate; and vegan dark chocolate glaze with shamrock sprinkles.
Maple Block St. Patrick's Celebration -> For St. Patrick's Day Maple Block will celebrate with some delicious Irish favorites, including a House Smoked Corned Beef Plate with peewee potatoes, charred cabbage, kraut and whole grain mustard on the side; a Reuben Sandwich, Pastrami Sandwich and $8 Guinness on draft. The all day St. Patrick's Day menu can be enjoyed on their expanded patio, taken to-go or ordered through third-party delivery apps.
Gusto Green -> Housed inside the new cannabis focused Green Street building in Downtown Los Angeles, Gusto Green's plant forward and progressive menu caters to both herbivores and omnivores. The drink program features a wide range of carefully crafted zero proof mock-tails alongside its inventive cocktail list, and both also utilize kush terpenes in a number of drinks. The food menu is divided into seven sections designed to be shared. The Sourdough Puffed Pita dusted with hemp heart za'atar is a good place to start. Flavors from each section get progressively more intense as you eat through the menu, a kind of "intentional indulgence" as Gusto Green likes to put it. Menu highlights include a Royal Hamachi crudo with green goddess; spicy Sprouted Beluga Lentil in coconut milk; Tagliatelle rolled in pistachio pesto, sweet peas, pacific blue prawn and lemon; a vegan Eggplant pizza made with dinapoli tomatoes and almond ricotta; Grass-fed Gaucho Steak with jalapeno chimichurri; and an Olive Oil Almond Cake drizzled in a matcha zabaglione.
Tam O'Shanter St. Patty's Day Bash -> Tam O'Shanter is turning 100 and will celebrate the huge milestone with an epic St. Patty's Day bash on March 17. The event will feature Irish food, live music, Guinness Kegs, green beer, raffles and more. There will be a $10 cover to enter the tent this year and VIP tickets cost $139 and includes a separate patio, drink tickets, complimentary food and an exclusive bar featuring Tullamore Dew and Guinness on the patio with hourly $1 drink specials. VIP tickets can be purchased through Open Table under experiences.
St. Patrick's Day Festivities at The Original Farmers Market -> The annual St. Patrick's Day celebration at The Original Farmers Market is a day-long event featuring Irish fare from select vendors, drink specials and traditional Irish musical performances. Glen the Bagpiper will be strolling the grounds bringing the music to you as you dine on a corned beef, cabbage and potatoes plate at Magee's Kitchen or while enjoying a green beer and Guinness at E.B.'s Beer & Wine Bar.
The Speakeasy Tavern St. Patrick's Day -> The South Bay sports bar will offer a $15 St. Patrick's Day meal that includes a Corned Beef plate with Soda Bread and Shamrock Cookies for dessert.
Trejo's Tacos -> Trejo's Tacos is swapping out the green beer for a Margarita Verde made with El Jimador silver tequila, lime juice, cucumber, and avocado with a cucumber garnish. A Corned Beef Brisket taco topped with chipotle-dijon cream, pickled onion slaw, and tater tots will also be available. Both items will be available March 17-20.
NORMS -> For $15.99 Angelenos can feast on a traditional Irish American meal at NORMS complete with a Corned Beef, cabbage and Irish potatoes plate, a soup of the day, a side salad and a scoop of Mint Chocolate Chip Ice Cream. Green lemonade can also be added onto the meal for an additional $3.49. The four-course special will be available both in-store and online for dine-in and to-go orders, beginning at 11 a.m. on Thursday, March 17 only.
UNCOOL-> UNCOOL in West Hollywood is celebrating St. Patrick's Day with green beers and a Shamrock Cocktail. The newly opened burger and cocktail bar will be shaking and stirring up a green tinted citrus forward Shamrock Cocktail made with rum, poire, lime juice, and all spice for $12 from March 14-16 and $10 on St. Patrick's Day, March 17. In addition a 14 oz Green Barrel House Sunny Daze beer for $7 will be available exclusively on St. Patrick's Day.
Laidrey Coffee Roasters -> Laidrey Coffee Roasters in Tarzana is celebrating St. Patrick's Day all month long with a special Pistachio Latte. The roasted salted caramel pistachio sauce is vegan and organic.
---
Any notes or corrections? Want to suggest an event we should add to an upcoming list? Hit us up at [email protected].