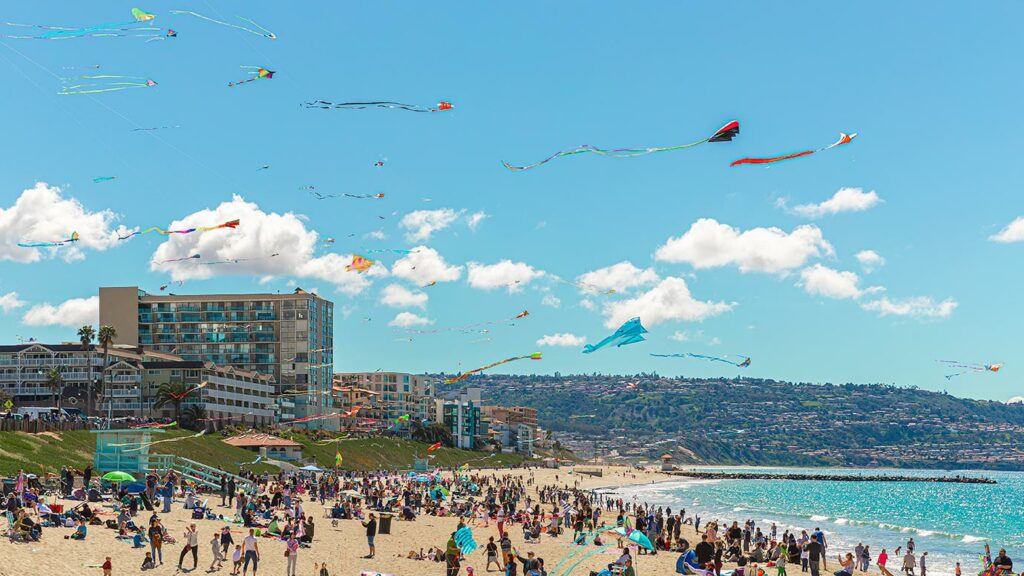 Two years ago this week we attended our last big public gathering before the pandemic took hold, and life as we knew it went on hiatus. That event was the Festival of the Kite in Redondo Beach, and it would be the biggest crowd of people we'd see unmasked for more than a year. Now, some 24 months later, the Festival of the Kite is back, restrictions are ever-loosening, and normalcy looks almost within reach.
This weekend in L.A., in addition to the kites in Redondo, you'll find a new haunt at Zombie Joes, a comedy show at Union Station, at St. Patrick's Day parade in Hermosa Beach, a community center grand opening in Little Tokyo, an ice cream social at Self Help Graphics, and plenty more. Check out our list below, remember if you want to get weekend ideas sent straight to your inbox, sign up for our email newsletter here.
Things to Do
Night Market at Ivy Station -> The Culver City Arts District Night Market at Ivy Station is a monthly event featuring over two dozen vendors and and plenty of local bites for purchase. Free to attend. Runs 5 to 10 p.m. on Friday. More info here.
Blood Alley Haunt -> Zombie Joe's Underground Theatre Group opens their 30th season with an all-new haunted maze attraction: BLOOD ALLEY HAUNT. Three select performances over one weekend only. Tickets are $10 if you pre-order online, or $12 at the door. More info here.
Hermosa Beach St. Patrick's Day Parade -> On Saturday, the City of Hermosa Beach celebrates St. Patrick's Day a few days early with a parade along Pier Ave from Valley Dr. west to Hermosa Ave. In conjunction with the parade, there will be special activities set up at the Hermosa Beach Pier including a scavenger hunt, photo booth, and live music. More info here.
Clock Tower Comedy -> This Saturday, Union Station's North Patio remakes itself as a comedy showcase for some of L.A.'s top local talent. Saturday's lineup includes Naomi Ekperigin, Kurt Braunohler, Asif Ali, Langston Kerman, Chris Estrada, and Kevin Camia. Tickets are $5 if purchased in advance. More info here.
Terasaki Budokan Grand Opening -> To mark the opening of the new Terasaki Budokan community center, a grand opening celebration will be held this Saturday from 10 a.m. to 6 p.m. The free community event offers games inside the gymnasium, plus prizes, food for purchase from local vendors, and activities on the plaza including dance workshops, martial arts demos, DJs, and more. More info here.
Pickwick Vintage Show at ROW DTLA -> Explore 45 vendors and exhibitors from across California showcasing collections of vintage clothing, jewelry, and accessories, textiles, and more, all at ROW DTLA this Saturday. 10 a.m. tickets are $20, and the price drops to $10 starting for noon entry. More info here.
Ofelia Esparza Ice Cream Social -> This Saturday, Self Help Graphics will host an ice cream social to celebrate the 90th birthday of iconic folk artist and altar maker Ofelia Esparza, whose work has been a fixture at SHG, and a guiding force in bringing Day of the Dead to the masses. Free to attend, but registration is required. Starts at noon. More info here.
Hollywood Curling Open House -> Anyone catch the curling bug after watching this year's Winter Olympics? Get hands-on training learning the basics of the sport, including delivery and sweeping, this Saturday at the Hollywood Curling Open House, hosted at the Pasadena Ice Skating Center. No experience is necessary and all equipment will be provided. Tickets are $15. More info here.
Los Angeles Travel & Adventure Show -> Discover new destinations and get the scoop on travel ideas, planning itineraries, how to score deals and more during this weekend-long event held at the Los Angeles Convention Center. One-day adult admission is $11. More info here.
Festival of the Kite -> The 48h Annual Festival of the Kite returns to the Redondo Beach Pier this Sunday with an all-ages afternoon of kite-flying and fun. In addition to prizes for best kites flown, there will be live music, a local dance studio performance, a hot dog on a stick eating contest and more, and giveaways from local sponsors. Free to attend. Runs noon to 5 p.m. More info here.
Sunday Funday at The Wallis -> The Wallis continues its free outdoor family events series with a variety live music for kids and families performed by Parker Bent followed by a Jazz dance session with Brandon O'Neal. More info on the series here.
Rose Bowl Flea Market -> Hundreds of vendors take over The Rose Bowl every second Sunday of the month. General admission is $12. More info here.
Dining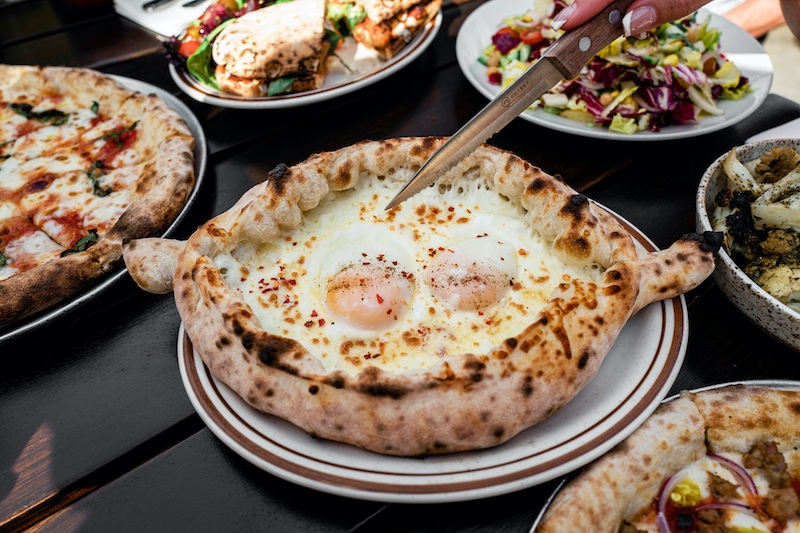 Now Serving #CookForUkraine Bake Sale -> On Saturday from 11 a.m. to 2 p.m. Now Serving will host another epic bake sale in Chinatown with over 30 bakers, pastry chefs, makers and restaurants participating. Supporting the community movement Cook For Ukraine all funds raised will benefit Unicef UK's Ukraine appeal supporting children and families affected by the war. A number of restaurants have already announced what they'll bring to the sale including Strawberry Rhubarb Pie from Tartine, Hojicha Thumbprint Cookies from Konbi and Tres Leches Cake slices from Chainsaw L.A. Bring your own containers and cash is encouraged.
WOOD -> Erik Martirosyan's WOOD has steadily been serving superb Neapolitan pizzas, hand-made pastas, Italian subs and chopped salads to the Silver Lake crowd for quite some time now. The menu here is substantial and while most items are Italian, Martirosyan of Armenian background dials up the flavors by using spices like za'atar on roasted cauliflower and tahini with the crispy brussel sprouts. What you can't get at other pizza places is the khachapuri, a Georgian cheese bread, popular in Armenian street food culture. Martirosyan makes his khachapuri with pizza dough and tops the boat-shaped bread with mozzarella, feta cheese, butter and two eggs, the entire thing is cooked inside a wood-fired oven to crispy and aromatic results. In short it's damn good cheese bread.
MAGARI -> The highly anticipated Japanese Italian restaurant MAGARI is now open in Hollywood. At the helm is Chef Yoshiyuki Okuno a Michelin Bib Gourmand recipient for his pioneering Tokyo Italian restaurant La Brianza and Sicilian-born Enrico Merendino acting as executive chef. The opening menu includes a list of crudo, shared plates, pastas, main entrees and vegetable forward sides. Highlights include a Dry Aged Yellowtail crudo with grapefruit and coconut-kosho mint; Yuzu Tagliatelle with crab, poppyseed and parmigiano; and Chicken Milanese tenderized in a karaage marinade. Guests at MAGARI can expect a selection of Italian wines and Japanese beers on the menu as well as classic cocktails infused with Japanese ingredients. MAGARI is open Tuesday through Saturday for dinner service. 
Mohawk Bend Brunch -> Echo Park's Mohawk Bend is taking the name boozy brunch to another level by launching brunch this Saturday and introducing new breakfast sandwiches, each infused with a full serving of liquor. Options include a grown-up version of the PB&J made with almond butter, preserves, and Four Roses Bourbon; a "Rummy MoGriddle" with rum-injected pancake buns; and a classic English Muffin Breakfast Sandwich with Bloody Mary spiced tomato spread and New Amsterdam Vodka infused organic celery. All of the items are served vegan by default, with non-vegan alternatives like real bacon, sausage and eggs available upon request.
The 626 Night Market Mini -> 626 Night Market hits the westside with a smaller version of their popular Asian-fusion food market. Happening in Downtown Santa Monica this Saturday and Sunday, the open-air food event will include over two dozen vendors offering an array of dishes and an alcohol garden for attendees 21 years and older. The market is free to attend, capacity is limited and advance tickets can be reserved through Eventbrite.
Sunday Aperitivo Series at Grandmaster Recorders -> Grandmaster Recorders Sunday Aperitivo party closes out their pop-up series with Philly's Pizzeria Beddia. The menu is available from 4 to 6 p.m. on a first come first served, walk in basis inside Grandmaster Recorders glitzy disco ball and brass hued lounge, Studio 71.
A Taste of Wescom Kindness -> On March 13, Wescom Credit Union continues its annual Daylight Savings team-up with The Coffee Bean & Tea Leaf to provide freebies to early-bird customers. Head to one of 22 designated SoCal locations (see locations here) where Wescom will pick up your tab, up to $15 per transaction per customer, beginning when doors open on Sunday morning until $2,000 worth of bills are paid. More info here.
---
Any notes or corrections? Want to suggest an event we should add to an upcoming list? Hit us up at [email protected]