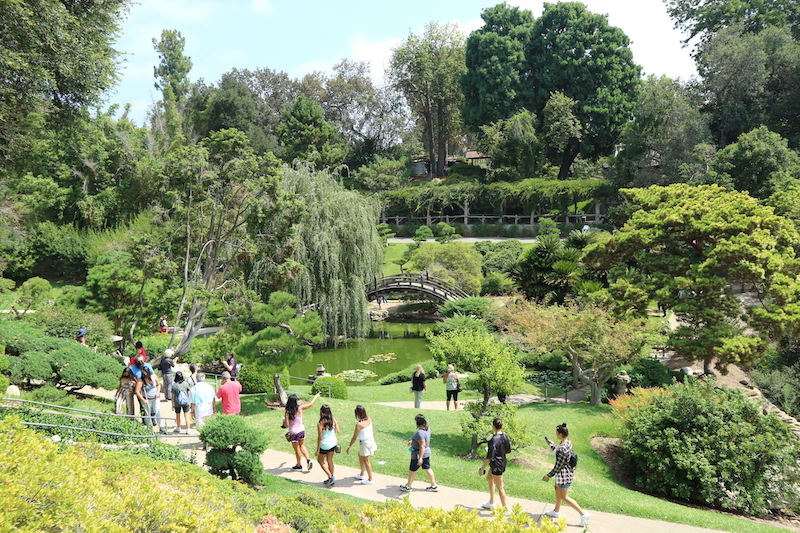 To start, please note that Masters of Taste will not on our list below.. and that's because it sold out! As a media sponsor for the annual event supporting Union Station Homeless Services, we're thrilled to have been a part of funding the cause, and for those who purchased tickets, we can't wait to see you at The Rose Bowl this Sunday. That said, if you're not going to MoT, there's still plenty to do this weekend!
For April 1-3 in Los Angeles, your choices include The Other Art Fair, First Fridays at NHM, the L.A. Beer Fest, PaleyFest, Corgi Beach Day, a Bonsai-A-Thon, the L.A. Dance Festival, and lots more. Have a look below at your options, and enjoy your weekend!
Things to Do
Hayao Miyazaki Encores -> Attention Studio Ghibli fans: As the Academy Museum's Hayao Miyazaki exhibition comes to a close (ending June 5), the museum will screen seven key films by the director from April 1 to May 27, each in 35mm with English subtitles. The series kicks off this Friday with a showing of Nausicaä of the Valley of the Wind. Tickets are $10. More info here.
First Fridays at NHM -> This Friday, the Natural History Museum's signature after-hours event returns with a theme of Wild Harvesting. The evening includes musical performances by Girlpool and Grace Ives, plus digital art displays, pop-up educator sessions, and food trucks. Tickets are $20 for non-members. More info here.
The Other Art Fair -> From March 31 to April 3, The Other Art Fair returns to Los Angeles with a four-day event featuring dozens of original art works, immersive installations, DJ'd music, and specialty cocktails. Tickets for Thursday's opening night are $45, and general admission for timed entry on Friday to Sunday are $15. More info here.
Pipilotti Rist: Big Heartedness, Be My Neighbor at MOCA -> Now through June 5, head to the Geffen Contemporary at MOCA for "Pipilotti Rist: Big Heartedness, Be My Neighbor." The immersive, sensory-heavy works of Zürich-based artist Pipilotti Rist feature large-scale installations with hypnotic musical scores; video art; and sculptures. Special exhibitions at MOCA cost $18 for adults; $10 for students with I.D. and seniors (+65); and free for children under 12 and jurors with I.D. In addition, tickets allow for a free second visit to the exhibition within 72 hours of initial visit. Open Wednesday to Sunday.
Breathwork & Sound Bath at IntoMeSea -> Every Friday, IntoMeSea in Santa Monica hosts Shamanic Sound + Soul Calibration With Antwan Thomas. The first part of the class will focus on healing breathwork and the last half is dedicated to a chakra balancing south bath using crystal bowls. This is a ticketed ($22) one hour class that starts at 7:30 p.m.
L.A. Beer Fest -> This Saturday's 14th annual L.A. Beer Fest brings 80+ breweries together with over a dozen top local food trucks for a day of tastings, music, and fun, all at L.A. Center Studios. General admission starts at $50 per person. More info here.
Corgi Beach Day -> Corgis, costumes, cuteness. It'll be there at 10th anniversary of Corgi Beach Day, taking place this Saturday at Huntington Dog Beach. Expect special vendors, food trucks, costumes, and plenty of photo ops, whether you're there with your pup or just want to see the spectacle of it all. More info here.
Los Angeles Dance Festival -> This Saturday, the Los Angeles Dance Festival returns to the Luckman Fine Arts Complex with a free evening of short films, discussions, and live performances, all in celebrating and appreciation of the art of dance. Get more info and reserve free tickets here.
PaleyFest > Back live at The Dolby Theater from April 2-10, PaleyFest offers a nine-day series of special panels and discussions featuring the cast and crew of some of T.V.'s top shows, including Better Call Saul, Hacks, Cobra Kai, Riverdale, and more. Tickets available for individual sessions or as multi-event passes. More info here.
Bonsai-A-Thon -> This Saturday and Sunday, The Huntington puts the art of bonsai in focus with weekend-long event featuring special demos, displays, drawings, along with a "bonsai bazaar" and a live charity auction, with proceeds to benefit the Golden State Bonsai Collection at The Huntington. Program included with general admission. More info here.
Lucy McRae: FUTUREKIN -> What does child bearing look like in a world where gene editing and lab-grown babies are the norm? How does technology transform both bodies and ethics? Artist Lucy McRae tackles these issues in a provocative new show at SCI-Arc called FUTUREKIN, which is on view now through April 13. The SCI-Arc Gallery is open daily from 10 a.m. to 6 p.m., and admission is free. More info here.
LA Food Waste Week -> Sustainable online grocer Imperfect Foods will host the first-ever LA Food Waste Week (March 28 through April 3) to raise awareness about waste prevention and the broken food system through activations, panels, and partnerships with local restaurants on specialty menu items. All events will be held at The Rose Room and are either free to attend or cost $5 and go directly to The Hollywood Food Coalition. RSVP or purchase tickets to events through the Imperfect Foods LA Food Waste Week Eventbrite page. Restaurants highlighting a special dish utilizing recovered food items by Imperfect Foods include Cafe Gratitude, Plant Food + Wine, The Rose Venice, Venice Ale House, The Butcher's Daughter Venice and Only The Wild Ones. For every meal sold at participating restaurants, Imperfect Foods will make a donation of $5 to The Hollywood Food Coalition.
Disney California Adventure Food & Wine Festival -> Disney California Adventure is currently hosting a Food & Wine Festival, daily through April 26. The special event includes chef demos, a marketplace offering tastings, family programming, cocktails at Sonoma Terrace, live music and the return of Soarin' Over California for a limited time.
Color Fields LA -> A new experience at Blush Studios in DTLA challenges viewers understanding of color through compositions of light, shape, form, movement, and technology. Brian Zamora's Color Fields LA will be on display Tuesday to Sunday through Aug. 31. Tickets start at $35 per adult. More info here.
Barbara Kruger: Thinking of You. I Mean Me. I Mean You -> A major exhibition devoted to the art of Barbara Kruger is now open at LACMA. And though it covers over forty years of the artist's work, don't call it a retrospective. Rather, the Thinking of You. I Mean Me. I Mean You arranges and reinterprets Kruger's work to provide timely critiques of capitalism, consumerism, and social identity. Mediums range from massive rooms covered in vinyl texts, to video installations, soundscapes, and digital projections. The exhibition runs through July 17. LACMA is open every day except Wednesday. We highly recommend checking it out. More info here.
The Art of the Ramen Bowl -> Ceramics meets noodle at The Art of the Ramen Bowl, a new exhibition at Japan House LA where visitors will learn how ramen evolved from a humble street food to a cultural icon. On display will be a massive "Instagram-worthy" bowl created by food manufacturer Iwasaki Moke, plus a host of designer bowls curated specifically for the exhibition. Entry is free, and admission is available for walks-ins from 11 a.m. to 6 p.m. daily. More info here.
Los Angeles and Her Surroundings -> A new exhibition featuring the work of Sandow Birk is now open at DTLA's Track 16 Gallery. Featuring over 40 works, Los Angeles and Her Surroundings investigates the sprawl of our city, reframing iconic buildings and famous locations as backdrops to anonymous moments of everyday life and struggle that come to define local culture. The gallery is open Wednesday to Saturday from noon to 6 p.m. More info here.
Art of Costume Design at FIDM Museum -> FIDM Museum's annual "Art of Costume Design in Film" has returned, showcasing costumes created by all five Academy Award nominees for Costume Design, plus other top costumes from films of the past year. The exhibition runs through June 4, and the museum is open Tuesday to Saturday. Admission is free. More info here.
[Do you read the We Like L.A. newsletter? Every Monday and Thursday we send the best things to do in Los Angeles straight to your inbox! Sign-up here.]
Dining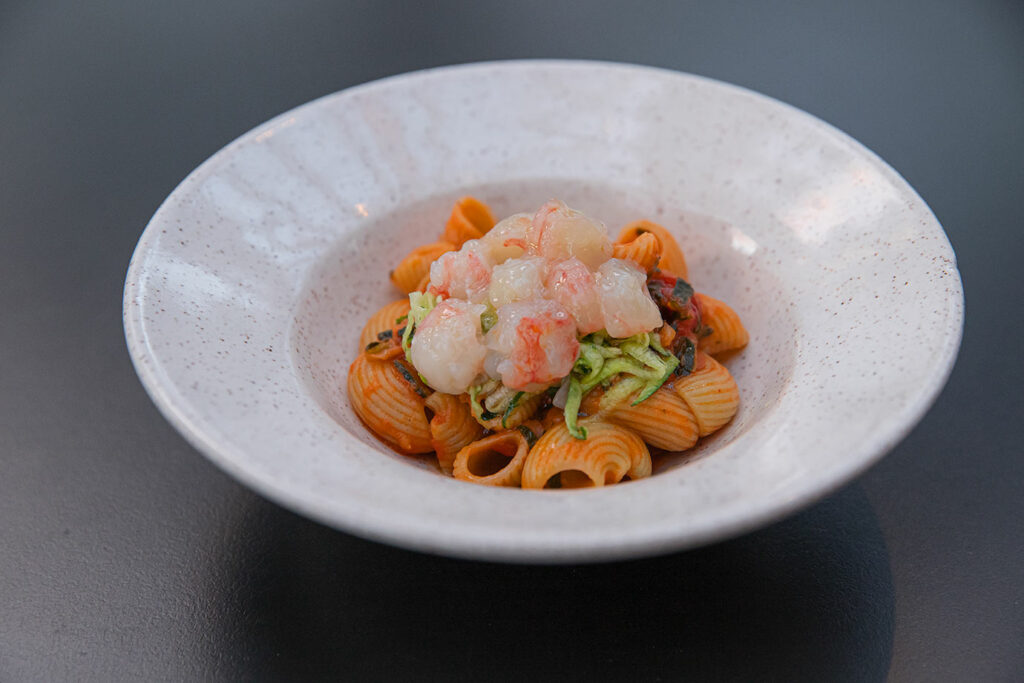 dineL.A., Los Angeles's restaurant week (or two weeks, really) returns for its spring edition April 1-15. The promotion features special prix-fixe menus from restaurants across the city, with lunch deals starting at $15 and dinners from $25. Keep in mind that some offers might be on select days only, so always double check before you dine. Also, since there are so many options out there, we've got a small(ish) list of our top recommendations below. Enjoy!
Flavors From Afar (Mid-Wilshire) -> The acclaimed Flavors From Afar features a rotating menu of global cuisines prepared by refugee chefs. For this spring's dineL.A., Chef Sonia Ortiz's celebrates her Guatemalan roots with a special platter that feeds two to three guests. For $85 you'll get tacos, taquitos, ceviche tostadas, tamales and more. See the menu here.
All Day Baby (Silver Lake) -> The neighborhood diner is offering a three course "meat & three" special that includes your choice of entree like a Smokey Roast Beef & Gravy or Nashville Hot Fish Fry, three Southern inspired sides and dessert for $35. See the menu here.
MAGARI (Hollywood) -> Recently opened MAGARI's brings its Tokyo Italian cuisine to dineL.A. for the first time with a five course $55 meal that includes a crudo, appetizer, pasta, wood-fired Spedini and dessert. Highlights from the inventive menu include a Fritto Misto that highlights Japanese fish like shirauo (ice fish), a Seaweed Lumache pasta with spot prawns and a Limoncello Panna Cotta topped with seasonal fruit. See the menu here.
Lunetta (Santa Monica) -> Chef Raphael Lunetta's vibrant neighborhood eatery will offer lunch guests a $35 three course special that starts with an Heirloom Tomato Soup with Grilled Cheese on sourdough and continue with a choice of entree that includes either a Crispy Chicken Salad, Grilled Spiced Mahi Mahi or Steak Frites. A Fudge Brownie with mascarpone cream and raspberry sauce completes the experience. For dinner service Lunetta will feature a $65 tasting menu that kicks off with a black truffle amuse followed by a three course pre-fixe menu featuring starters like Hugo's Duck Confit, a main of Herbed Roasted Alaskan Halibut, Wood-Grilled Lamb Loin or Spring Pea Risotto and choice of dessert that includes Lunetta's popular Sticky Toffee Pudding. All guests that participate in dineL.A. will be given a card for a free sticky pudding on their next visit as a thank-you for coming in. Both dineL.A. options are available for dine-in and take-out. See the menu here.
HiHo Cheeseburger (Mid-Wilshire, Marina del Rey, Santa Monica) -> All three locations of the wagyu cheeseburger stand will offer a Pastrami Double Cheeseburger and hand cut fries for $15 all day. See the menu here.
Water Grill (DTLA) -> Seafood lovers can treat themselves to a three-course, $75 dinner that includes your choice of starter like wild jumbo shrimp cocktail; entree selections that include a perfectly cooked Wild Chilean Sea Bass in a hazelnut brown butter sauce and Key Lime Pie or Caramel Bread Pudding for dessert. See the full menu here.
Cobaco (DTLA) -> The Brazilian restaurant located in the Artist District will offer a three course dinner menu for $35. Highlights include the Dadinho De Tapioca – squared "fries" held together by cheese and tapioca balls; Bobó de camarão – a shrimp chowder bathed in coconut milk and a sorbet dessert made with cajá, a Brazilian tropical superfruit. See the menu here.
Little Llama Peruvian Tacos (DTLA) -> The casual taco spot will offer an all day $15 special for dineL.A. Guests will receive house-made blue corn tortilla chips and mango salsa, choice of two Peruvian style tacos and a side of cilantro rice. Available for dine-in or take-out. See the full menu here. 
U Street Pizza (Pasadena) -> The New York style pie spot will promote a $15 lunch special that includes your choice of salad, slice of pizza and soft serve with toppings. During dinner a $45 four course meal will be offered which includes a salad, starter, whole pizza and soft serve. Both dineL.A. options are available for dine-in and take-out. See the full menu here.
Gracias Madre (West Hollywood) -> The Mexican plant-based hot spot is offering a $35 lunch menu that starts with chips and salsa, a choice of starter, a main course that includes either a Jackfruit Carnita Wet Burrito, Mushroom Quesadilla, Tacos or Potato Pimento Flautas and dessert. The $55 expanded dinner menu includes items like Gracias Madre 's popular Enchiladas Verdes and fresh guacamole. See the full menu here.
Eataly L.A. (Century City) -> The Italian marketplace and restaurant complex will offer a $25 all day menu from La Pizza & La Pasta. The deal includes a choice of antipasti and either a pasta or pizza as the main. An aperitivo, wine and digestive pairing can be added on for an additional $19. The dineL.A. meal promotion is also available to-go. See the full menu here.
Maple Block Meat Co. (Culver City) -> Catch a $15 lunch special that includes your choice of sandwich, a classic side and non-alcoholic drink. The $25 dinner includes peach wood smoked meats like brisket, turkey and chicken paired with two classic sides like mac & cheese, potato salad, ranch style beans and a smoked chocolate chip cookie for dessert. The menu is available for dine-in, take out and delivery. See the full menu here.
Original Farmers Market (Fairfax) -> A $15 lunch deal from 15 food stalls at the Original Farmers Market are joining dineL.A. Participants this year include Magee's Kitchens historic French dips, Market Tavern's fish and chips and crepes from The French Crepe Co. See the full menus here.
---
Any notes or corrections? Want to suggest an event we should add to an upcoming list? Hit us up at [email protected].