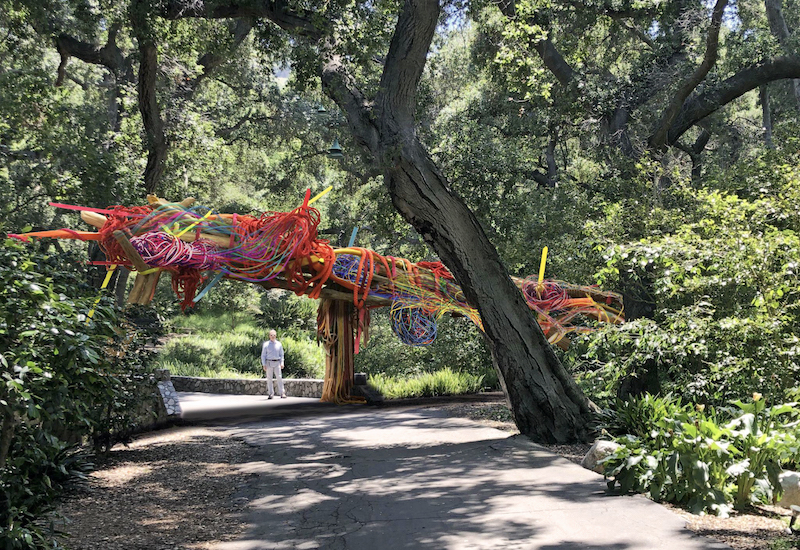 Looking for stuff to do in Los Angeles this April? We've got you covered, from a beer fest and corgi day, to free concerts, fresh exhibitions, a cherry blossom festival, the festival of books, ArtNight Pasadena, and more.
And remember, if you haven't already, be sure to sign up for the We Like L.A. newsletter so we can send you the best events happening around Los Angeles every week and weekend. You won't regret it! Now on to the list…
Things to Do This April
The Other Art Fair (March 31 to April 3) -> The Other Art Fair returns to Los Angeles with a four-day event featuring dozens of original art works, immersive installations, DJ'd music, and specialty cocktails. Tickets for opening night are $45, and general admission for timed entry on Friday to Sunday are $15. More info here.
Hayao Miyazaki Encores (Starting April 1) -> Attention Studio Ghibli fans: As the Academy Museum's Hayao Miyazaki exhibition comes to a close (ending June 5), the museum will screen seven key films by the director from April 1 to May 27, each in 35mm with English subtitles. The series kicks off this Friday with a showing of Nausicaä of the Valley of the Wind. Tickets are $10. More info here.
dine L.A. (April 1-15) -> Los Angeles Restaurant Week (actually two weeks) features special prix-fixe menus from restaurants across the city, with lunch deals starting at $15 and dinners from $25. You can see all the menus on the official dineL.A. page, and if you want some specific suggestions, check out the bottom half of our recent weekend to-do post where we offer 15 solid picks.
First Fridays at NHM (April 1) -> The Natural History Museum's signature after-hours event returns with a theme of Wild Harvesting. The evening includes musical performances by Girlpool and Grace Ives, plus digital art displays, pop-up educator sessions, and food trucks. Tickets are $20 for non-members. More info here.
L.A. Beer Fest (April 2) -> The 14th annual L.A. Beer Fest brings 80+ breweries together with over a dozen top local food trucks for a day of tastings, music, and fun, all at L.A. Center Studios. General admission starts at $50 per person. More info here.
Corgi Beach Day (April 2) -> Corgis, costumes, cuteness. It'll be there at 10th anniversary of Corgi Beach Day, taking place at Huntington Dog Beach. Expect special vendors, food trucks, costumes, and plenty of photo ops, whether you're there with your pup or just want to see the spectacle of it all. More info here.
Los Angeles Dance Festival (April 2)-> The Los Angeles Dance Festival returns to the Luckman Fine Arts Complex with a free evening of short films, discussions, and live performances, all in celebration and appreciation of the art of dance. Get more info and reserve free tickets here.
PaleyFest (April 2-10) -> Back live at The Dolby Theater, PaleyFest for a nine-day series of special panels and discussions featuring the cast and crew of some of T.V.'s top shows, including Better Call Saul, Hacks, Cobra Kai, Riverdale, and more. Tickets available for individual sessions or as multi-event passes. More info here.
The Moth Mainstage (April 5) -> Head to the Palace Theater for an engaging evening of live storytelling as the Moth Mainstage returns to Los Angeles. Tickets start at $29. More info here.
Acura Grand Prix of Long Beach (April 8-10) -> Three days of racing action in Downtown Long Beach accompanied by a lifestyle expo, family fun zone, food truck experience, and an exotic car paddock. Check the full schedule and get more info here.
Earth Day at NHM (April 9) -> The Natural History Museum celebrates Earth Day with a special afternoon of programming that will include live musical performances, hands-on activities, block-printing with Self-Help Graphics, pop-up presentations, and more. More info here.
Bob Baker Day (April 9) -> Head to LA State Historic Park (1315 N Spring St) for a free day of in-person puppetry and family fun. Explore a handmade market, grab bites from food trucks, watch performances, and (if they're up for it) kids can participate in this year's talent show. More info here.
Renaissance Pleasure Faire (Starting April 9) -> Ren-Faire enthusiasts can expect over 100+ artisans, merchants, and vendors, plus costume contests, games, rides, a food court and more, all taking place at the Santa Fe Dam Recreation Area from April 9 through May 22. Adult single-day admission starts at $38. More info here.
Sounds of L.A. at The Getty (April 9-10) -> The Getty's annual concert series continues in April with a pair of Hawaiian dance and voice performances led by Kumu Hula Keali'i Ceballos, with music provided by Grammy-award winner Daniel Ho. Free to attend with reservation, but remember parking is $20. More info here.
Family Festival: Persia (April 9-10) -> The Getty Villa will highlight the culture and heritage of ancient Iran through a two-day festival featuring dance, storytelling, puppet-marking, calligraphy, craft-making, and other and interactive events. The festival takes place in conjunction with Getty Villa's newest exhibition, Ancient Iran and the Classical World, which is set to open on April 6. More info on the event here.
The Brewery Artwalk (April 9-10)-> The twice annual open studio weekend at the Brewery Art Complex returns this April. Expect dozens of participating artists showcasing their works. Free to attend. Runs 11 a.m. to 6 p.m. both days. More info here.
How Can Our Communities Escape Polarizing Conflict? (April 13) -> Zócalo Public Square comes to the La Brea Tar Pits and Museum for a conversation on How Can Our Communities Escape Polarizing Conflict? L.A. Times columnist Erika D. Smith moderates a panel featuring author Amanda Ripley, UCLA professor Kyeyoung Park, and mediator B. Scott Silverman, as they attempt to make sense of the increasingly bitter divides and violent rhetoric that's become commonplace in our communities and politics. PLUS: Attendees of the event get free admission to the museum from 3 to 6 p.m. More info here.
"I'll Have What She's Having": The Jewish Deli (Starting April 14) -> This April, the Skirball Cultural Center is debuting a new exhibition dedicated to the cultural evolution and history of the Jewish Deli. Expect exhibits featuring neon signs, menus, advertisements, uniforms, photographs, and iconic film and T.V. moments featuring famous delis. More info here.
Odd Nights at The Autry (Starting April 15) -> Odd Night at the Autry brings a every third Friday of the month starting in April. Expect an indie bazaar population by funky vendors, food trucks, live music. More info here.
Your (Un)natural Garden (Starting April 16) -> A new experience at Descanso Gardens created by Adam Schwerner invites visitors to get hands-on as they explore colorful, interactive pop-up works located inside the Sturt Haaga Gallery, Boddy House, and throughout the rest of the garden grounds. Opens April 16 and runs through Jan. 8, 2023. Included with garden admission. More info here.
Easy Mornings at Grand Park (Starting April 16) -> Ease into your Saturdays with a little family-friendly programming at Grand Park starting at 10 a.m.. Pop-up activities are scheduled for April 16, 23, and 30. More info here.
TCM Classic Film Festival (April 21-24) -> A four-day slate of classic films shown on the big screen at a range of historic Los Angels theaters. For the full schedule and more info go here.
Cherry Blossom Festival (April 23) -> Celebrate the arrival of the cherry blossom season at Plaza West Covina with an afternoon of unique vendors, dance performances, martial arts demos, and Japanese cuisine. Free to attend. More info here.
Record Store Day (April 23) -> The nationwide, annual celebration of indie record stores returns on April 23 with a day of deals, discounts, special product and exclusive vinyl and CD releases. Check for participating records stores and get more info here.
Jackalope Pasadena (April 23-24) -> Jackalope brings its artisan market back to Central Park in Old Pasadena for a two-day event showcasing over 200 local vendors selling indie goods, clothing, jewelry, home decor, housewares, art, photography, and food. Outdoors. All-ages. Free to attend. Get more info here.
LA Times Festival of Books (April 23-24) -> The 27th Los Angeles Times Festival of Books returns to the campus of USC this April featuring 250 book and merchandise exhibitors, 8 outdoor stages and activity areas, dozens of expert panels, performances, demos, poetry readings, and more. The event is free to attend, with advanced ticket packages available for indoor conversations and parking. More info here.
Lee Alexander McQueen: Mind, Mythos, Muse (Starting April 24) -> The first west coast display of the iconic fashion designer's works heads to LACMA starting on April 24. Mind, Mythos, Muse will examine the the McQueen's artistic legacy through a display of garments from the Collection of Regina J. Drucker alongside artworks from LACMA's permanent collection. Runs through Oct. 9. More info here.
Netflix is a Joke: The Festival (Starting April 28) -> Netflix's first-ever live comedy festival will bring over 100 live shows to 25 Los Angeles venues from April 28 to May 8. The lineup is, frankly, too big to list here, but if they have a Netflix comedy special, rest assured they're probably part of this show. More info here.
ArtNight Pasadena (April 29) -> A night of arts and culture venues providing free entry and programming. Participants include the Gamble House, Kidspace Museum, the Pasadena History Museum, Norton Simon Museum, USC Pacific Asia Museum, and the Armory Center for the Arts. More info here.
Street Food Cinema (starting April 30) -> The 2022 outdoor, in-person season of SFC kicks off with a screening of Spiderman: No Way Home at LA Historic State Park. Weekly screenings continue through October at locations throughout Los Angeles. More info here.
---
Any notes or corrections? Want to suggest an event we should add to an upcoming list? Hit us up at [email protected]