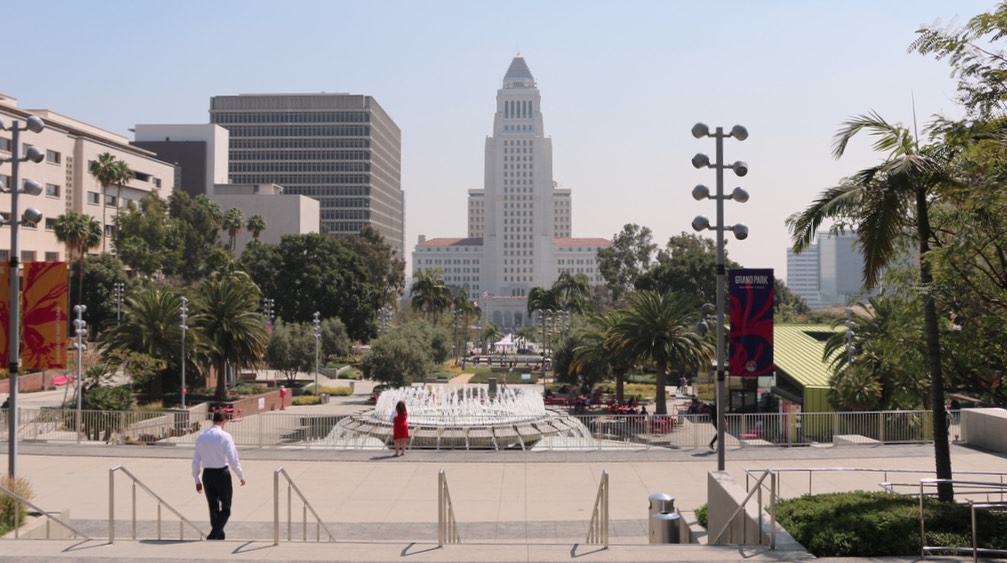 So how is your spring in the City of Angels going? Need some more stuff to do? We've got you covered.
This weekend in Los Angeles, from April 29 to May 1, you can check out ArtNight Pasadena, 626 Golde n Streets, ranger-led hikes in the Santa Monica Mountains, a spring fling at Bergamot, an Easy Morning at Grand Park, a Latino Comics Expo at MOLAA, LitFest in Pasadena, and more.
Things to Do
Netflix is a Joke: The Festival -> Netflix's first-ever live comedy festival kicks off Thursday with a slate of 11 shows across Los Angeles. In total, Netflix is a Joke will include over 100 live shows to 25 L.A. venues from April 28 to May 8. Some of the headline shows for this weekend include Pete Davidson at The Fonda, Tom Pappas at The Regent, and Dave Chapelle at the Hollywood Bowl. More info here.
ArtNight Pasadena -> This Friday, ArtNight Pasadena bands together a group of local institutions and historic locations for an evening of free admissions, and arts and culture programming. Participants include the Gamble House, Kidspace Museum, the Pasadena History Museum, Norton Simon Museum, USC Pacific Asia Museum, and the Armory Center for the Arts. More info here.
LA Phil Gen X Festival -> The Los Angeles Philharmonic's Gen X Festival continues this week with Dudamel Leads Adès' Dante (April 28-30), a night of music at Walt Disney Concert Hall led by Gustavo Dudamel and the premiere of composer Thomas Adès' score Dante. The Gen X Festival takes place April 22 through May 14 with a genre-spanning line-up of artists and programming both ticketed and free. Highlights include a Liz Phair concert with special guests Ben Gibbard, Bethany Cosentino and more; a queer dance party at Zebulon; an LA 80's through 90's food discussion at Second Home; and a 1980's Horror Film Marathon at the Aero Theatre. More info here.
Ranger-Led Hikes –> National Park Service rangers will lead hikes in the Santa Monica Mountains on April 29 through May 1 as part of the City Nature Challenge, a community initiative to encourage citizen science through a mass submission of nature, plant, and wildlife photos. Friday's hike begins at Paramount Ranch at 1:30 p.m., with four other times/locations scheduled over the weekend (two Saturday, two Sunday). Free to attend. Get more info here.
Lee Alexander McQueen: Mind, Mythos, Muse -> The first west coast display of the iconic fashion designer's works is now in exhibition at the Los Angeles County Museum of Art . Mind, Mythos, Muse examines McQueen's artistic legacy through a display of garments from the Collection of Regina J. Drucker alongside artworks from LACMA's permanent collection. Runs through Oct. 9. LACMA is open Thursday to Tuesday. More info here.
Bergamot Spring Fling -> Creative arts complex Bergamot will host a Spring Fling on Saturday, which brings together some over 20 participating galleries for a series of artist talks, walk-throughs, local vendors and special events. Runs 11 a.m. to 6 p.m. Free to attend. More info here.
Taste of Home -> People Assisting the Homeless (PATH) is hosting an inaugural food fundraiser, Taste of Home, at Sunset Las Palmas Studios in Hollywood on Saturday, April 30. Chef Wes Avila will host a cooking demo and guests can enjoy tastings from over 25 local food vendors, including Broad Street Oyster Co.Hotville Chicken, and Saucy Chick Rotisserie. Beverages from Loft & Bear Vodka and Modern Times beer will also be flowing that day as well. Guests can also stop by volunteer stations to help put together hygiene kits for PATH. Tickets start at $45. Proceeds from ticket sales will support PATH's mission in ending homelessness in Los Angeles.
Mural Mash-Up -> This Saturday, local artists come together to celebrate the close of the Venice Art Walk & Gallery Auction with an afternoon of mural-making accompanied by DJ'd tunes, a live screen-printing station, some free coffee, and plenty of works to view inside the pop-up gallery. Free to attend. Runs 1 to 4 p.m. More info here.
Grand Park Easy Mornings -> Grand Park's family-friendly series continues this Saturday with a host of fun and free activities, including a special presentation and puppetry lesson by Bob Baker Marionette Theater and a lantern making workshop presented by the Chinese American Museum. Free to attend. Runs from 10 a.m. to 1 p.m. More info here.
LitFest Pasadena -> This Saturday, the 10th Anniversary of LitFest Pasadena comes to the Mountain View Mausoleum in Altadena for an afternoon of dynamic literary talks and panel discussions, capped by a conversation between authors Michael Connelly and Gregg Hurwitz . Free to attend. Runs 2 to 8 p.m. More info here.
Street Food Cinema -> This the Saturday is 2022 outdoor, in-person premiere of Street Food Cinema, which kicks off with a screening of Spiderman: No Way Home at LA Historic State Park. Weekly screenings continue through October at locations throughout Los Angeles. Advance general admission tickets start at $19. More info here.
Latino Comics Expo -> This Saturday and Sunday, The Latino Comics Expo and the Museum of Latin American (MOLAA) team up for a two-day series of panels, workshops, and screenings. 45 vendors are expected to be onsite for this year's event. Admission is free. More info here.
Shipwrecked Tiki Bazar -> If Tiki is your jam, head to The Warehouse Restaurant in Marina del Rey this Saturday for Shipwrecked, a marketplace experience featuring Polynesian Pop and Exotica art, live music, and dozens of vendors in the upstairs bazaar. Admission is $5. Event runs 11 a.m. to 3 p.m. More info here.
PCC Flea Market -> Seekers of antiques, collectibles, vintage, and other used goods can head to Pasadena City College this Sunday for monthly flea market, which will feature an estimated 400 vendors. Runs 8 a.m. to 3 p.m. Admission is free. More info here.
Studio Open House at One Down Dog -> Echo Park's One Down Dog is hosting an open house studio this Sunday morning featuring two yoga classes followed by meditative sound bath experience. Classes run from 9:30 a.m. to noon. Admission is free, but space is limited and entry will be capped on a first-come, first-serve basis. More info here.
Cinco de Mayo at The Rose Bowl -> Cinco de Mayo is still a week away, but this Sunday you can celebrate early with a free family festival at The Rose Bowl featuring a community marketplace, live entertainment, bites for sale, and a group workout session. Free to attend. Runs 10 a.m. to 5 p.m. More info here.
May Day Pop Up -> On Sunday May 1, Third Sundays NoHo and Benny Boy Brewing will host a day of shopping, food and brews at the newly opened Lincoln Heights brewery. The event is 21+ and will feature a line-up of female-owned small businesses, beers and ciders from Benny Boy and food by Hangaburs and Metztli Taqueria.
626 Golden Streets -> This San Gabriel Valley open streets initiative returns on Sunday with a Mission to Mission route, allowing bicyclists and pedestrians to navigate the roads car-free over a five mile course through South Pasadena, Alhambra and San Gabriel. Each of the three cities will host a hub featuring live performances and special activities. Free to attend. Runs 9 a.m. to 4 p.m. More info here.
Dining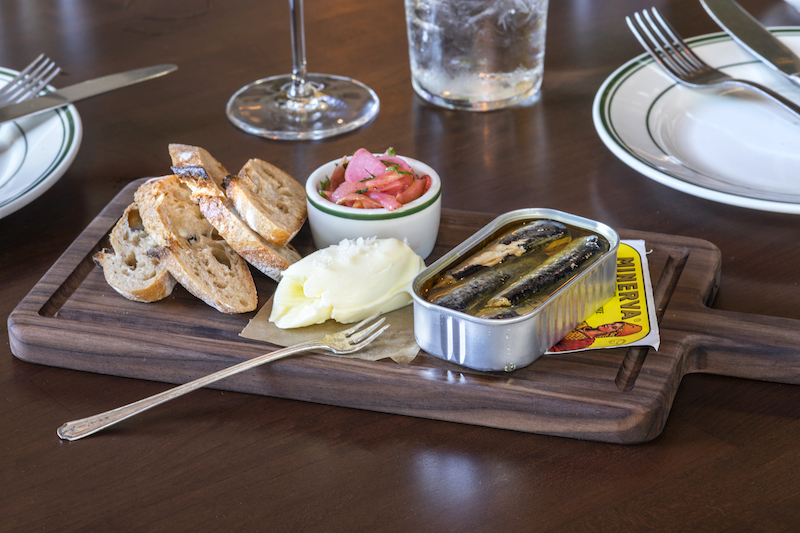 Bar Moruno -> Chef Chris Feldmeier and David Rosoff's Spanish restaurant Bar Moruno has reopened with a new menu and a new location on Sunset Boulevard in Silver Lake. Conservas (tinned fish) have their own dedicated section, with offerings from tuna filets in olive oil to spiced mackerel paté. Each tin is presented on a board with pickles, a smear of butter and toasted bread. Add on a side of Pan con Tomate and you'll be off to a great start. Feldmeier version features griddled jyan isaac sourdough and a generous topping of whole skinless cherry tomatoes. Other shared plate options include a Scotch Egg with green chorizo and herb; Oven-Roasted Salt Spring Mussels with butter beans and chorizo cantimpalo; and a brown butter honey Roasted Sweet Potato topped with black and white sesame seeds. All are delicious choices.
Licorería Limantour pop up -> LA Cha Cha Chá will be hosting a pop up inside LA Barra with Mexico City's Licorería Limantour this Friday and Saturday from 10 p.m. to 2 a.m. on a walk-in basis. Named #6 on the World's 50 Best Bars Licorería Limantour's bar manager, Eduardo Nava Mendoza will be creating a specialty cocktail menu featuring seasonal produce as well as Limantour classics like the Margarita Al Pastor – made with fresh pineapple juice, coriander, and green chili.
Borscht For Good -> Valerie Confections in Echo Park recently introduced a vegetarian borscht at the cafe, where all profits go directly towards World Central Kitchen's efforts in Ukraine.
Island Style -> To kick off AAPI Month, Family Style and Off The Menu are hosting an "Island Style" themed feast, this Sunday, May 1 at The Pool at The Hollywood Roosevelt. From 7 to 11 p.m. guests will enjoy a poolside, luau-style dinner from Chef Lord Maynard of Kuya Lord and desserts from Café 86 and Brique. The evening also features a a live hula show, DJ sets from NOODLES and DJ Agana, and complimentary festive cocktails from Sipsmith Gin and Guayaki Yerba Mate. Tickets cost $65 and are on sale through CASHDROP.
---
Any notes or corrections? Want to suggest an event we should add to an upcoming list? Hit us up at [email protected].