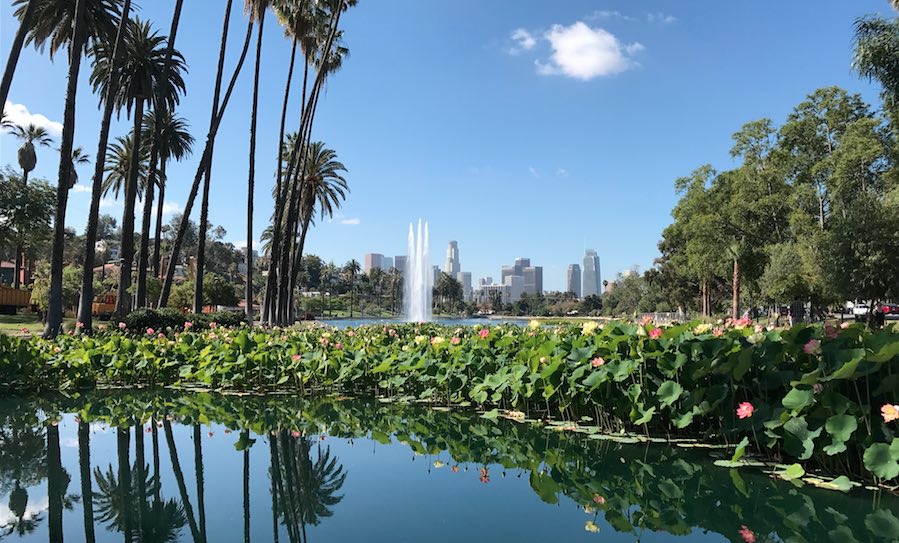 If you can't beat the heat, maybe the best you can do is distract yourself… at least for a weekend! We've got a few ideas.
This July 14-16 in Los Angeles, you'll find a Summer Celebration at Bergamot Station, the Echo Park Lake Lotus Festival, KCRW Summer Nights at MOCA & JANM, the BBoy | BGirl Summit, a South Pasadena Arts Crawl, a big party on the Colorado Street Bridge, Silent Sundays in San Gabriel, the Marina del Rey concert series, and more. Stay cool, and make it a good one.
Make Metro Part of Your Weekend
In our latest collaboration with L.A. Metro, we give you a few quick tips on checking out KCRW's month long summer nights series at The Hammer Museum in Westwood. The Santa Monica-based NPR affiliate is throwing parties every Thursday for the rest of the month, and it just so happens that getting to the museum on Metro's 720 rapid bus line is pretty darn easy.
But if Thursday is a bit too early to start your weekend, then keep in mind KCRW hops over to Little Tokyo this Saturday for a party at the courtyard in front of the Museum of Contemporary Art and the Japanese American National Museum. Expect live sets from KCRW DJs Travis Holcombe and SiLVA, plus food trucks, a beer garden and free after hours access to both museums. More info here.
Go Metro: Take the A or E Lines to Little Tokyo Station
More Things To Do This Weekend
M = Less than .5 miles from an L.A. Metro Station, FA = Free Admission, TP = Top Pick
---
COLA IMAP at LAMAG – FA > This week, the City of Los Angeles (COLA) Individual Master Artist Project (IMAP) Visual Artists Exhibition comes to the Los Angeles Municipal Art Gallery, located at Barnsdall Art Park in East Hollywood. Artists featured in the exhibition include Patricia Fernández, Wakana Kimura, Michael Massenburg, Duane Paul, Elyse Pignolet, and Kyungmi Shin. An opening reception will be held this Thursday from 6 to 8 p.m., and the exhibition remains on view through September 16. LAMAG is normally open Wednesdays through Fridays from 11 a.m. to 4 p.m. Admission is always free. More info here.
Griffith Park Free Shakespeare Festival – FA TP > The Independent Shakespeare Co. is back in Griffith Park (near the Old Zoo) with a production of Julius Caesar running Wednesday to Sunday through July 30. Then, from August 9 to September 3, catch A Midsummer Night's Dream on the same Wednesday to Sunday schedule. All shows begin at 7 p.m. Free to attend, but donations heartily encouraged. More info here.
Outfest -> The LGBTQ+ film festival returns in full force from July 13-23 with movie screenings (in-person and online) as well as a number of special events. This year's highlights include an opening night gala at the Orpheum Theatre (this Thursday) and Family Day events held at Vidiots in Eagle Rock (July 23). Select events are free to attend while others require tickets. More info here.
The Music Center's Dance DTLA – M FA TP > Free evening dance parties continue at The Music Center's Jerry Moss Plaza every Friday throughout the summer. Dance instructors will be on hand to teach guests easy-to-follow steps, allowing everyone to get into the groove right from the jump. This week, enjoy an evening of Reggaetón with instructor Dennis Guzman. Starts at 7 p.m. More info here.
Summer of Salsa – M FA TP > The LA Plaza de Cultura y Artes Summer of Salsa series runs one Friday each month through the end the summer, highlighting some of city's best salsa and Cuban bands in the process. The fun continues this Friday with a performance by Conjunto AFRO-SON. Free to attend. More info here.
Zoo Friday Nights -> This Friday, the L.A. Zoo continues their summer series of weekly after-hours events, offering access the zoo grounds at the sunset hour while experiencing carousel rides, food delicious bites for purchase, beverages, DJ'd music, and a family dance party. Tickets start at $25 per adult. Runs 6 to 9 p.m. More info here.
Summer In The Garden -> This Friday, Descanso Gardens invites guests to evening guided tours by the Arroyos & Foothills Conservancy, a presentation by the Cougar Conservancy and a walk and talk with artist Leslie K. Gray about her Wild Sighting installation in the garden. Drinks will be served at the Rose Garden bar where DJ tunes will invite guests to let loose and dance. Admission to the garden is $15. More info here.
BBoy | BGirl Summit – FA TP > The longest running annual Hip-Hop event in the nation returns to Los Angeles this weekend with multiple activations across the county. On Friday, Culver City's Village Well hosts a launch and panel discussion of two books: The Oxford Handbook of Hip Hop Dance Studies and The Birth of Breaking: Hip Hop History From the Floor Up; Saturday follows with a day of workshops ($20 per), performances, and discussions at Plummer Park in West Hollywood; Sunday the action moves to Gloria Molina Grand Park for a free day of break battles, exhibitions, DJ sets, and performances. Get more info and see the full schedule here.
Levitt Pavilion Los Angeles Concerts – M FA > The Levitt Pavilion Los Angeles annual summer-long series of free concerts features acclaimed and emerging talent from a broad range of musical genres. The music continues this weekend starting on Friday with soul and oldies from Los Yesterdays and Thee Illusions, followed by Soulection In The Park Presents : Soulection DJs on Saturday, and capped by United American Indian Involvement Inc., Presents Natives in the Now on Sunday. All free to attend. No reservation required. Get more info here.
Puppet Up! -> Producer and director Brian Henson with actor, director, and improv expert Patrick Bristow present Puppet Up! – an uncensored a night of outrageous puppet mayhem featuring 80 of the MISKREANT puppets brought to life by comedian puppeteers from The Jim Henson Company. The show will take place at Hensen Studios in Hollywood starting this Friday to Sunday. The program includes puppet improve from audience suggestions, along with recreations of classic pieces that haven't been seen by live audiences in decades. Tickets cost $75. More info here.
South Bay Greek Festival -> This Friday to Sunday, the South Bay Greek Festival is a three-day affair at St. Katherine's Greek Orthodox Church in Redondo Beach offering lots of Greek food (spanakopita, lamb chops, baklava), dancing, and fun. More info here.
Vino Disco – M > This Friday, DTLA's Good Clean Fun is hosting their third annual 'Vino Disco' party, doubling as a birthday celebration for co-founder Ari Steven. The outdoor patio and indoor space will be transformed into a dance floor with a soundtrack ranging from Disco to House, and natural wine will be flowing along with cocktail specials. A portion of the night's proceeds will benefit The Downtown Women's Center. Disco attire recommend! Donation-based tickets can be purchased here.
PCH Movies & Moonlight – FA > This Friday, 2nd & PCH's summer movie series premieres with a screening of Disney's Raya and the Last Dragon. Accompanying activities include face painting, balloon twisting, fun custom themed backdrops and more. Kids Club welcomes explorers of all ages but is best suited for ages 2 – 10 years. More info here.
Bergamot Station Summer Celebration – M FA TP > Creative Arts Complex Bergamot Station will host a community celebration this Saturday offering guests access to the campus galleries plus live music, comedy shows, a photography book sale, and live painting and pet portrait commissions. Free to attend, no reservation required. Get more info here.
South Pasadena Arts Crawl – M FA > This Saturday, the South Pasadena Business District activates with a free event featuring art exhibitions and interactive activities, open houses, food and drink specials, and sales from local businesses on and round Mission Ave. Runs from 3 to 8 p.m. More info here.
Colorado Street Bridge Party -> After a five-year hiatus, the annual Colorado Street Bridge Party in Pasadena returns this Saturday with an evening of live music, dancing kid's activities, food, craft beer, cocktails and a car show. Tickets are $35, with proceeds to benefit Pasadena Heritage. Children 12 and under are free. More info here.
NoHo Summer Nights – M FA > NoHo Summer Nights brings film screenings and/or live performances to North Hollywood Recreation Center every Saturday through September 2. This weekend, catch a screening of Selena. Free to attend, and no RSVP required. Starts at 7 p.m. More info here.
Beeria Fest: Birria & Beer – FA > Hawthorne's Common Space Brewery joins with local birria vendors on Saturday for an all-day party featuring plenty of tortas and tacos for purchase plus an ample selection of brews on tap to enjoy in the beer garden. Starts at noon. Free to attend. More info here.
MDR Summer Concert Series – FA > Marina del Rey host free concerts at Burton Chace Park on three dates this month, including a performances by MDR Symphony this Saturday. All events begin at 7 p.m. Free to attend. More info here.
Echo Park Lotus Festival – FA TP > This Saturday and Sunday, The 42nd annual Lotus Festival honors the people and culture of Indonesia for 2023 with live music, children's activities, a lantern launch, a dragon boat races, and more. Free to attend. More info here.
Divercity Concerts – M FA > The Divercity Multicultural Concert Series continues this weekend at Pershing Square. On Saturday, catch R&B tunes with R.S.V.P. featuring Ray J, Sammie, Bobby V, and Pleasure. Then on Sunday you can check out "Latin Grooves" with Frankie J, Baby Bash, Akwid & a Lighter Shade of Brown. Both events start at 2 p.m. Free to attend. More info here.
Werq The World After Party at The Moxy -> This Sunday, The Moxy in Downtown will host an afterparty for the iconic Queens of RuPaul's Werq the World tour. From 10 p.m. to 1 a.m. Bar Moxy will transform into a Ru-approved runway for this one-night-only extravaganza.
Jazz in the Park in Pasadena – M FA > Pasadena's Playhouse Village Park continues its string of summer jazz concerts this Sunday with a performance by Rome-born Jasmine Tommaso. Event runs 5 to 7 p.m. Free attend. More info here.
Polliwog Concerts in the Park – FA > This Sunday, Manhattan Beach's Polliwog Park Amphitheater hosts Concerts in the Park with a performance by U.S. 99 . Free to attend. Starts at 5 p.m. More info here.
Silent Sundays at Mission Playhouse -> The San Gabriel Mission Playhouse kicks off a new season of Silent Sundays this Sunday with a screening of the 1925 swashbuckling romance film Don Q, Son of Zorro (starring Douglas Fairbanks) accompanied by the theater's 1924 Mighty Wurlitzer pipe organ. Tickets start at $10 plus fees. Starts at 2:30 p.m. More info here.
Dining & Drinking
(picks by Christina Champlin)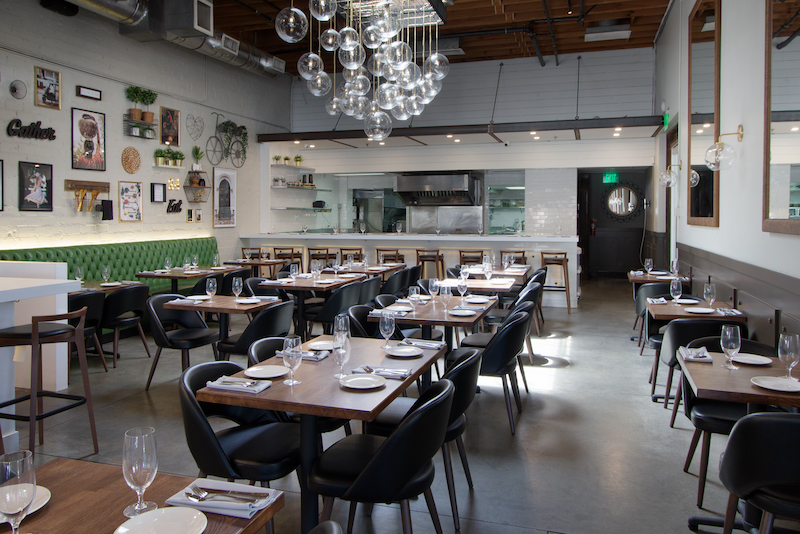 Bollywood Brunch at Arth Bar + Kitchen -> Culver City's modern Indian eatery Arth Bar + Kitchen is throwing a Bollywood Brunch this Saturday featuring Indian-inspired cocktails, live music and unlimited food. Tickets cost $35 a person for unlimited food and $55 for food and unlimited Mimosas. Live stations will be a mix of Indian street food, traditional dishes and brunch classics. More info here.
National Ice Cream Day at Rori's Artisanal Creamery -> July 16 is National Ice Cream Day and Rori's Artisanal Creamery will be celebrating by giving customers free toppings with the purchase of ice cream. On that day all ice cream pints are buy one get one free too.
Ice Cream Alley at Smorgasburg LA -> Did someone say National Ice Cream Day? Smorgasburg LA is celebrating this Sunday with Ice Cream Alley, a collection of close to a dozen local ice cream vendors popping up at the market, including Latina owned SadGirl Creamery, beer-infused ice cream concept Scoops on Tap, Persian ice cream company Kinrose Creamery and more. The 626 Hospitality Group will also return with chef driven concepts honoring the flavors of the San Gabriel Valley, highlights include Sake Kasu and Coconut Pandan sundaes. Ice Cream Alley at Smorgasburg LA will run every Sunday from July 16 through September 3. More info here.
Summer Movie Matinee Series at The Milky Way Restaurant -> The Milky Way restaurant (owned by the Spielberg family since 1977) hosts a monthly, family-friendly Summer Movie Matinee series paired with a multi-course menu. The series continues Sunday, July 16 at 4 p.m. with E.T. the Extra-Terrestrial. Adult tickets cost $52 and include a special three course menu, beverage and popcorn. Kids tickets cost $22 and include a two course, beverage and popcorn meal. More info and reservations here.
Taco Nights at Angry Egret Dinette -> Chef Wesley Avila's James Beard Award-nominated, Angry Egret Dinette in Chinatown is firing up the grill for some special tacos, every Thursday, Friday, and Saturday. Every week three types of taco will be available, the launch menu this week includes duck, tripas and squash.
---
Want to get the best things to do in L.A. sent straight to your inbox? Join over 60,000 Angelenos who subscribe to our twice weekly email newsletter!
By subscribing, you agree to our terms of use and privacy policy and consent to receive emails from We Like L.A. about news, events, offers, and partner promotions.