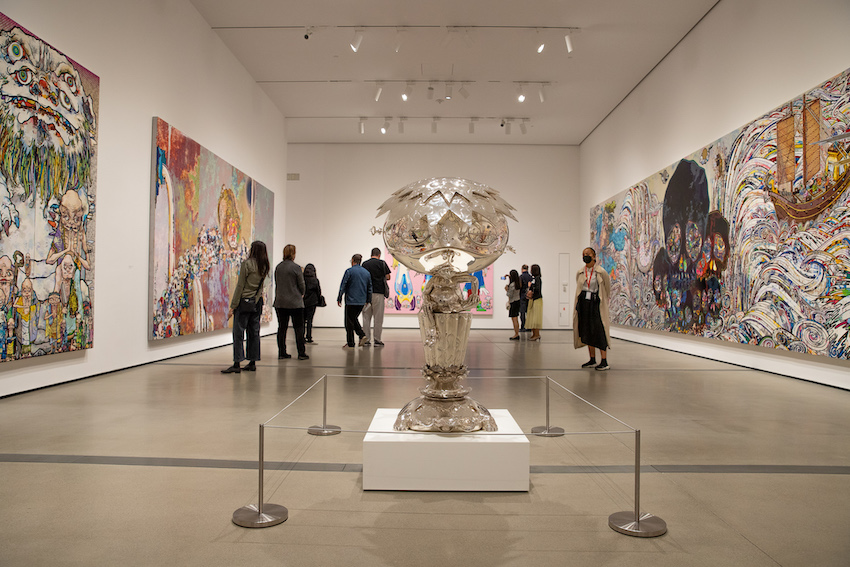 The Broad's has a pair of specially ticketed exhibitions opening on Saturday, highlighted by a new show featuring iconic Japanese artist Takashi Murakami.
Takashi Murakami: Stepping on the Tail of a Rainbow is the artist's first solo exhibition at The Broad and features 18 works in all, including the 82-foot-long-painting that inspired the exhibition title, In the Land of the Dead, Stepping on the Tail of a Rainbow. Fans of Murakami will be familiar with much of the what's on display here, including the 32-foot-wide 100 Arhats, or DOB in the Strange Forest (Blue DOB), which features the artist's most well-known character and alter-ego. But there is also something new.
In addition to the artworks, visitors can access a set of augmented reality experiences that were created specifically for the exhibition in partnership with Murakami's design studio, Kaikai Kiki Co., Ltd. Think of these AR creations as if you're playing Pokémon GO. You'll scan a QR code at access points inside and outside the museum that will pull up your Instagram app where you can view overlays through an IG Stories filter. They'll range from a massive Mr. DOB that hangs like a hot air balloon over the exterior lawn, to a pair of demons that stand guard to the exhibition entrance.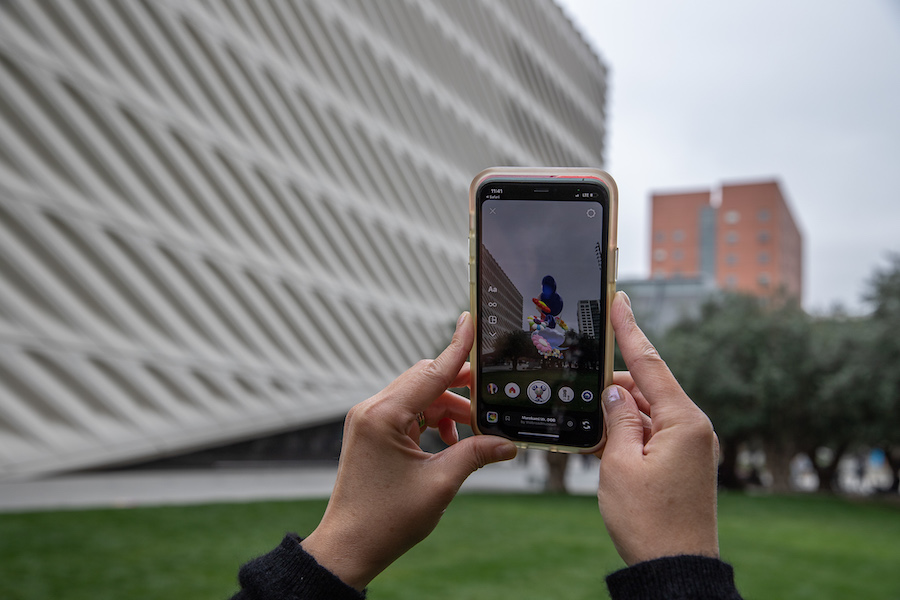 Also opening on Saturday will be This Is Not America's Flag, a group exhibition that interrogates the symbolism of the United States flag via selected works from over 20 artists, including Jasper Johns, Alfredo Jaar, Cindy Sherman, and David Hammons. The combination of voices and critiques raises the flag as an open question, tying in themes of cultural erasure, oppression, consumerism and even gun violence.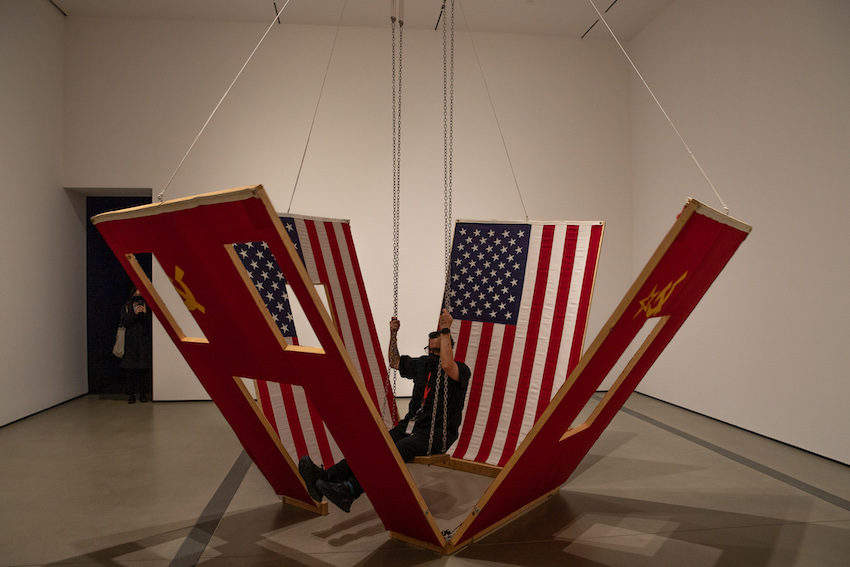 Both exhibitions are contained within the first floor galleries, and because these are specially ticketed you will need to pony up $18 (or $12 for students) for entry when you reserve a timed slot in advance. But for all my bargain hunters out there, don't fret.
The Broad will also offer free admission to both ticketed exhibitions on Thursdays from 5 to 8 p.m. starting on June 2, plus offer free admission to the exhibitions on June 19 (Juneteenth) and July 5 (for Independence Day). Free tickets will be released on the last Wednesday of the month at 10 a.m., so make sure you set your calendar.
Takashi Murakami: Stepping on The Tail of the Rainbow and This Is Not America's Flag officially open to the public on May 21, and will be on view through Sep. 25, 2022. Advanced reservations are required. Get more info and reserve tickets at thebroad.org. Peep some more photos of both exhibitions below.