Picture 56,000 screaming fans. A sea of blue and white. You smell the beer. You taste the peanuts. You hear the crack of the bat and watch as this tiny orb shoots into sky and then streaks back down just as fast, finding its home in the leather gloved palm of a graceful outfielder. For anyone that's ever been to a ballgame, or even seen one on T.V., that whole sequence is easy to imagine. For many people, it's practically baked into their DNA.
But now picture something else. There's no game. No players. No fans. Just you and the empty bleachers and a crystal blue sky. You sit, alone with your thoughts, and soak it in. Maybe I'm weird, but to me, that actually sounds kind of fun.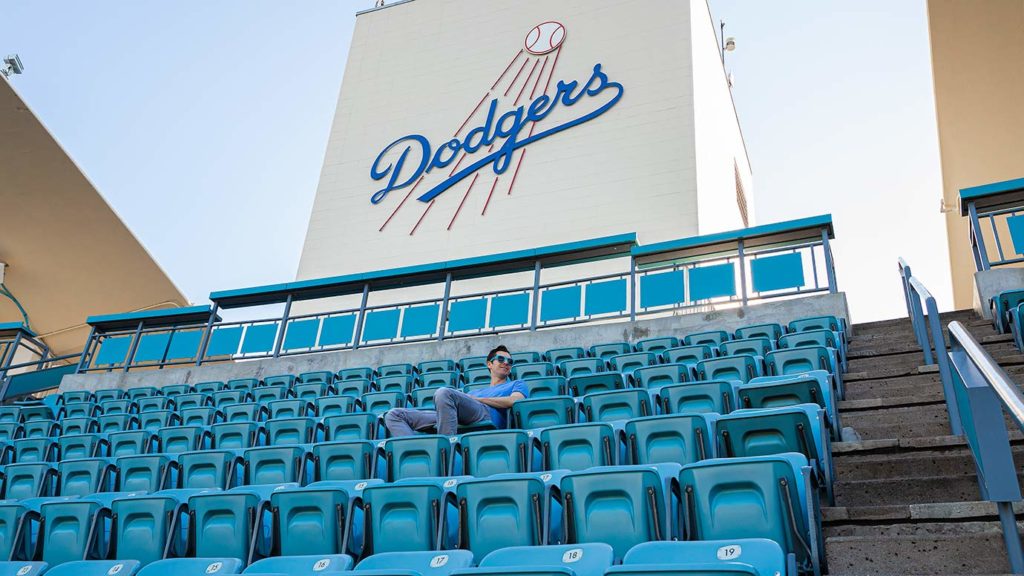 Well, one neat thing about Dodger Stadium is that you can actually visit it year-round on non-game days by taking a trip to the team store on the upper deck. Plus, it doesn't cost a thing.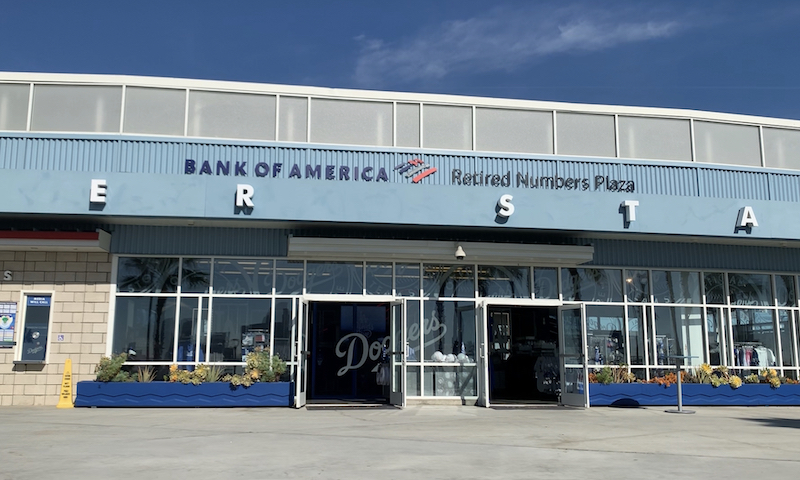 To get to the team store you'll enter at the Sunset Gate located near the corner of Vin Scully Ave and Stadium Way. Head to the furthest lane on the right where you can check in at a kiosk. The guard on duty may ask for your I.D. to check in, and then he/she will direct you to follow a blue line in the parking lot which will guide you up to Lot P. Security is pretty strict about you not racing around the parking area on your own. Stick to the route, and no one will hassle you.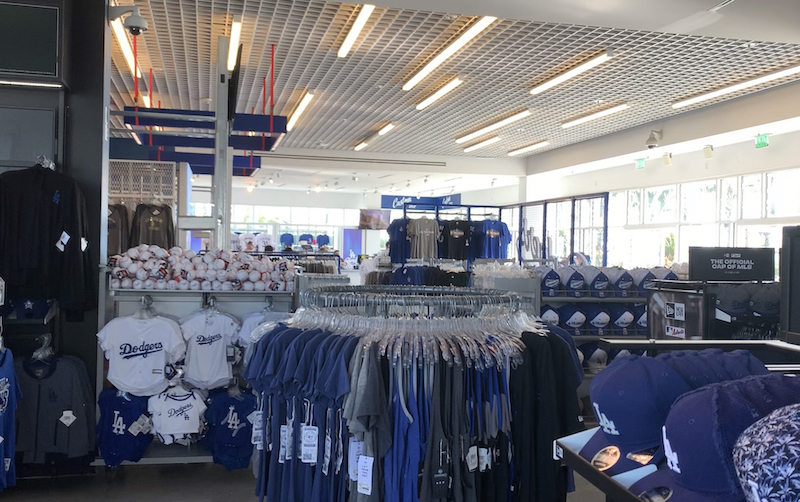 The team store has official Dodger apparell in all shapes and sizes. Hats, jerseys, pins… and in lots of styles. The prices aren't exactly bargain basement, but at least you know you're getting officially licensed merchandise.
Of course my favorite part of the experience is that you can cruise through the gated entrances at the upper deck, poke around the bleacher areas, and just kind of take it in. And if you happen to bring a sandwich or some other meal-to-go option, you can also have one of the most unique lunch experiences in L.A. Even in the midst of a $100 million renovation (notice the cranes and torn up outfield bleachers in the video above) I still think this has to be one of my favorite spots in the whole city.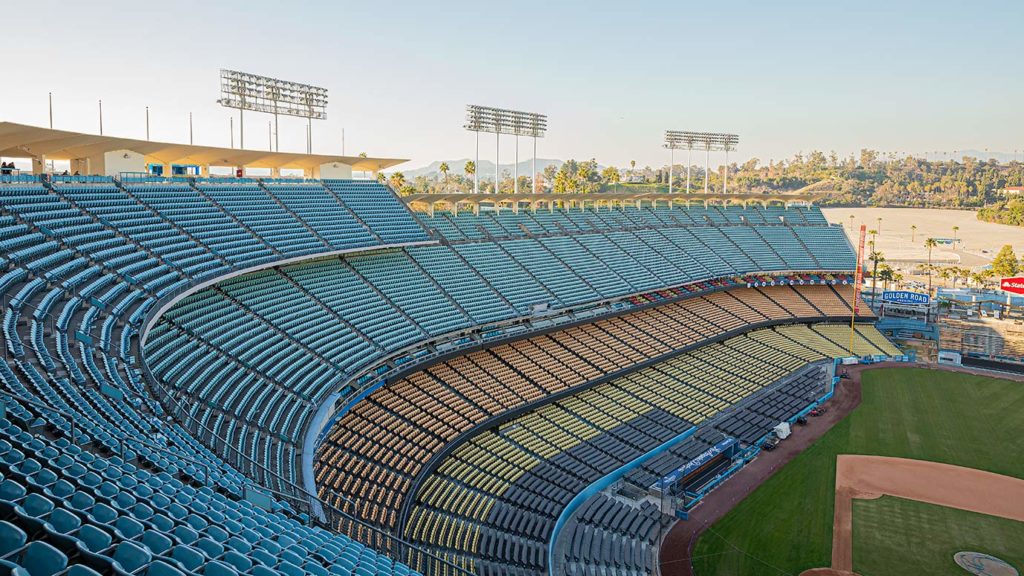 For those interested, keep in mind you can book a formal tour of the stadium where they'll take you to the field level, press box, and the Lexus Dugout Club. Here you can view World Series trophies, Most Valuable Player (MVP), Cy Young, Silver Slugger and Rookie of the Year awards all up close, plus get filled in on some of the franchises unique trivia, including the many monikers the the team went through in their early history. Among the many nicknames the Brooklyn franchise's early days include The Superbas, The Bridegrooms, The Grooms, The Robins, and The Trolley Dodgers. They finally settled on simply 'The Dodgers' in the 1930's.
Dodger Team Store information
Here is a link to the official team store. The store's general hours are daily on non-game days from 10 a.m. to 5 p.m., but you'll want to check to see if they're closed for special events or holidays before you visit. Additionally, the store will close early on game days, so unless you're a ticket holder, you wouldn't be able to visit in the afternoon. I've read some vicious Yelp reviews about people driving some distance only to find the team store is closed. Here's the number we called to get more information: (323) 224-2621. My suggestion might be to call a few days in advance of a planned visit and see if you can verify it's going to be open. Then call again the morning of.
Tours of Dodger Stadium
Here is a link for more information on stadium tours. Tours run 80-90 minutes and prices are as follows: Adults: $20, Children (14 and under) $15, Seniors (55+): $15.
Other links
If you watched the embedded video above then you're probably craving a meatball sub right about now. Here is a link to Eastside Market Italian Deli. I recommend trying to get there before noon to beat the lunch rush.
Finally, here are GPS coordinates to viewing point in Elysian Park (near Elysian Fields) that was highlighted in the above video. To get to the viewpoint just walk south through a sandbox and picnic area to a flat clearing. Oh, and if you hear the occasional smattering of gunfire, don't be alarmed. The Los Angeles Police Academy is just over the hill, and you'll often hear groups practicing on the firing range.