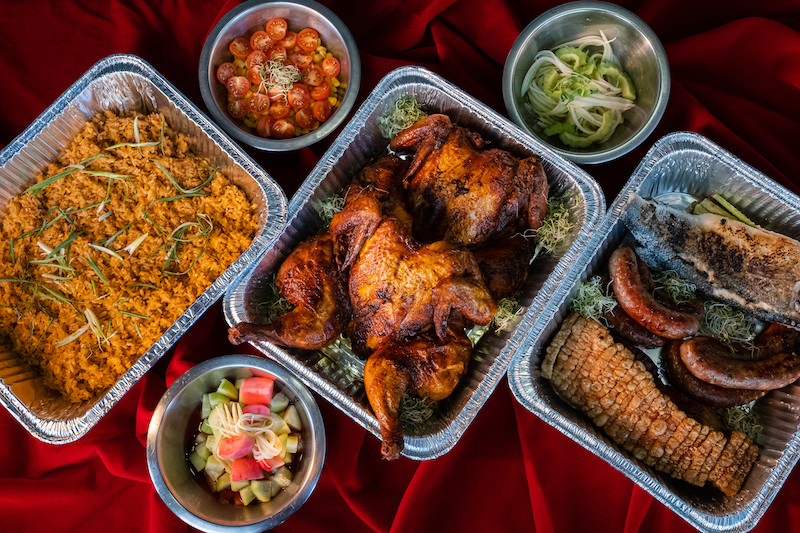 I like to think that the holidays are all about reclaiming time with the people who matter the most. But part of the commitment in hosting family and friends is preparing a feast, which of course in itself eats up a ton of time. That's what makes dine-in (or take-out) options so appealing for Thanksgiving.
Clearly there's no shortage of specials available in Los Angeles, but below I've pointed you toward 10 standouts that I think need to be on your radar if you're considering having someone else prep your holiday meal. Options start at $42 per person, and of course I've got a few dessert recommendations as well. Hope it helps you have a great holiday, and here's wishing that you get to spend a little more time with the ones you love!
Thanksgiving Menus for 2022
Holy Basil -> Does a Thai Thanksgiving sound delicious? Holy Basil's holiday specials are back and ready to make your meal a memorable affair. The menu features a whole Jidori chicken cured for 48 hours then deep fried, served with cilantro garlic sauce ($30). If fried seems over the top there's a roasted version too. You can build a meal to include a slab of Crispy Pork Belly ($19-$36) and a number unique sides like Stuffed Napa Cabbage with sukiyaki sauce and Steamed Crab Shrimp and Pork Sausage. There's also packages that feed two to eight or more people. Pre-orders are available now through Toast Tab until sold out. Pick up takes place on Wednesday, November 23.
Thanksgiving at The Cat & Fiddle -> The Cat & Fiddle opens on Thanksgiving Day with its full British Pub menu as well a special prix fixe featuring festive vegetarian options. The multi-course meal includes a starter, entree of roasted turkey and chestnut apricot stuffing with cranberry chutney plus three sides and dessert. The Thanksgiving menu cost $42 for adults and $20 for children and is available for dine-in with reservations and takeout with pre-orders submitted by November 22.
Smoked Turkeys at Maple Block Meat Co. -> Maple Block Meat Co. offers 100% wood-smoked turkeys for Thanksgiving. It's quality all the way at the Culver City smokehouse, as turkeys are all-natural, free-range, antibiotic-free and shipped directly to the restaurant fresh. Price depends on the size of turkey and range from $249 to $281. Tack on Maple Block's fluffy Buttermilk Biscuits with Whipped Honey Butter and other classic sides such as Cornbread-Sausage Stuffing, Mashed Potatoes with Turkey Gravy and Roasted Brussels Sprouts with Bacon. Prices for sides range from $9.25 to $65 with an option to order a sides only package that feeds 10-12 people for $240. To get more information and place orders, go here.
Hop Woo's Turkey & Fried Rice Deal -> In business for almost 30 years, the family owned restaurant will once again offer a whole roasted turkey with garlic fried rice and gravy for $75. Hop Woo's entire Chinese menu plus party trays are also available for pre-order. Whole turkey orders must be made in person with a $40 deposit. 
Superba Thanksgiving Pre-orders -> Superba is currently taking Thanksgiving pre-orders now through Thursday, November 17. Menu highlights include whole roasted turkey's ($115-$175), glazed beeler's heritage ham ($85), a wide selection of sides ($15-$57), pies ($45) and Superba's freshly baked breads. New this year is a four course cocktail and wine pairing packaged to serve four for $135. Pick up's of both the Thanksgiving and cocktail menu can be scheduled at any of the four locations of Superba on November 24 between 8:30 a.m. to 10 a.m. See the complete menu here.
California French Thanksgiving menu at Lillie's -> Lillie's at the Culver Hotel will be offer a Thanksgiving prix-fixe menu with Parkers Rolls and Cranberry Butter, sides for the table and individual entrees for each guest. Main dishes include Roasted Turkey Breast and Thigh, NY Striplion and Sweet Potato Gnocchi. For dessert, Chef's seasonal pie served a la mode. The dinner cost $75 per person. In addition to dining in, Lillie's is also offering a take home option. Reservations can be made through OpenTable.
Thanksgiving at Lunetta -> Lunetta cooks up a three course menu for guests dining in for Thanksgiving, priced at $95 per person. The meal comes with a choice of starters that include Maine diver sea scallops and roasted chestnut soup; a choice of mains like a maple herb turkey plate with all the fixings to a six-hour slow cooked osso buco and your choice of dessert. The restaurant will be open 2 to 7 p.m. on the holiday. The Thanksgiving menu is also available to go for $110 per person, and cut-off date is November 18 for take out.
Lawry's The Prime Rib -> Lawry's Thanksgiving offerings include roasted turkey breast meal for $49 as well as a combo plate of turkey and prime rib for $55. Both include the famous spinning bowl salad, mashed potatoes, turkey gravy, stuffing, and cranberry sauce. Classic Lawry's entrees will be available that day, and desserts can be added on for $11. See the full holiday menu here.
Cake Monkey -> Women-owned Cake Monkey's Thanksgiving pie menu returns with fan favorites like the Cider Roasted Apple Pie with a cheddar crust and pudding pies in butterscotch or chocolate. New this year is the Better Together, a pie mash up that marries a Brown Butter Pecan Pie on top of a Honey Braised Pumpkin Custard. The bakery also offers vegan and gluten-free options, plus hand pies for people hosting smaller celebrations. Deadline for Thanksgiving orders is November 21 by 10 a.m. Whole pies range from $40 to $53 and smaller items such as pumpkin pop pies cost $4.95 a piece.
Pumpkin Ice Cream Pies at McConnell's -> McConnell's Fine Ice Creams' Pumpkin Ice Cream Pie ($65) is available now for preorder, with in-store pickup between November 18-23. Each pie features browned butter shortbread cookie crust with McConnell's Pumpkin Pie ice cream, topped with pecan pralines and salted caramel sauce. To reserve a pie, orders can be placed in person, over the phone, or via McConnell's ordering platform.