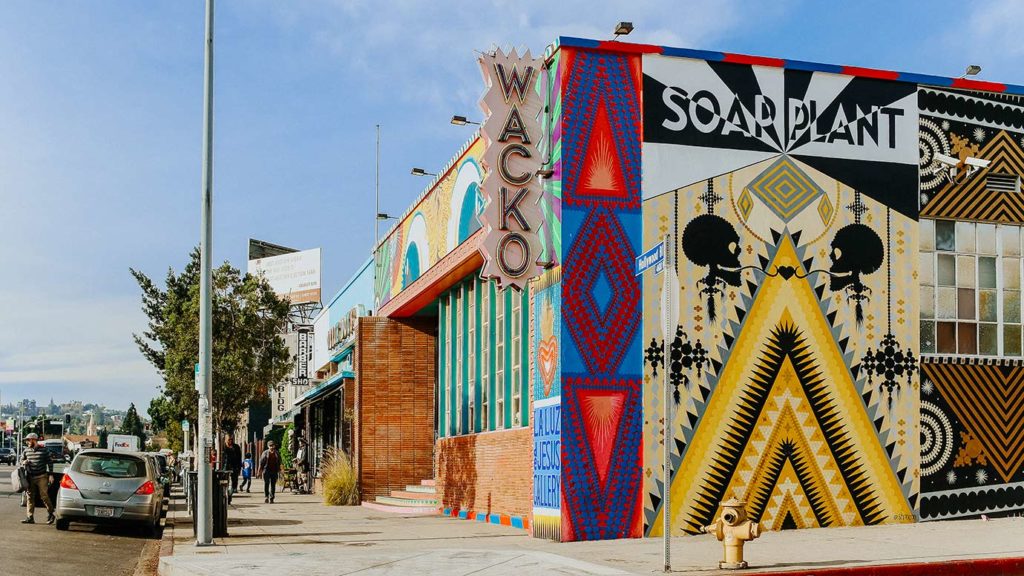 It's no secret our local retailers could use a boost this holiday season. The pandemic is still going. In-person shopping remains depressed compared to pre-pandemic levels. And yes, inflation is hitting everyone in their pockets, most especially small business owners. So I thought, let's highlight some of my favorite spots to shop for gifts in Los Angeles, along with a few speciality ideas and food options to boot. Can't hurt, right?
Of course this isn't an exhaustive list of local retailers, but if you're looking to ditch Amazon, forget the big box stores, and add a personal touch to your holiday giving, I think this is a great place to start. Here you will find options to satisfy all the varied personality types in your life, from L.A. history buffs to Trekkies, vintage hounds, wine lovers, plant people and maybe even that one finicky individual in your life you can never quite shop for. Maybe.
Retailers, Gift Shops, and Other Ideas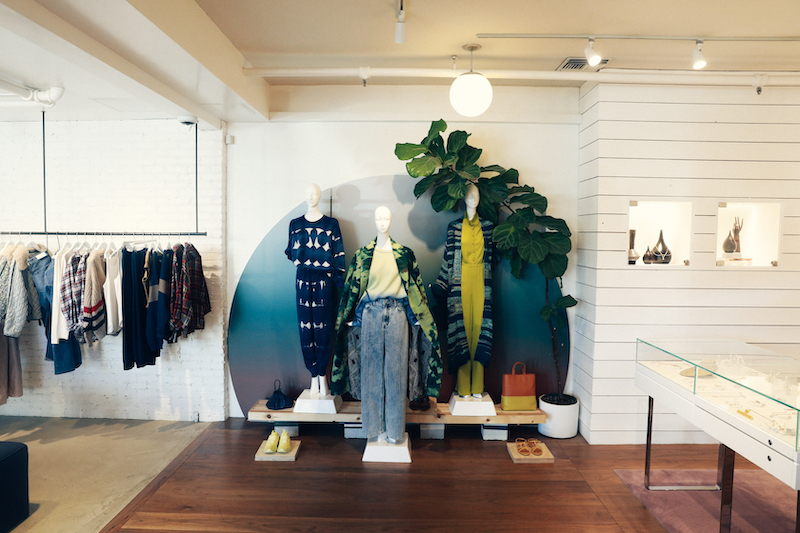 Wacko Soap Plant -> Since 1971, this East Hollywood shop has been a dreamland for on the hunt for eccentric and unique gifts. Here you will find everything here from lava lamps, tiki accessories, books and toys to taxidermy items like an Alligator foot keychain. We are big fans of the blobfish ornament to spruce up any Christmas tree and the alien finger hands make an excellent stocking stuffer. More info here.
Ron Herman -> This year marks the 45th anniversary of Ron Herman. The boutique opened in 1979 offering California-cool meets luxury goods by emerging talents in fashion and design. To celebrate over four decades in business, Ron Herman has released a line of versatile goods inspired by the vibrancy of Los Angeles. Collaborations for the release include BFTL, Ciao Lucia, Frank & Eileen, Free & Easy, M. Cohen, Phipps, Propaganda Agency, Re/Done, RHLA, and Weird Bits. The anniversary collection will be available exclusively at Ron Herman 8100
Melrose and at ronherman.com for a limited time only. More info here.
ROW DTLA -> The thirty-acre center located in the Arts District houses a diverse community of small businesses ranging from clothiers, home design to restaurants and beauty bars. Most of the business are locally founded, and nearly half are women-owned. Below are a few standout stores to check out at ROW DTLA.
The Skirball's Star Trek Pop-Up Shop -> The Skirball Cultural Center's latest Star Trek: Exploring New Worlds exhibit (a must-see in my opinion) also comes with a pop-up gift shop dedicated to all things Trek. From baby bids, to fuzzy Tribbles, a Picard rubbery ducky, to Spock socks with ears there's something from every single series at this store. More info here.
The Los Angeles Public Library Store -> LAPL is always full of wonderful surprises, and the gift shop in at the Central Library branch in DTLA boasts a range of trinkets from local vendors, with profits the Los Angeles Public Library. The online store has dedicated sections like "For The Adventurer" and "For The Artist" to help shoppers find what they're looking for. There's even a section for Los Angeles themed gifts. More info here
Paper Please. -> Chinatown stationery shop Paper Please sells beautiful planners, calendars, holiday cards and writing tools. The store is the perfect place to pick up some stocking stuffers as well as helpful gifts for co workers. More info here
Leanna Lin's Wonderland -> Leanna Lin's Eagle Rock gift shop is stocked with lots of playful items for children and adults. From t-shirts, jewelry, stationery, home decor, dolls and children's books, everything here is created by independent artists. The store also carries cheeky greeting cards and a holiday shop with uber cute ornaments, gift wrapping paper and stocking stuffers. More info here.
CicLAvia Store -> If you're shopping for someone whose all about walkable and bikeable streets, remember that CicLAvia has its own gift shop with T-shirts, hip packs, helmet and more, including several items featuring artist Brian Rea's custom illustration for CicLAvia's 10th anniversary. More info here.
Bunkado -> Open since 1945, Bunkado (which translates to "house of culture") is a kitschy shop in Little Tokyo that sells Japanese gifts, home goods, books, kitchenware, and other knick-knacks. Tokio and Suye Ueyama opened the shop after enduring 40 months in a government-run internment camp during WWII. It remains a family-owned business today. More info here.
LA Meekly's 365 Days of Los Angeles History Calendar -> These L.A. history podcasters recently came out with their very own wall calendar for 2022. The monthly calendar provides a daily dose of L.A. history giving the reader a snippet of what has happened in past every single day. More info here.
Pygymy Hippo Shoppe -> Open since 2010, Pygmy Hippo in the Fairfax District is a store full of vintage curiosities, handmade gifts, and offbeat items that will make you laugh out loud. More info here.
Now Serving -> Help friends and family up their cookbook game. Now Serving in Chinatown is a bookstore completely dedicated to literature on cooking and food. More info here.
Rolling Greens -> For the plant person in your life it's best to head to Rolling Greens to personally select the perfect indoor or outdoor plant as a gift. They also sell gorgeous planters in all shapes and sizes along with other home decor items. Fresh holiday arrangements made to order can be placed at the store's Arrangement Bar as well. More info here.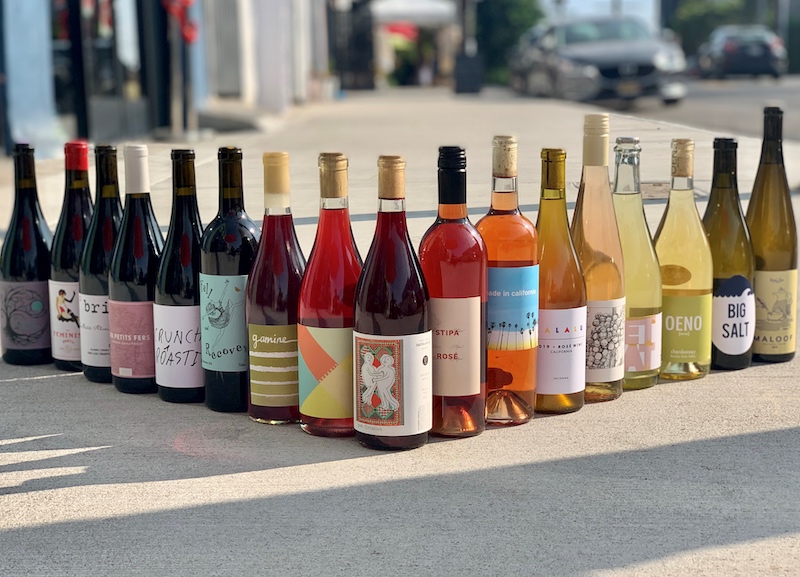 Food and Wine
Fugetsu-Do -> Forget chocolate for 2021. Instead, gift someone a box of freshly made mochi. Family operated since 1903, Fugetsu-Do is the oldest Japanese-American-owned business in the United States and it's right here in our very own Little Tokyo. The shop offers a wide variety of hand-made Japanese confections and a colorful selection of mochi. Some flavors, like cherry blossom and Ichigo Daifuku (mochi topped with a fresh strawberry), are seasonal while chocolate and red bean are always on rotation. A selection of a dozen costs $23.50. More info here.
Vinovore -> A bottle of wine is always a hit during the holidays. Vinovore has a large selection of bottles with an emphasis on women winemakers. It also carries a collection of bar accessories and gift items. Locations include Silverlake and Eagle Rock. More info here.
Flamingo Estate -> For the home cook in your life, consider ordering The Regenerative Farm Box from Flamingo Estate. Box items changes every week and includes Flamingo Estate's own items from their garden, as well as fruit and produce from some of the best local farms across California. Fresh eggs, sweet treats, sauces, spices, breads and more are usually included in the box as well. Boxes can be ordered for delivery once, weekly or every other week. Each box arrives with a set of recipes from local chefs too. Prices run $75 per one-time purchase and $70 per box with subscription. Check out Flamingo Estate's holiday gift guide for more garden inspired goods like soaps, teas, vinegars and jams. More info here.
Todo Verde -> Throughout the years Jocelyn Ramirez has built a loyal following with her phenomenal plant-based Latin American pop-up Todo Verde. For the holidays Todo Verde, has released a non-GMO plant-based seasoning line, that will help you create a classic Mexican dish in just under 30 minutes. Seasonings include Tinga, Carnitas and Al Pastor for $14 each. A bundle of all three can be purchased for $36. More info here.
Say Cheese -> Create a custom gift basket or box at this Silver Lake cheese shop. Build an edible gift with cheese, wine, fruit, crackers and more. Boxes start at $50 and the baskets start at $75. Call the store for all custom orders. More info here.
Valerie's Confections -> One of the best sweet shops in Los Angeles Valerie's Confections award winning chocolates always make a great gift. This year there are over 25 boxed chocolate options to choose from. The Holiday Truffle Assortment box ($60) is a good choice for the season and the Black Sesame Toffee box ($20) is uniquely delicious and would make a fantastic stocking stuffer. More info here.