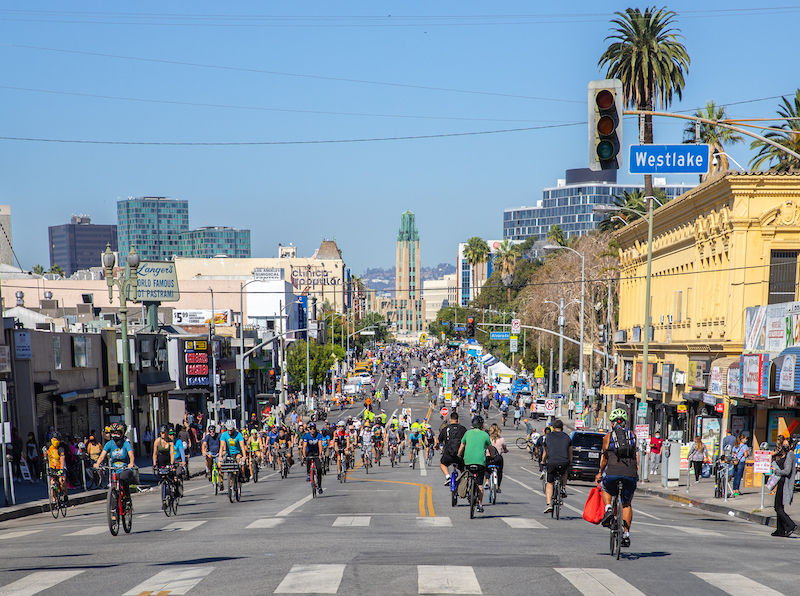 If you commuted in the the fog today and survived, our congratulations. It's never fun driving a car when you can't see more than twenty feet in front. Hopefully the below list will clear things up. Not in the meteorological sense, of course, but at least helping you predict your next three days of social activity. On that note…
This weekend in Los Angeles, from Dec. 3-5, features the L.A. Comic Con, Union Station's holiday festival, Las Posadas in the Park, Yuletide Cinemaland, CicLAvia in South L.A., a Hanukkah Festival at Skirball, and more.
[Remember, if you want to stay connected with our weekly updates, be sure to sign up for the We Like L.A. Newsletter]
Friday / All Weekend
1. L.A. Comic Con -> The annual L.A. Comic Con event plays host to 800+ diverse artists and vendors, selling comics, collectibles, art, toys, apparel, and everything in-between, all hosted at the Los Angeles Convention Center. This year, attendees will get up close and personal with some of the biggest and best names in the entertainment industry with a handpicked selection of panels, events, special exhibits, and meet and greet opportunities. Special guests include Zachary Levi, Ming-Na Wen, Giancarlo Esposito, Bruce Campbell, Nichelle Nichols, Tom Kenny, Tom Welling, and many more. Runs Dec. 3-5. General admission for a one-day pass starts at $35. Three-day and VIP passes also available. More info here.
2. Ginger Minj's Winter Wonderland tour -> Ginger Minj, star of RuPaul's Drag Race, RuPaul's Drag Race All Stars 6, and Netflix's Dumplin' and Super Drags,teams up with her bestie, Gidget Galore in this non-denominational, musical romp through the holidays! Experience all of the nostalgic, wintry, and cozy feels as they create festive magic on-stage. Tickets are $30. More info here.
3. Seaside Cinema -> This weekend, the Seaside Cinema & Santa's Workshop series continues at Loews Santa Monica Beach Hotel with screenings of The Grinch on Friday and A Muppets Christmas Carol on Saturday. Activities also include special culinary treats plus letter writing to Santa for the little ones. Events run from 6 to 8 p.m. The series continues through Dec. 25. More info here.
4. Holiday Tree Lighting at 2ND & PCH -> The annual tree lighting event at 2ND & PCH commences this Friday at 5 p.m., and will be accompanied by a host of family-friendly festivities, including special photo opps, character meet and greets, balloons, face painting and more. A pre-show performance will begin at 5 p.m. and the tree lighting starts around 6 p.m. Free and open to the public. More info here.
5. First Fridays Holiday Market -> Bixby Knolls' monthly First Fridays turns into a holiday market on Dec. 3, offering music, entertainment, artist pop-ups, extended business hours, and even a few appearances from some special holiday characters. More info here.
6. Dodgers Holiday Festival -> Think blue this Christmas season by checking out a new holiday-themed fan fest taking over Dodger Stadium. Guests can explore the newly-renovated Centerfield Plaza and enjoy nightly entertainment options including ice skating rink, light displays, Santa photo-ops, plus holiday-themed treats and drinks. Tickets start at $16. Runs nightly through Dec. 31. More info here.
7. Enchanted Forest of Light -> Descanso Gardens' annual illuminated, night-time experience is now open for the holiday season, offering an array of vibrant light displays and installations over the course of a one-mile walk at the garden grounds. Special for 2021, an entire town of stained glass creations has been erected in the Rose Garden by contemporary sculptor Tom Fruin. Standard tickets run $32-$35, depending on weekday or weekend reservations. Get more info here.
8. LA Zoo Lights -> The L.A. Zoo's signature holiday experience is now open, featuring a plus special attractions including a pop-up storybook, the magical disco ball forest, giant glittering snowflakes, and a twinkling tunnel filled with dynamic swirls of color. Run nightly through Jan. 9, except for closures on Thanksgiving, Christmas Eve, and Christmas Day. Adult tickets start at $22. More info here.
9. Winterlit -> Winterlit transforms the Third Street Promenade into a festive experience featuring tens of thousands of colorful lights, decor and garland, all extending on to 2nd and 4th Streets. illuminating convenient shopping and cozy outdoor dining experiences. More info here.
10. Santa's Speedway -> Now through Jan. 2, the Irwindale Speedway is hosting a nighttime drive-thu experience offering visitors a host of holiday treats for the eyes, including stables filled with illuminated race cars, Christmas Trees and Snowmen made from tires, a 200-foot long illuminated red Christmas bow, plus a massive tree over 100-feet tall, adorned with 100,000 programmable LED lights. Tickets start at $59 per car. More info here.
11. Lightscape at the LA Arboretum -> On Friday, Nov. 12, the LA Arboretum opens an illuminated nighttime attraction for the winter season called Lightscape. The mile-long, self-guided walk features thousands of twinkling lights in various themed attractions including a Winter Cathedral, Star Tunnel and Fire Garden. Adults tickets start at $32. Runs on select nights through Jan 16, 2022. More info here.
12. L.A. Kings Holiday Ice -> The city's largest outdoor ice rink has returned to L.A. LIVE for the holiday season, with daily hours now through Jan. 22. General admission, which includes skate rental, starts at $25 per adult. More info here.
13 The Nutcracker Suite -> The American Contemporary Ballet is performing an immersive, one-of-a-kind version of the Tchaikovsky classic on Thursdays to Sundays through Dec. 24. Tickets cost between $25 to $140. More info here.
14. Snowglobe Groundlings -> The Groundlings' annual holiday show runs on Fridays and Saturdays through Dec. 18. Tickets are $25. More info here.
Saturday
15. Union Station Holiday Festival -> Head to Union Station's South Patio this Saturday for a day-long pop-up artisan marketplace featuring over 30 vendors plus live entertainment, and free kids crafting stations. Runs from 10 a.m. to 5 p.m. More info here.
16. Yuletide Cinemaland -> Street Food Cinema's holiday-themed movie series combines a slate of classic Christmas films with special activities at Heritage Square Museum. Tour Victorian homes, visit with Santa, check out a light tunnel, or sample from on-site food trucks before enjoying the feature presentation. This Saturday the series opens with a screening of Elf. GA tickets start at $40 per person. More info here.
17. A Very Merry Winter Market -> This Saturday, The Typewriter Connection is hosting a special winter market place at As We Dwell in the Arts District. Shoppers can expect unique handmade gifts, original and print artwork artwork, live poetry demonstrations, letterpress arts, a professional gift wrapping station, original and print artwork, handmade gifts, and plenty of vintage typewriters. Free and open to the public. Runs noon to 6 p.m. More info here.
18. Las Posadas in the Park -> This Saturday, The Wall Las Memorias is hosting a special event to celebrate the holiday tradition of Las Posadas in the Park. The afternoon affair will feature free resources, giveaways, raffle prizes, and live music with a L.A.'s own Las Cafeteras. Free to attend. Runs noon to 4 p.m. More info here.
19. FIDM Holiday Market -> FIDM's holiday market provides an a festive open-air atmosphere to showcase special creative products from alumni. Expect live music, food trucks, and free hot cocoa for the first two hours. Runs from 10 a.m. to 2 p.m. Free to attend. More info here.
20. Light Up The World Holiday Concert -> This weekend, Angel City Chorale will perform a pair of holiday concerts at UCLA's Royce Hall featuring a blend of classic songs and newer works. Tickets run between $40-$110. More info here.
21. Meaningless Work, Get To Work -> On Saturday, The Getty hosts an afternoon of contemporary experimental performances featuring musicians, dancers, and artists taking inspiration from the Fluxus art movement of the 1960s, which emphasizes the artistic process over the finished product. No ticketing required, though time-entry reservations to the Getty Center must be made in advance. This event is outdoors. Performances run from 2 to 5 p.m. Parking at The Getty is $20. More info here.
22. Free F45 Training -> This Saturday, Fitness company F45 Training is hosting a special high-intensity group workout right on the Santa Monica Pier. Registration is free, but space is limited, and you must be 18+ to participate. The thirty minute class starts at 8:30 a.m. More info here.
23. French Holiday Market at Coucou –> This Saturday, Coucou Los Angeles (located at 2400 Hyperion in Silver Lake)is hosting a special holiday market featuring French creators offering an assortment of delicacies, home decor, jewelry, accessories, and more. The event will culminate with a traditional French apéro and dance party. Runs from 1 to 6 p.m. If you plan to attend, organizers ask that you RSVP by email to [email protected]. More info here.
24. Hypercars at The Petersen -> The latest exhibit at the Petersen Automotive Museum brings guests into the world of hypercars, the fastest and most exclusive cars money can buy. Over the coming months Hypercars: The Allure of the Extreme will rotate up to 30 vehicles within the exhibit space, with the roster including the Aria FXE concept, Bugatti Veyron 16.4, Caparo T1, Devel Sixteen, Ferrari LaFerrari Aperta, and more. The new exhibit opens this Saturday, Dec. 4. GA tickets to the museum run $17. Get more info here.
25. Come Up Markets at FIGat7th -> Come Up Markets, a marketplace for Black brands, creatives, and entrepreneurs, pops up at FIGat7th in DTLA this Saturday from 10 a.m. to 4 p.m. The event includes a roster of over 50 vendors, including Gilded Grotto, LA RAW, People of Color, and Strange Fame. Free entry with RSVP. Get more info here.
Sunday
26. CicLAvia South L.A. -> This Sunday, Dec. 5, CicLAvia takes up over a 5.5-mile stretch of South L.A. that includes portions of South Central, Exposition Park, Leimert Park and Crenshaw. With the streets closed off to vehicular traffic, guests of all ages can bike, skate, run, walk, or skateboard at their leisure, and check out pop-up activities along the route. Runs from 9 a.m. to 3 p.m. Free and open to the public. More info here.
27. Hanukkah Festival at Skirball -> On Dec. 5, head to the Skirball Cultural Center for an afternoon of music, storytelling, and art-making to celebrate Hanukkah. Adult tickets cost $18. More info here.
28. 2021 Winter Solstice Art Show & Sale-> This Sunday, Dec. 5, the Santa Monica Mountains National Recreation Area hosts a Winter Solstice event at the Satwiwa Native American Indian Culture Center featuring handcrafted art, music, storytelling, dance, and performance. More than a dozen Native American Indian artists will be in attendance to sell artwork reflecting Chumash, Tongva, Wichita, Hupa, Cahuilla, Apache, Kumeyaay, Dine/Navajo, and many other Native cultures. Free to attend. Starts at 10 a.m., and slated to last about five hours. More info here.
29. Shiva Rea Rhythm and Prana Flow -> This Sunday, Arts District immersive space Wisdome LA is hosting an afternoon of transformative yoga, sound, breath work, and movement guided by Shiva Rea, with music by DJ Dragonfly. Guests are invited to tour the Mystic Universe exhibition upon completion of the event. Kicks off at 2 p.m. GA tickets are $45. More info here.
Dining
30. Back Door Dumplings Pop Up -> Back Door Dumplings is popping up at Indie Brewing Company in Boyle Heights on Dec. 4 serving organic eastern european pelmeni dumplings.
31. Toys For Tots & Free Tamales at Chicas Tacos -> This weekend, Chicas Tacos is hosting an ongoing toy drive for the holiday season. Diners can bring an unwrapped toy (or $10 gift card) into the shop's Culver City location on Dec. 4 and receive two tamales for their generosity. The tamales are a collaboration between Chicas chef Eduardo Ruiz and Boyle Heights tamale maker Angeles Lopez.
32. Fred Segal's Holiday Dessert Pop-Up -> Fred Segal is hosting a holiday dessert pop-up at its Sunset flagship location on select weekends this month. Some of Los Angeles' most sought after dessert makers will be featured, view the line up below. The dessert pop-ups will be open Saturdays from 11:00 a.m. to 7:00 p.m., with schedule of participants as follows: Dec. 4 – Giovanni's Tiramisu – LA's famous 37 year-old tiramisu wizard; Dec. 11 – Domi – Modern, asian-inspired desserts founded in NYC by two fine dining pastry chefs; Dec. 18 – Flouring LA – Chef Heather Wong specializes in pastries made only using sustainably sourced, organic ingredients from local farmers and vendors.
33. Eastside Italian Deli Now Open in Los Feliz -> Eastside Italian Deli has expanded into Los Feliz serving their legendary sandwiches to patrons on North Vermont street. Expect the same huge menu of Italian sandwiches being offered in Chinatown, including meatball subs, hot roast beef and pastrami as well as a selection of cold cuts. The new location of Eastside Italian Deli is open Tuesday through Saturday from 10 a.m. to 4 p.m., for now.
34. Major Hanukkah Ice Cream Collab -> Genghis Cohen, Coolhaus and Valerie Confections have joined forces for a Hanukkah ice cream collaboration. The "Gelty Pleasures" features chocolate ganache ice cream with golden shimmer. The limited edition pint is available now through Dec. 6 at Genghis Cohen dine in and to go.
35. Dim Sum for Dinner -> Elite Restaurant in Monterey Park is now offering their dim sum menu during dinner service, items include classics like har gow, pork siu mai, and cheong fun. Evening hours of operation are 5 to 9 p.m. on weekdays and 5 to 10 p.m. on Saturdays and Sundays.
36. New Seafood Items at Toca Madera -> Toca Madera in West Hollywood has added new seafood focused items to their modern coastal Mexican menu. Highlights include the Ceviche Blanco made with wild Chilean sea bass and served with house-made plantain chips; Sashimi Mexicano a combination of wild sashimi-grade ahi tuna, sliced cucumber, radish, avocado, pomegranate seeds, chile de arbol, and leche de tigre; Scallops Amarillo, pan-seared diver scallops, served with ahi amarillo salsa, chimichurri, and lime-roasted pepitas; and a Baja Style Poke.
---
Any notes or corrections? Want to suggest an event we should add to an upcoming list? Hit us up at [email protected].