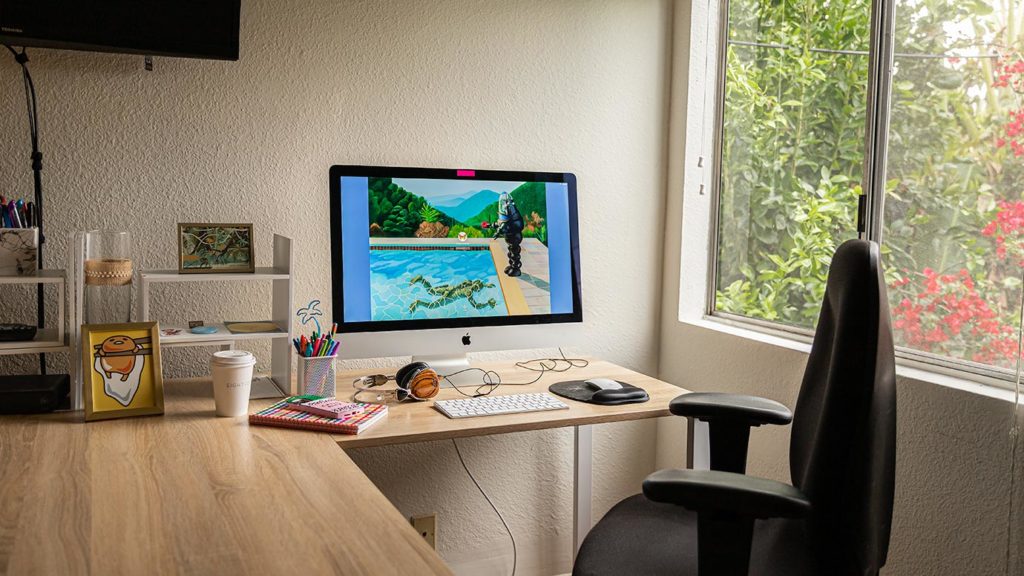 'Safer at Home' means working from home, but everyone's setup is a little different. Some of us have spare bedrooms or nooks to build a true home office. Others improvise, using what's available to adapt to the situation. It could be a couch, a bed, a dining table, or perhaps a stack of unread books that now finally have a purpose (no judgment).
We asked We Like L.A. readers to submit photos and tell us about their unique work-from-home situations. Anything look familiar?
---
Judith Reyes is a high school math teacher. She had one day to get everything she needed from campus to be able to teach from home. Neither Reyes nor her partner (also a teacher) were able to bring home a document camera, so this is how they improvised: a smartphone, a fruit basket, a cutting board, a potato, and a squash. In this photo, Reyes records a video lesson for students while donning a pizza hat and Mathletes T-shirt.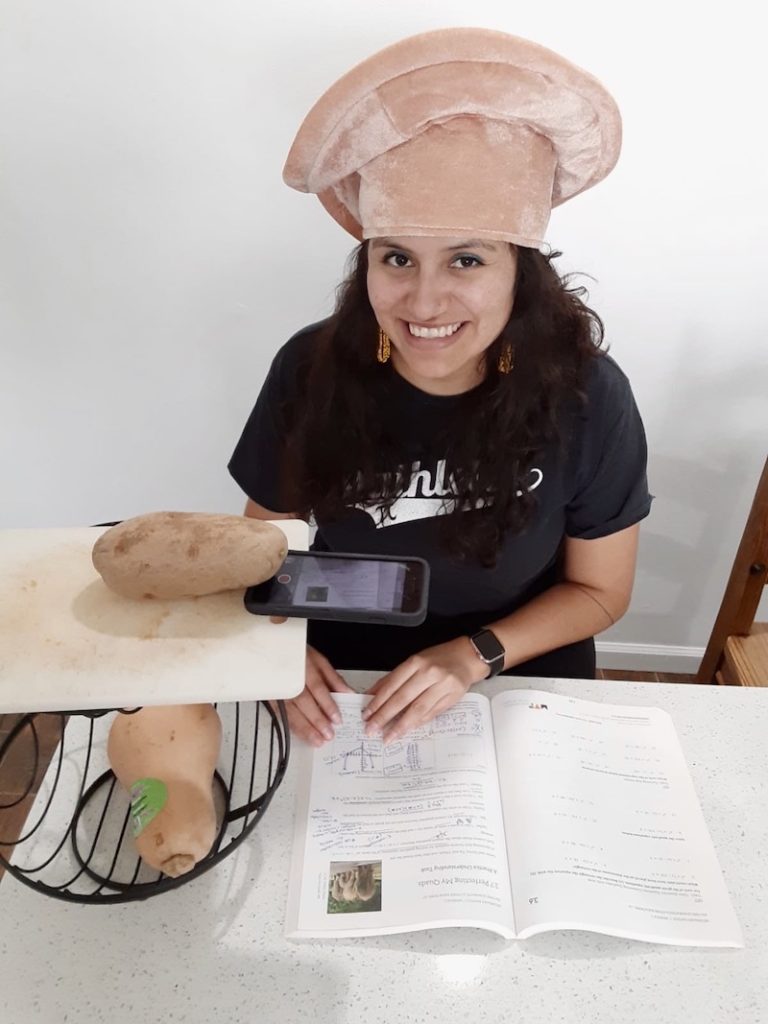 My sister-in-law Brandy is a middle school teacher juggling her students' lessons with her two kids, including my nephew Jack (pictured), while at home in Long Beach. Workspace at the kitchen table is tight.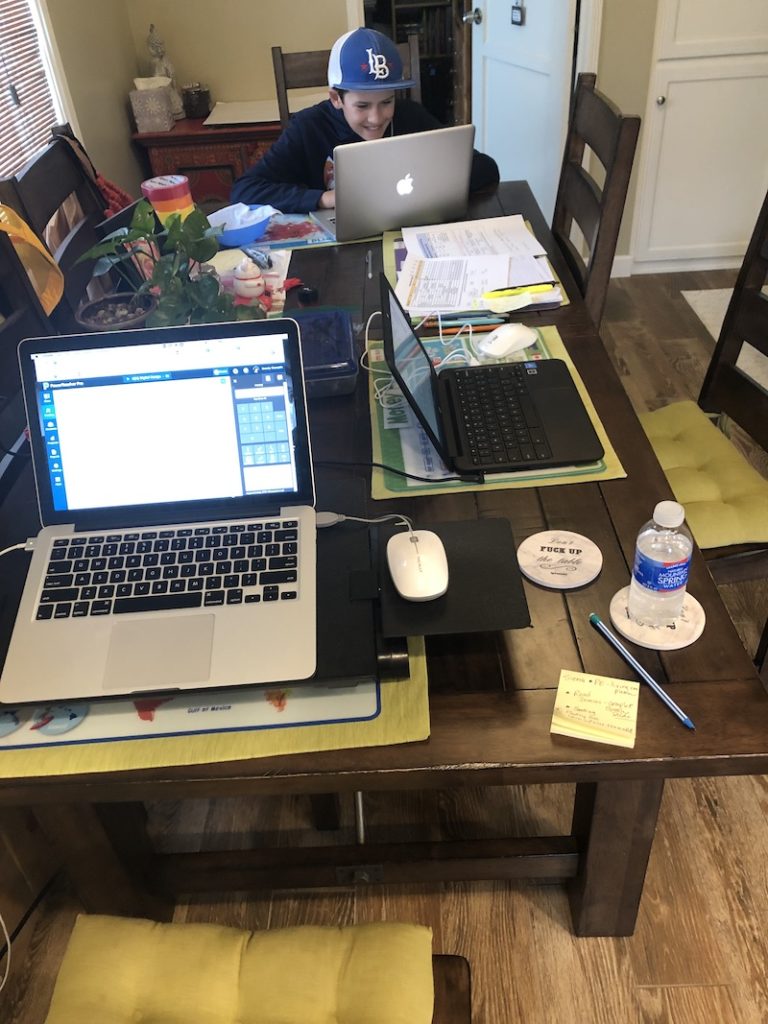 Melissa Curtin video conferences with a student from her couch in Malibu. Looks cozy!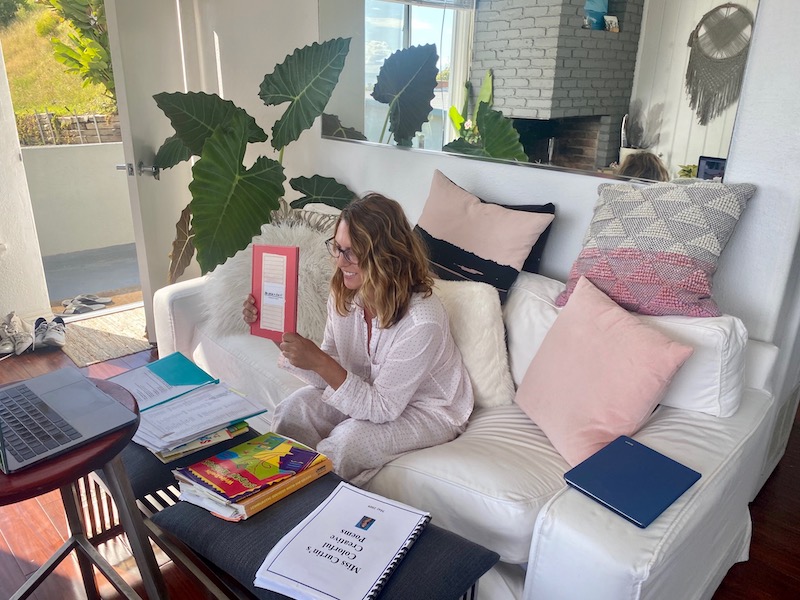 Melissa's husband Mark might have one of the prettiest work-from-home views in all of L.A. County.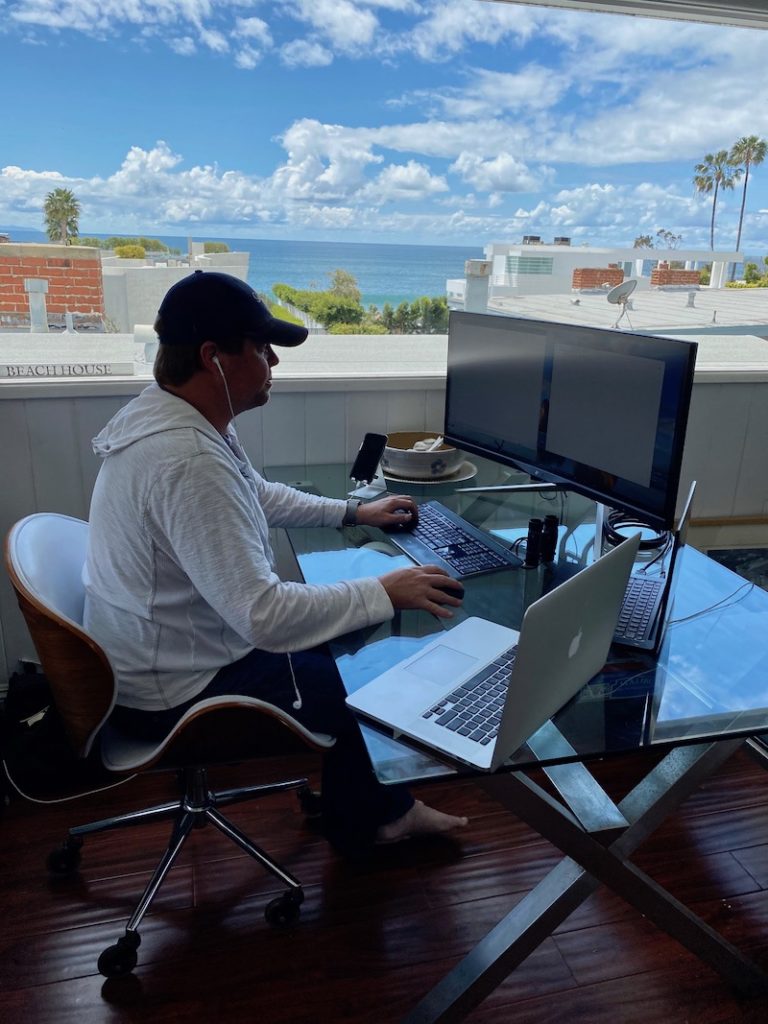 Adrienne Kinsella is in an MFA Program at CSUN, but is unable to access her studio on campus. This is her home setup.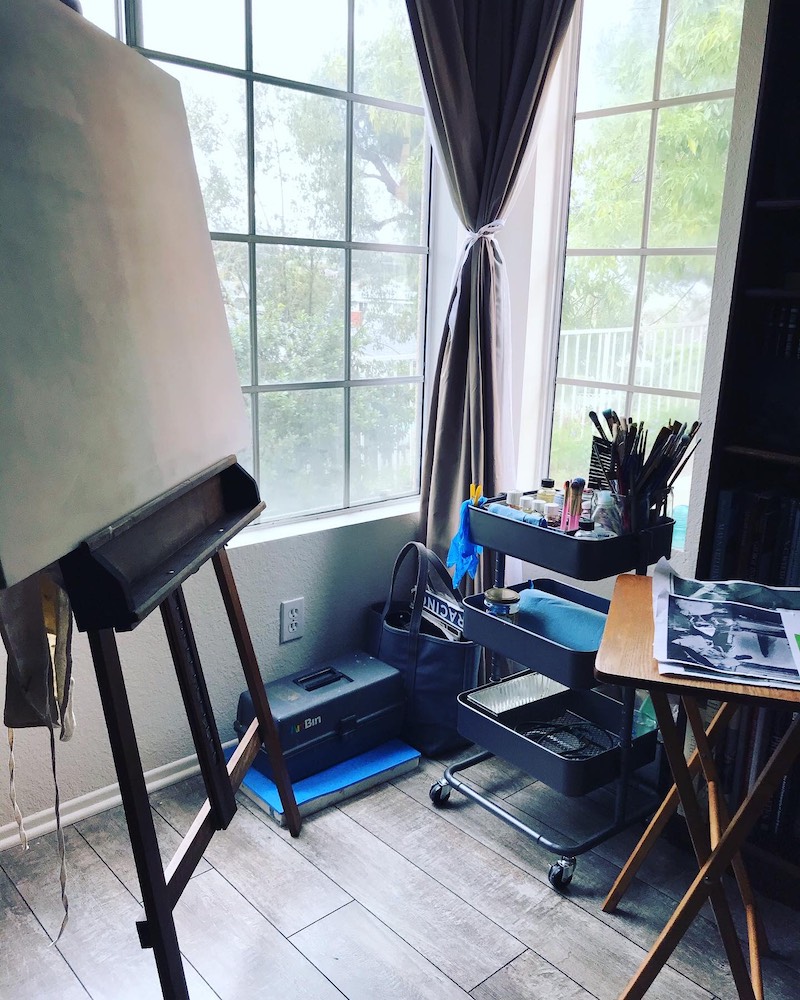 Professional voiceover artist Jenn Wong is set up to deliver broadcast quality recordings.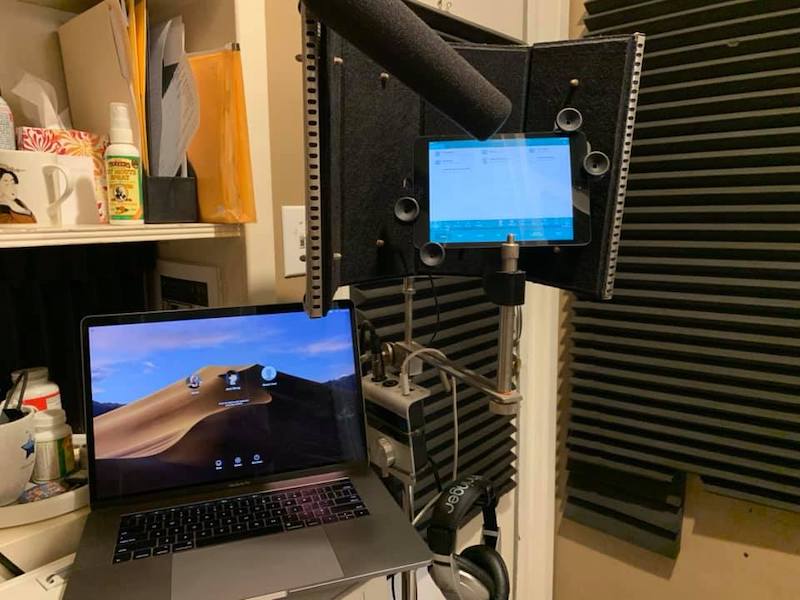 Allison Levine has been working from home for over eight years, but decided to fully redo her office space in November. She finished in January, just in time for the COVID-19 pandemic.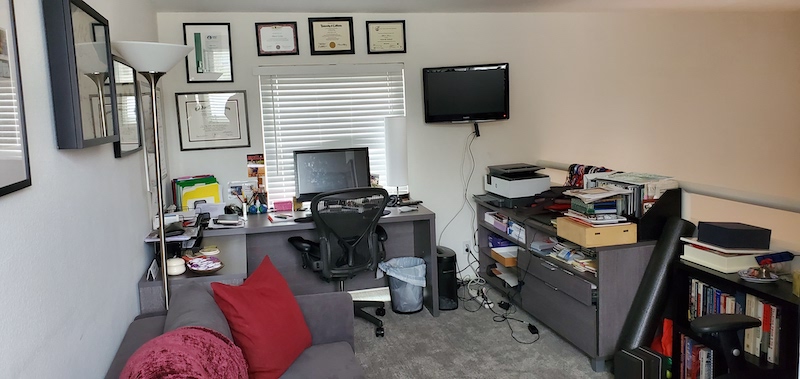 This is my brother Jeff. Clearly his work-from-home philosophy is that shoes and socks are optional, but sock puppets are essential.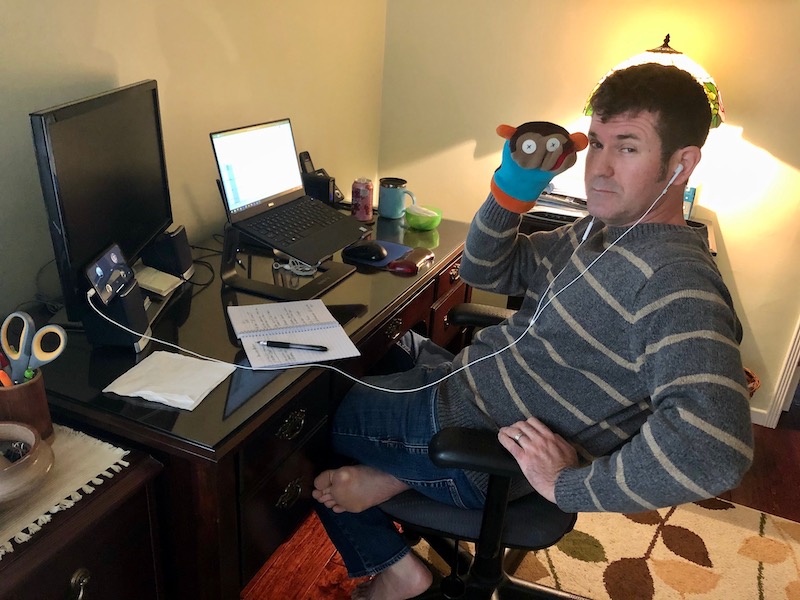 Esther Tseng's workspace includes lots of books, some stylish chairs, and one very chill cat named Rufus.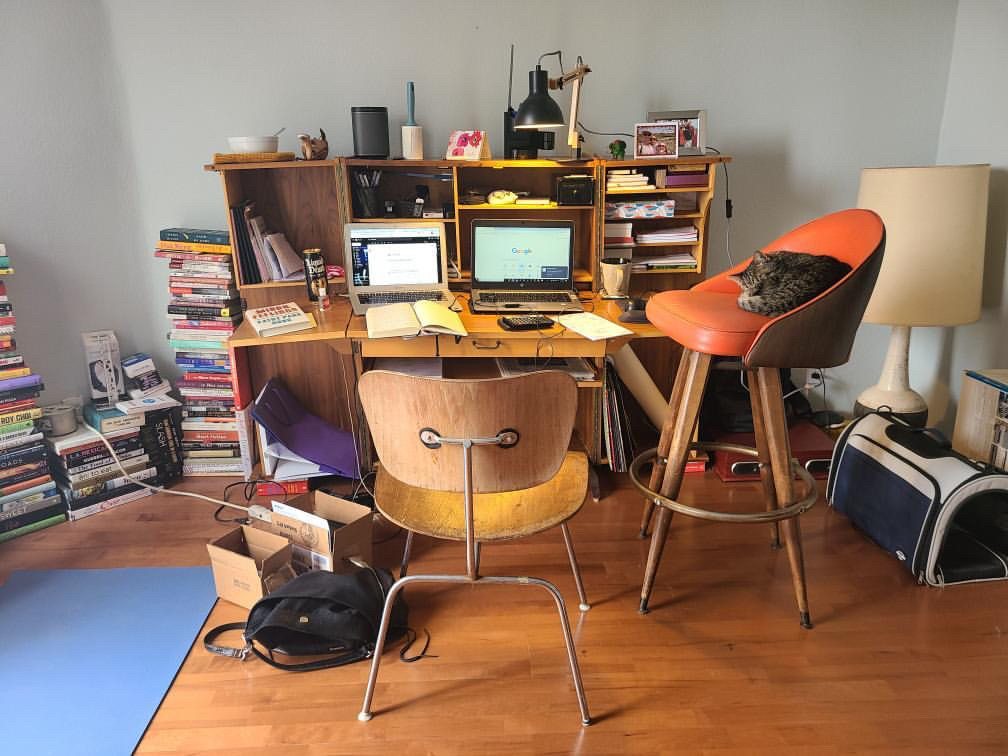 Jeff Heimbuch is a social media manager for a business process outsourcing company. Since the stay-at-home order was announced, he's been working virtually around the clock providing outsourced customer service and social media support for companies around the world. The dog's name is Pickles.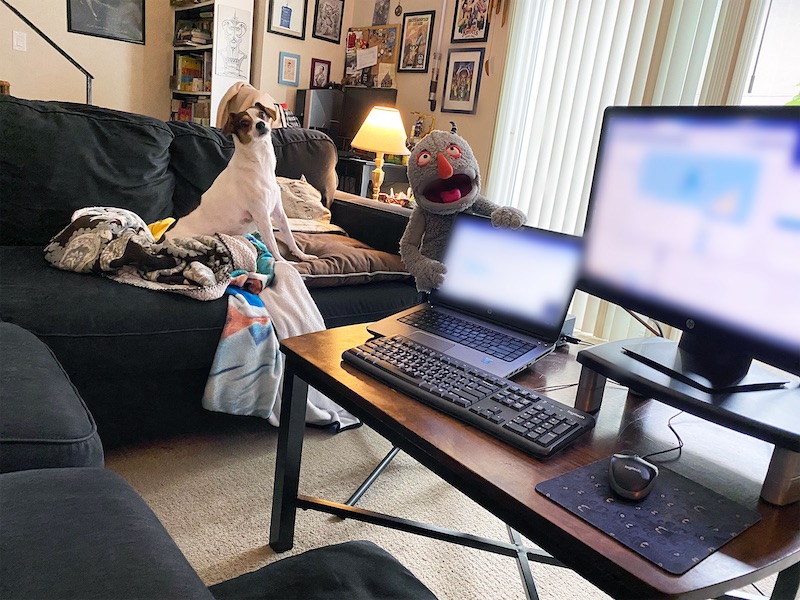 Chris Baker now works in his walk-in closet / office.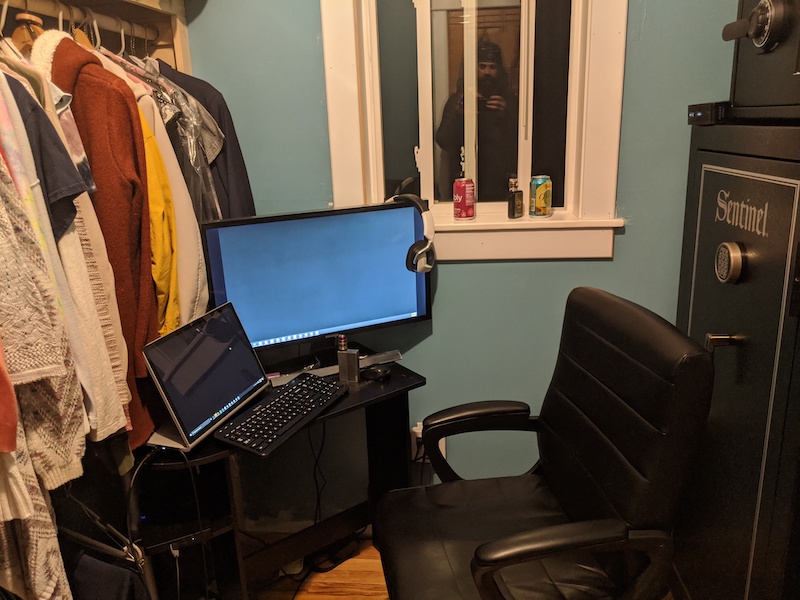 Shaeba Mathew works on her laptop from a backyard swing. Her typical day includes lots of listening to the birds and taking calls .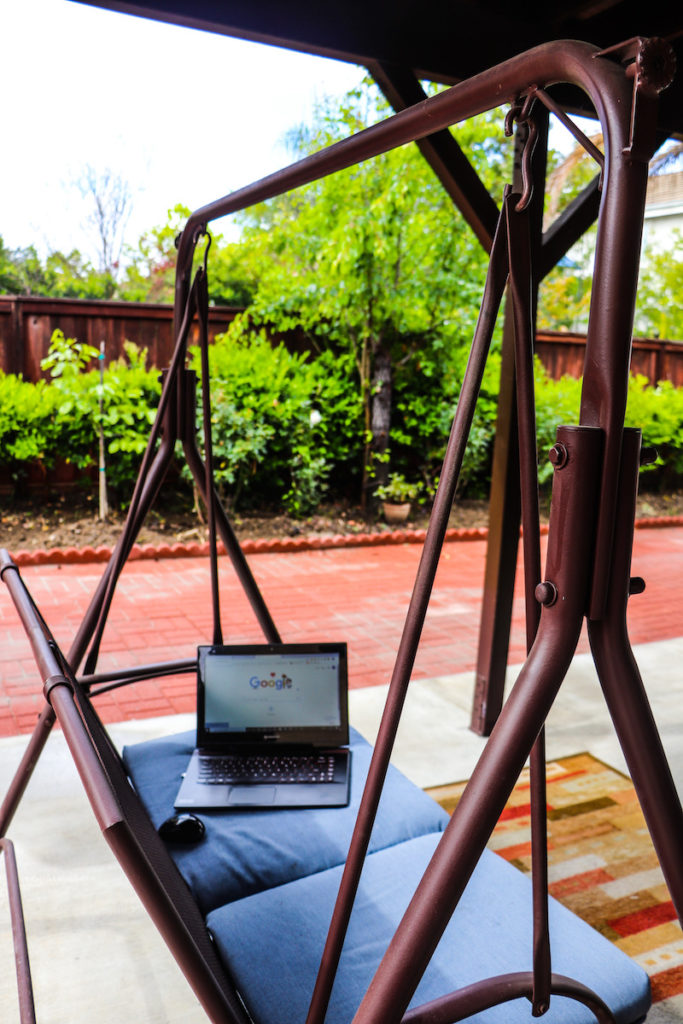 We Like L.A. editor-in-chief Juliet Bennett Rylah is primarily working from bed, though she's almost never without company. (The cat's name is Kasha.)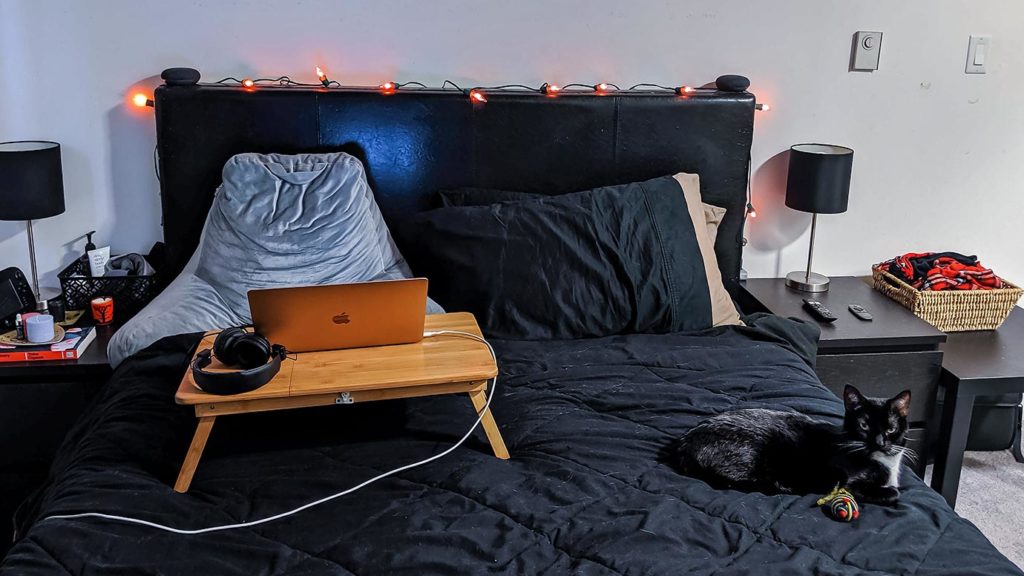 Animal companions can be an essential part of any WFH setup. Sometimes they get a little… nosy.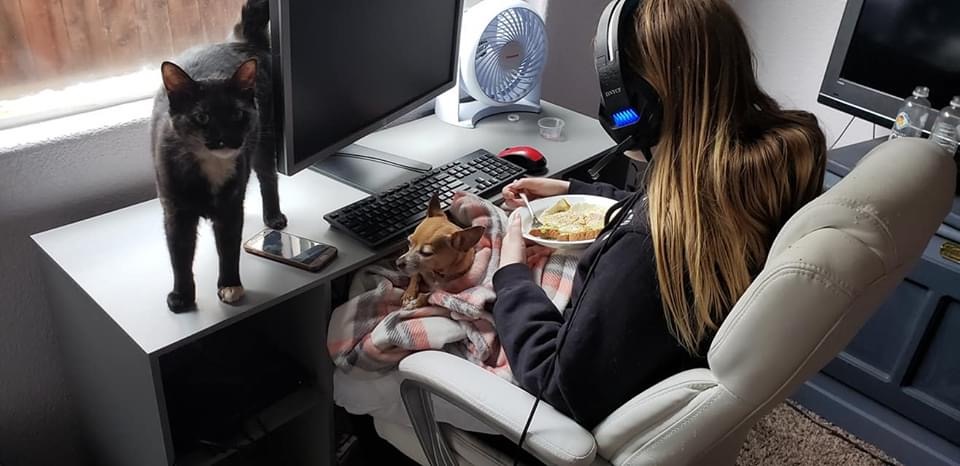 Mother/daugher Coko and Destiny Johnson are big fans of the We Like L.A. newsletter—and also Post-it Notes, it seems. Thanks for reading!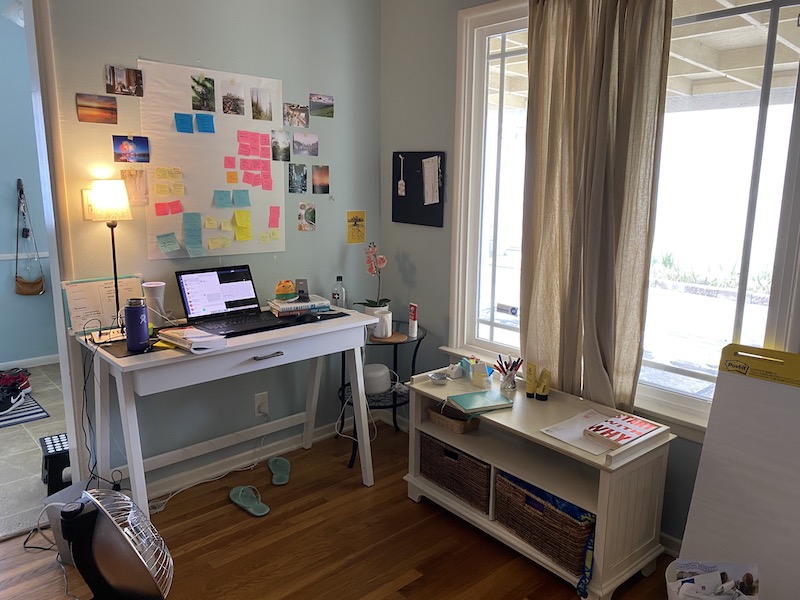 Some setups, like Jessica Mendoza's, are spare and modest: a folding chair, a tray table, and a laptop.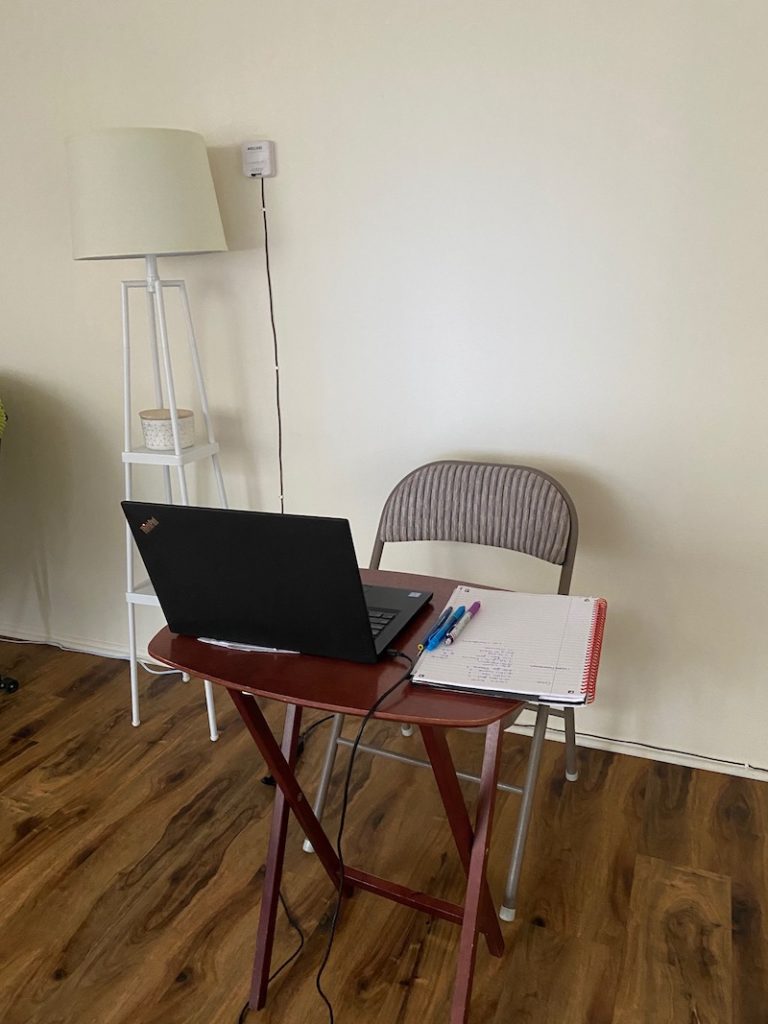 We Like L.A. reader Summer Beaty keeps her dog Zeus close at hand. Or is it the other way around?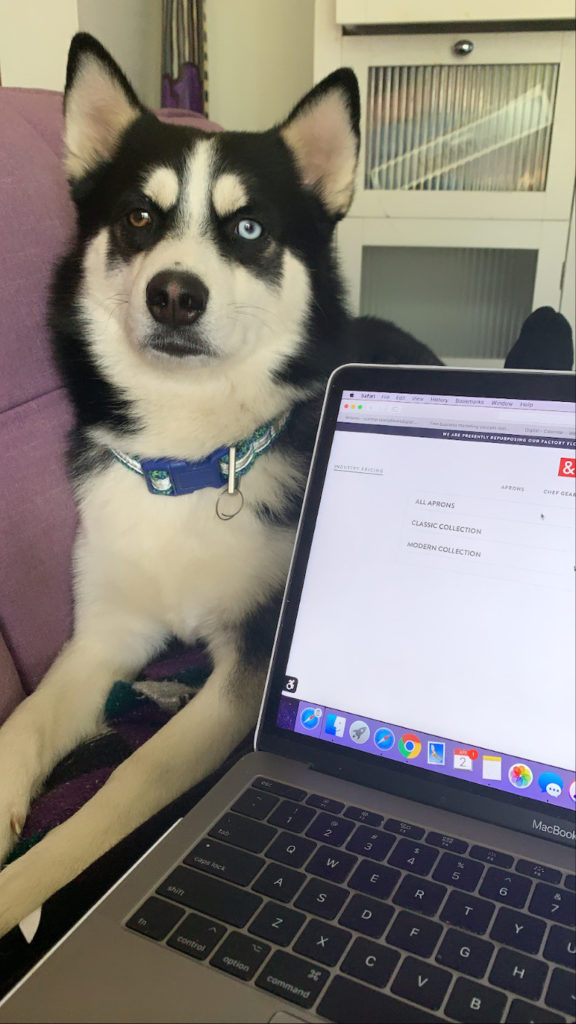 Speaking of dogs, this boy's name is Vin Scully (a perfect L.A. dog name). He's an expert at keeping the chair warm for when his humans return.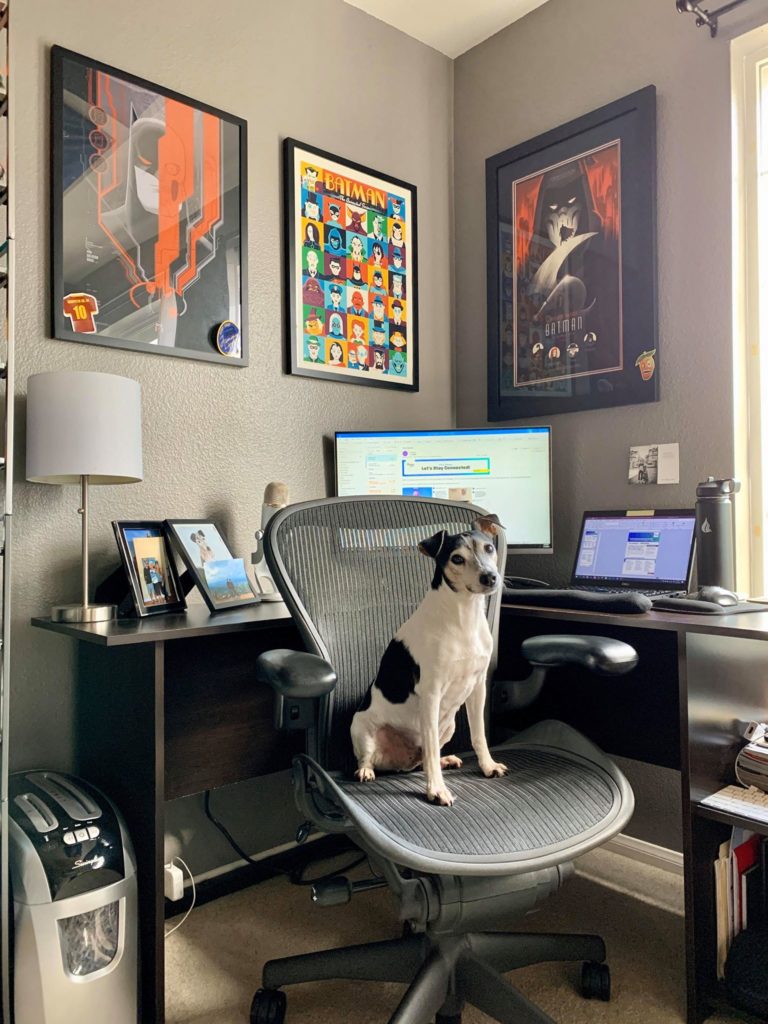 Finally, a look at yours truly's setup. Nothing special.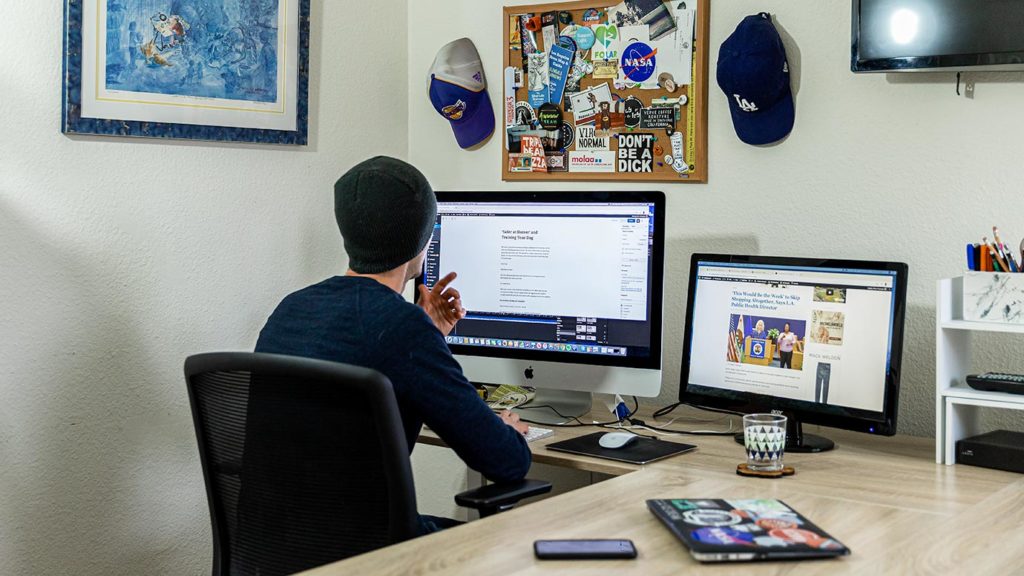 But it helps to have this little guy at my feet at all day.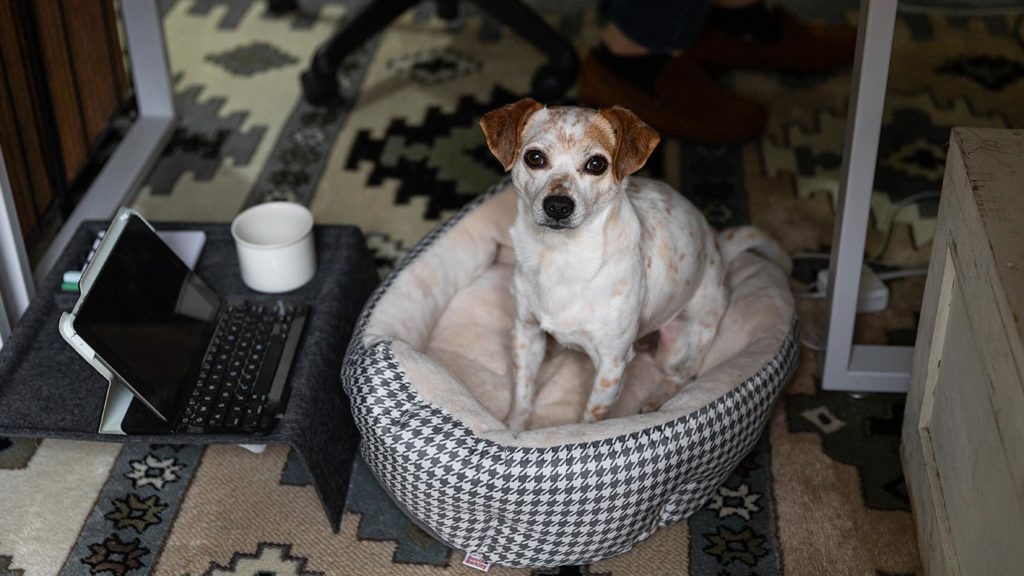 ---
Want to share your unique work from home situation with us? Post your setup to Instagram. Make sure to tag us @welikela and use the hashtag #lahomeoffice.