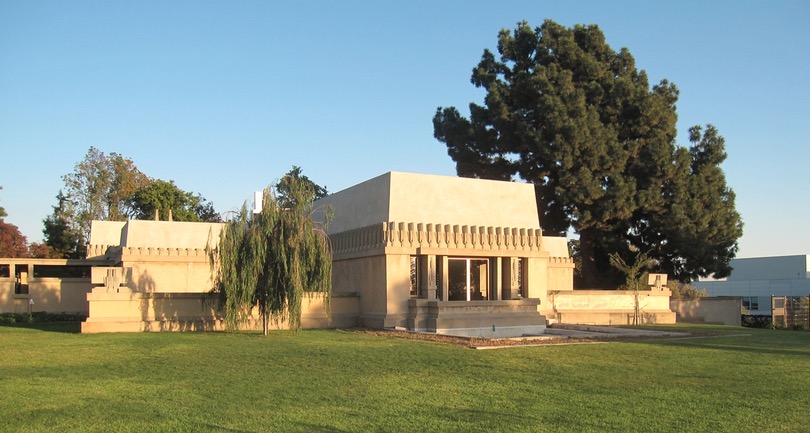 We used to tell you about all the things you could go out and do in Los Angeles on a daily, weekly, and monthly basis. Then, the coronavirus pandemic changed life for all of us, in a thousand small and massive ways. These days, there are no events for us to post about and even if there were, state and county orders prohibit gathering. But, that doesn't mean you can't find entertainment, education, and most importantly, community online. From now on until this whole thing's behind us, we'll be posting virtual things you can do from home every Thursday morning. We hope they keep you busy, make you laugh, teach you something, or help you feel less isolated.
This week, we've got online skin consultations, trivia, puzzle games, garden tours, play readings, a show about whether things are or are not Westerns, and more. Have something you want to submit for next week? Hit us up: [email protected].
1. Take a virtual tour of Frank Lloyd Wright's Hollyhock House. Explore the UNESCO World Heritage Site's unique architectural design, interiors, exteriors, and areas rarely seen by the public.
2. Bob Baker Marionette Theater presents At Home Happiness, a series of online performances and educational videos dedicated to "bring maximum joy to those at home." Tune into their Instagram every Wednesday and Saturday morning at 11:30 a.m. for special puppet numbers. Feeling crafty? Catch a tutorial on how to make your own puppet on the theater's YouTube channel here.
3. The Hammer Museum takes its 30-minute Mindful Awareness Meditation series online via Zoom every Thursday at 12:30 p.m.
4. LeVar Burton of Star Trek and Reading Rainbow fame is now reading stories live on Twitter @levarburton. On Mondays at 9 a.m., he'll read a children's book. On Wednesdays at 3 p.m., he'll move to YA fare. And on Fridays at 6 p.m. he'll read for adults.
5. Check out the Trillerfest, a livestream music festival featuring performances performance by Migos, Marshmello, Pitbull, Snoop Dogg, Wyclef Jean, Kash Doll, and more. It runs April 10-12 on YouTube, and it's free.
6. Alamo Drafthouse now has a virtual cinema, which includes its Terror Tuesdays and Weird Wednesday picks. Current selections include Balloon, Extra Ordinary, The Perfect Nanny, The Whistlers, Wild Goose Lake, and more. Tickets are $7.75 to $12 and a great way to support your local theater while it's closed. They've also got a new movie-themed jigsaw puzzle collection, perfect for these long, at-home weekends.
7. YouTube Originals takes a look back on 20 years of the coolest musical moments that defined Coachella. Premiering Friday, April 10.
8. King Trivia has taken its bar trivia online via Twitch on Wednesday and Sunday evenings at 7 p.m. Though there are no prizes as there's no way to ensure people aren't cheating, there are two raffle giveaways per game. Follow them on Instagram @kingtrivia for updates.
9. Andrea Bocelli will perform live in the empty Duomo cathedral in Milan on Easter Sunday at 1 p.m. ET. Watch live on his YouTube channel here.
10. Radiohead presents the first of several live shows from the Radiohead Public Library, now uploading to Radiohead's YouTube channel. Kicking off the series Thursday, April 9 at 2 p.m. is their October 2000 concert from Live From a Tent In Dublin. The band will be releasing one concert a week until the current shelter in place rules are eased or until they run out of shows.
11. Comedian Amber Rollo hosts Can I Live?, a live standup showcase series on Zoom. The next installment is on April 10 at 9 p.m. ET and features Sydnee Washington, Gabe Pacheco, Kelly Bachman, and Sarah Kennedy. Tickets are $5 and you can get them here.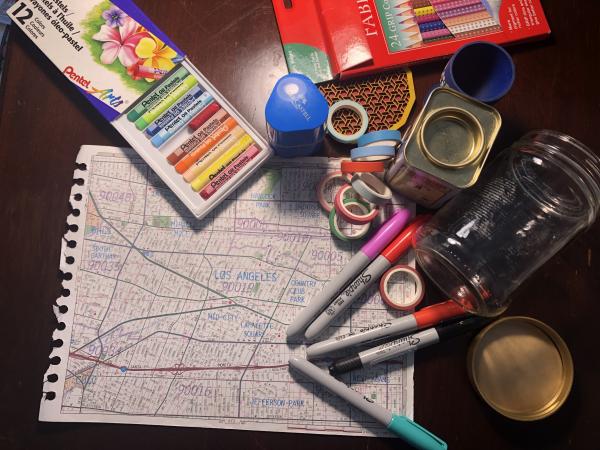 12. This week, LACMA @ Home features a behind-the-scenes look at artist Vera Lutter's camera obscura work and a lesson on how to make your own Julie Mehretu-style art.
13. Though you'll likely be spending your 4/20 at home, those who partake in cannabis may want to tune into Hi Day 2020. Presented by tech startup EventHi, Hi Day features 24 hours of programming including music, yoga, comedy, a history lesson, and a "puff, pass, paint" experience. Hi Day kicks off on April 11 at 4:20 a.m. Tickets are $15 and 20% of proceeds will benefit No Kid Hungry. Ticket holders do not have to watch all 24 hours at once. The content will be available for an entire year for repeat viewing at your leisure.
14. Santa Monica Mountains National Recreation Area has launched SAMOatHome on Facebook Live. Join them for virtual hikes, Ranger programs for kids, and chats with scientists. Virtual events will appear on SAMO's outdoor calendar here. You can also check the hashtag #findyourvirtualpark for more content from National Parks across the country.
15. KatNip Productions presents Blind Love, a three-part interactive, online theater production based on reality dating shows. Participants will assemble on Zoom before embarking on virtual dates with three characters they won't be able to see. At the end of each "episode," guests are free to eliminate one character of their choice, then spend more time chatting with the character(s) they felt the most connection to during the next episode. Blind Love runs April 9-11 at 8 p.m. and 9 p.m. Tickets are pay-what-you-can and available for one-, two-, or three-night runs. (Please note, these are fictitious dates, so just have fun! No need to impress.) 
16. A+P's exhibit Collective Constellation: Selections from the Eileen Harris Norton Collection is now online. The virtual tour features text from Hammer Museum associate curator Erin Christovale. Click on gallery hot spots to zoom in and learn about individual pieces.
17. Follow P-22, our majestic mountain lion friend, on Facebook for daily livestreams that include musical performances, interviews with scientists and Griffith Park experts, art activities, and even a little storytime.
18. Instead of happening at The Virgil, storytelling show/podcast RISK! will stream online Friday, April 10 at 7 p.m on Zoom. RISK! is hosted by Kevin Allison and this week's show features Jana Fisher, Jonathan Bradley Welch, and Dawn Fraser. Tickets are $12.
19. Las Vegas's Mob Museum is now offering virtual tours. Some selections include "Birth of the Mob," "The Mob and Las Vegas," and "The Mob in Politics and Culture." See all offerings here.
20. The Autry's new streaming series Is This a Western? challenges Autry curator Josh Garrett-Davis to find the Western aspects of various films, songs, books, or pop culture references. Submit your challenges to [email protected].
21. Alone Together is a collaborative puzzle game for two or more people that can be played in the same room, over the phone, or online. You'll each need separate screens, as each team will see different information. By communicating what's in front of you, you'll work together to solve puzzles, crack codes, and ultimately win the game.
22. Your Late Night Show Tonight! airs on Twitch on Friday, April 10 at 10:30 p.m. Hosted by Jerry Minor (SNL, Mr. Show), this week's show features guest Jerry O'Connell (Stand by Me, Sliders). Shows are pay-what-you-can via Venmo and are available on the Pack Theater's Twitch here.
23. Beauty brand Youth to the People is offering free, 15-minute skin consultations online. The brand's skincare experts will answer questions about your skin type, skincare routine, and more. Sign up here.
24. Sound artist Alan Nakagawa is making a sound collage about current times comprised of haikus. To participate, write and record a haiku about what you're going through now and send it to the Orange County Museum of Art by April 16 at 11:59 p.m. here: [email protected]. Please include your typed poem and an .mp3 recording. As a reminder, haikus consists of three lines with five syllables in the first, seven syllables in the second, and five syllables in the third. Nakagawa and OCMA will release the collage on Thursday, April 23.
25. Dynasty Typewriter is one of our favorite venues and, like everything else, it's also closed. To support them during this time, you can shop their new line of social distancing merchandise or check out the venue's YouTube channel for online shows and livestreams.
26. The Broad's exhibit George Condo: Drawings for Distanced Figures is now online. Check it out here.
27. Composer and meditation expert Murray Hidary is leading two MindTravel meditation sessions on Instagram. Join on Friday, April 10 at 2 p.m. or Saturday, April 11 at 3 p.m. Participants are invited to quietly walk throughout their own neighborhoods (while social distancing, of course) during this peaceful guided meditation experience.
28. Astrologer and women's empowerment coach Natalia Benson is hosting 10-minute morning rituals on Instagram Live daily at 9 p.m. through April 11. Find her here.
29. Zócalo Public Square's next streaming event is How Can We Make Farm Work Healthier? Panel participants include organic farmer and artist Nikiko Masumoto, Huron Mayor Rey León, health researcher Chia Thao, news director Alice Daniel, and medical sociologist Tania Pacheco-Werner. Join online Tuesday, April 14 at 6:30 p.m. RSVP here.
30. Coursehorse has several online classes available, including various career skills, how to read tarot, cooking, art, music, and more. Check out the full list of virtual classes here.
31. Listen to Henry Rollins's new long-form radio show, The Cool Quarantine. The first four-hour show consists of personal stories and music, including live Cramps bootlegs and audio from an original Joy Division pressing. Available on KCRW.com and on the station's app.
32. Go on a virtual tour of Descanso Gardens' blooming lilacs while the grounds are closed to the public with Garden Records Coordinator Roy Jenkins.
33. Cayton Children's Museum is offering Cayton Recess, a virtual programming series every weekday at 11 a.m. and 3 p.m. Drop by on Instagram for music, storytime, art demos, and more. Join live here or check out the videos at any time on YouTube.
34. The Second City is offering live streaming comedy performances on Zoom here. Check Instagram for future show details. You can also find several classes online, too, starting at $25.
35. Clean beauty retailer Credo is hosting Instagram Live Master Classes. Learn about skincare, makeup application, and more from beauty and wellness experts. The next class is on Friday, April 10 at 4 p.m. It's a virtual happy hour with Kosas founder Sheena Yaitanes. Check @credobeauty on Instagram for details.
36. AFI Movie Club is a new online program where guests can watch a movie of the day accompanied by fun facts, discussion ideas, and other materials. Afterward, viewers are invited to discuss the film using the hashtag #AFIMovieClub.
37. Refinery29 and Comedy Central announced two new YouTube Shows. CC x R29: Taking the Stage features stand-up comedy from a lineup of women comics while CC x R29: Speak Up features interviews with those stand-ups. Performers include Jena Friedman, Kat Radley, Ayo Edebiri, and more. Episodes drop throughout April. Check out the first with Tien Tran here.
38. Check out the Downtown Santa Monica Self-Care Club, a list of online fitness classes, yoga, meditation sessions, and more. Choices include salsa lessons from The Studio Corazon and sound baths with Be Crystal Clear.
39. Ben Gibbard of Death Cab for Cutie and Postal Service fame will perform livestreamed solo sets from his home studio with cameos from virtual guests. They air on Thursdays at 6 p.m. on Facebook Live.
40. LA Phil presents a new series, At Home with Gustavo. In each episode, conductor Gustavo Dudamel will share curated musical selections alongside his own reflections. The series will air on both KUSC and online. Find more details here.
41. Mortified, the show where guests share the most embarrassing stories of their childhoods, is going online. This episode's theme is "Quaran-teen Angst." Join them on Zoom on Saturday, April 11 at 7 p.m. It's free to drop in and you might get a chance to participate in the Q&A afterward.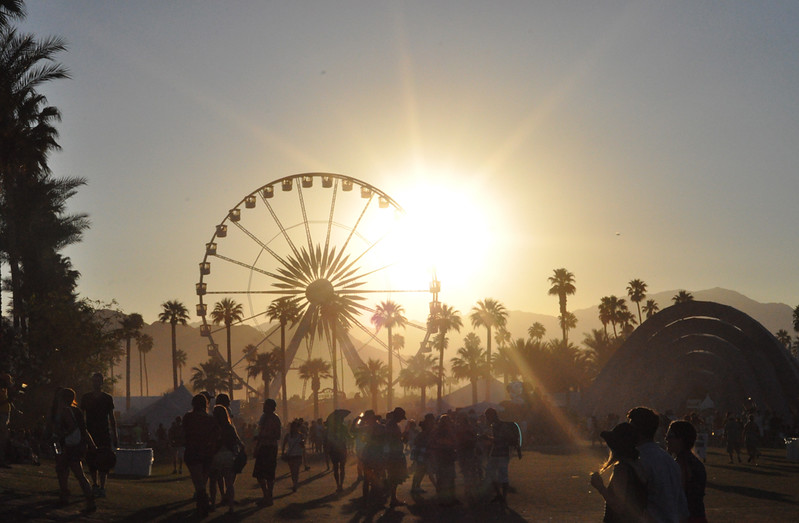 42. Instead of actually kicking off, Coachella will premiere a documentary, Coachella: 20 Years in the Desert, on April 10 at noon. You can watch it here, which may hold ticket holders over until the postponed festival hopefully happens in October.
43. The UnCancelled Music Festival brings together musicians, fans, and venues for a virtual concert experience every day until the crisis subsides. Fans can purchase pay-what-you-want tickets for each show and tip the performing artists and venues in real-time to help sustain the music industry during the coronavirus shutdowns.
44. Every weekday at 2 p.m., Art Share L.A. will host a live, 20-minute performance from a different artist. To see the complete schedule, click here. To access the livestream, go to Zoom here and use the password artshare. Art Share is also launching a virtual gallery. Every weekday at 10 a.m., they'll offer a prompt. Create your own artwork using the prompt as inspiration, then post it to Instagram or Instagram Stories using the hashtag #artsharevirtualgallery any time before 10 p.m. Art Share will post a collection of submissions to its Instagram @artshare_la.
45. Before staff left to follow L.A.'s Safer at Home order, The Getty Center staff shot some video of the museum's exhibit Michelangelo: Mind of the Master. See the first one here.
46. Comedy Quarantine is a free nightly comedy livestream. See tonight's schedule on Instagram @comedyquarantine.
47. The Boca Raton Museum of Art is offering Keep Kids Smart with Art, a variety of free children's activities on Facebook and Instagram. See more info here.
48. Go on a virtual tour of the Egyptian Theater with Chief Projectionist Benjamin Tucker.
49. Quaranteam is an interactive web series about what a lot of us are doing right now: working from home. Participants are recent hires at a failing RFID solutions company, currently interacting online through Slack and Zoom. Can you save help save the company? Interactivity depends on the ticket you purchase, which starts at $6-$20 per episode. The first Zoom meeting is on April 10. Tickets are available here.
50. Eatz is hosting virtual cooking classes on Zoom. Upcoming themes include rustic cooking, gnocchi, pizza from scratch, and more. See the schedule and sign up here.
51. L.A. Theater Works has several plays and radio dramas available for streaming, including The Importance of Being Earnest, The Graduate, Park Your Car in Harvard Yard, and more. Check it out here.
52. A Faery Hunt typically offers live, interactive shows for children. Now, the company is offering virtual visits and parties for all the kids out of school. Parents can book 5-minute, half-hour, and hour sessions with storytelling, games, songs, and activities. See more here.
Even more at-home ideas:
Remember that if you want updates sent straight to your inbox, you can sign up for the We Like L.A. email newsletter.