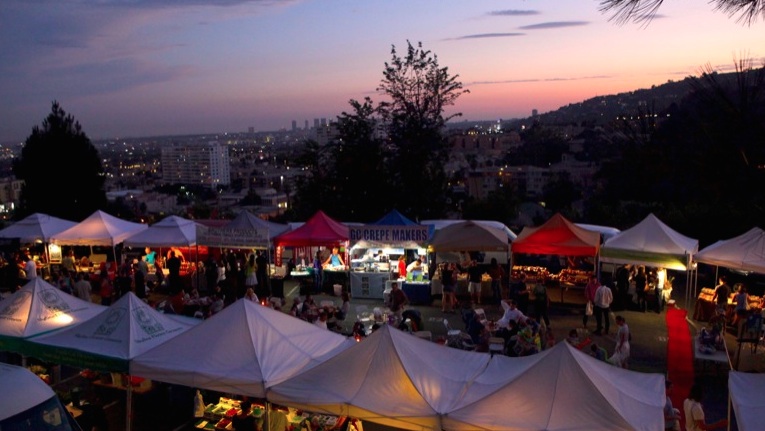 It's not often you can say the best thing about a farmers market is the view but in the case of the nighttime market held during the summers at Yamashiro's, it's 100% accurate.
Located on a hill 300 feet above the city of Hollywood, the Yamashiro restaurant regularly provides one of the most romantic dining ambiences in Los Angeles. During the summers, organizers take advantage of the scenery to put on a pretty kick-ass little farmers market.
Seeking to curb your appetite? Some of the food trucks and vendors you'll find there include Coolhaus, Heirloom LA, Sausage Master, Longshot Espresso, Flat Iron Grill, GC Crepe Makers, and Urban Pie.
If you're looking to relax and just people-watch while enjoying a beverage, the Pagoda bar underneath and adjacent to the restaurant is also open to passers-by during the event. Just consider yourself extremely lucky if you're actually able to snag any of the seating.
Cool as it is, if there is any downside, it's that the "farmers" part of this farmers market isn't necessary top shelf. You may only find a very small number of stands (there are three official farmer vendors listed) actually selling fresh fruit and veggies, but truth be told if you're planning to come to a farmers market on a Thursday evening, you're probably doing it more for social reasons anyway.
[Photo Credit: lacityfarm.com]
Things You Should Know
– Runs during summers only. For 2014 it's from May 22nd through September 4th.
– Fantastic date spot, due to low cost, and plenty to see, try, and taste.
– Don't expect to be overwhelmed by the produce.
– Parking $2 at Mosaic Church and $8 at Yamashiro for families with children.
– Mosaic Church is at 7107 Hollywood Blvd on the corner of La Brea Ave. and Hollywood Blvd. Entrance to the parking lot is on La Brea Ave. Shuttles run every 15 minutes from 5 pm until 9:30 pm.
Location and Hours
Thursdays 5pm to 9pm
1999 N. Sycamore Ave.
Los Angeles, CA 90068
For further details contact: info@lacityfarm.com
---
The Best Things to do in L.A., straight to your inbox! Sign Up For Our Email List And You Receive...
- Two emails a week, Monday AM and Thursday AM.
- Monday: The best of the week ahead. 30+ ideas.
- Thursday: What to do this weekend. 30+ ideas.
- Occasional emails with special offers and messages from promotional parters.
- Optional emails for daily to-dos, travel tips, food recommendations, and deals.
Basically, just think of us as your friend making some fun suggestions for what you might like to check out this day or week or month in L.A. Sign-up in the form below to join over 66,000 Angelenos who already subscribe!
NOTE:
If you already receive our weekly newsletter and want to update which additional emails you receive, simply click 'update subscription preferences' in any email we've sent you to change your subscription settings. Remember, per our 
privacy policy
, we respect the fact that you're trusting us with your personal info and will never share your email information.
---