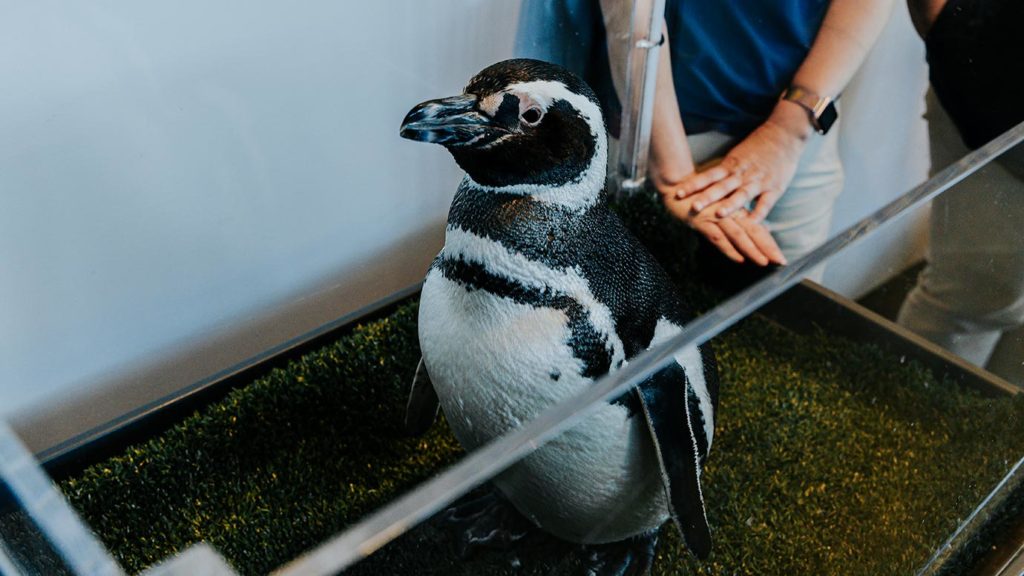 Let's face it. We need mood-boosting animal entertainment now more than ever. Long before "sheltering in place" became a thing due to COVID-19, most of us were happily tapping our screens, laughing at hilarious dogs and other animals living out their best lives on the internet.
Consider turning to animals once again to alleviate boredom, anxiety, and even loneliness. For what it's worth, these animals live with zero awareness of what we humans are going through, which is a nice distraction for the time being.
Below are some awesome zoos and aquariums keeping curiosity alive by offering live cameras, social media videos, and more for the public's viewing pleasure. Check out heartwarming clips like penguins roaming free and exploring fellow ocean friends. Get an up-close look at the genuine reactions of a curious Patagonian mara interacting with otters and meerkats. Above all, thank these institutions for finding creative ways to bring nature to us all online!
The San Diego Zoo livestreams 10 of its zoo sites, including koalas, baboons, and polar bears. Panda fans can also enjoy archival footage of Bai Yun and Xiao Liwu recorded January through April 2019. The zoo also hosts special livestreams on its Facebook page.
The Aquarium of the Pacific in Long Beach has both on-demand videos and scheduled interactive live programming. Visit its Aquarium Academy page for all the latest content and livestream dates.
The rockhopper penguins of Shedd Aquarium in Chicago have become viral superstars while touring the aquarium they call home. Stay up-to-date on what the penguins and other animals are up to on Shedd's Facebook, Instagram, and Twitter pages.
The Cincinnati Zoo is streaming a different animal every day. Tune in on Facebook Live at 3 p.m. EST.
The Houston Zoo offers six live streams where viewers can move the camera with a button in the lower-right corner of the screen. It can be a bit glitchy and you may have to wait your turn with the rest of the internet. Either way, it's still fun!
Smithsonian's National Zoo in Washington has 24-hour webcams available for its giant pandas, lions, elephants, and naked mole rats.
The National Aquarium in Baltimore offers three livestreams to the public. Blacktip Reef, Pacific Coral Reef, and Jellies Invasion go live during opening hours while previously recorded livestreams play after hours.
Fort Worth Zoo in Texas is sharing both educational and entertaining videos of its animals on Instagram, Twitter, and Facebook. One standout character is Hector, a Patagonian mara. So far, he's made friends with three river otters and a family of meerkats.
The Georgia Aquarium in Atlanta offers a variety of 24-hour livestreams, including belugas, whale sharks, piranhas, and more.
Wild Earth on Twitch hosts daily safari livestreams from South Africa during sunrise and sunset.
EarthCam has teamed up with The Miami-Dade Zoological Park and Gardens for a close-up look at the zoo's meerkat habitat.
Vancouver Aquarium offers four live cams to the public. This includes sea otters, an underwater otter cam, jellyfish, and penguins.
Elmwood Park Zoo in Pennsylvania is offering "Zoo School" on Facebook Live weekdays at 11 a.m. EST to educate kids about wildlife.
Monterey Bay Aquarium in California has 10 live webcams set up. Each cam is designed to go live at a certain time and re-runs play during down hours. Check out the 1 million-gallon Open Sea exhibit cam for one of the most diverse colonies of open-ocean animals found in an aquarium.
It's a penguin party over at Penguin & Puffin Coast at the St. Louis Zoo. The live cam happens every day from 9 a.m. to 5 p.m. CDT. Afterward, the zoo will air previously recorded footage.
The Melbourne Zoo and Werribee Open Range Zoo are livestreaming their snow leopards, zebras, lions and more.
Bonus! Visit explore.org to find an array of live animal cams from all over the world, including South African elephants, newborn puppies, and fluffy rescue kittens.