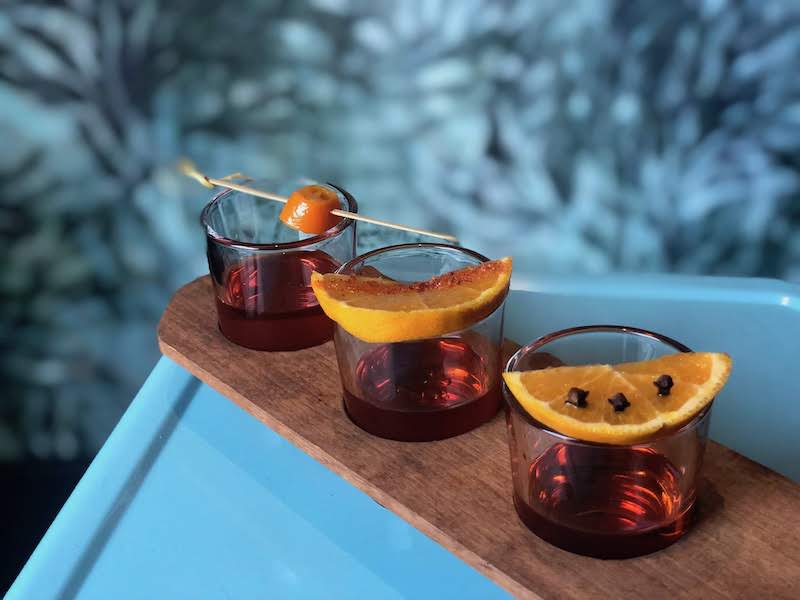 This week a 100-year old cocktail takes center stage as the city of Los Angeles celebrates Negroni Week from June 24-30. Starting today, bars from around the city will put their best spin on the cocktail for the public to taste and will donate a portion of the sales to a charity of their choice.
Traditionally, three key ingredients form the basis of a Negroni: Campari, gin and vermouth. This week's specialty drinks run the gamut from a Spaghetti Western cocktail featuring a Spanish at Salazar brandy to coconut-forward libations from Accomplice Bar and NoMad hotel. And that's just scratching the surface of this week's offerings.
Presented by Imbibe Magazine and Campari, Negroni Week started in 2013 as a way to celebrate the classic cocktail while raising money for charities around the world. Today close to 10,000 establishments have collectively raised about $2 million for multiple charitable causes.
Make a contribution by participating at the following locations in Los Angeles below. Cheers!
10 Spots in L.A. for Negroni Week
1. The Mermaid has crafted up a Mini Negroni Trio Flight for $15. A portion of the proceeds of each flight sold will go directly to Restaurant Workers' Community Foundation. See the flight information below.
Star-Oni: A citrus Negroni featuring Spirit Guild Distillery Astral Gin with kumquat shrub and a pickled kumquat.
Mezcal-Oni: A mezcal Negroni featuring Gem & Bolt Mezcal, with orange and sal de gusano.
Spirit-Oni: A spiced Negroni featuring Stark Spirits Dragon Gin, with a 5 spice syrup.
2. Accomplice Bar will feature three Negroni variations. A portion of the proceeds from each drink will go to Water For People.
The Red Eye Randy: A coffee cocktail featuring Wild Turkey Rye, Mr. Black Coffee Liqueur, Campari, and Amber Vermouth.
The Armed Strawberry: Made with house-infused strawberry gin, Bianco Vermouth, Aperol, and saline solution. Paired with mochi topped with macerated strawberries.
Mermaid Vibes: Made of gin, dry vermouth, coconut rum, Luxardo Bitter, and saline. Paired with mochi dusted in coconut flakes.
3. Atrium will offer up the Livin' Loose made with Yuste Amontillado, Dolin Dry, Krogstad Aquavit, and Ventura Strawberry Brandy, served in a rocks glass with a grapefruit peel. A portion of their proceeds from the drink sale will go to charity partner Mercy Corps.
4. Salazar will raise money for the animal charity Muttsville with two promotional drinks.
Spaghetti Western: Made with Western Grace Brandy (a spanish brandy finished with tequila staves), Sierra Norte Mexican Black Corn Whiskey, Carpano Antica, Campari, garnished with Italian herbs.
Sotol Negroni: Made of Sotol, Carpano Antica, Campari garnished with a blood orange slice.
5. sixth + mill will offer a Negroni called The Independents made of Astral Pacific Gin, St Agrestis Inferno Aperitivo Bitter, Lo-Fi Aperitifs Sweet Vermouth, served on a big rock in a rocks glass topped with an orange slice. A portion of the drink sales will go to Restaurant Workers' Community Foundation.
6. BRERA Ristorante will offer a summer inspired Negroni called Fellini made of Malfy Lemon Gin, Lo-Fi Aperitifs Gentian Aperitivo, Dolin Rouge Vermouth served on a big rock in a rocks glass with an orange twist. A portion of the drink sale will go to Water For People.
7. Baltaire will offer a Kokomo Negroni made of Hennessey VSOP, toasted coconut, an aperitivo blend, amaro nonino and tiki bitters. A portion of the proceeds will go to Water For People.
8. In honor of Pride Month and Negroni Week, NoMad Hotel will donate a portion of proceeds from select special cocktails to The Trevor Project.
"Love is Love": Made with coconut bourbon, Campari, sweet vermouth, Punt e Mes and salt. This drink is available at The Restaurant and Giannini Bar.
"Rainbow Road": Made with pisco, lemon, créme de pêche, Strega, honey, basil and Peychauds. This drink is available at The Restaurant, Giannini Bar and The Rooftop.
"Sno-groni": Made with rye, Campari, Foro Amaro, St. Germain, blanc vermouth and strawberry. This drink is only available at The Rooftop.
9. Viviane will offer their Negroni made with gin, Campari, vermouth and orange. $1 from every Negroni sold will do directly to No Kid Hungry.
10. Esters Wine Shop & Bar will offer up three different Negronis named Surf & Sand, White Sand and Sunset Point. They'll be donating $1 from each sale of the drinks mentioned to Surfrider Foundation's LA Chapter.
For more information visit the official Negroni Week website here.