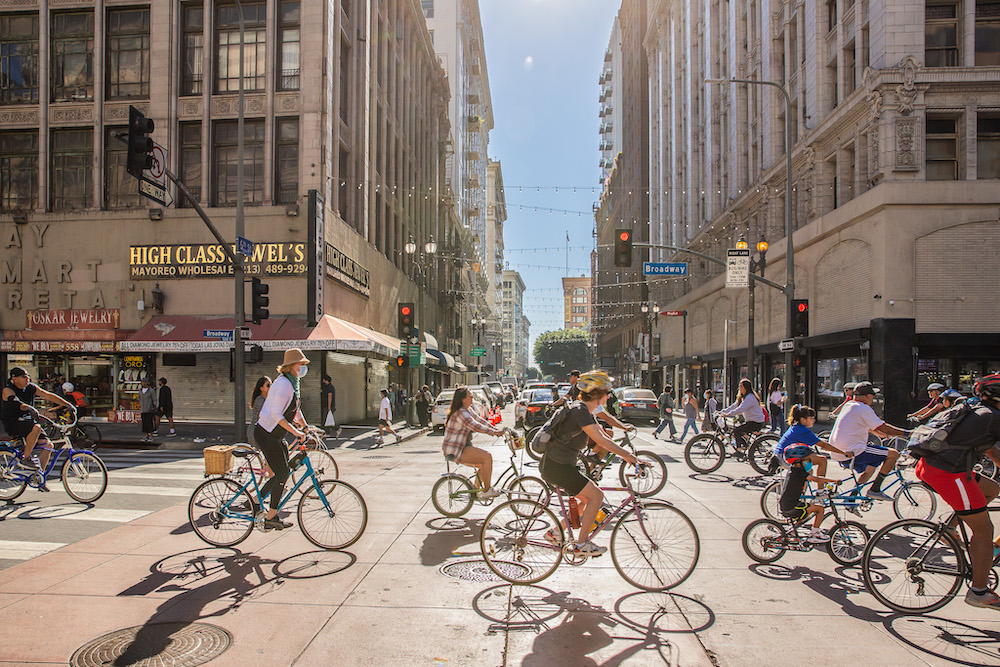 It's a CicLAvia Sunday in Los Angeles!
The county's signature open streets program comes to DTLA today, which means even if you're not participating, you'll want to be mindful of street closures. Also on the docket today, you'll find the Sherman Oaks Street Fair, the Mayumi Market at Commonspace, an Anniversary Party at Everson Royce, Son of Monsterpalooza, and more. Enjoy your Sunday!
Make Metro Part of Your Weekend
CicLAvia – Heart of LA – > Sunday's CicLAvia – Heart of LA brings the city's biggest open streets event to Downtown Los Angeles for a route that includes hubs in Chinatown, Mariachi Plaza, Grand Park, and Pershing Square. Check out the digital map on the event website to spot local business and points of interest to visit along the nearly 8-mile course. Runs 9 a.m. to 4 p.m., and free to attend as always. More info here.
Go Metro: Find access points to the CicLAvia route adjacent to the Chinatown, Pershing Square, Mariachi Plaza, Soto, 7th St, and Historic Broadway stations.
Three Top Picks To Do This Saturday
M = Less than .5 miles from an L.A. Metro Station, FA = Free Admission
Sherman Oaks Street Fair – FA > Now in its 31st year, the Sherman Oaks Street Fair brings a day of live performance, carnival games, and vendors to a half-mile stretch of Venture Blvd from Van Nuys to Kester. More than 100,000 guests are expected to attend (that's a big crowd!). Runs this Sunday from 10 a.m. to 6 p.m. More info here.
Mayumi Market – FA > Mayumi Market highlights AAPI creativity and culture through pop-up markets in the city. This October, in honor of Filipino American History Month, Mayumi Market is shining the spotlight on Filipino/A/X creators. Stop into Common Space Brewery in Hawthorne this Sunday from noon to 6 p.m. to explore a diverse lineup of over 40 vendors, offering everything from delicious food and beverages to delectable baked goods and unique gifts. Admission is free, and the first 100 guests will receive a special goodie bag. More info here. 
Everson Royce 8th Year Anniversary Party M -> Time to dust off your bell bottoms because Everson Royce Bar in DTLA is celebrating their 8th birthday this Sunday with a groovy 70's-themed dance party. Enjoy complimentary cake, take down some mystery jello shots, and snap a pic inside a funky photo booth. The bar will be shaking and stirring up an array of '70s-inspired cocktails the entire time. Party kicks off from 2 p.m. and lasts until 8 p.m. 
Six More Things To Do in L.A. Today
---
Want to get the best things to do in L.A. sent straight to your inbox? Join over 60,000 Angelenos who subscribe to our twice weekly email newsletter!
By subscribing, you agree to our terms of use and privacy policy and consent to receive emails from We Like L.A. about news, events, offers, and partner promotions.