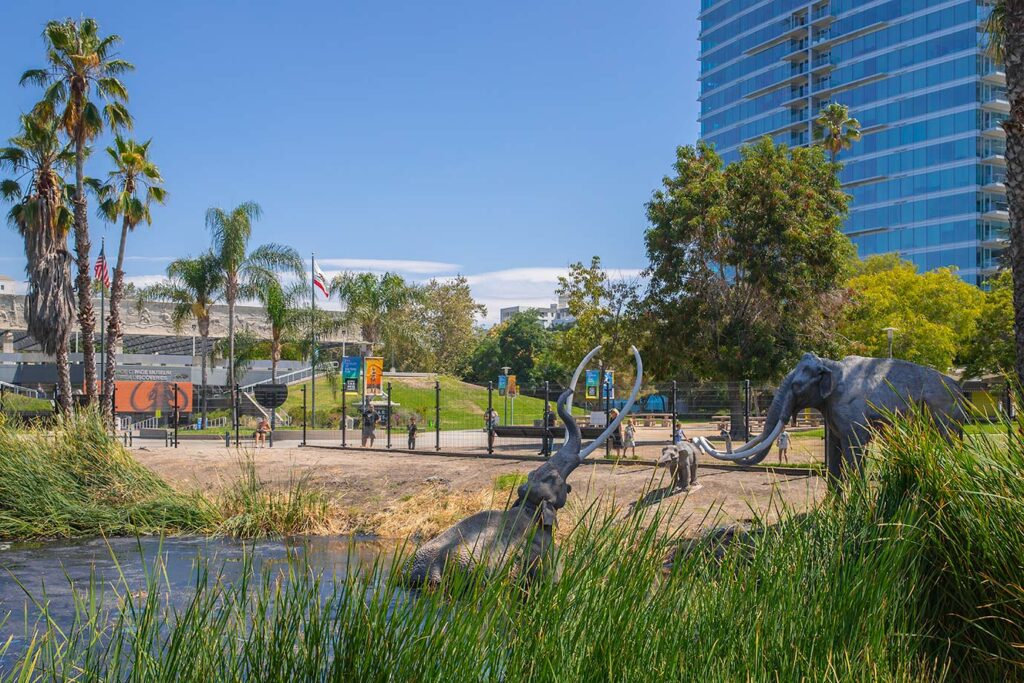 Sloths. Sketches. Shakespeare. And LOTS of pumpkins (as many as you can carry in fact). Let's talk about this week's to-dos.
From October 16-20 in Los Angeles, you'll find a free screening at Vidots, an all-you-can-carry Pumpkin Patch in Santa Monica, Wellness Wednesday with Self-Help Graphics, a Sloth Soirée at La Brea Tar Pits, Bardfly Theatre at Lawless Brewing, Boo-ze Bites & Fright at Heritage Square, and more. Full list starts below.
Things To Do This Week
M = Less than .5 miles from an L.A. Metro Station, FA = Free Admission, TP = Top Pick
---
Nights of the Jack -> The annual 1-mile trail of Halloween lights and jack o'lanterns at King Gillette Ranch continues this week on Monday, and Wednesday to Sunday, and continues on select dates through Halloween night. In addition to the signature walk, expect live pumpkin carving demos, face painting, a souvenir shop, and a "spookeasy" offering adult beverages for sale. Admission runs $29.99-$44.99 depending on which day of the week you attend. Get more info here.
Free Screening of Mandy at Vidiots – FA TP -> Pluto TV and SpectreVision join forces for a free screening of 2018 Nic Cage horror flick Mandy this Tuesday at Vidiots. Guests will hear remarks from SpectreVision co-founders Elijah Wood and Daniel Noah, followed by the movie . Secure your tickets online through Vidiots.
Sketch Party at Benny Boy – FA > Sketch Party's twice-monthly drawing/drinking meet-up comes to Benny Boy Brewing this Tuesday. They'll hook you up with sketch paper, pens, pencils, and markers, then it's up to you to create, mingle, hang out, and enjoy BB's solid lineup of craft beers and ciders. This week Sketch Party will host a Dia Day Los Muertos craft edition where you'll have the option to purchase a sugar skull kit for $10. All artistic levels welcome. Free to attend. Runs 7 to 11 p.m. 21+ only. More info here.
Are You Still Listening? – M FA > Netflix's free monthly stand-up series returns to Dynasty Typewriter this Tuesday with host Beth Stelling and a lineup that features Bo Johnson, Jalisa Robinson, Ken Flores, Mateen Stewart, Soo Ra, Sophie Buddle. No cost to RSVP for admission, but seating elis first-come, first-served and not guarantee entry. Doors open at 6:30 p.m., and show starts an hour later. More info here.
Binge Free Festival – FA > Santa Monica's version of Fringe Festival runs Tuesday, October 17 to Sunday, November 19 with free performances, workshops, readings, music and poetry at the Santa Monica Playhouse. All shows are free, but tickets must be reserved in advance. Get more info here.
Wellness Wednesday at Latinx with Plants – M FA TP > As part of their Wellness Wednesday monthly series, Self-Help Graphics comes to Latinx with Plants to host a hands-on workshop introducing guests to a natural dyeing using marigold flowers, which is a process commonly associated with the celebration of the Día de Los Muertos. Free to attend, but RSVP required. Runs 6 to 7:30 p.m. More info here
Mr. Bones Pumpkin Patch – > Culver City's favorite pumpkin village is open daily through October 29. Mr. Bones offers plenty of family fun, including photo ops in front of giant pumpkin installations, a straw maze, a super slide, petting zoo, giant rocking horses, and pumpkin decorating sessions. Tickets cost $10 to $30 depending on date and tickets for activities begin at $1 each. More info here.
Carved at Descanso Gardens – TP > Descanso Gardens' family-friendly Carved turns the beautiful garden into a glowing pumpkin wonderland featuring a new route, hundreds of carved pumpkins and kid-friendly activities. The experience runs Monday through Sunday nightly now until October 29. Tickets run $30-$40 for non-members. Get more info here.
All You Can Carry Pumpkin Patch – M TP > All You Can Carry Pumpkin Patch returns to the Santa Monica Farmers Market this Wednesday. Stop by from 8:30 a.m. to 12:30 p.m. The entrance fee is $10 (cash) and the only rule is you can only use your hands to carry as many pumpkins you can across 23 feet to the finish line. More info here.
2023 Animation is Film Festival -> This 2023 Animation is Film Festival offers a showcase of the best new works of animation from around the world, all screening at the historic TCL Chinese Theatre in Hollywood. Wednesday's opening screening of The Boy and the Heron is already sold out, but the Friday to Sunday program includes over 20 feature length films and shorts compilations to choose from. GA tickets for individual screenings start at $15. More info here.
Boney Island – M TP > Boney Island has moved its annual Halloween haunt from the confines of Griffith Park to a new home at the Nature Gardens of Natural History Museum Los Angeles. Attendees can expect an array of glowing installations, spooky skeletons, and shadow puppetry interlaced with artistic performances, real fossils from the museum's collection, live animal presentations, and plenty of trick-or-treating opportunities for the little ones. Boney Island runs Thursday to Sunday through the end of the month, plus October 30-31. Tickets are $25. More info here.
Halloween Horror Nights – M > Thursday through Sunday, Universal Studios' fall horror takeover continues, featuring the signature Terror Tram, plus a litany of scare zones, lives shows, and a bevy of different haunted houses, including The Exorcist: Believer and Universal Monsters: Unmasked. GA tickets start at $74, but VIP and express packages can push the price point well over $300 depending on the offer. Get more info here.
Shaqtoberfest – M > If NBA legend Shaquille O'Neal is going to stamp his name on a Halloween haunt, it better be big, right? Well, this year's edition of Shaqtoberfest is back at the historic Queen Mary in Long Beach, offering evenings of live entertainment, themed bars and lounges, carnival rides, plus a brand new "Gray Ghost" haunted trail that takes guests deep into the depths of the historic luxury liner. Shaqtoberfest runs Thursdays to Sundays, and continues on select dates through October 31. There will also be family-friendly hours with trick-or-treating during the last three Sundays in October. GA tickets start at $29.99. More info here.
Sloth Soirée – FA TP > Celebrate International Sloth Day with a Sloth Soirée this Friday at the La Brea Tar Pits. Dive into the fascinating history of giant ground sloths that once roamed Los Angeles. Explore the museum after hours, view Ice Age sloth fossils, enjoy a reading of the newly released "The Upside-Down Book of Sloths" with author Elizabeth Shreeve, meet a real sloth and much more. Happening from 6 to 9 p.m., and free to attend with RSVP. More info here.
Boo-ze Bites & Frights – M > This Friday and Saturday evenings, Street Food Cinema transforms Heritage Square Museum into a spooky playground featuring tours of the historic homes, adult trick-or-treating, food trucks, a pop-up bar, and back-to-back evenings of horror double features. Night one features a screening of Scream and Scary Movie, then night two follows with I Know what You Did Last Summer and Cabin in the Woods. GA tickets start at $40 per person, and if you decide to drive it's $25 for GA parking. More info here.
Bardfly at Lawless – M FA > Bardfly, the L.A.-based, site-specific theatre company, heads to NoHo's Lawless Brewing this Friday for an All Hallows Eve edition of Much Ado About Nothing. The show starts at 8 p.m. Admission is free, but reserved seating will run you $25. More info here.
JOHN REED Fitness WeHo Open House – FA > Starting this Friday, the brand new West Hollywood location of JOHN REED Fitness will host a five-day open house event, offering complimentary access to the 50,000-square-feet facility for guests to experience it first hand. Special programming will accompany the celebration on both Saturday and Sunday (10 a.m. to 4 p.m.), including live DJs, classes and activations, a Recovery Lounge and food/beverage stations. More info here.
La Cage -> Experience the electric La Cage live show at Hollywood's Roosevelt's secret theatre this Friday. Inspired by the golden age of supper clubs and the iconic La Cage Aux Folles nightclub, the evening includes live vocals, dazzling dance, and a live band, all paying tribute to drag culture pioneers with emcee Tommi Rose and surprise celebrity guests like Cheyenne Jackson and Ada Vox. Audiences can also sip on classic cocktails and dine on Cinegrill Theatre's supper club inspired menu. La Cage shows run on select Friday nights at 7 p.m. and 10 p.m. Tickets for the show start at $55. More info here.
Drunk Theatre – > Bay Area import Drunk Theatre is exactly what it sounds like: A comedian downs five quick shots of whiskey and then sees if he/she/they can make through an improvised set with five sober counterparts. A special Halloween edition of the series pops up at the Santa Monica Playhouse this Friday. Pre-sale tickets are $20 per person online, or it's $25 at the door. Show begins at 9 p.m. More info here.
Oktoberfest at Fairplex -> The Fairplex in Pomona transforms into a fantastical Bavarian Oktoberfest every Friday and Saturday through October 21, with live oompah bands, DJs and plenty of German food and beers to go around. Tickets cost $12 – $22. 21+ only. More info here.
Urban Death Tour of Terror – > Zombie Joe's annual tradition of Urban Death is back with a brand new series of terrifying vignettes, bookended by walks through a creepy maze. Performances run on Fridays and Saturdays through October 28, with three bonus shows on Sunday, October 29, Monday October 30 and Halloween Tuesday. Advance tickets are $22 per person. More info here.
Oktoberfest at Wirtshaus German Restaurant & Beer Garden -> Join Wirtshaus German Restaurant & Beer Garden in the Fairfax District every Friday and Saturday for an epic Oktoberfest celebration. Experience the essence of Bavarian culture with a tasty menu featuring schnitzel, wursts, and pretzels, complemented by a selection of 35 German beers. Enjoy the lively sounds of Oktoberfest music and don't miss the stein holding contest. The fun kicks off each evening after 6 p.m.
Reign of Terror Haunted House -> This award-winning haunted house and walkthrough experience located in Thousand Oaks is now in its 25th season. The 2023 edition features 138 rooms in 10 different, inter-connected sections within 28,000 square feet of floor space. Standards tickets are $35. Available on select Fridays and Saturdays through Nov. 4. More info here.
Dining & Drinking
(picks by Christina Champlin)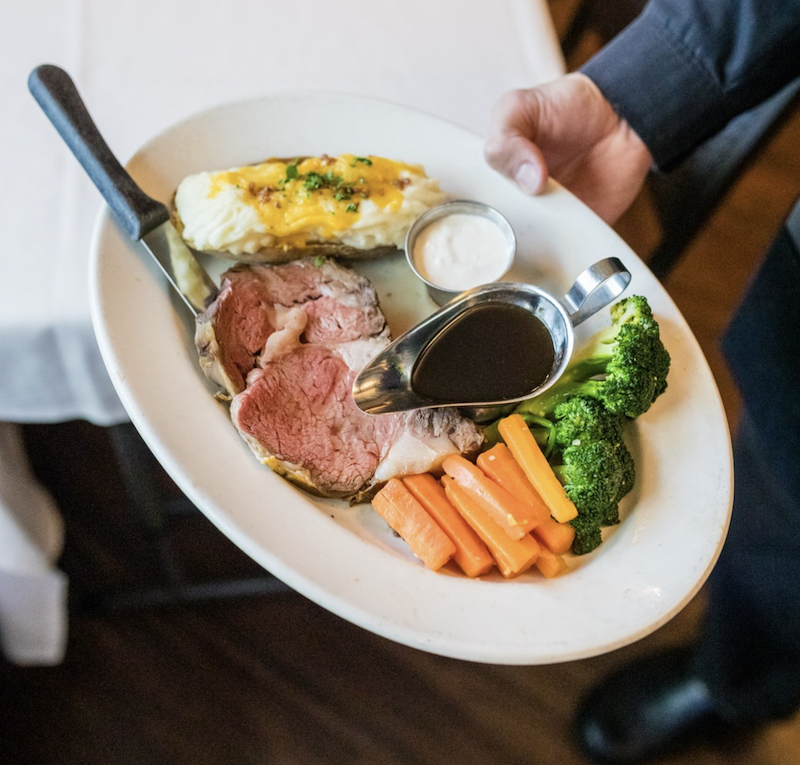 Smoke House 77th Anniversary Menu -> In celebration of its 77th anniversary, Smoke House in Burbank is presenting a special dine-in menu for just $19.46. Established in 1946, the original 46-seat restaurant drew notable celebrities like Bob Hope and Bing Crosby. Over the years, the restaurant expanded to accommodate the growing demand, now comfortably seating over 500 guests while showcasing its rich history through photographs and memorabilia adorned on every wall. The month-long anniversary menu features an array of delicious choices, such as an 8oz Prime Rib, Chopped Beef Plate, and Chicken Picatta, each served with a classic side dish and fresh vegetables.
A Sushi and Warabi Mochi Tea Experience -> Indulge in a Japanese-style afternoon tea at Brothers Sushi in Santa Monica on Tuesday, October 17. Join Tomoko Imade Dyen of Culinary Curation for a delectable journey, featuring a selection of sushi bites designed by Mark Okuda and carefully paired with Japanese green tea personally curated by Tomoko. The highlight of this experience? A Kyoto-trained wagashi artisan, Phoebe Ogawa (formerly of the one-star Michelin restaurant Kajitsu in NYC), will present a super-soft Warabi Mochi dessert served over freshly shaved Kuramoto ice from Japan. Tickets for this one-of-a-kind event are priced at $75 per person, with multiple seating times starting at 2 p.m. More info here.
Third Annual SHRIMPFEST23 at San Pedro Fish Market Long Beach -> This Friday, San Pedro Fish Market in Long Beach invites seafood enthusiasts to SHRIMPFEST23. Happening from 6 to 9 p.m. the crustacean extravaganza offers unlimited tastings of over 16 San Pedro Fish Market dishes, including the World Famous Shrimp Tray, Ahi Tostada, Baja Fish Tacos, Ceviche, and Clam Chowder. Live entertainment and hourly giveaways are also part of the event. Tickets ($59.99) can be purchased on OpenTable under "experiences". More info here. 
Oktoberfest at The Brews Hall -> The Brews Hall in Torrance is hosting an Oktoberfest this Friday and Saturday. Los Angeles' only all-female Oktoberfest band, Ladyhosen will set the party vibes, and the evening will include stein-holding contests and other festive surprises. For those unable to attend, The Brews Hall celebrates Oktoberfest all month long, offering a special menu with Giant German Soft Pretzels, Port Brat, Smoked Turkey Legs, Chicken Schnitzel, and a variety of brews like Buzzrock Oktoberfest and Hofbrau Dunelweizen. This menu is available until October 22 at both The Brews Hall locations in Torrance and Hermosa Beach. 
---
Want to get the best things to do in L.A. sent straight to your inbox? Join over 60,000 Angelenos who subscribe to our twice weekly email newsletter!
By subscribing, you agree to our terms of use and privacy policy and consent to receive emails from We Like L.A. about news, events, offers, and partner promotions.