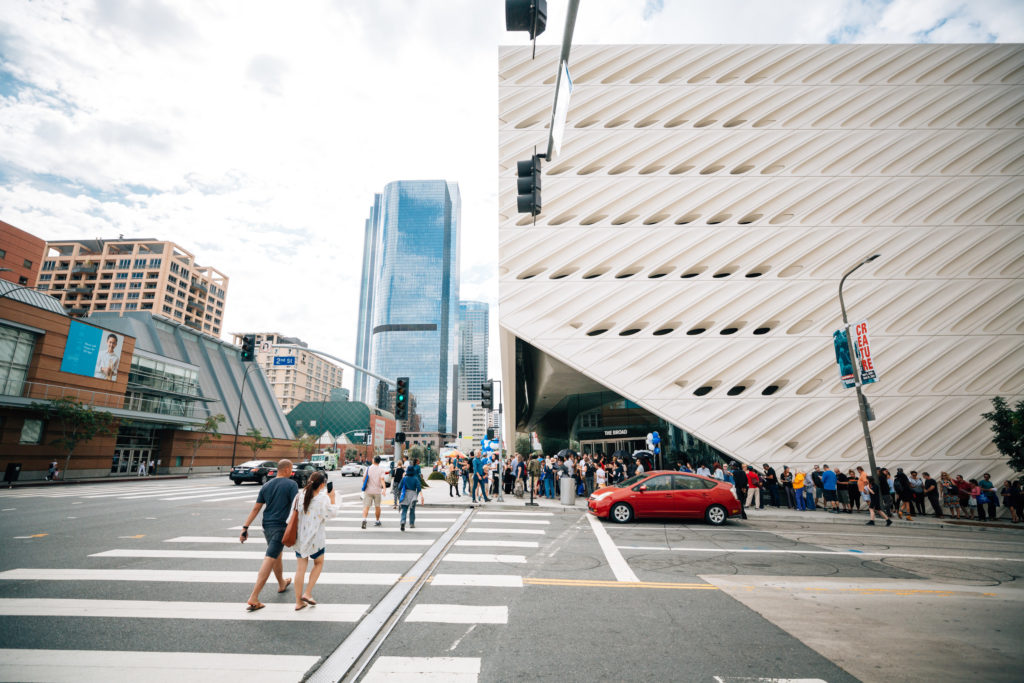 If you're all about the free community events, you're going to like this weekend in Los Angeles.
From October 20-22 in L.A., you'll find Día de los Muertos at Grand Park, Grand Ave Arts: All-Access, Taste of Soul in Crenshaw, Pasadena Playhouse Family Day, the Music Box Steps Family Festival, the P-22 Festival in Griffith Park, the Brewery Artwalk, the Beverly Hills Art Show, and much more. The full weekend guide starts below!
Make Metro Part of Your Weekend
Grand Ave Arts: All-Access – > Dive into L.A.'s arts and culture scene when Grand Ave Arts: All Access returns to Downtown Los Angeles this Saturday. Now in its seventh year, this free community event invites Angelenos to explore DTLA's cultural corridor and enjoy performances, workshops, and activities provided by 10+ iconic L.A. cultural institutions, including activations at The Broad, The Music Center, MOCA, and more. Runs 11 a.m. to 4 p.m. The event is free to attend, but visitors are encouraged to RSVP here.
Go Metro: Take the A or E Lines to Grand Ave Arts / Bunker Hill Station.
More Things To Do This Weekend
M = Less than .5 miles from an L.A. Metro Station, FA = Free Admission, TP = Top Pick
---
Sloth Soirée – FA TP > Celebrate International Sloth Day with a Sloth Soirée this Friday at the La Brea Tar Pits. Dive into the fascinating history of giant ground sloths that once roamed Los Angeles. Explore the museum after hours, view Ice Age sloth fossils, enjoy a reading of the newly released "The Upside-Down Book of Sloths" with author Elizabeth Shreeve, meet a real sloth and much more. Happening from 6 to 9 p.m., and free to attend with RSVP. More info here.
Boo-ze Bites & Frights – M > This Friday and Saturday evenings, Street Food Cinema transforms Heritage Square Museum into a spooky playground featuring tours of the historic homes, adult trick-or-treating, food trucks, a pop-up bar, and back-to-back evenings of horror double features. Night one features a screening of Scream and Scary Movie, then night two follows with I Know what You Did Last Summer and Cabin in the Woods. GA tickets start at $40 per person, and if you decide to drive it's $25 for GA parking. More info here.
Bardfly at Lawless – M FA > Bardfly, the L.A.-based, site-specific theatre company, heads to NoHo's Lawless Brewing this Friday for an All Hallows Eve edition of Much Ado About Nothing. The show starts at 8 p.m. Admission is free, but reserved seating will run you $25. More info here.
JOHN REED Fitness WeHo Open House – FA > Starting this Friday, the brand new West Hollywood location of JOHN REED Fitness will host a five-day open house event, offering complimentary access to the 50,000-square-feet facility for guests to experience it first hand. Special programming will accompany the celebration on both Saturday and Sunday (10 a.m. to 4 p.m.), including live DJs, classes and activations, a Recovery Lounge and food/beverage stations. More info here.
La Cage -> Experience the electric La Cage live show at Hollywood's Roosevelt's secret theatre this Friday. Inspired by the golden age of supper clubs and the iconic La Cage Aux Folles nightclub, the evening includes live vocals, dazzling dance, and a live band, all paying tribute to drag culture pioneers with emcee Tommi Rose and surprise celebrity guests like Cheyenne Jackson and Ada Vox. Audiences can also sip on classic cocktails and dine on Cinegrill Theatre's supper club inspired menu. La Cage shows run on select Friday nights at 7 p.m. and 10 p.m. Tickets for the show start at $55. More info here.
Urban Death Tour of Terror – M > Zombie Joe's annual tradition of Urban Death is back with a brand new series of terrifying vignettes, bookended by walks through a creepy maze. Performances run on Fridays and Saturdays through October 28, with three bonus shows on Sunday, October 29, Monday October 30 and Halloween Tuesday. Advance tickets are $22 per person. More info here.
Oktoberfest at Fairplex -> The Fairplex transforms into a fantastical Bavarian Oktoberfest every Friday and Saturday through October 21 with live oompah bands, DJs and plenty of German food and beers to go around. Tickets cost $12 – $22. 21+ only. More info here.
Boney Island – M > Boney Island has moved its immersive Halloween event to a new home at the Nature Gardens of Natural History Museum Los Angeles. Attendees can expect an array of glowing installations, spooky skeletons, and shadow puppetry interlaced with artistic performances, real fossils from the museum's collection, live animal presentations, and plenty of trick-or-treating opportunities for the little ones. The attraction runs Thursday to Sunday through the end of the month, plus October 30-31. Tickets are $25. More info here.
The Sorting Room -> The Sorting Room nightclub housed within the Wallis Center's Lovelace Theatre presents a new season of unpredictable performances from a variety of musicians, comedians and more in a variety of genres alongside craft cocktails, beer and wine from The Briskin Bar. Shows this weekend run Thursday through Saturday. Tickets range from $10 to $35. More info here.
Carved at Descanso Gardens – > Descanso Gardens' family-friendly Carved turns the beautiful garden into a glowing pumpkin wonderland featuring a new route, hundreds of carved pumpkins and kid-friendly activities. The experience runs Monday through Sunday nightly now until October 29. Tickets run $30-$40 for non-members. Get more info here.
Mr. Bones Pumpkin Patch -> Culver City's favorite pumpkin village returns this season offering plenty of family fun, including photo ops in front of giant pumpkin installations, a straw maze, a super slide, petting zoo, giant rocking horses, and pumpkin decorating sessions. Tickets cost $8 to $30 depending on date and tickets for activities begin at $1 each. Mr. Bones Pumpkin Patch runs daily from October 5-29. More info here.
Reign of Terror Haunted House -> This award-winning haunted house and walkthrough experience located in Thousand Oaks is now in its 25th season. The 2023 edition features 138 rooms in 10 different, inter-connected sections within 28,000 square feet of floor space. Standards tickets are $35. Available on select Fridays and Saturdays through Nov. 4. More info here.
Nights of the Jack -> The annual 1-mile trail of Halloween lights and jack o'lanterns at King Gillette Ranch continues this Friday to Sunday, and continues on select dates through Halloween night. In addition to the signature walk, expect live pumpkin carving demos, face painting, a souvenir shop, and a "spookeasy" offering adult beverages for sale. Admission runs $29.99-$44.99 depending on which day of the week you attend. Get more info here.
Black Lagoon Pop-Up Bar – M > The touring, immersive Halloween pop-up bar Black Lagoon returns to Lost Property Bar in Hollywood for a month-long residency of themed cocktails in a spooky atmosphere filled with dark and eerie things. Los Angeles residents can look forward to an array of entertainment on Sundays and Tuesdays, including diabolical drag performances to macabre magic and boo-lesque (ticketed events cost $25). Additionally, every Wednesday, the pop-up venue will host emo nights, featuring a variety of DJs (entry fee $15). For all other nights, admission to the pop-up is free.
Angel of Light – M > Step into DTLA's Los Angeles Theatre in for Angel of Light, a haunting journey that combines live performances and immersive storytelling to transport visitors to Old Hollywood in 1935. Guests will move about the theatre from dressing rooms, to the ballroom, and the stage to relive the cursed tale of a 1930s star while meeting eerie characters along the way. The 60-minute experience runs Wednesdays through Sundays and select Mondays and Tuesdays in October. Tickets run $59.50 – $70 per person. More info here.
Nexxt Made in Italy Expo -> The second edition of the Nexxt – Made in Italy Expo is taking place at CRAFTED at the Port of Los Angeles from Thursday through Sunday. With over 120 vendors from diverse regions across Italy, the event presents a wide range of top-tier Italian products, including food, wine, art, fashion, jewelry, cosmetics, and more. The expo will feature culinary showcases, fashion presentations, live demonstrations by ceramic artisans, traditional and contemporary musical performances, and exclusive screenings of Italian short films. General admission is free, with a VIP option available for $60, which includes access to a VIP area with complimentary food, an open bar, and exclusive activities. More info here.
Halloween Horror Nights – M > Thursday through Sunday, Universal Studios' fall horror takeover continues, featuring the signature Terror Tram, plus a litany of scare zones, lives shows, and a bevy of different haunted houses, including The Exorcist: Believer and Universal Monsters: Unmasked. GA tickets start at $74, but VIP and express packages can push the price point well over $300 depending on the offer. Get more info here.
Taste of Soul – M FA TP > Experience the flavors and culture of South Los Angeles at Taste of Soul this Saturday. The free family festival held on Crenshaw Blvd. between Barack Obama Blvd. and Stocker Avenue annually draws over 350,000 attendees, showcasing the neighborhood's best with 150+ vendors. Enjoy soulful cuisine, live performances, and community all in one day. This year's celebrity chair is Tiffany Haddish. Event runs 10 a.m. to 7 p.m. More info here.
Pasadena Playhouse Family Day – FA > This Saturday, the Pasadena Playhouse hosts a community celebration featuring children's musicians, dancers, circus acts, arts and crafts stations, face painters, balloon animal artists, food trucks, and more. Runs 10 a.m. to 2 p.m. Free to attend. More info here.
Downtown Día de los Muertos – M FA TP > Gloria Molina Grand Park's Downtown Día de los Muertos welcomes park-goers to contribute to a community altar and to stroll through the park to view 19 altars, beginning this Saturday and running through November 2. Opening day festivities run 11 a.m. to 4 p.m. and include altar making workshops, live music, and a special program by the LA Opera. Get more info here.
Sip & Play with Break the Love x The Botanist -> This Saturday Break the Love and The Botanist Islay Dry Gin are co-hosting a Sip & Play racquet sports event at E.P. & L.P. Guests can enjoy pickleball, ping pong, and signature cocktails, including The Botanist Courtside Collin. In addition to racquet sports, the event offers small bites, photo opportunities, DJ tunes, and giveaways. The event is free to experience (drinks,bites and plays!) with an rsvp. More info here.
South Pasadena Arts Crawl – M FA > This Saturday, the South Pasadena Business District activates with a free event featuring art exhibitions and interactive activities, open houses, food and drink specials, and sales from local businesses on and round Mission Ave. Runs 3 to 9 p.m. Free to attend. More info here.
Procession – M FA > This Saturday, Procession brings forth a dynamic celebration of the LA River's rich history through a trio of artist-led walks/performances, each culminating at Los Angeles Historic State Park, where a festival will be held offering family-friendly art workshops, storytelling, and performances, alongside an augmented reality exhibition. Programming runs from 10 a.m. to 6 p.m. Free to attend. More info here.
Halloween Hootenanny Craft Beer Festival -> This Saturday, The third annual festival brings 40+ craft breweries, cideries, wineries & kombucha makers to the Museum of Latin American Art for a one-day event. GA tickets start at $50 per person. More info here.
Gabba Gallery's Wishlist 11 -> This Saturday marks the return of Gabba Gallery's 11th edition of their affordable art show. Showcasing the talents of over 75 artists from around the world, this unique cash-and-carry exhibition allows art enthusiasts to instantly acquire a work of their choice. Curated by Jason Ostro and Elena Jacobson, artworks will be on view until November 11. More info here.
29th Annual Music Box Steps Family Festival – FA > This Saturday, the Silver Lake Improvement Association hosts a one-day festival celebrating The Music Box Steps, site of the 1932 Laurel & Hardy short film of the same name. This afternoon event includes a screening of the sort film, a community raffle, complimentary bites, and live entertainment. Runs from noon to 3 p.m. Free to attend. More info here.
Fall Festival at the Original Farmers Market – FA > The two-day (Saturday and Sunday) Fall Festival at the Original Farmers Market features a pumpkin patch, games, live music, and crafting for kids. Runs this Saturday and Sunday from 11 a.m. to 7 p.m. on both days. More info here.
Beverly Hills Art Show – FA TP > The fall edition of the bi-annual Beverly Hills Art Show comes to Beverly Gardens Park this Saturday and Sunday with over 200 artists expected to participate. Runs 10 a.m. to 5 p.m. on both days. Free to attend. More info here.
Brewery Artwalk – FA > On Saturday and Sunday, the bi-annual Brewery Artwalk is back with a free two-day showcase of over 100 participating resident artists, offering the chance to chat with makers, peruse new works, and shop direct from the artists themselves. Runs 11 a.m. to 6 p.m. on both days. Free to attend. More info here.
Boo At The Zoo -> On back-to-back weekends heading into Halloween, swing over to the Los Angeles Zoo for Boo at the Zoo, a family-friendly assortment of seasonal activities, including animal pumpkin feedings, themed photo ops, trick-or-treating stations, story readings, and an extinct animal graveyard. Entry is included with zoo admission, which starts at $22 for adults. Runs both this Saturday and Sunday. More info here.
P-22 Day Festival – FA TP > The P-22 Day Festival honors L.A.'s most famous big cat (may he rest in peace!) with a one day, family-friendly celebration in Griffith Park featuring a day filled with exhibits and educational activities for big cat lovers of all-ages. The event runs this Sunday from 11 a.m. to 4 p.m. and is free to attend. More info here.
San Pedro Day of Dead – FA > This Sunday, The 11th annual San Pedro Día de Muertos celebration returns with an afternoon street festival featuring live performances (including the Mariachi Divas), traditional dance showcases, special vendors, altar and costume competitions, and a beer garden. The event runs from 3 to 9 p.m. and is free to attend. More info here.
Bakecamp Los Angeles -> Cookie enthusiasts from all corners of the city unite for a cookie contest this Sunday to raise funds for animal shelters. Guests can taste test 25 delicious creations inside the Valley Relics Museum. Tickets cost $15 for kids and $28 to $65 for adults. More info here.
Dining & Drinking
(picks by Christina Champlin)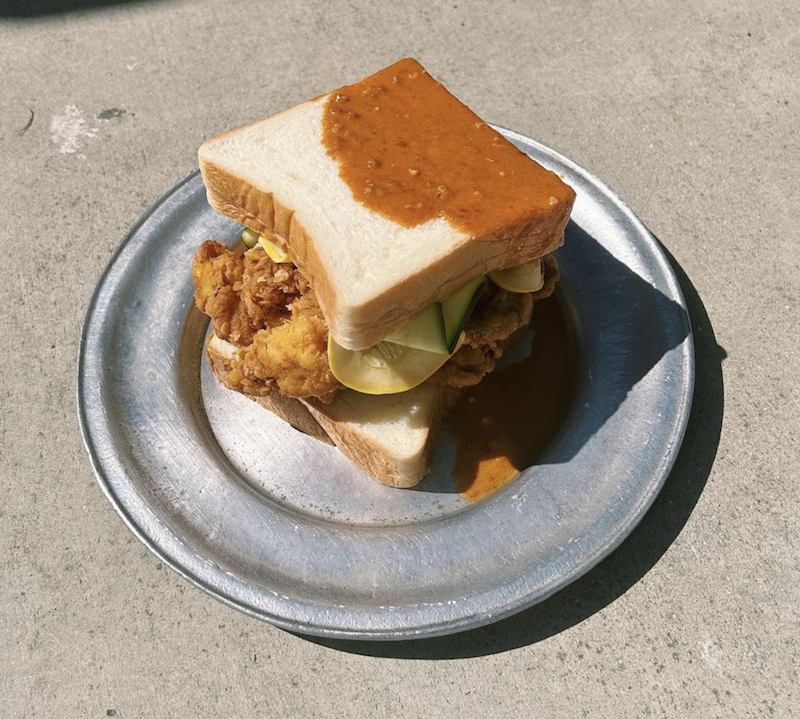 Sandita's World Ginza Nishikawa Shokupan Collab -> Join Sandita's World at Open Market as they team up once again with Ginza Nishikawa for a delectable Fried Chicken Sando. Available for pre-order ($22) the sando features a mouthwatering combination of fried chicken, mum's curry and herb sauce, all served on Ginza Nishikawa's famous fluffy shokupan. Available for pick-up on October 21 from 12-3 p.m. at Open Market LA. More info here.
Maple Block's Blocktoberfest -> Maple Block's 8th annual Blocktoberfest returns to Maple Block in Culver City this Sunday with a lively, family-friendly carnival setup featuring multiple food and drink stations where guests will use tickets for each item. The food lineup this year includes Hot-Honey Baby Back Ribs and Loaded Brisket Fries, Maple Block Chicken's spatchcock-grilled chicken baskets, and brisket-topped wood-fired pies from Farina Pizza. Music will be provided by the rockabilly band, the Rayford Bros, and there will be plenty of activities, including a cornhole tournament with prizes, and a dedicated kids' zone that also includes games and a cookie and lemonade stand. The beer garden will showcase offerings from Modern Times, Big Noise, Paperback, and Maui Brewing Company. The event runs from 11 am to 4 pm. Tickets for adults are $15, which includes a beer or cocktail, and for kids at $5, which includes a pumpkin for decorating in the kids' zone. Food tickets are purchased onsite and cost between $5-$7.
Halloween specials at Tuk Tuk Thai -> Tuk Tuk Thai on Sawtelle has unveiled some daring specials for spooky season. Available throughout the month of October, Chef Amanda Maneesilasan invites guests to be adventurous by ordering off the Halloween specials that include frog legs, black thousand-year-old egg, whole smelt fish (head and eyes on!) and pumpkin flesh incorporated into Thai dishes.
---
Want to get the best things to do in L.A. sent straight to your inbox? Join over 60,000 Angelenos who subscribe to our twice weekly email newsletter!
By subscribing, you agree to our terms of use and privacy policy and consent to receive emails from We Like L.A. about news, events, offers, and partner promotions.