Attention all wizards, hobbits, trekkies, whovians, and just about anyone else you can think of in the geek kingdom who is currently residing in Los Angeles, this post is for you!
With the mother of all geek events, Comic Con merely a once-a-year affair, We Like L.A. asked me to conjure up some of the best locations to get your geek on in and around the city of angels that you can access on a year-round basis.
I tried to cover just about every major fandom and provide a wide range of destinations, from clothing shop boutiques to arcades to awesome niche theaters, so geeks of all kind can feel welcomed amongst their own.
That said I hope you find something you like on the list and, as always, live long and prosper. 😉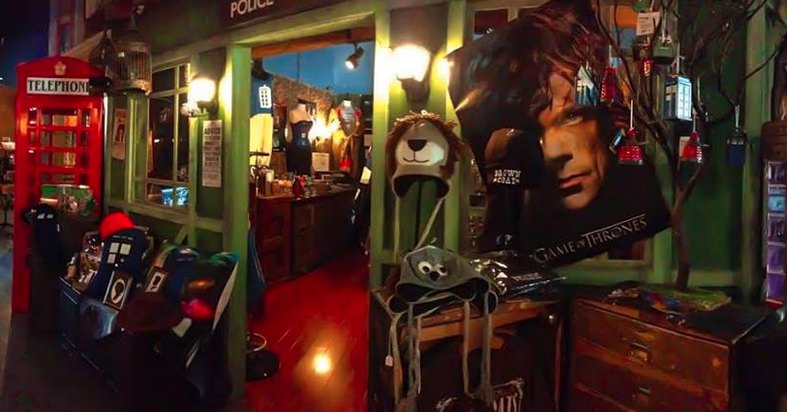 [Photo Credit: whimsic alley facebook]
1. Whimsic Alley
Are you still awaiting your letter of acceptance to Hogwarts School of Witch Craft and Wizardy? Yeah, me too. Not to fear, make a trip to Whimsic Alley located on Miracle Mile to get your fill of everything Harry Potter related. There is even a replica of the Great Hall that can be rented out for events or celebrating the Tri-Wizard Tournament (RIP CEDRIC).
5464 Wilshire Blvd, Los Angeles, CA 90036
More information
2. Meltdown Comics
While it would have been super easy to just make this list all comic store related, I only included Meltdown Comics for the sheer fact that it is home to Nerdist Headquarters! Not is there an amazing selection of comics, Meltdown also has comedy shows after dark that air on Comedy Central. Make sure to check the calendar to find all shows and what movie is playing for "Horrible Movie Night".
7522 Sunset Blvd., Los Angeles, CA 90046
More information
3. Hollywood Magic Castle
Time to dust off that magic kit you got from Grandma in the second grade, and brush up your magic skills. Built in 1908, this manor has seen some of the greatest magicians walk through its halls. Unfortunetly, it's invite only, but if you get to go make sure you stay for dinner and a show! Just don't bring your own saw, that's creepy no matter what venue you go to.
7001 Franklin Ave, Hollywood, CA 90028
More information
4. Gallery 1988
Obsessed with pop culture? Perfect. Since opening its doors in 2004, Gallery 1988 has housed some of the coolest pop-culture themed artwork and emerging artists. With two locations (West & East), there are month long shows at both where you can view some totally rad artwork. Bonus for all you Whedonites, throughout the month of September there is a Joss Whedon exhibit at Gallery 1988: West featuring artist renditions from all his movies and television shows.
West: 7308 Melrose Ave, Los Angeles, CA 90046
East: 7021 Melrose Ave, Los Angeles, CA 90038
5. Playland Arcade
Still bragging about your Galactica score from back in the day? Come to Santa Monica Pier's Playland Arcade, which is home to tons of old a school arcade game from Super Mario to PacMan. While it can be a pain to find parking and kind of tourist trap, it's a great place to spend the afternoon after soaking in the rays all day.
350 Santa Monica Pier, Santa Monica, CA 90404
More information
6. Clockwork Couture
Steampunk could not be any bigger than it currently is. Clockwork Couture sells everything from steampunk clothing to home décor. Fellow Whovian? There is also a ton of Doctor Who collectables for sale as well.
Did I mention there is a Tardis replica out front? Wibbley Wobbly Timey Whimey!
707 South Main Street, Burbank, CA 91506
More information
7. The Nuart Theatre Presents The Rocky Horror Picture Show
It's just a jump to the left, and then a step to the right. You are now located at Nuart Theatre, home to one of the largest Rocky Horror Picture Show gatherings in Los Angeles County. Every Saturday night the crowd is full of fans dressed as Janet, Magenta, and even our favorite Transsexual Transylvanian. A great place to meet fellow fans while singing and dancing your heart out.
11272 Santa Monica Blvd, Los Angeles, CA 90025
More information
8. Hobbit House
Have you ever wanted to visit the Shire? This is as close as you possibly can get, but fair warning The Hobbit House is an actual apartment complex, so there is the whole "trespassing" thing. But look from afar at this replica the Hobbit inspired homes. A true must-see for every Tolkien fan there is.
3819 Dunn Drive, Culver City, CA 90232
More information
9. Jim Henson's Creature Shop
The home to all of Jim Henson's beloved creatures. See Muppets and puppets from The Dark Crystal to the Rainbow Connection. This is also where the Jim Henson's Creature Shop Challenge is filmed for the SyFy network. While they are not generally open to the public, they do have tours of the studio from time to time that you can schedule through their website.
1416 N. La Brea Avenue
More information
10. El Capitan Theatre
True fact: you will never be too old to enjoy anything Disney related. The El Captain theatre screens everything from old Disney classics, to current favorites like Frozen. Be on the lookout as well at any premieres for some of the most beloved characters in attendance.
6838 Hollywood Blvd, Los Angeles, CA 90028
More information
I know we didn't get them all, so if you have a favorite place to geek out in Los Angeles, let us know in the comments below!