The best thing about fall 2014? It's finally cooling down!
And once temperatures start returning to our paradisal norms there's tons of great seasonal activities and events that make fall the perfect time to explore L.A.
To that end, below you can find 16 things to do in the fall in Los Angeles you can instantly add to your to-do list that'll help you get started on your exploration.
Oh, and if you're always on the look out for new and exciting things you may want to check out our list of 40 fun & free things to do and definitely be sure to add your email to our list below, and we'll update you a couple times a week with stuff we find. Cheers!
1. See the Changing Leaves at The Los Angeles Arboretum
Who says we don't have seasons?
The spring and the fall are both terrific times to check out the Arboretum, and there's loads of events slated on their calendar in autumn months, including docent-led walking tours, classes, and of course the fall foliage tram tours that take place on the third and fourth Saturday of November.
2. Drink Like a German During Oktoberfest!
The autumn festival of Germany takes many forms in Los Angeles, but the most important elements are usually still there: traditional music, garb, food, and most importantly, beer.
Here's a few options in the area you might want to consider:
Alpine Village
Santa Anita Park
Angel City Brewery
Steingarten
Highland Park Brewery
Vegan Oktoberfest
3. Take a Haunted Hayride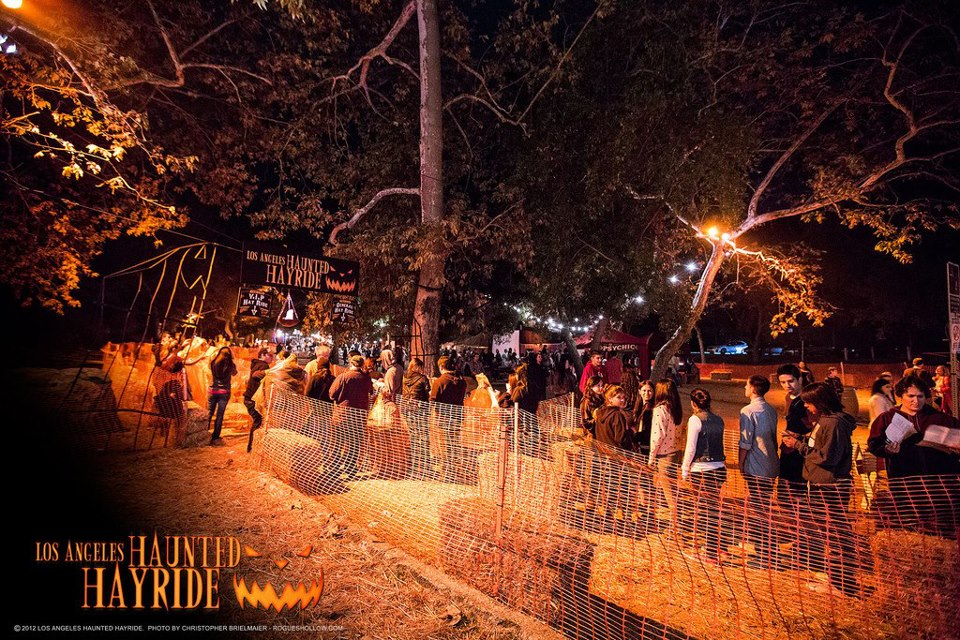 [Photo Credit: facebook]
Want to experienced one the most sure-fire ways to scare the living daylights out of yourself? Take a haunted hayride in Griffith Park at the old zoo.
The organizers describe it as, "Armies of demonic forces and dark presences litter the grounds and are frantic to strike at their favorite 'hayriders."
Christina and I did this last year and I have to say it was probably the most fun Halloween event we went to all year. 'Nuff said.
4. Tempt the Tastebuds with Something New
Fall is a great time to sample new foods, and although everyone's going to be different with what they like, there's couple of items I recently added to my foodie to-do list.
One, these mini expresso coffees served in a chocolate dipped cone over at Alfred's Coffee on Melrose Place.
Or two, check these fried chicken and waffle cones that are coming to a pop-up food event on Sep. 27th.
(as you can see, I'm a big fan of the ice-cream cone).
And if you're not into either one of those, use the season as an excuse to explore!
5. Watch The Tree Lightning Ceremony at the Grove
If fall is just your excuse to start Christmas early, be sure to check out the tree lightning ceremony at the Grove outdoor shopping mall. 2013's ceremony was on the third Sunday in November, and featured musical performances including Mary J. Blige, CeeLo Green, Jewel, and Gavin Degraw. No date set for 2014, but stay tuned.
6. Enjoy the Tunes at the Eagle Rock Music Festival
The Eagle Rock Music Festival rolls into it's 16th edition this year providing a "vibrant, community street festival which showcases innovative, multicultural and local music every October," according to the organizers.
This year's lineup features Aloe Blacc, Maya Jupiter, Taylor McFerrin, Exile, J. Rocc, Mia Doi Todd, and many more!
Date is Oct. 4th from 4pm to 10pm. Get tickets starting at $10.
7. Walk with the Weirdos at the West Hollywood Halloween Carnival
They claim it's the largest Halloween Street Party in the World with nearly half a million people showing up in West Hollywood at 6pm on Halloween night.
Live entertainment, food vendors, and tons and of course tons of eccentric costumes to admire.
The only question is, how could you miss it?
8. Get Cinematic at The Hollywood Film Festival
The best in regional and international cinema (so they say), presenting a unique combination of socially conscious filmmakers, emerging artists and master storytellers in the film capital of the world. From first time directors to documentaries to special spotlight features.
If you love film and want to check it out, see the full schedule of slated films on the official website.
9. Freak Yourself Out at Knotts Scary Farm
No doubt you have heard of Knotts Scary Farm before, and it might even be an annual pilgrimage for you, but did you know that this year's edition features  an interactive gaming experience called "Special Ops: Infected" where you take over the role of an armed resistance battling zombies in an apocalyptic real-life environment.
That sounds… intense.
10. Taste the Pies at the KCRW Good Food Pie Contest
In 2013 they had 347 different pies on hand for the public to try, and on Oct. 5th of this year the Pie Contest promises to be bigger than ever.
It's totally free, but tickets are limited and available on a first come, first serve basis so be sure to get there early!
11. Tour the New Rides at the L.A. Auto Show
First held in 1907, this internationally recognized  automobile show is one of the most prestigious in the world.
In 2013 56 total vehicles debut at the L.A. Auto Show, including 22 world debuts.
It'll be open to the public starting on Nov. 21st this year.
For tickets and information, check the official website.
12. Go Whale Watching on the California Coast
Los Angeles is one of the few locations in the world that offers year-round whale sightings, but the fall migration path is particularly rich for sighing opportunities, especially from the end of September to the beginning of November.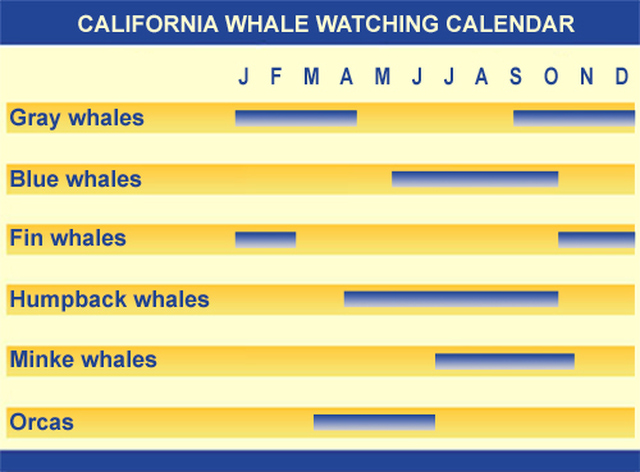 [via: gocalifornia]
If you're down to go, here's a couple good options in the area:
Harbor Breeze Cruises
Cabrillo Marine Aquarium
Davey's Locker
13. Join CicLAvia to see DTLA on like Never Before
Never heard of CicLAvia? Here's the skinny from the official website:
"CicLAvia catalyzes vibrant public spaces, active transportation and good health through car-free streets. CicLAvia engages with people to transform our relationship with our communities and… makes the streets safe for people to walk, skate, play and ride a bike. There are activities along the route. Shop owners and restaurants are encouraged to open their doors to people along the CicLAvia."
Takes place on October 5th this year starting at 9am, so mark your calendar! For more info, see the official site.
14. Carve up a Good Time at the Rise of of the Jack O'Lanterns
A unique all-ages Halloween extravaganza that features more than 5,000 hand-carved jack o'lanterns created by professional artists and sculptors are arranged in artful displays throughout a 1/4-mile scenic trail. Advanced tickets are required. Check out their website for more information
15. Jazz up your life at the Angel City Jazz Festival
The 2014 Angel City Jazz Festival is September 19th to the 28th at LACMA, REDCAT, The Blue Whale, The Aratani Japan America Theatre, and Barnsdall Art Park. The final day, on the 28th is where the real action is, with an all-day performance at Barnsdall that will feature the following artists: Brad Dutz Quartet, Gavin Templeton Trio, Michael White Trio, Daniel Rosenboom Quintet, Azar Lawrence Quartet, Aruán Ortiz Trio, Josh Nelson's Discoveries, Craig Taborn, and Taylor Ho Bynum's West Coast Ensemble.
Plus there will be an Arthur Blythe Tribute & Benefit Concert as the final show of the evening.
And yup, it's free!
16. Climb the Stairs at the Baldwin Park Scenic Overlook
Lastly, don't forget to get a little fall exercise!
Take the stairs up the overlook for a quite workout, then reward yourself with the stellar view. 🙂
Are you doing something fun this fall? Have a suggestion? Share what's on your to-do list in the comments below!