[UPDATE 6/17/2015: We have a brand new version of this list available, now updated for summer, 2015]
Have you ever heard someone in L.A. complain that they're bored? Nothing to do? No good ideas? Well, enter our list of 40 fun (and free!) things to do in Los Angeles.
There might be 40 on this list, but with all the variations and permutations of different aspects of the same activities, really we're talking about literally hundreds of things to do.
They're all free (save transportation, and occasionally parking). They're all in Los Angeles. And we absolutely dare you to do all of them.
I'll skip the rest of this introduction, sufficed to say, if you DO manage to complete this entire list, you'll have my undying envy and admiration. Or, at very the least, I'll send you a smiley face tweet on Twitter.
Enjoy the list.
 1. Capitalize on Free Museum Days
There are literally dozens of free museums and museum days for you to explore when you're in Los Angeles. From LACMA to the Huntington Gardens to MOCA or the Norton Simon. If you can't find at least one that suits your tastes, you aren't even trying!
2. Exploring the Sunken City
Looking for a bit of adventure? Go check out an old neighborhood that literally fell over the side of a cliff on the California coast at the Sunken City in San Pedro.
EDITOR'S NOTE: Since the original publication of this piece it's come to our attention that the police are ramping up efforts to dissuade visitors from checking out the Sunken City, including sealing up an access hole under a chain linked fence with concrete, so at this time we do not recommend you visit the Sunken City and remind you it is trespassing on private property.
3. Admiring The Chandelier Tree
A neighborhood gem in the heart of Silver Lake. Drive by during evening hours to see this incredible tree light up the night.
4. Hiking to the Hollywood Sign
You can get there via Bronson Canyon like we did, or take one several other routes. But trekking up to the top of the sign is something every Angeleno should do at least once.
5. Taking a Free Trip to Catalina on Your Birthday
Did you know by registering online you can get a free trip on the Catalina Express on your birthday? And that's just one of many cool birthday freebies you can enjoy in Los Angeles. 🙂
6. Viewing DTLA at the Observation Deck at City Hall
Get an incredible free view of downtown Los Angeles by going up to the observation deck  on the 27th floor of City Hall.
7. Perusing Grand Central Market
Even if you don't partake in the food at Grand Central Market  (and you should!), just wandering around and admiring the vibrancy and variety will be an enjoyable experience.
8. Hearing a Grand Performance in DTLA
A curated collection of seasonal musical performances in downtown Los Angeles. And totally free!
9. Observing Santa Monica through the Camera Obscura
A dark room inside a senior center in the heart of Santa Monica offers an artistic projection of the world that surrounds. If you're in the neighborhood, definitely be sure to stop by the Camera Obscura.
10. Walking at the Downtown Art Walk
Every second Thursday of the month see downtown Los Angeles come alive in a vibrant blend of art, community, culture and food known as the DTLA Art Walk.
11. Enjoying the Grounds at Greystone Mansion
The park and exterior garden of the Greystone Mansion is one of the most gorgeous and peaceful spots in the entire city (and on a side note, a pretty incredible wedding/event location too).
12. Catching a Screening at Channel 101 at the Downtown Independent
Free monthly screenings at the Downtown Independent of short "pilots" that live or die based on audience approval.
13. Chilling at the Park at Echo Park Lake
Go to the Echo Park Lake to have a picnic, set up shop by the and enjoy a stellar view of palm trees framing the DTA skyline, along of course with the wonderful weather. And of course don't forget the Lotus Festival every summer!
14. Meditating at the Peace Awareness Labyrinth and Gardens
When you're seeking a little peace and serenity in your life, take a walk inside the Peace Awareness Labyrinth, a hidden gem tucked away in the heart of the middle of Los Angeles.
15. Wandering Around the Old L.A. Zoo
Explore the ruins of the zoo before the zoo in the middle of Griffith Park. For more info, Tom Explores Los Angeles does a great piece on this place (we embedded below).
16. Gazing at the Art at the Regen Projects
A massive gallery on Santa Monica Blvd. that features an amazing stable of artists on exhibit. Get more info about Regen via their Yelp page.
17. Photographing the Amazing Artwork on Mural Mile
A stretch of road along Van Nuys Blvd. in the community of Pacoima boasts some of the best mural artwork in the entire city. It's known as Mural Mile.
18. Going to see Free Shakespeare
If theater is your thing, every summer there are free performances of Shakespeare by the Sea and Shakespeare at the Park that make for a perfect evening of picnicking and culture.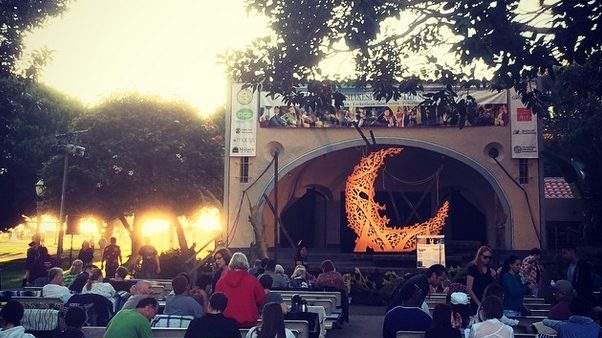 19. Enjoying the Levitt Pavilion Free Concert Series
An outdoor amphitheater in Old Town Pasadena that has an amazing run of free performances over the course of every summer. Check out 2014's calendar to get an idea of what you might see.
20. Learning Something New at the Jet Propulsion Labratory
The Jet Propulsion Laboratory (or JPL) is a federally funded research and development center and NASA field center located in La Cañada Flintridge, just northwest of Pasadena.
JPL does an open house once a year in October with free admission to the public. The open house includes an insider's view in their machine shop, the microdevices lab, lifesize 3-D models, and more! They also have a weekly lecture series that takes place twice a month on consecutive days with industry experts discussing relevant topics to the space and technology field. The lecture series is also free!
2014's open house takes place October 11th and 12th.
21. Appreciating the Works at the Gagosian Gallery
Rubins, Warhol, DuChamp, Twombly… these are just a few of the names whose art has been exhibited at the Gagosian. It's a top shelf gallery, located in the heart of Beverly Hills. And FYI, somebody on Yelp even mentioned something about free wine from time to time…
22. Taking in an Amazing Free View of Los Angeles
There are countless amazing spots around the city where you can get an amazing view, whether you're looking for a peaceful ocean scene or a great photo-op of the DTLA skyline. To get started, check out our compilation of free viewing points.
23. Seeing the Murphy Ranch Abandoned Nazi Compound
Hike a trail to locate the ruins of an abandoned Nazi sympathizer compound built in the Pacific Palisades in the 1930's.
EDITOR'S NOTE: Since the original publication of this piece it's come to our attention that additional fences have been added to this area and that Park Rangers are more aggressively ticketing folks trying to hike to this location. For now, we would not recommend visitng because of that! 2/10/14
24. Checking out The Bradbury Building
One of the most unique architectural interiors in the entire city. As a visitor you can only go up to the second floor, but really that's all you need.
25. Touring L.A. through Metro Art Tours
Did you know that Metro offers free, regularly scheduled docent led group tours of the artwork in the Metro Rail system? Plan your visit at their official site.
26. Musing at the Mosaic House
Imagine an entire house covered floorboard to roof beam entirely in tiny colored tiles. Robert Hemedes of Atlas Obscura calls it like "walking into a coral reef." We'll just say that the Mosaic House in Venice is one of the most unique living architectural / art installations in the entire L.A. area.
27. Shooting Arrows at the Rancho Park Archery Range
An all volunteer run archery range with FREE classes every Saturday Morning. Get in touch with your inner bowman.
EDITOR'S NOTE: It's come to our attention that the Rancho Park Archery Range is currently closed for renovations. However, you can go to this link on their blog to find alternative archery locations! 10/1/2015
28. Walking along the Great Wall of L.A.
This incredible mural runs over 2,700 feet long (one of the longest in the world) and illustrates California history from 20,000 B.C. to 1984. It was recently restored and is more vibrant than ever.
29. Traversing the Shipwreck Trail
Hike down a cliff side in San Pedro and see the wreckage of a beached ship from more than 50 years ago.
30. Stargazing at Glendale Planetarium Shows
When school is in session they offer a free, open to the public astronomy presentation called "Afternoon with the Stars." You can check out the schedule here.
31. Getting Friendly at the Korean Friendship Bell
The Korean Friendship Bell is the perfect place to place to hang out, enjoy the view, and take some gorgeous photos on a sunny afternoon at a park by the sea!
32. Climbing the Stairs at Baldwin Hills Scenic Overlook
A great workout and a great view at the top.
33. Staying in Touch with Current Events at Zocalo Public Square
The Zocalo Public Square is non-profit ideas exchange foundation that offers a free lecture series where you can go to get informed about the issues of the day and discuss them in an open forum.
34. Hearing Great Bands at KCRW Summer Nights
Every summer KCRW comes out of the studios and into communities across L.A. with a series of outdoor shows featuring live band performances and DJ sets.
35. Hanging out at Amoeba Records for Free Live Shows
Amoeba Records is a Sunset Blvd music store that hosts boatloads for free concerts, DJ performances, and artist signings. It's a unique space that's worth checking out at least once. Check here for upcoming shows.
36. Exercising and Meeting New People with a Free Running Group
Meet people? Get your weekly exercise? Don't like gyms? Might we suggest joining a running group. Specifically, the DTLA Running Group is one we'd heartily recommend. They Tuesday, Thursday and Saturday mornings to run along different routes in and around Downtown, using different routes to accomodates different runnings levels. To join in, check out their page on MeetUp.com
37. Laughing Your Ass Off at an Upright Citizens Brigade Free Show
One of L.A.'s best improv comedy troupes offers a free performance every month. You just need to show up earlier enough to make sure you reserve a seat (no reservations taking for the free shows). Check out their full calendar here.
38. Listening to USC Thornton School of Music Free Performances
Did you know every month puts on free recitals that are open for public attendance (all you need to do is make a reservation online). If classical is your thing, these might be right up your alley. Event listings on their official website.
39. Receiving a Dose of Culture at Blum and Poe
Some call it the 'original' big name gallery in Culver City. This is the first place to feature Takashi Murakami and Yoshitomo Nara (and if know who those artists are, this will no doubt seriously excite you).
40. Enjoying the Scenery at the Yamashiro Farmer's Market
A summer-only farmer's market with an absolutely stunning view. The produce you pay for, but the perspective on the city is 100% free.
Please let us know if you have any corrections, annotations, additional tips or feedback in the comments below. Thanks!
Want More Ideas for Things to do in L.A.? Sign Up For Our Email List!
Two emails a week, Monday AM and Thursday AM.
Monday: The best of the week ahead. 20 to 30 ideas.
Thursday: What to do this weekend. 20 to 30 ideas.
PLUS: Updated info on giveaways, promos, and events (like hikes and happy hours).
Basically, just think of us as your friend making some fun suggestions for what you might like to check out this week.
Sign-up in the form below to join the list!
Remember, we respect the fact that you're trusting us with your personal info and will never share your email information.
That said, hope you come along for the ride! 🙂 Cheers!