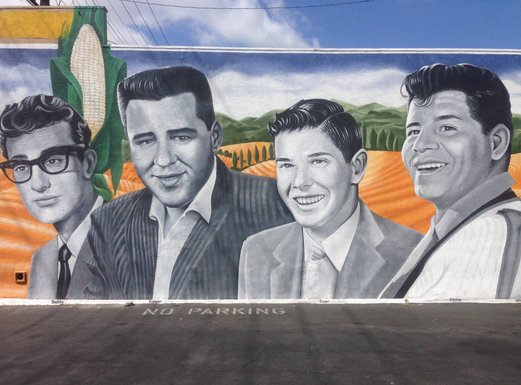 Ever wondered where the best murals in Los Angeles can be found?
Well if they gave out awards for such things the so-called Mural Mile located on a stretch of Van Nuys Blvd. in the city of Pacoima is definitely in the running.
The artist who started it all was a young man named Levi Ponce, who grew up in the area and wanted to find a way to reinvest some of his creative energy back into his home town.
In 2012 he began knocking on the doors of local business owners asking if he could use their alleyways and street facing facades as his canvas.
Many said yes, and the resulting work features gorgeously realized wallscapes with subjects ranging from reimagined historical figures to latino pop icons and celebrities (see Richie Valens and Buddy Holly above).
KCET has actually written a couple stories on Ponce in the past two years, so to make it easy I'll just quote directly from this piece below:
"Ponce's fight is centered on beautifying the streets he grew up on. He's made it a personal mission to paint 12 murals in 2012, all self-funded and rooted in his hometown of Pacoima, or, as he puts it, 'the heart of this east Valley project.'"
Based on the results so far, I'd say his vision is working. And now, with his murals already up, he's soliciting the help of other artists to share their voices and creativity with the community as well.
Great job Levi!
[Photo Credit: reddit.com/user/Dreyyy]
Why it's cool
If the images (scroll down) don't say enough, some extra enticement:
– Giant ass pictorial of Danny Trejo (I'm personally sold right there).
– Mona Lisa in a sombrero. Also quite epic.
– Great Instagram opportunities for all you social media hounds.
– It's free, yo!
Additional Information
We embedded a few bonus Instagram captures below along with a map to the area.
Instagram Photo Credits:
1. http://instagram.com/mrtonez
2. http://instagram.com/shotbyabel
3. http://instagram.com/impermanent_art
4. http://instagram.com/shotbyabel
Where is Mural Mile?
Nearest major intersection of the Mural Mile is at San Fernando Rd. and Van Nuys Blvd. in the city of Pacoima
Map shown below. Enjoy!
You can actually go to Ponce's wikipedia page if you want to see a listing of his works and the exact addresses associated with each mural. If you're interested,  you can also go to Levi's personal website.