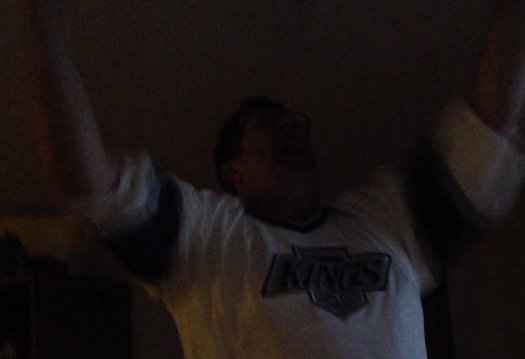 Tonight it seemed literally everyone in L.A. was celebrating the Kings berth into the Stanley Cup Finals.
Thanks to Instagram, we can actually see how many angelenos experienced the moment, and frankly, that's pretty damn cool!
Here's a smattering of how folks around the city experienced the overtime, game-winning goal that sent our boys to the cup.
Enjoy!
A father's proud moment.
Just watching the tube like everyone else in L.A. Had to make sure that goal actually counted!
Hooters loved it.
Folks at Tom's Urban loved it too.
Big Wangs loved it! (watch for the lonely Chicago fan holding his head at about 10 seconds in)
Happy Endings in Hollywood (and appropriate name tonight)
Los Angeles Brewing Company was all about it too.
Even dogs were chanting "Go Kings Go!"
Maybe coolest of all, a spontaneous chant even broke out at Dodgers Stadium. Gotta loved it when the whole city is vibing at once.