Who says the best things in life aren't free?
After hiking up the Brush Canyon Trail with our group of We Like L.A.'ers to see the Hollywood Sign earlier this month, it reminded us how much beauty there is to be explored in this city that really doesn't cost us much of anything at all, except a little time and effort.
And the sense of gratitude and accomplishment you feel when you actually take the time really does make the experience in itself priceless.
To that end, we've put together a list of some of the best places to grab a free, and quite amazing, perspective of Los Angeles (Keep in mind some places may have paid parking, such as the Getty, but to us this is a great reason to carpool or take public transit).
Good to keep in mind next time you're bored and looking for something to do on a perfectly sunny afternoon 😉
Cheers.
[RELATED: 57 Fun & Free Things To Do in L.A. Every Angeleno Should Try Once]
Getty Center
The Getty is breathtaking in it's own right, but the views both facing Westwood/ DTLA towards the east and over the ocean during sunset on the west are equally marvelous. While admission to the Getty is always free, keep in mind there are parking fees, so it's might be worth it to take public transit or carpool with your friends to save some bucks! Additional info on Yelp.
Turnbull Canyon
A beautiful hike in the Puente Hills Preserve rewards you with views of the Hacienda Heights area, the Hsi Lai Temple, the peaks near Schabarum and Powder Canyon, and even DTLA on a clear day. Additional info on Yelp.
Top of City Hall
Many people don't know but the observation deck on the 27th floor of the City Hall is open to the public. Great up-close views of DTLA. Just bring a valid government I.D. and tell the folks at the entrance you're there to see the observation deck.
Additional info on Yelp.
Angels Point in Elysian Park
A sweeping view of DTLA with Dodger Stadium perfectly in frame.
Additional info on Yelp.
Vista Hermosa Park
That bench shot with DTLA in the background is one of the most iconic in the city.
Additional info on Vista Hermosa Park.
Top of The Grove Parking Lot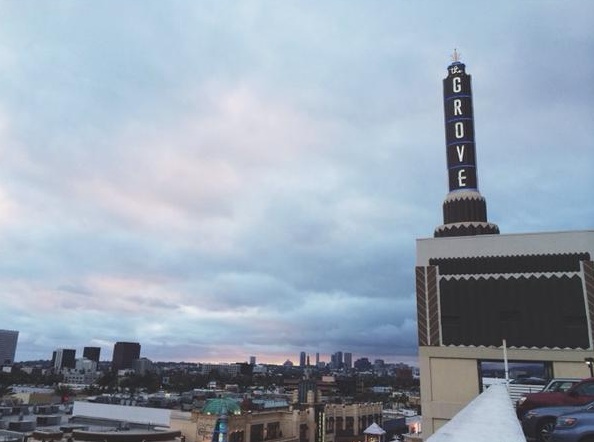 [Photo Credit: foursquare]
Another spot folks don't necessarily think of, but the view from atop the parking structure at The Grove provides a great vantage point to see several different parts of Los Angeles.
Additional info on Yelp.
Hilltop Park
High atop the city of Signal Hill, Hilltop Park offers a viewing area to see all of. Particularly cool spot to check out Fourth of July fireworks as you can see multiple shows going on at once.
Additional info on Yelp.
Griffith Observatory
Worth it to go at night to get the brilliant shot of the Observatory in the foreground with the shimmering lights of DTLA off in the distance.
Additional info on Yelp.
Baldwin Hills Scenic Overlook
A 15 minute journey (give or take) up a steep set of stairs earns you a beautiful, expansive view over the entire city of Los Angeles. Also, it's a pretty good workout for your glutes 🙂
Additional info on Baldwin Hills Scenic Overlook.
The Hollywood Sign at Mt. Lee
You can hike up to the top of Mt. Lee from a couple different paths, but whatever your route, the view includes not only the sign, but Lake Hollywood, Griffith Observatory, and downtown Los Angeles.
Our hike to the Hollywood Sign.
Additional info on Yelp.