Ok, so we're waking up bright and early this Saturday morning to enjoy a nice climb to the top of the Baldwin Hills Scenic Overlook!
The short hike will take place this coming Saturday, August 2nd, 2014 at 6:45am. We'll be meeting up with anyone who cares to join at 6:30am in front of the trailhead at the north end of the park near the intersection of Heltzer Rd and Jefferson Blvd (see maps below).
Not only will it be a nice little workout, but the views from the top of the overlook are some of the most breathtaking in the city, offering you a truly panoramic view of much of L.A.
And hey, afterwards, there are some great options in the area for getting a quick bite (recommendations below) if anyone would like to join us for some grub.
If you'd like to attend, make sure to RSVP on our Facebook Event page (and as an aside, if you like these kinds of events, be sure to sign up for our email list so you can get notified about all things We Like L.A.).
Please also be sure to read all the details and things to know below.
Hopefully we'll see you there!
More info after the jump.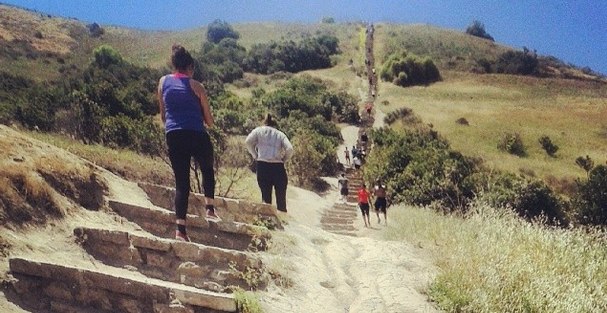 [Photo Credit: calidreamer21]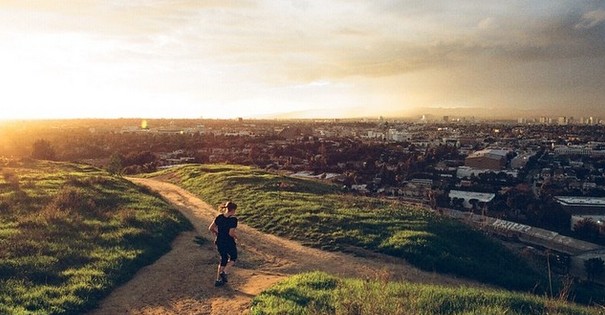 [Photo Credit: timcguest]
The Hike Itself
There are two ways to get up to the summit of the overlook. A straight shot via a set of stairs and a switchback trail that winds up the hill and criss-crosses the stairs.
Our plan is to take the stairs up, hang out at the overlook for a bit, walk over to the visitors center / botanical garden, then take the winding trail back down (easier on my knees!). The total distance covered by this route will be about 1.5 miles, but the stairs themselves will be a challenging 300ft. elevation gain in roughly .2 miles of huffing and puffing.
For those who want a more challenging workout, you can also choose to do the stairs up-and-back more than once, but it's completely up to you! Or maybe you can just challenge me to a push-up contest at top 😉
If there is anyone who can't handle the stairs, feel free to take the switch-back trail and meet us at the top.
I've provided some maps below, but to get additional information on the hike, check out this Hikes Peak article, which has some additional details worth noting.
Whatever route you choose, Christina and I will be hanging out till about 7:45-8:00am, at which time we'll rally the troops to see who may want to go grab breakfast. Our rally point post-hike will be right where the trail starts at Jefferson Blvd, if you care to do the breakfast thing after the hike 🙂
After the Hike
I figure a lot of folks will be pretty hungry afterwards, so let's talk about breakfast.
I don't think it makes sense to mass caravan to any restaurant in particular if a large contingent shows up (who knows how many folks will actually come?!?!) but there a lot of good breakfast options in the area so I'll list a few here, and people can feel free to break off into their individual groups and go grab bite to eat as they see fit (you will have earned it!)
Nearby options you may want to consider after the stairs:
Feel free to suggest more options in the comment section below!
Things to Remember
– We'll meet up at 6:30am at the head of the trail on the north end of the park, right at Jefferson Blvd (see map below).
– Though the park website says it opens at 8:00am, it seems like most people generally ignore that altogether (which is why we're going early, to avoid as much of the crowd as we can!)
– Free Parking can be had on Jefferson Blvd. There is paid parking. There is also parking at the top of the overlook at the visitor's center. The parking on Jefferson will fill up quickly (another reason we NEED to go early)
– As with any outdoor hike, bring water, and wear sunscreen, a hat, and appropriate footwear.
– Go at your own pace! The stairs are tall and uneven in parts, so it may be challenging for some. You can always go slower or choose to take the switchback trail instead.
– Check out the maps below more information on the route and getting to Jefferson Blvd.
– NO DOGS ALLOWED at trail. Sorry dog lovers 🙁
– If you get there, just meet us at the top or hook back up with us before 8:00 at the rally point.
– Have fun!