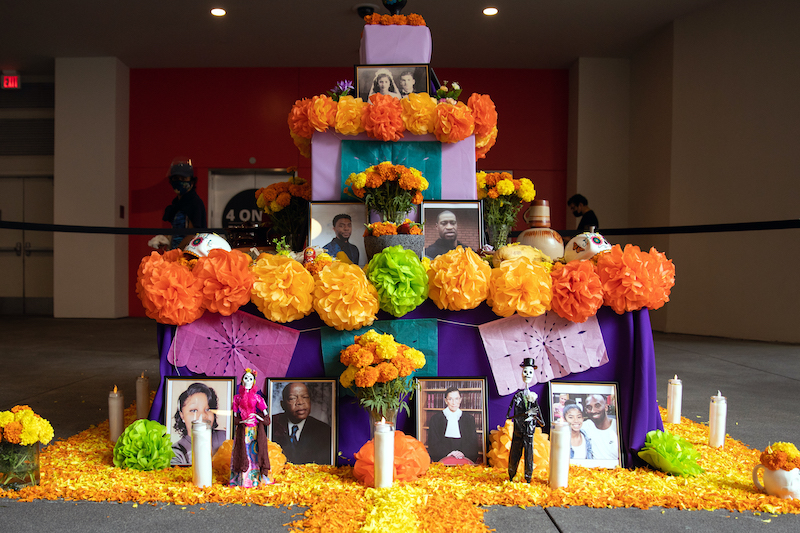 While most in-person Day of the Dead events have been canceled this year, there are several virtual programs to stream and outdoor altars you can visit. This year's options include educational content and meditations from the Museum of Latin American Art, La Catrina sculptures in Santa Monica, and a livestream from Forest Lawn in Glendale.
---
Through Nov. 2, find Central American artist Dalila Paola Mendez's altar on the lower level M1 of Figat7th in DTLA. It honors elders, community, heroes, and lives lost to COVID-19 and racial injustice. It also honors public figures we lost this year including George Floyd, Breonna Taylor, Kobe and Gianna Bryant, Ruth Bader Ginsburg, and John Lewis. 
Tecate's next episode of El Patio Tecate is a Día de los Muertos-themed virtual event and community fundraiser on Oct. 30 at 6 p.m. The episode features three-time 2020 Latin Grammy nominee Natalia Lafourcade, Tatiana Hazel, San Cha, and DJ Orange Calderón. All proceeds benefit No Us Without You. Watch here or on Tecate's social channels, including on YouTube.
Forest Lawn's Día de los Muertos celebration will stream on Facebook Live on Nov. 1 from noon to 2 p.m. Performances include Ballet Folclorico Internacional, Mariachi Juvenil Herencia Mexicana, and the Bob Baker Marionette Theater. Father Mario Juarez from Christ Cathedral will also host a bilingual ceremony.
On Nov. 1 from 1-9 p.m., The Hollywood Artisan Market will host an outdoor Day of the Dead Celebration with over 100 vendors, live music, raffles, and food. Admission is $5. The first 500 guests will receive a free T-shirt. Social distancing and face masks required. More info here.
Several community altars are available at Grand Park and Jerry Moss Plaza at the Music Center now through Nov. 4. As you visit them, you can also listen to short, pre-recorded audio guides with storytelling by the artists on Grand Park's Mixcloud and YouTube channels. Social distancing and face masks required.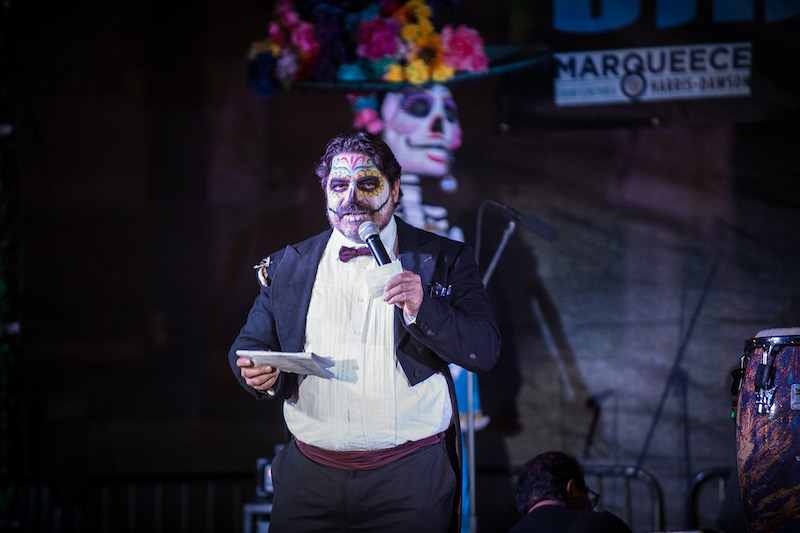 24th Street Theatre's annual Día de los Muertos celebration is online Nov. 2 at 6 p.m. Hosted by Gabriel Romero (Archer, Dante's Cove, Los Beltrán), the virtual festival will feature guests including master conguero, bandleader and vocalist Louie Cruz Beltran and his ensemble; Xochi Flores and Cesar Castro and their Son Jarocho-Chicano Cambalache; Aztec dance troupe Huitzilopochtli; ballet folklórico Sol de Fuego; actor Edward James Olmos, and event partners and Councilmembers Gil Cedillo and Marqueece Harris-Dawson. The event will also feature a screening of the short film Las Instrucciones, virtual workshops, and a "man on the street" check-in from Mexico City. Watch here.
The Museum of Latin American Art's A Long Journey consists of several videos on its YouTube channel including meditations, tutorials, lectures, and more. According to Chief Curator Gabriela Urtiaga via a release, "'A long journey' refers to the path that each person takes during their life cycle, and how throughout history this intimate circle honors that memory through rituals and celebrations. The importance of life, of bonds, ritual, identity, and the journey as an essential part of one's being are poetically connected in this group of works selected from the MOLAA Permanent Collection for the 2020 Día de los muertos exhibition." See a guide to the virtual program here.
Olvera Street will not host an in-person event this year, but they will display community altars and throw a virtual event. On Nov. 1 at 6 p.m., you can log in here to see performances by La Santa Cecilia, Teatro del Barrio, Grupo Tatalejos, Ballet Folklorico Mexico Azteca, and more. Community altars will be available to visit outdoors with social distancing and masks through Nov. 2, 10 a.m. to 5 p.m.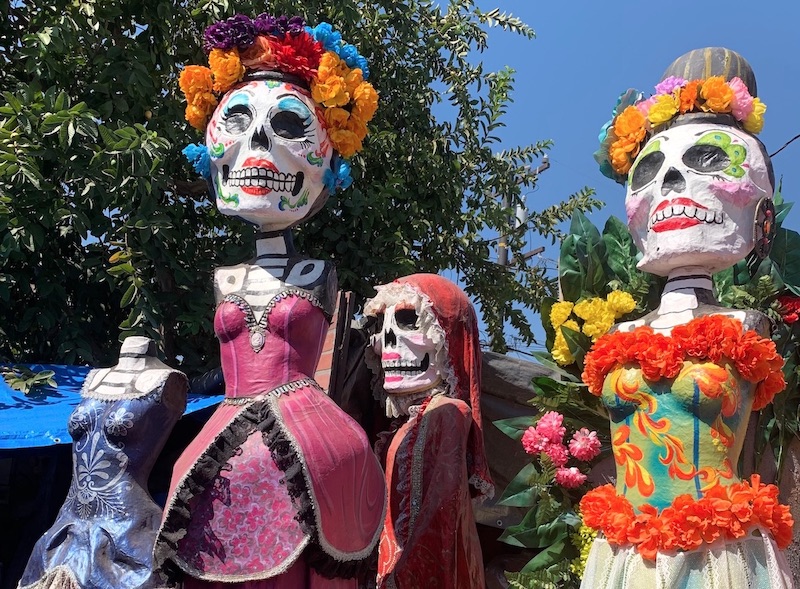 Artist Ricardo Soltero has several 14-foot sculptures of La Catrina on view on the Santa Monica Pier and Third Street Promenade. See them Oct. 31 through Nov. 2, 10 a.m. to 8 p.m. Social distancing and face covers are required when viewing.
Hollywood Forever's annual in-person celebration has been canceled, but you can tune into a livestream event on Nov. 1 at noon. Fernanda Kelly hosts with performances from Los Lobos, Buyepongo, and Tropa Magica.
The Fowler Museum and Self-Help Graphics & Art have an online workshop with artist William Acedo, who will teach you how to make your own calaca cartonería (papier-mâché skeleton) out of household materials. The activity is inspired by the Fowler's collection of Felipe Linares' cartonerías. The museum suggests giving yourself 4-5 days to complete your work, so if you start now, you've got just enough time to finish this 5-part series.