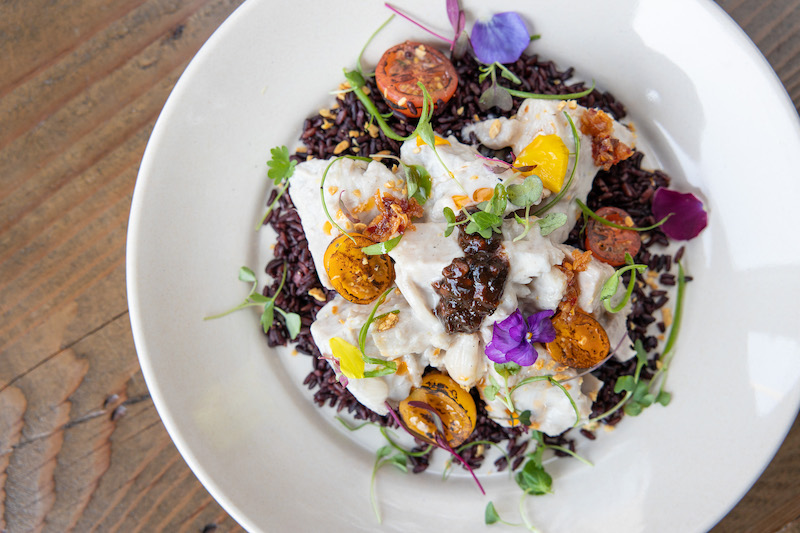 The COVID-19 pandemic has hit our food and beverage industry hard, forcing all restaurants to halt dine-in service. But by ordering pickup or delivery, you can help those still in service stay afloat. We're now going to share some of our favorite local takeout, pickup, and delivery deals every Friday. So, if you're up for a #treatyourself weekend, take a look at our first list below. And don't forget to tip! Our hospitality workers need it now more than ever.
1. Secret Lasagna is offering individual and group packages that include lasagna and all the fixings, plus dessert. If you're dining solo, consider "The Ron Burgundy" package. It comes with one personal lasagna and an additional "personal top secret lasagna (vegan)," plus garlic bread, a Caesar salad, and summer berry crisp for $42. For larger groups, try "The Garfield" for $125, featuring family-size servings and Ooey Gooey Brownies for dessert. Add wine to food orders for an additional $20.
2. Filipino restaurant Spoon & Pork has some affordable family-style dishes available. They come by the quart and should feed 2-3 people. Options include beef caldereta stew (beef, carrots, potato, pimenton sauce) for $15; Arroz caldo (rice porridge, shredded chicken, chives, crunchy garlic) for $10; Pork belly sinigang soup (pork, veggies, tamarind broth) for $13, and Coco Jackfruit (jackfruit, ginger, coconut milk, tomatoes, crunchy garlic, scallions, jalapeño) for $13. Plus, all bottles of wine are 20% off and all beers are $5. Open Tuesday through Sunday, noon to 7 p.m. More info here.
3. Every Friday, Ike's Love & Sandwiches will offer a "special social distancing sandwich" for $5 when you buy another at regular price. This week's specials include The Tiger King (fried chicken, tiger sauce, provolone, pepper jack cheese) and The Here Kitty Kitty, which is a vegan Tiger King made with vegan chicken. Order on the Ike's app, available or iOS and Android, and get free delivery through April 15. 
4. Philippe The Original is offering a four-person Family Pack for $50 that includes your choice of meat and cheese for each sandwich and four sides. You'll also get pickles, au jus, and a bottle of Philippe's hot mustard. Available for pickup and delivery through Postmates and ChowNow.
5. All locations of El Gallo Giro are offering a $24 family meal that includes two pounds or either carnitas or chicken, plus beans, rice, tortillas, and salsas. Available for takeout and through delivery apps DoorDash and Postmates.
6. InterContinental Los Angeles Downtown has a to-go weekend brunch special available for pickup on Saturdays and Sundays from 10 a.m. to 3 p.m. For $18, get one egg starter (ham and cheese omelet, scrambled eggs, or a roasted veggie and potato burrito), one entree (roasted chicken breast, grilled salmon filet, or woodland mushroom and kale ravioli), one side (green salad or tomato soup), and a slice of New York cheesecake. Add a bottle of wine for $15. 
7. PizzaRev is offering a date night deal. For $33, get two craft-your-own pizzas, two house salads, and a bottle of wine. Available for takeout, curbside pickup, or delivery. Order here. Not in the mood for date night? You can also get 30% off all other online orders.
8. Pop-up Pho King is accepting pre-orders of its pho kit for $13. The kit also comes with a beverage from the pickup location, Hey Hey in Echo Park. You can pick up your order this Sunday.
9. Cassell's Hamburgers in Koreatown and DTLA is open for pickup and delivery, offering burgers, sandwiches, breakfast, and more. But the key deal here is the cocktails. Get a Moscow Mule, golden margarita, or old fashioned for just $5!  
10. The Bellwether in Studio City is offering curbside pickup between 4-8 p.m. They have a promotion for 25% off bottled wines and $10 specialty cocktails. Try to score the fancy grilled ham and cheese on Texas toast and blood orange margarita combo for $15, available Friday until they sell out.
11. 101 North Eatery & Bar is offering a Lobster Dinner for Two on the weekends. For $65, you'll get a 1.5-pound lobster, shrimp, clams, corn, peewee potatoes, and smoked chorizo. Place your order by Friday at 4 p.m. for no-contact pickup or free delivery on Saturday or Sunday between 3-8 p.m. Beer, wine, and cocktail kits are also available.
12. California Pizza Kitchen just launched CPK Market, a collection of six meal kits. Kits include kids build-your-own pizzas for $5; a raw fruit and veggie box for $34, and a chef's board with a baguette, two meats, two cheeses, dried fruit, and nuts for $25. Pantry items, beer, and wine are also available.
13. Spend $17 or more at the pickup counter at Du-par's Bakery and Pie Shop and receive a free small homemade fresh fruit jam.
14. Guerrilla Tacos is offering an Emergency Taco Kit that should keep you set for a while. It contains five pounds each of roasted chicken and carne asada, one pint each of green and red salsa, tortillas, onion, cilantro, rice and bean, 30 eggs, and a roll of toilet paper for $155. These provisions should make about 60 tacos and the meat will keep in the freezer for three weeks.
15. This next WeHo Supper Club is Friday, April 3 from 5-9 p.m. and features curbside pickup or free delivery from Amarone. All diners will get their choice of an appetizer and entree, plus flourless chocolate cake for dessert for $35/person. Add a bottle of wine for $20. 15% of proceeds will benefit SPCALA. Email [email protected] or call (310) 652-2233 and mention WeHo Supper Club to order. Participants are also invited to join the virtual bar @thesmellycatpub on Instagram for live performances from musicians and comedians, trivia, cocktail recipes, and more. 
16. Boneyard Bistro in Sherman Oaks is offering curbside pickup and delivery of its slow-cooked barbecue and eclectic menu. Score 50% off beer and wine and 2-for-1 cocktails.
17. Sonoratown's pickup or local delivery menu includes all the usual suspects, as well as package deals. Get one pound of grilled carne asada, chicken, or chorizo; 12 flour tortillas; a half-pint each of chile arból and avocado salsa; cabbage; grilled onions; lime, and radish for $27. Double that for $48. If you just want a dozen tortillas—and you know Sonoratown's tortillas are superb—it's $4. More info here.