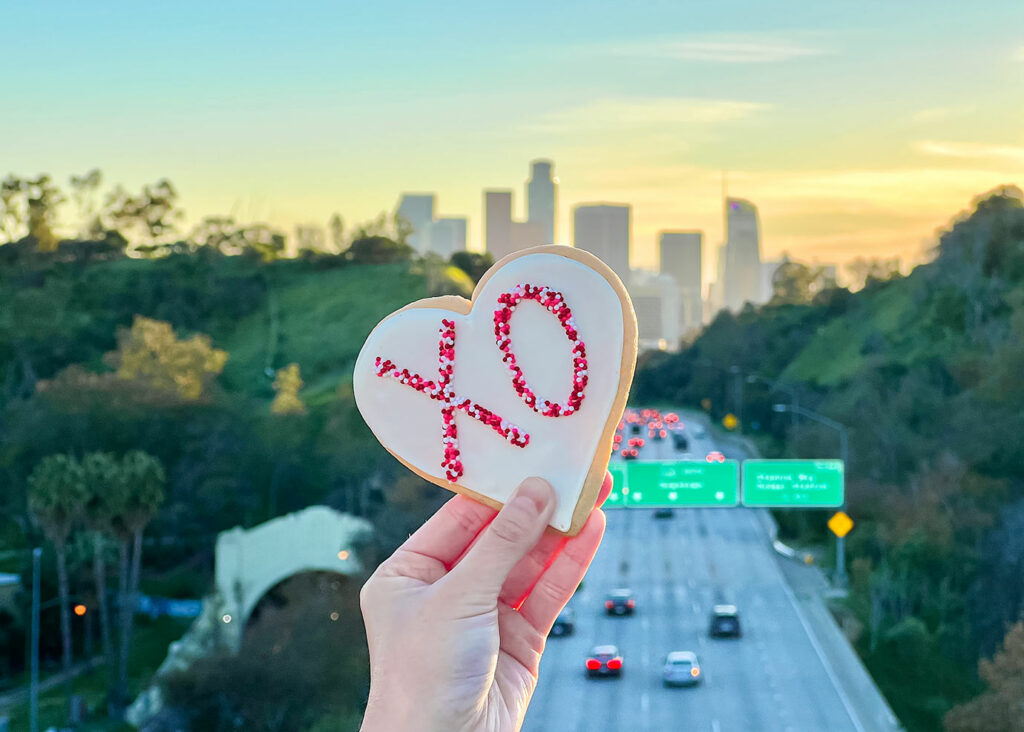 Ok, so another Valentine's Day is upon us. Whether you're single, coupling up, or fed up with the whole concept of a greeting card holiday, we've got a few ideas that don't involve a night on a couch binging (insert streaming service of your choice).
Our list of Los Angeles to-dos for V-Day includes comedy shows, free pop-ups, a Break-Up Bar, concerts, a drive-in movie, special menus, delicious sweets, and more. So yeah… something for everyone. Now let's have a look.
Valentine's Day To-Dos in Los Angeles
Grand Park's Lovers Rock -> Do Valentine's Day DTLA style with a romantic evening of entertainment at Grand Park. Expect live music, a photo booth, a pop-up art gallery by LA Plaza de Cultura y Artes, a flower market with Poppy Lavender Florals, and more. Runs 6 to 10 p.m. Free to attend. More info here.
The Tarot Show Like-Likes You: A Valentine's Day Special -> This love-themed edition of Hannah Garcés and Dickie Copeland's Tarot Show promises to be one hilarious and hot Valentine's show. You'll definitely want to volunteer for a tarot reading if you want the full experience. Tickets are $10. More info here.
Break Up Bar at Harvard & Stone -> Harvard & Stone's anti-Valentine's Day Break Up Bar is a one-night-only event featuring themed cocktails, art installations, live entertainment and the appropriately titled "wall of broken relationships." GA tickets are $38. Starts at 8 p.m. More info here.
John Legend at Disney Concert Hall -> On February 13-14, John Legend heads to Walt Disney Concert Hall for back-to-back evenings of songs and stories. Expect plenty of romance in the air, as the iconic singer-songwriter mixes up greatest hits with selections from his forthcoming album LEGEND. Tickets for balcony seating start at $99. More info here.
The Notebook at Electric Dusk Drive-In -> Consider a romantic movie night this Valentine's Day with Electric Dusk Drive-In's February 14 screening of The Notebook. A single vehicle entrance with two passengers will run you $36 total, and there are also concession packages to add-on for $30 that include 2 sodas, 2 popcorns, 2 candies, and 1 adorable teddy bear. More info here.
Cupid's Mixer in Santa Monica -> Club 66 comes to Cult in Santa Monica for a chill singles event filled with social games, live music, and discounts on themed menu items. Red or pink attire encouraged. Early bird tickets are $20. More info here.
11th Annual Valentine's Day Spread the Love -> Maybe instead of romance for V-Day, you're looking to give back. Consider nonprofit Big Sunday, which is hosting a volunteer gathering at Saint Barnabas Senior Center where participants will make cards and goodie bags for the senior citizens at St John of God Retirement & Care Center, and partake in an age-friendly dance class. If you can't make it in person, Big Sunday will also be collecting 2,023 Valentine's Day Cards to be distributed to nonprofits across Los Angeles. Just make sure you drop a card off by February 10. More info here.
Make a Complimentary Bouquet -> One Colorado in Old Pasadena aims to Celebrate loving YOU this Valentine's Day with a flower wall activation located in Douglas Alley. Stop by starting at 4 p.m. to create a complimentary bouquet, then use the money you saved to take your crush on a date at the Neon Retro Arcade for unlimited video game and pinball plays.
Free Admission at LACMA and The Autry -> It just so happens that Valentine's Day falls on the second Tuesday of February this year, which means it lines up with the monthly free days at both the Los Angeles County Museum of Art and The Autry. If a day-date filled with art and culture sounds like your jam, consider stopping in to either institution.
About Last Night at Three Clubs -> The San Francisco-based live event series About Last Night comes to Three Clubs in Hollywood for a Valentine's Day night of sex-positive storytelling featuring intimate, embarrassing and (importantly) true tales of romance. Tickets are $20. Starts at 7 p.m. More info here.
Bloody Valentines Screening at Million Dollar Theatre -> Street Food Cinema celebrates Valentine's Day with three bloody good movie screenings over three nights (February 10, 11 and 14) at the historic Million Dollar Theatre in DTLA. Slated films include Queen of the Damned, Bram Stoker's Dracula and Jennifer's Body. Advanced tickets cost $28 for general admission and $31 for reserved sections. More info here.
Valentine's Day Meditation at The Hammer -> Make Valetine's Day an evening of self-care by joining writer, filmmaker, and artist Liz Goldwyn in a guided, interactive meditation hosted at Hammer Museum. Sound healer Soulei Goe joins Goldwyn to play live sound bowls purported to emit "frequencies to induce a state of tranquility in the body and brain." Sounds refreshing! Starts at 7:30 p.m. Free to attend, but seating is first come, first served. More info here.
Dining & Drinks for Valentine's Day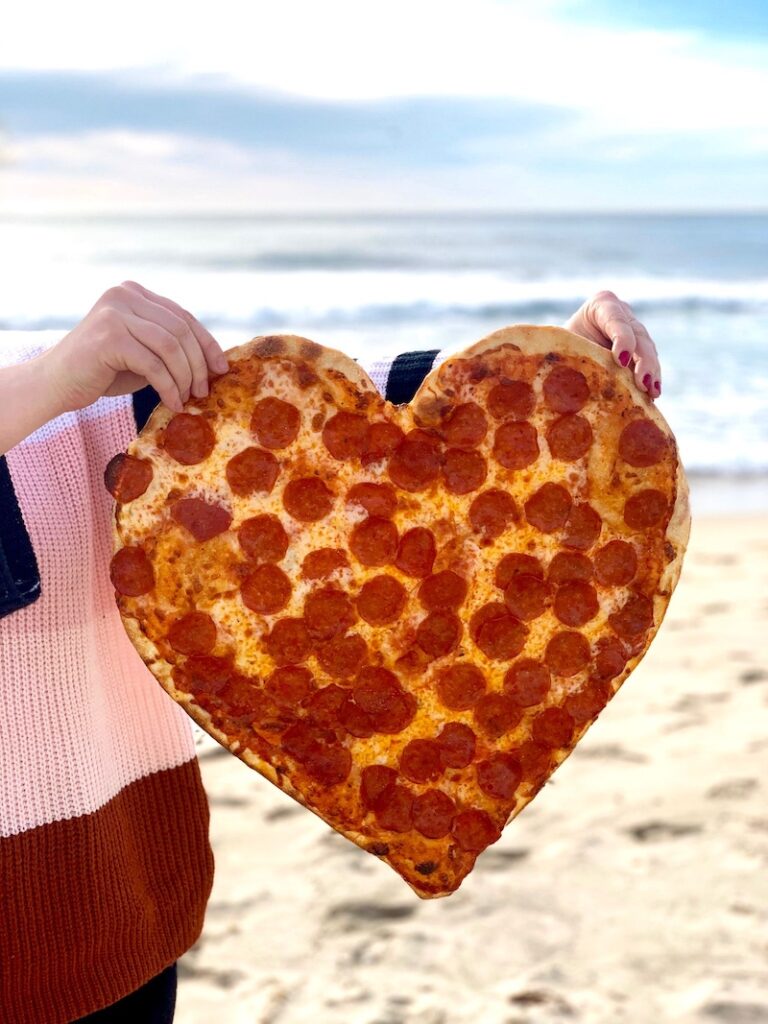 Mickey's Deli's Heart-Shaped Pizza -> Is pizza really the way to the heart? Mickey's Deli in Hermosa Beach thinks so, as they'll be bringing back their heart-shaped pizzas February 10-14 just in time for Valentine's Day. The V-Day special runs you $20 with additional toppings for $1.50 each. Call to order in advance, pick it up in-store to-go, or get it delivered through Mickey's website or third-party apps.
Pink Heart Tacos at Macheen -> Need more heart-shaped food stuffs? Stop into Boyle Heights shared kitchen space MilpaGrille for pink heart shaped tacos by Macheen and flower arrangements by virgo tendencies on Valentine's Day. No subtlety here!
Little Dom's -> Little Dom's pastry Chef Ann Kirk will once again offer sweet treats including heart-shaped sugar cookies and brownies for Valentine's Day. Angelenos staying home can also pick up a pizza making kit with all the ingredients for just $20. The restaurant also offers dine-in specials for the holiday that include Smoked Trout Crudo, Steak Au Poivre to a Chocolate Cream Pie with cocoa nib brittle. More info here.
The Return of Chef Teresa Montaño's Ración -> From February 13-17, Chef Teresa Montaño resurrects her critically acclaimed Basque/Spanish restaurant Ración over at Otoño. The $95/person tasting menu brings back some of Ración's best dishes, including Duck Sausage Stuffed Squid and Salt Co Fritter with lemon aioli, gold flake, and trout roe. An optional wine pairing ($45/person) and specialty cocktails will also be available for the evening. Reservations are required. More info here.
Table setting, Dinner & Wine Package -> Planning a night in for Valentine's Day? Let Graf Lantz, Porridge + Puffs and DomaineLA do the heavy lifting. Home goods brand Graf Lantz has curated a chic tabletop set to combine with Chef Minh Phan's special three-course menu. Plus, DomaineLA has selected the perfect wine pairings for the entire evening. The meal for two runs $95, and the tablescape and wines are sold as add ons. More info here
Valentine's Day at Momed -> Instead of pricey prix-fixe menus, Atwater Village's Momed offers a number of special a la carte options for Valentine's Day. Guests can feast on Crab Falafels, Duck Cigars, Bouillabaisse, and Octopus Casarecce to name a few. Bar Director Doug Neil has also created four special cocktails just for the evening. More info here.
Celebrating at Hotel Per La & Per L'Ora -> Hotel Per La in DTLA is offering a Date Night Package that includes $125 credit to Per L'Ora restaurant, and luxury suite accommodations with a bottle of sparkling wine plus a box of chocolates delivered straight to your door. In addition, Per L'Ora will be celebrating Valentine's Day all weekend long (February 10-14) with aphrodisiac dishes such as caviar, oysters and martinis for two.
McConnell's Valentine's Day Ice Cream Cupcakes -> From February 10-14, McConnell's Ice Cream will feature a Valentine's Day ice cream cupcake made with a house-made chocolate ganache cupcake base filled with your choice of ice cream topped with pink whipped cream and sprinkles.
A Swiss Chalet for Large Groups -> Folks gathering for Galentine's Day or couples dining together should consider booking the Swiss Chalet experience at the Fairmont Century Plaza. Guests will meet at the outdoor patio and tuck themselves into a private Swiss Chalet for a one of a kind "après-ski" dining experience that includes a plethora of shared bites to a warming oxtail soup and a decadent fondue course. Seating is limited, as only three chalets have been built and advance reservations are highly recommended. The cost is $125 per person with a six guest minimum. Each chalet can host up to eight people. More info here.
---
Want to get the best things to do in L.A. sent straight to your inbox? Join over 60,000 Angelenos who subscribe to our twice-weekly email newsletter!
By subscribing, you agree to our terms of use and privacy policy and consent to receive emails from We Like L.A. about news, events, offers, and partner promotions.