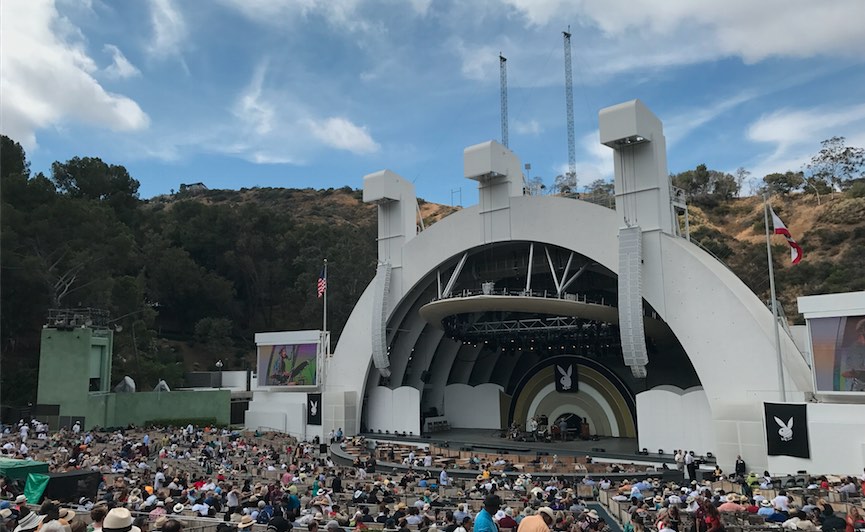 No summer in Los Angeles is complete with a concert date at the Hollywood Bowl. You know this. You're a fan. You're acquainted. There's no point in selling the experience further, so let's cut to it.
The good news is the the 2023 lineup dropped today. The only hitch is that you might be waiting a couple months to purchase single event tickets. First though, let's talk about the lineup.
The season starts with a boom as headliners Janet Jackson and Ludacris take the stage for opening night on June 10. That'll quickly be followed by the Jazz Festival on June 17-18, which has a killer slate of performers including Kamasi Washington, Leon Bridges, West Coast Get Down, St. Paul, and many others.
One of this year's other headlines is a showcase that Disney fans are sure to love. On August 4-5, catch songs from some of the studio's most iconic properties played live, accompanied by clips of the films that made them famous. Think everything from Snow White to Frozen. If you want to be transported back to your childhood, or maybe make a new memory for a little one in your life, this is going to be the show.
Two other concerts that caught my eye in August are Portugal. The Man + Chicano Batman + Say She She (August 6) and My Morning Jacket + Fleet Foxes (August 20).
Beyond that, this year's schedule features the usual assortment of great classical, jazz, and world music, including Maestro of the Movies with John Williams (July 7-9), and multiple KCRW Festival dates (with some artists still TBA). And yes, plenty of chances to see Dudamel and the L.A. Phil.
Just remember that while the schedule is out, you're going to have to wait a minute to purchase single event tickets. Here's how the release shakes out:
On sale right now are a handful of concerts (Louis Tomlinson, Jill Scott, King Gizzard and the Lizard Wizard) plus new subscriptions and renewals, along with group sales.
"Create Your Own" packages open on March 14.
Single ticket sales start May 2.
Bottom line: If something is on your radar and you're not already a subscriber, then make sure you put May 2 in your calendar.
See the full lineup below!
June
June 10 (opening night): Janet Jackson + Ludacris
June 17-18: Hollywood Bowl Jazz Festival
June 21: King Gizzard & the Lizard Wizard
June 22: Jill Scott
June 24: Harry Potter and the Deathly Hallows Part 2
June 25: The Game Awards 10-Year Celebration
June 30: Louis Tomlinson (formerly of boy band One Direction)
July
July 2-4 July 4th Spectacular with the Beach Boys
July 6: A Midsummer Night's Dream with Dudamel
July 7-9: Maestro of the Movies: John Williams with the L.A. Phil
July 11: Dudamel conducts Verdi's Requiem (L.A. Phil + L.A. master Chorale)
July 12: Charlie Wilson with En Vogue
July 13: An Ellington Celebration (L.A. Phil)
July 14-15: Kool & The Gang and the Village People
July 16: Sparks + They Might Be Giants
July 18: Estancia with Dudamel (L.A. Phil + Grupo Corpo)
July 19: Diana Krall
July 20: Prokofiev and Tchaikovsky with Dudamel (L.A. Phil)
July 21: Café Tacvba with the LA Phil
July 23: Reggae Night XXI (KCRW Festival)
July 25: Rhapsody in Blue (L.A. Phil)
July 27: Pictures at an Exhibition (L.A. Phil)
July 28-29: Quincy Jones's 90th-Birthday Tribute: A Musical Celebration
July 30: Everybody Rise! A Sondheim Celebration (Hollywood Bowl Orchestra)
August
August 1: All-Rachmaninoff (L.A. Phil)
August 3: 2001: A Space Odyssey (L.A. Phil + Los Angeles Master Chorale)
August 4-5: Walt Disney Animation Studios: The Concert (L.A. Phil)
August 6: Portugal. The Man + Chicano Batman + Say She She
August 8: Elgar and Beethoven (L.A. Phil)
August 9: Joe Bonamassa with orchestra
August 10: Sibelius and Grieg (L.A. Phil)
August 11: Rubén Blades
August 12: Carla Morrison
August 13: Maggie Rogers + Alvvays
August 15: Symphonie fantastique (L.A. Phil)
August 16: Gladys Knight
August 17: Shostakovich and Dvořák (L.A. Phil)
August 18-19: Tchaikovsky Spectacular
August 20: My Morning Jacket + Fleet Foxes
August 22: Chris Thile and Appalachian Spring
August 23: Herbie Hancock
August 24: Joe Hisaishi and La mer
August 25-26: Culture Club
August 27: Smooth Summer Jazz with Dave Koz and Friend
August 29: Beethoven at the Bowl (L.A. Phil)
August 31: The Four Seasons (L.A. Phil)
September
September 1: Star Wars: Return of the Jedi in Concert (L.A. Phil)
September 3: Air Supply and Michael Bolton
September 5: Mozart Under the Stars (L.A. Phil)
September 6: Buddy Guy and Christone "Kingfish" Ingram
September 7: Bach and Mendelssohn (L.A. Phil)
September 8-10: Maxwell (Fireworks Finale)
September 12: The Planets (L.A. Phil + Pacific Chorale)
September 13: Jacob Collier with the L.A. Phil
September 16: Sing-A-Long Sound of Music
September 17: KCRW Festival with artists TBA
September 20: Promises featuring Floating Points with Shabaka Hutchings
September 24: Los Auténticos Decadentes + More TBA as part of KCRW Festival
---
For more information and to purchase tickets, head to hollywoodbowl.com.
---
Want to get the best things to do in L.A. sent straight to your inbox? Join over 60,000 Angelenos who subscribe to our twice-weekly email newsletter!
By subscribing, you agree to our terms of use and privacy policy and consent to receive emails from We Like L.A. about news, events, offers, and partner promotions.