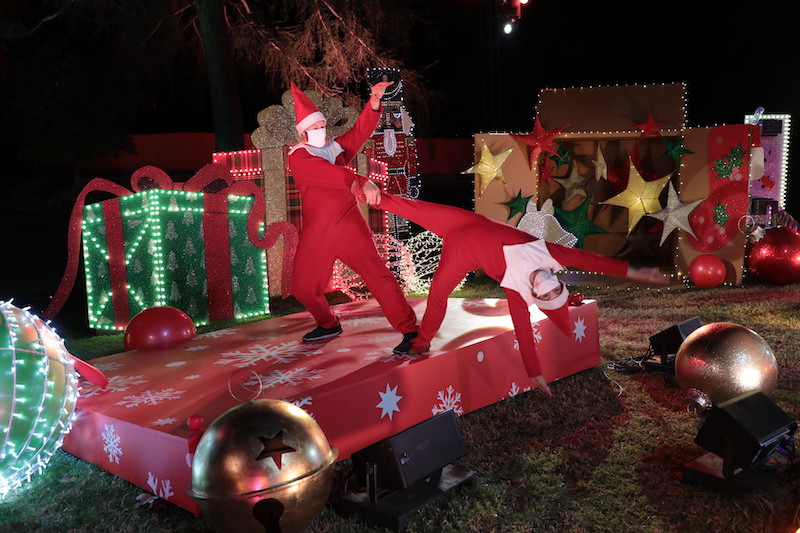 As we head into the holiday season, we find ourselves still impacted every day by the COVID-19 pandemic. Though many traditional events have been canceled or modified, this year's holiday roundup includes several virtual events, outdoor light displays and festivals, drive-thrus, and immersive experiences for the whole family. Some are in L.A. while others are good for a road trip. As a reminder, here's L.A. County Public Health's guidelines for celebrating the holidays in 2020.

If you have something you'd like to add, feel free to email us at [email protected] for consideration.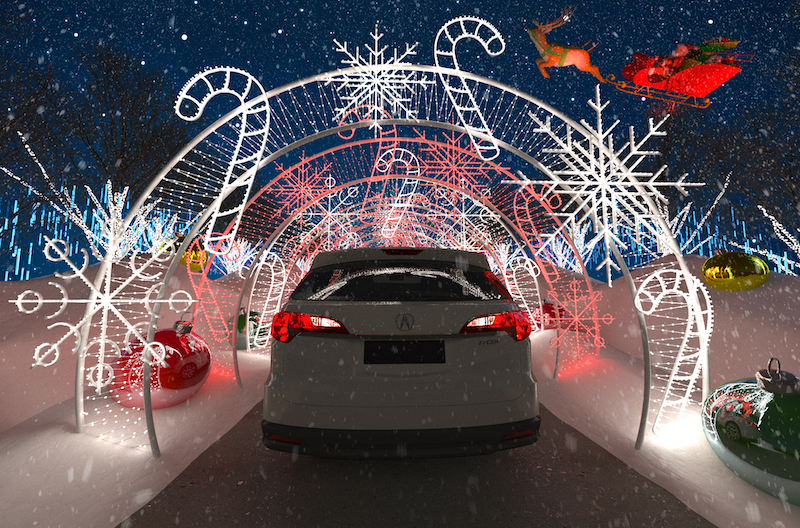 ---
From Experiential Supply Company and Mellodees comes WonderLAnd, an immersive drive-thru experience in Woodland Hills Nov. 30 through Dec. 30 (closed Christmas Eve and Christmas Day). Guests will drive through millions of lights, holiday sets, hologram installations, and photo ops. Some key moments include a display of holidays around the world, socially distant encounters with Santa and a drive-thru tunnel experience with music produced by Marshmello. Tickets are $70 per car and include a stuffed holiday stocking.
Street Food Cinema's drive-in will screen holiday favorites like Elf and Home Alone this December at Santa Anita Park and King Gillette Ranch. Entry is $20 per car, plus $8 per guest.
From the team behind Nights of the Jack comes Holiday Road. The illuminated drive-thru includes large-scale holiday installations, thousands of Christmas lights, and Santa and all his cheerful friends. Open Dec. 4 through Jan. 10 at King Gillette Ranch in the Santa Monica Mountains. Tickets start at $75 per vehicle.
Christmas Tree Lane returns Dec. 7 in Altadena with a one-mile stretch of fully decorated houses and trees on Santa Rosa Ave., between Woodbury Ave. and Altadena Dr. Take a drive with the people in your household for some holiday cheer. This year marks their 100th anniversary!
Sparkle DTLA at The Bloc takes guests through a free magical holiday show of 18 million lights, illuminating the night and synchronized to festive tunes. The Bloc is also offering gifts with in-store purchases throughout November and December, including gift cards, holiday cookie baking sets, and holiday candle sets.
The Dodgers host a Holiday Festival Nov. 27 through Dec. 24, inviting fans to cruise through Lot 10 at Chavez Ravine for a drive-thru experience that includes faux snow, a light show, LED video displays, and Dodgers themed decorations. Tickets are $55.
Santa Monica's Loews Beach Hotel is bringing back its Miracle on Ocean Ave pop-up this year Nov. 25 to Jan. 3. Open to hotel guests and the public, the hotel will be decked out in whimsical holiday decorations including an upside-down tree forest, a letters to Santa station, and even a private "igloo" dining experience at Blue Streak restaurant. Dog-friendly "yappy hours" on Dec. 4 & 18 invite your furry friends to enjoy holiday-themed activations, complimentary dog treats, and more.
The Los Angeles Christmas Market opens on Nov. 27 across from The Grove at Fairfax and 3rd. Guests can enjoy festive decor and browse a collection of hoodies, shirts, ornaments, masks, and more. Admission is free, but a socially distant photo package with Santa will set you back $45. Guests will sit in the back of Santa's sleigh, separated from Santa via a plexiglass partition. At other times, groups may take a photo in the sleigh without Santa for a reduced price. The market is open daily from 10 a.m. to 8 p.m., Nov. 27-Jan. 3.
The Robey Theatre hosts a virtual Kwanzaa celebration on Dec. 11 at 6 p.m. The event features performances from Cydney Wayne Davis, Julio Hanson, Marva Smith, the Hearts On Fire Choir, and The Amazing Grace Conservatory, plus comedy sets from Jason Mimms, Vanja Renee, and Stevie Mack. Suggested donation $10.
Mr. Jingles Christmas Trees opens in 10 locations on Nov. 27, including spots in Hollywood, West LA, Woodland Hills, and at the Original Farmers Market. Guests can stop by to browse trees, lights, ornaments, decorating kits, and more or order a tree for delivery. Pre-orders are available. Hours vary depending on location, so check ahead here.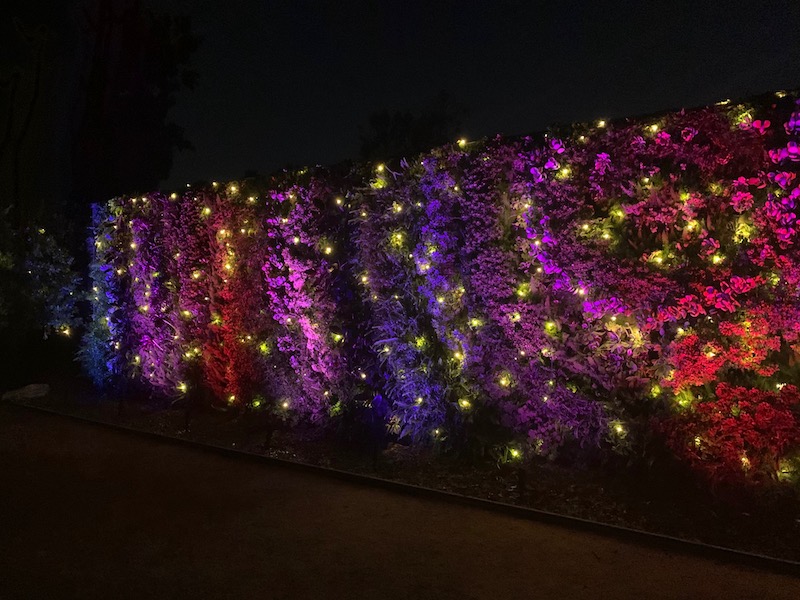 South Coast Botanic Garden's GLOW is a night-time light installation set to a custom soundtrack that includes everything from classical music to electro-pop. Open Nov. 21 to Jan. 10 (closed Christmas Eve and Christmas Day). Tickets are $34.95 for non-members, $24.95 for members, free for children 4 and under.
Downtown Santa Monica has plenty of festive outdoor activities planned this holiday season. The Santa Monica Pier, Third Street Promenade, and Santa Monica Place will all be lit up with bright lights and cheery decor. Families can visit the official 24-foot City of Santa Monica Christmas Tree at the Promenade, then turn to their phones for an augmented reality experience that overlays holiday elements atop structures, spaces, and trees in the area. Open Nov. 27 through Jan. 3. Meanwhile, Santa Monica Place has its own 50-foot tree and a 14-foot Snow Globe. More info here. Santa Monica also hosts Miracle on Main Street starting Dec. 5, featuring roaming carolers, a 40-foot-tall tree made out of 84 shopping carts at the Edgemar building, and a Christmas tree outside the Heritage Museum. Nightly menorah lightings will take place at sundown Dec. 10-18 on the 1300 block of Third Street Promenade (located between Santa Monica Blvd. and Arizona Ave). Find more details on Downtown Santa Monica's holiday programming here.
In Elf on the Shelf's Magical Holiday Journey, guests will travel by car through several beautiful dreamworlds to help Santa Claus find the magic he needs to fix his sleigh. The multi-sensory experience takes place at the Pomona Fairplex Nov. 12 through Jan. 3. Prices start at $19.95 for children and $24.95 for adults. Spanish narration is available.
Artists & Fleas is a series of weekend holiday markets in NYC and L.A. offering gifts and goods from over 150 local businesses and crafters each weekend through Dec. 27. The Los Angeles location is open on Saturdays, 11 a.m. to 4:30 p.m., in Venice at 1010 Abbot Kinney.
The Mission Inn's Festival of Lights is usually an incredible spectacle in and outside the Riverside hotel. This year, there will be no switch-on ceremony, but the public can enjoy the hotel and downtown Riverside's outdoor light displays while practicing social distancing Nov. 27 through Dec. 31. The hotel is also accepting reservations.
Santa's Speedway Christmas Lights Drive-Thru Spectacular runs Nov. 25 through Jan. 10 at the Irwindale Speedway. Families can drive along a NASCAR track full of Christmas vignettes including Santa's village, Rudoph's enchanted garage, a field of 20-foot illuminated lollipops, and a freestanding tree made out of over 100,000 LED lights. Concessions are available including hot chocolate and pre-packaged sweets. The experience takes about 30-45 minutes. Tickets are $59 per car.
Christmas Nights at 123 Farm, a lavender farm in Cherry Valley, is a free outdoor event running Nov. 6 through Jan. 10 on Weds.-Sun. from 5-10 p.m. Guests can stroll around the pretty Christmas village while browsing a holiday marketplace or enjoying a meal at the Oak Farm to Table Restaurant. Outdoor dining options include benches, dining tables, and standing tables, as well as private dining rooms with ensuite restrooms available for a $40 reservation. Other activities include a scavenger hunt, writing letters to Santa, and a $25 S'mores kit (serves 6) you can enjoy at a private fire pit. Santa will be on-site Nov. 28 through Dec. 19. Admission to the event is free, but parking is $10.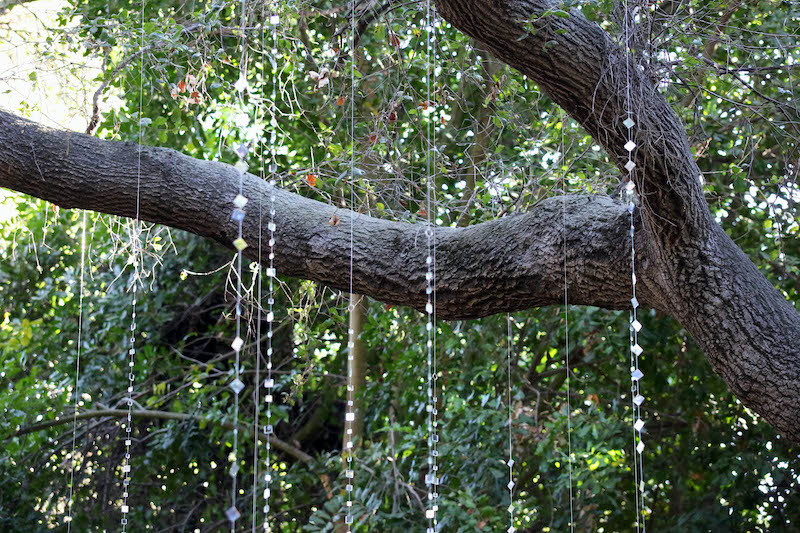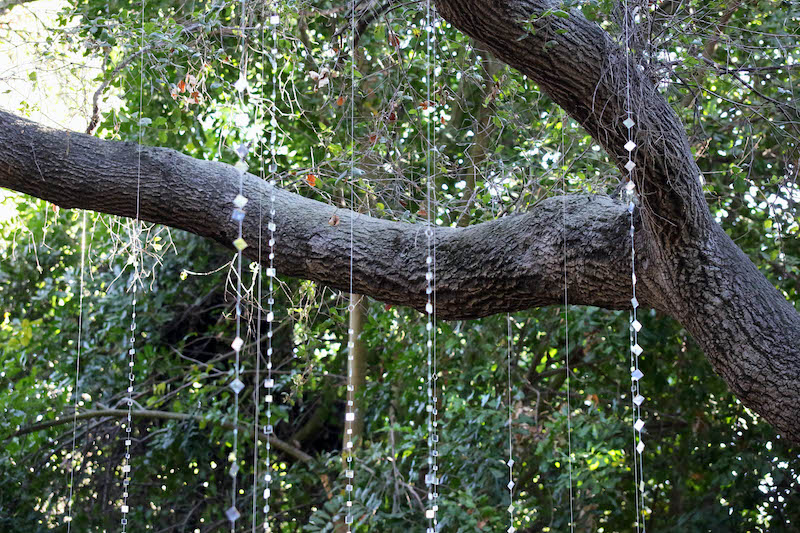 Descano Gardens' Enchanted Forest of Light is canceled this year due to COVID-19 and in its place, the gardens will host Reflections at Descano Nov. 14 through Jan. 10. The day-time event includes art, a Wishing Tree artist Kaz Yokou Kitajima made from a felled Oak tree, floral arches, deer sculptures, winter plantings, and more. Hours are 9 a.m. to 5 p.m. daily, and all Reflections activities are included with general admission. That's $15 for adults, $11 for seniors and students, $5 for children 5-12, and free for children under 5.
Winter Fest OC presents Night of Lights OC, a drive-thru experience Dec. 10 through Jan. 3 (closed on Christmas Eve) at the OC Fair & Event Center in Costa Mesa. Guests will drive through a mile-long winter wonderland featuring over one million lights, special effects, and holiday scenes including a Christmas tree lighting and an icicle playground. Early bird tickets start at $49.99 per car. Treats including hot cocoa, donuts, cookies, brownies, and more are available for pre-order when you purchase your ticket.
After its Halloween debut, The Bite is back with a The Bite LA: Winter Holiday and Stocking Stuffer Sweets Crawl at Legg Lake in Whittier throughout December. Guests can fling cotton snowballs out their car windows at snowmen, collect sweets to fill a complimentary stocking, and listen to stories and songs with Santa at a 'Yule Log stage.' Tickets start at $38 per person. (Children 4 and under are free, but will not receive any of the aforementioned items.)
The 112th annual Newport Beach Christmas Boat Parade is Dec. 16-20. Guests can watch as decorated boats, yachts, kayaks, and canoes sail in a twinkling spectacle along the harbor. This year, the event will also be streamed online and on NBTV. More information is available here.
$1,500 is apparently the price one must pay for perfect snowmen in Southern California. Fork it over and MagicSnow's Snowmen-To-Go will send professional snow artists to your home to build two snowmen atop a drift of snow, replete with top hats, scarves, coal eyes and mouths, buttons, and carrot noses. If you want them on Christmas Day, it's $1,750.
Citadel Outlets' "Snowy Nights and Holiday Lights" includes a Christmas Tree, nightly light shows, snow flurries, a giant bow wrapped around the shopping outlet's castle wall, and a socially distant Santa House. The light show runs nightly through the end of the year from 5-8 p.m. at the top of each hour. Citadel Outlets is also hosting a toy drive Nov. 28-Dec.20 and a food drive on Dec. 5.
Newport Dunes Waterfront Resort presents the 30th annual Lighting of the Bay beginning Nov. 27. More than 40 electric Christmas trees and holiday decorations will light up the bay through New Year's Day. Parking is $10.
"Concerts in Your Car" creators CBF Productions present Holidays in Your Car Nov. 22 – Jan. 2 at the Ventura County Fairground. A 1.5-mile path is lined with 40-foot displays, lights synchronized to music, lasers, holograms, and more. Tickets are $49-64 per vehicle. The venue will also host the live stage show "SANTA SAVES CHRISTMAS" produced by Right Angle Entertainment ("The Price is Right LIVE!," "Rudolph the Red-Nosed Reindeer: The Musical," "The Simon and Garfunkel Story") and directed by Mark "Swany" Swanhart ("The Bachelor Live On Stage," "Dancing with the Stars" tour) Dec. 19-20. Tickets are $49-219 per vehicle. See more holiday programming here.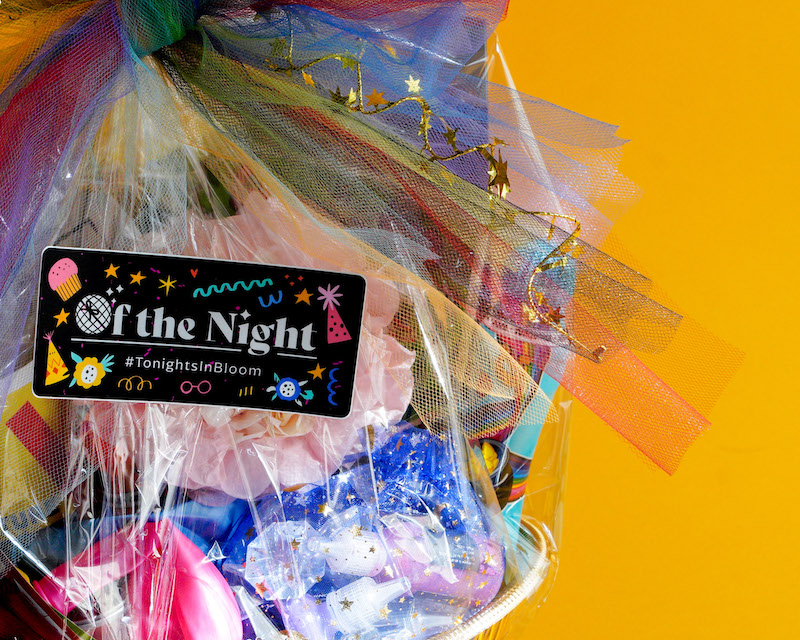 At-Home & Virtual Events
Of the Night is a party package delivery service offering lavish ways to celebrate at home. For the holidays, they're offering 31 days of gifts inspired by "Iconic Queens of the Night" including Grace Jones, Stevie Nicks, Cleopatra, and Marlene Dietrich. Every day, recipients can open up gifts including snacks, booze, decorations, activities, decor, and more. Packages are $250 and a portion of proceeds benefit Stacy Abrams' Fair Fight Initiative. Order now for delivery on Nov. 30.
The Halogen Company's Yule is an interactive virtual variety hour on Dec. 5 at 7 p.m. Choose your path through nine acts featuring The GingerSnaps, Koryn Wicks and Kompany, Nina Nightingale, Krystal Kurio, Alyssa Klein and Omar Amir, Samantha Jai, Effie Spence, and Roman and Kate Cullia-Martinez, hosted by James Michael Cowan. Proceeds will benefit The Loveland Foundation and Brave Space Alliance. Tickets are $15.
KatNip Productions brought us The Sleepover for Halloween. For December, it's Whiskey Business, an interactive virtual Western story and whiskey tasting. Per a release: "It's a typical day in sleepy Bandera, Texas. Slim's local watering hole keeps the whiskey flowing and Daisy Mae is always around to sing us a song or two. Local bully Snake Eye has an iron-grip on this one-horse town, always has. When new-comer Cletus rolls in off the dusty trail, well, more trouble gets stirred up than you can shake a rattlesnake at! Will we get to enjoy our whiskey peacefully, or will there be a showdown? And where is the Sheriff when you need him?" Show dates are Dec. 5 & 12 at 6 p.m. Tickets are $50 with whiskey flight delivery (L.A. only) or $30 without.
Gary Marshall Theatre will livestream a virtual Christmas concert, Holidaze Harmony, on Dec. 16 at 7 p.m. (available on-demand through Dec. 20.) The show is part-variety show, part-concert and features Terron Brooks (The Soul of Broadway, NBC miniseries The Temptations, Broadway's The Lion King) and Kamilah Marshall (NBC's Hairspray! Live, Broadway's Rent, Hairspray). Tickets are $35 for the world premiere, $29 for on-demand viewing.
Jen Kirkman's 9th annual Dysfunctional Xmas Show is on Dec. 4 at 6 p.m., streaming live this year from the comic's living room. Join Kirkman for a comedy variety show with sketch, music, and more from special guests. Tickets are $21-42, which provides access to the livestream as well as 48 hours of on demand access.
On Dec. 13 at 3 p.m., the Skirball Hanukkah Celebration drops on YouTube featuring klezmer band Mostly Kosher, Gili Yalo, and a retelling of the Hanukkah story. Those who watch live can also join a virtual game and win prizes. If you'd like to be featured in the celebration, submit a self-recorded clip of your family's celebrations before Nov. 8 at 5 p.m. for consideration. You can also pre-order potato latkes and a box of sweets. Find more details about the Skirball's holiday programming here.
Camp Christmas is an immersive event that ships crafts, activities, sweets, decorations, and more to your home and also unfolds through a digital holiday campground. Registration is open now. A Base Camp starter kit is $10, while adventure bundles are available starting at $35 or $175 for all five.
The 61st Annual L.A. County Holiday Celebration will feature 22 different L.A.-based artists filmed at The Music Center's Dorothy Chandler Pavilion and Jerry Moss Plaza and other L.A. sites. Performers include Cuñao, Gay Men's Chorus of Los Angeles, Jung Im Lee Korean Dance Academy, folklorico troupe Pacifico Dance Company, Jessica Fichot, barbershop quartet Noteable, country-music trio Sean Oliu and The Coastline Cowboys, and more. Viewers can watch the program on TV or stream it online at home. PBS SoCal with air the presentation on Dec. 24 at 3 p.m. and 7 p.m. At 3 p.m., the program will also stream on PBSSoCal.org, KCET.org, and HolidayCelebration.org. KCET will re-air the program on Dec. 25 at noon.